I shared our $50 bathroom makeover on Parade.com last spring. Since small spaces are getting a lot of attention right now (I am loving all the tiny homes I am seeing on TV and in magazines) and people are downsizing a lot more, I thought it was a great time to share this post. Our bathroom is not big by any means, but it functions well for our family. I have added a few more pictures to the post with some "updates" I have made since the initial makeover.
On to the post:
I am an habitual decorator in our home. I am constantly coming up with ways to make our space better and prettier. I have painted and repainted every room in our home (a few times) and this time around, our bathroom was the winner of a makeover. 🙂
I love makeovers and creating spaces exactly how you want them. But, I am also a budget conscious person who believes you don't have to break the bank to have a great space. Our bathroom makeover is a perfect example of that; big changes without big money.
Here are a few pictures of what our bathroom looked like before the makeover:
To start the makeover, I needed some paint. I wanted a lighter paint color on the walls to brighten the room. I started my color search in the mis-matched paint section at my local Menards store. I found a gallon of creamy white. I knew one gallon was not going to be enough to cover the walls so I needed to come up with my own custom color (which I have done many, many times before). To come up with my custom color, I grabbed a 5-gallon bucket and mixed leftover paint we had used in previous projects to the creamy white paint I picked up at Menards. I mixed paints until I came up with a subtle, creamy grayish with greenish undertones color (these are highly technical terms). A custom color for the $5 cost of a mis-matched gallon of paint?! I can afford that in my makeover budget! 🙂
*My Creative Days Tip: Don't throw away leftover paint! You can always use it to touch up your walls or you can come up with your own custom color for another project. Just make sure when you are mixing paint, that you are mixing the same sheens together (ex. satin with satin, semi-gloss with semi-gloss, etc.).
My "custom color" really brightens the bathroom. We also painted the ceiling a fresh coat of white with the left over ceiling paint we had from the living room we recently painted (again).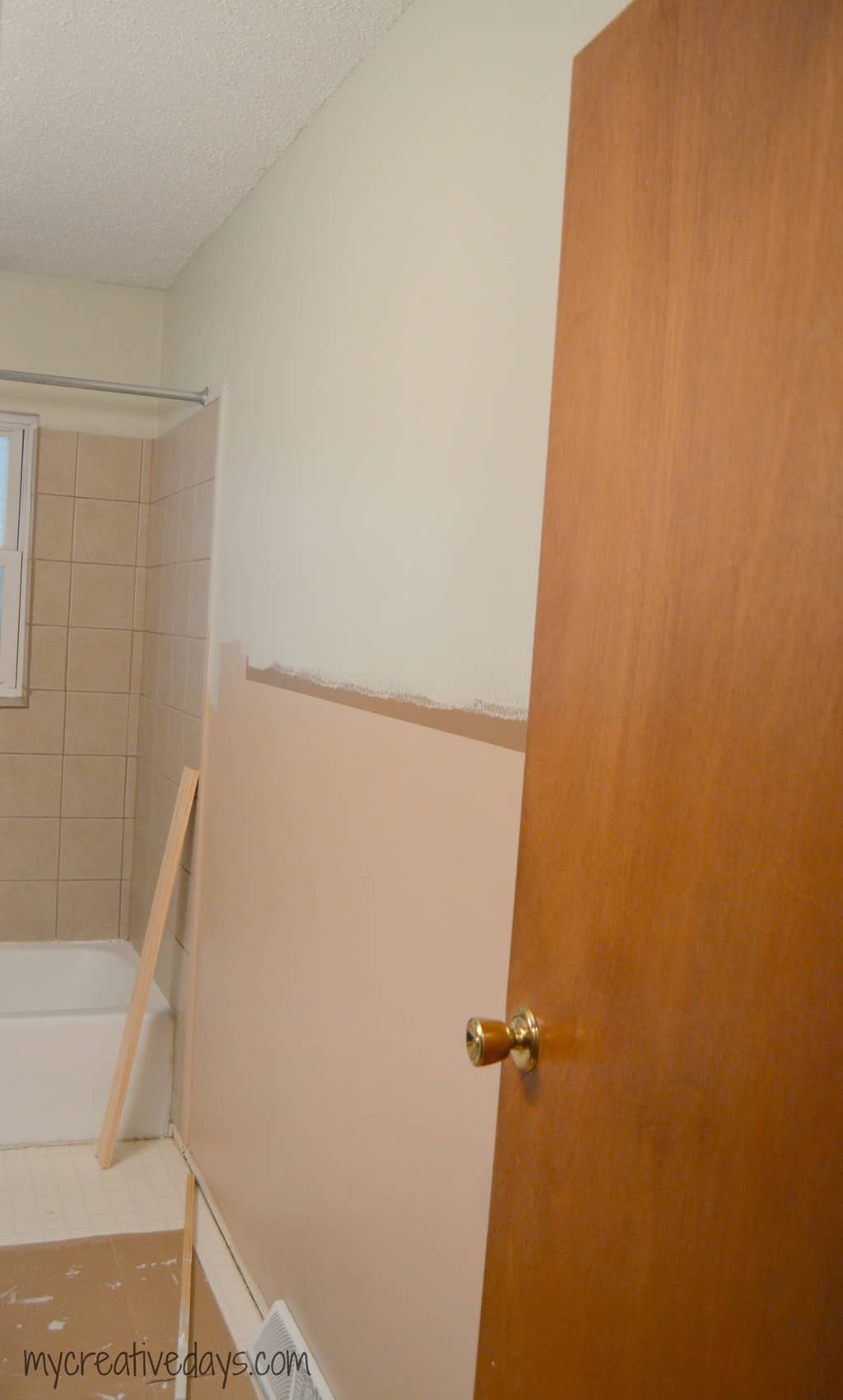 To be honest, I love seeing a mess like this in our home. It means that there is a project going on. So. Much. Fun!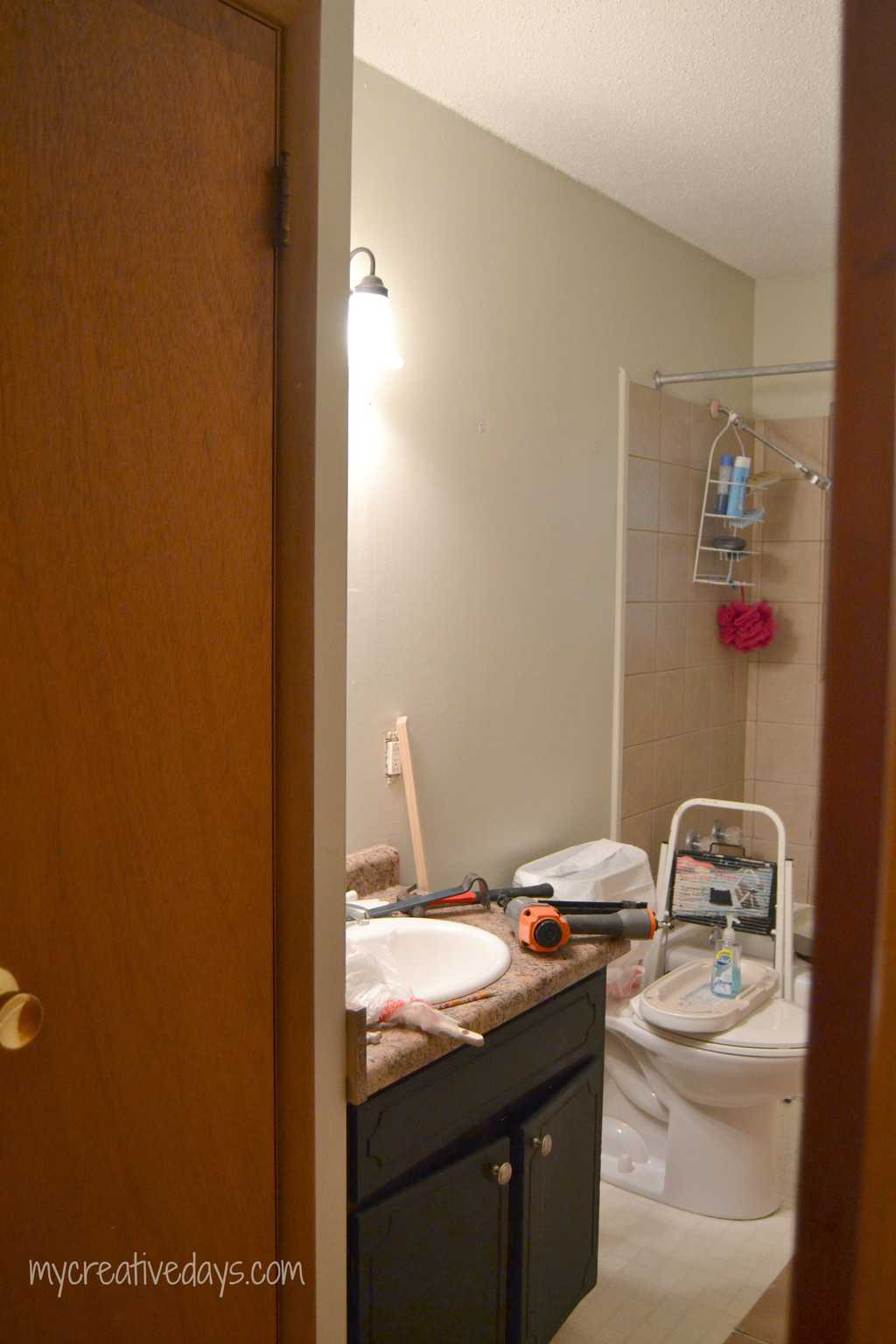 We really only have one "blank" wall in our bathroom and I wanted to add a little interest to it and incorporate some "hooks" for towels.
This is what we did: We put a 1×4″ board horizontally more than halfway up the wall. Then, we added a 1×4″ board on the base of the wall (and some trim boards to go around the vent). Last, we put five 1×3″ boards vertically between the two 1×4″ boards (about 16″ apart).
Instead of buying new hooks, we used old doorknobs! Hubby added the knobs to the top board before attaching it to the wall.
I love the character the knobs add!
Once we got the vertical pieces on the wall, it really started to come together.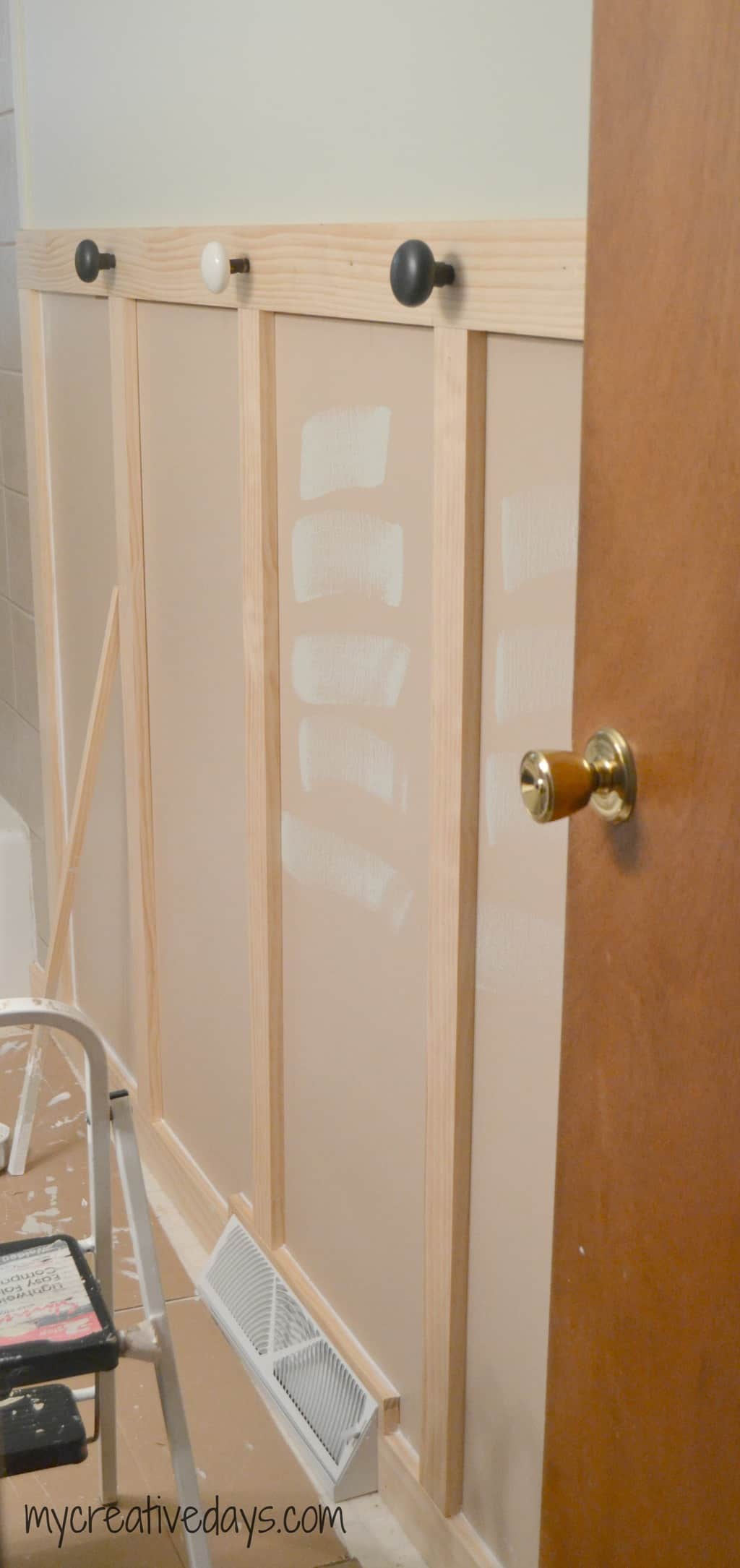 After we caulked some spots and let it dry, it was ready for paint. We had a gallon of white paint left over from a previous project so we used that for the "feature" part of the wall.
Now, on to some art. I had a plan for the pieces pictured below (old cabinet doors, springs from a broken rocking chair (see what I did with the rest of the chair here) and some architectural pieces), but after we got the wall done in the bathroom, the cabinet doors had a new calling.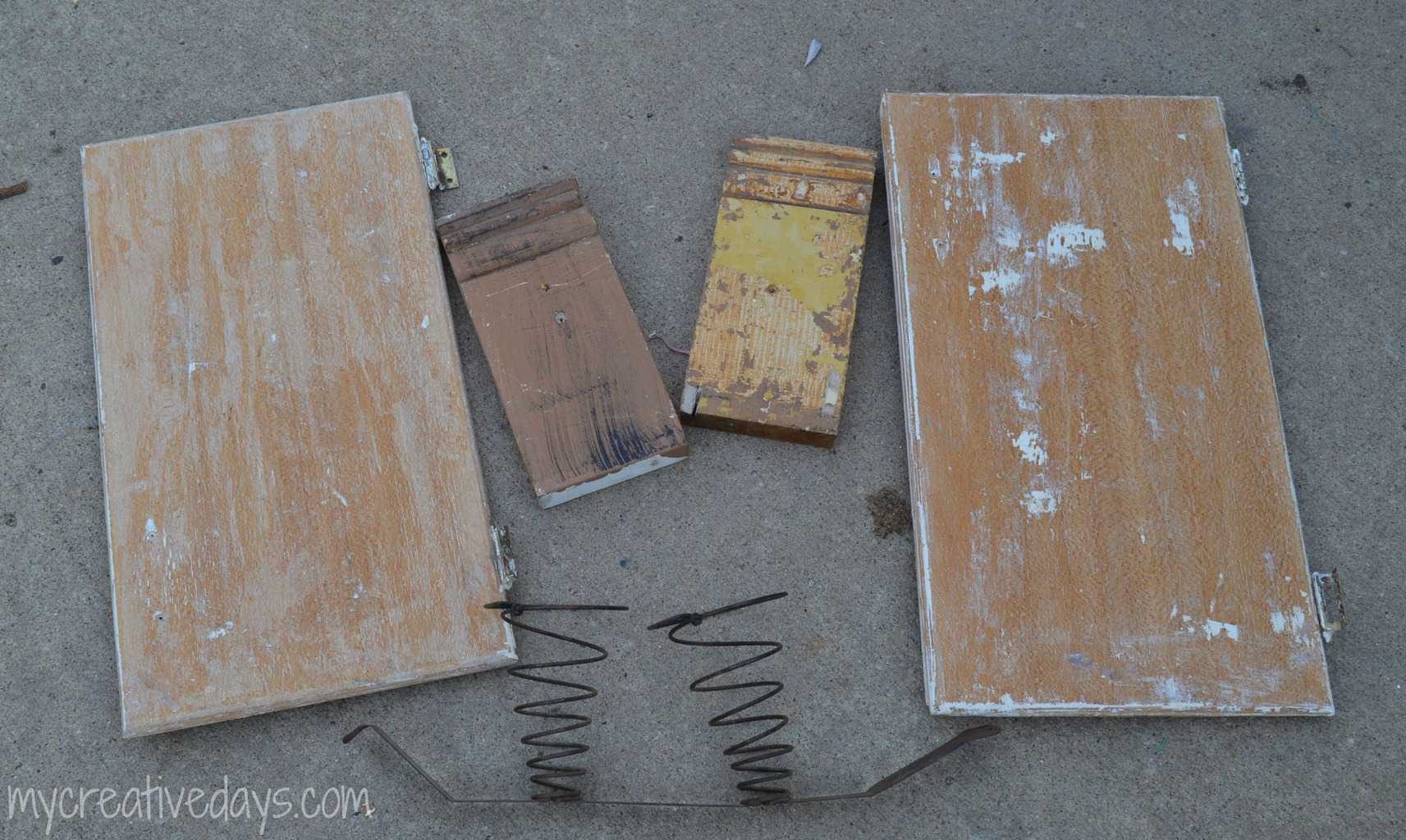 I removed all of the hardware from the doors and added picture hangers to the back of them.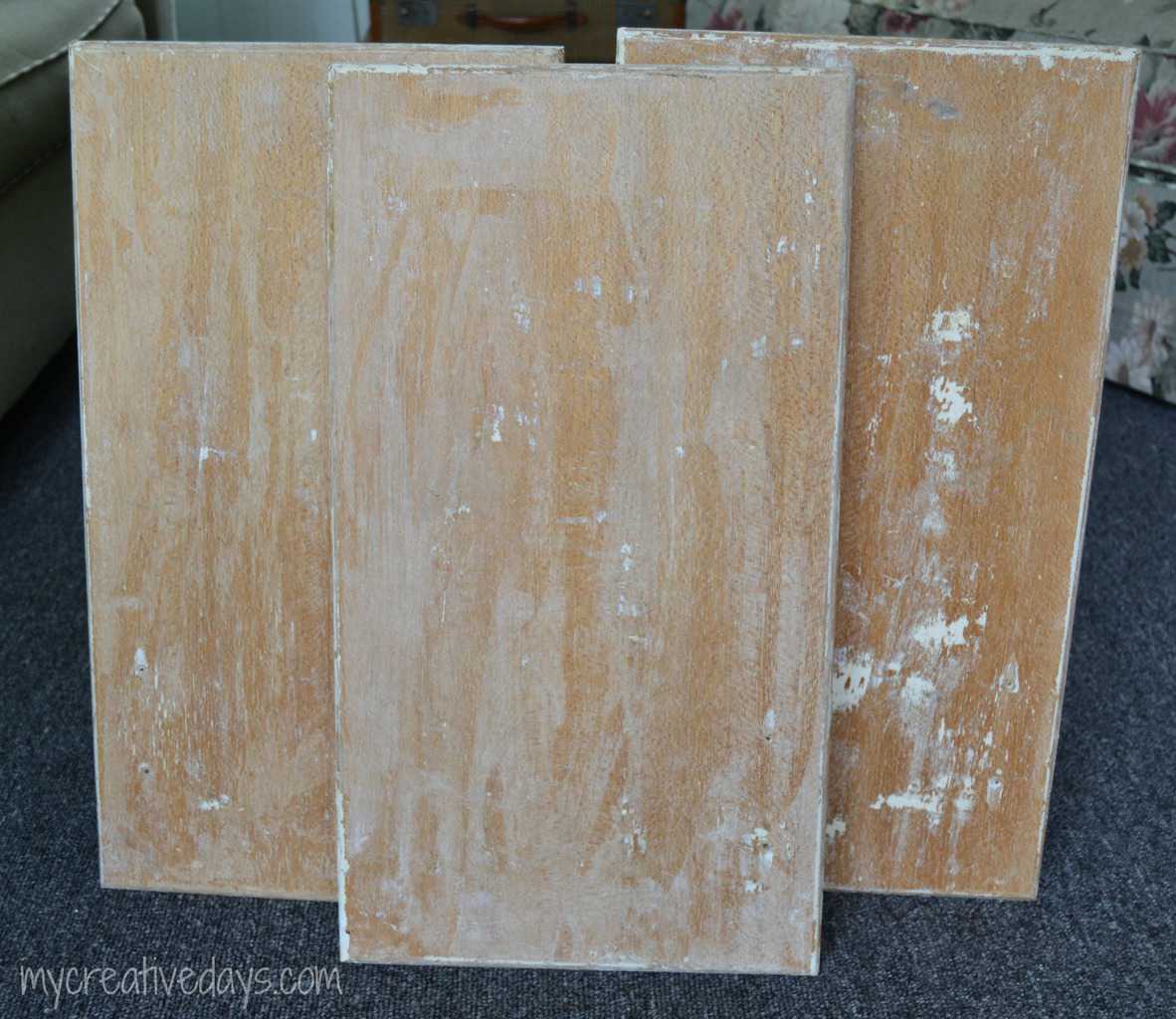 I hung them on the wall in the bathroom. I love the chippy white paint they have and I think they are a perfect fit for the new look in our bathroom. I am thinking about adding something to the doors; words, a design??? Any thoughts?
*Update: The cabinet doors are still bare. I have not been inspired yet to put anything on them.
Next, we needed to add some shelves above the toilet. We had an old board in the garage that I knew would make perfect shelves, but I didn't want to use metal shelf brackets to hang them.
ReStore to the rescue! Hubby scored these architectural pieces at the ReStore by his office! He was able to remove the four brackets for the shelves. (We put the rest of the architectural pieces together and made a trellis for the backyard).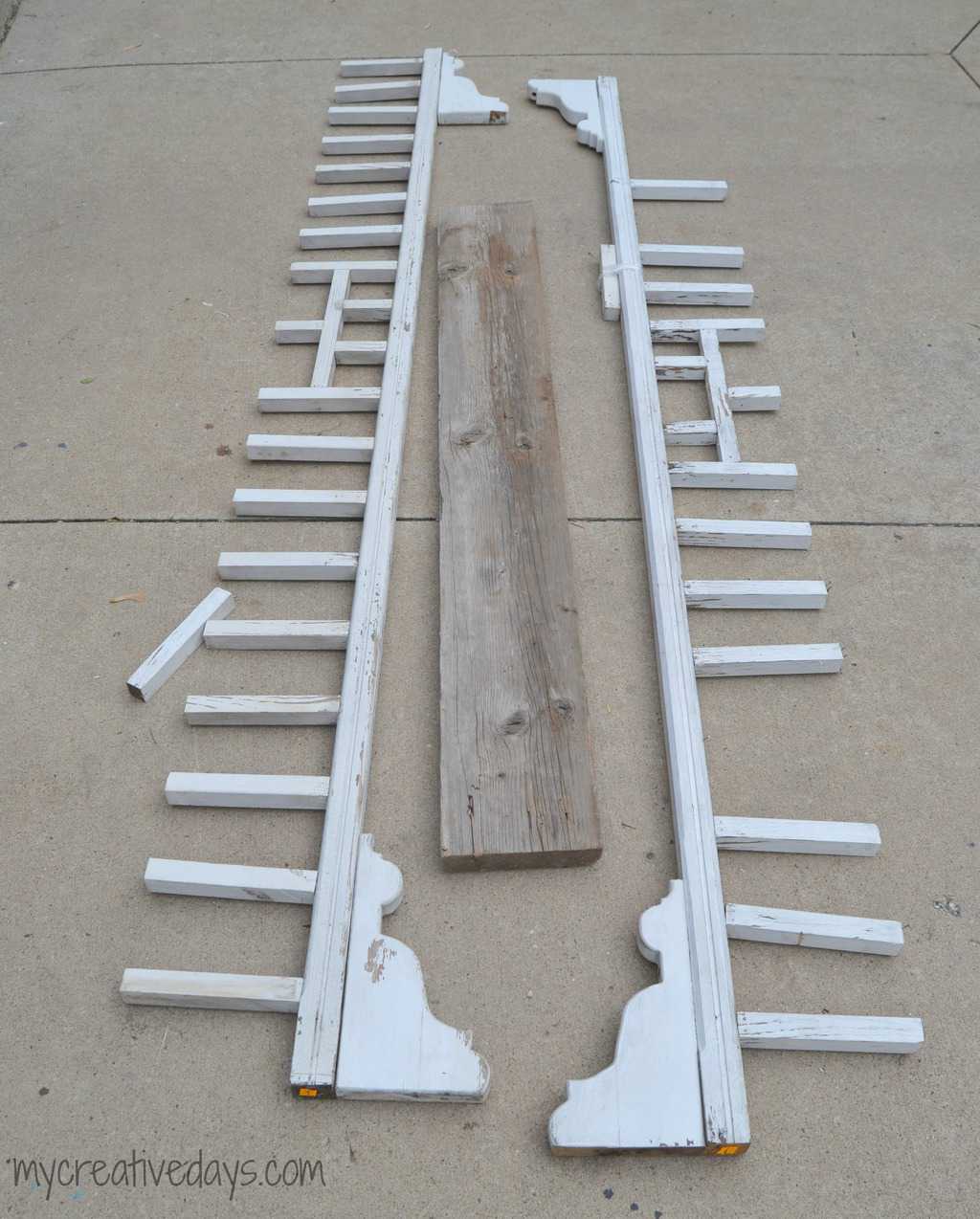 They are perfect shelf brackets for the bathroom! All I did was clean them up and sand them a little bit. One of them split when Hubby was working with them, but it was easily fixed (thank goodness).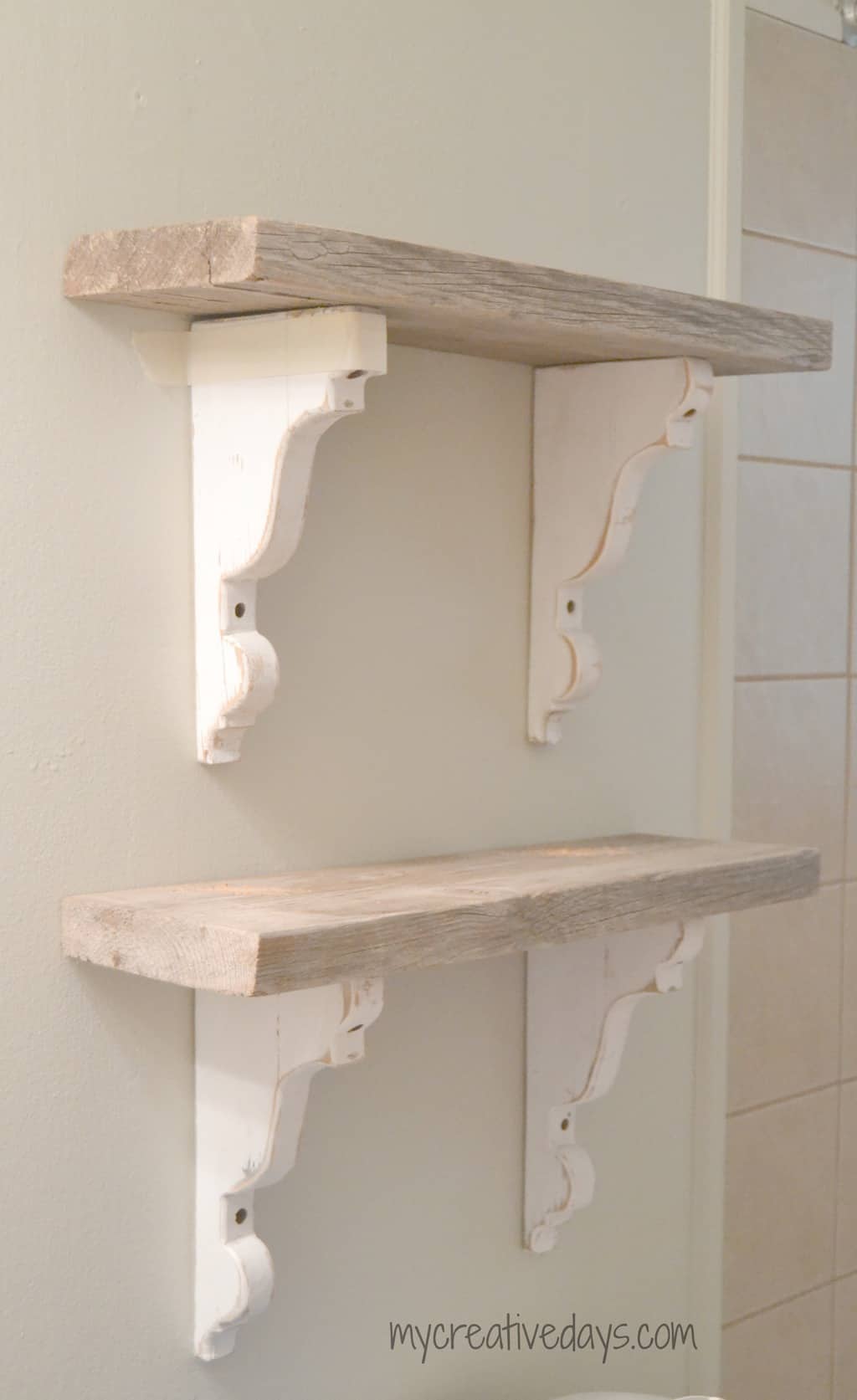 I shopped our home for "pretty" things to add to the shelves (I am sure this will change many times over).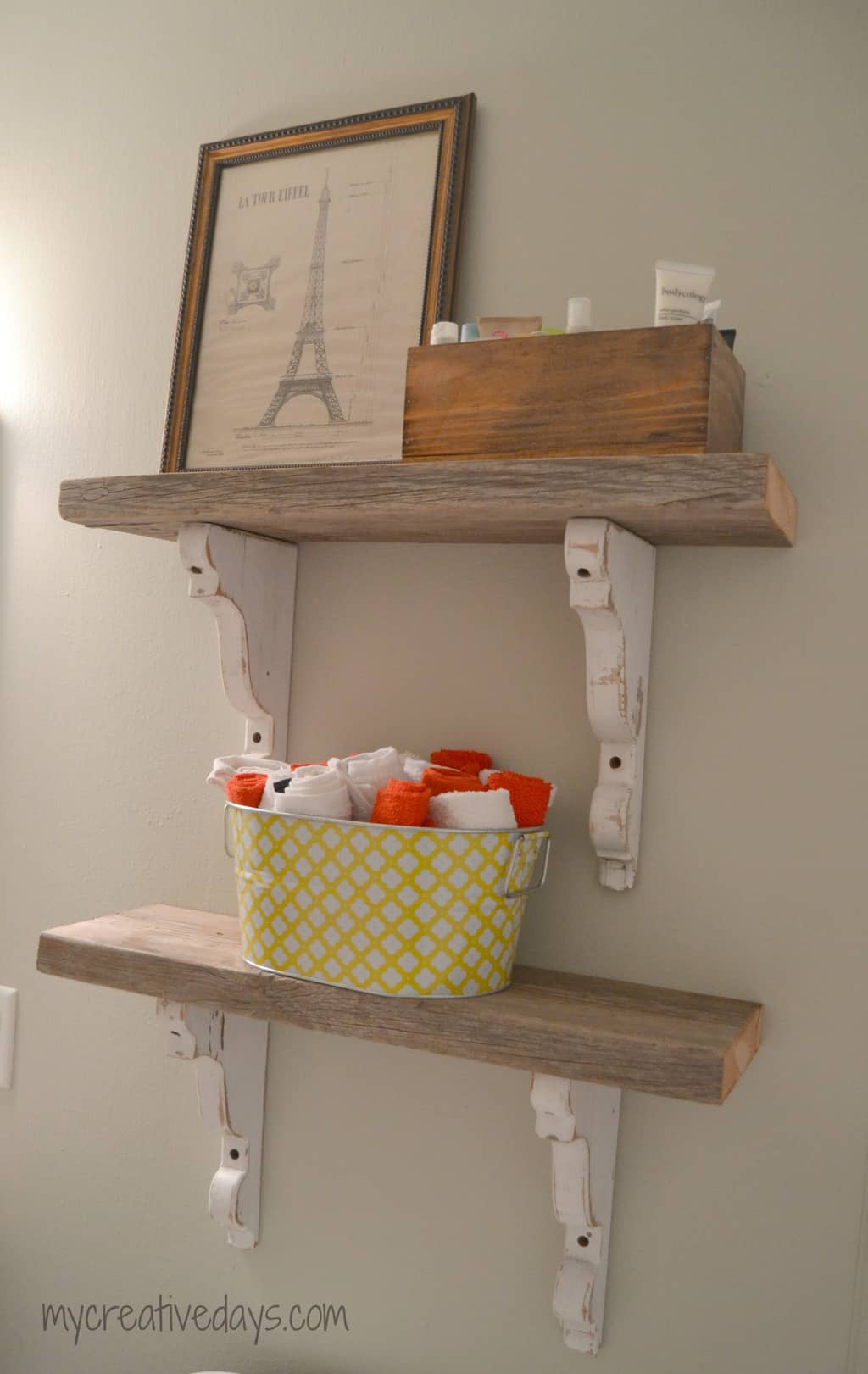 *Update: I added another wood box for the wash cloths. I have rearranged these shelves many times and I had just taken the Christmas decorations down when I took this picture. They look bare now, but I am kind of liking that.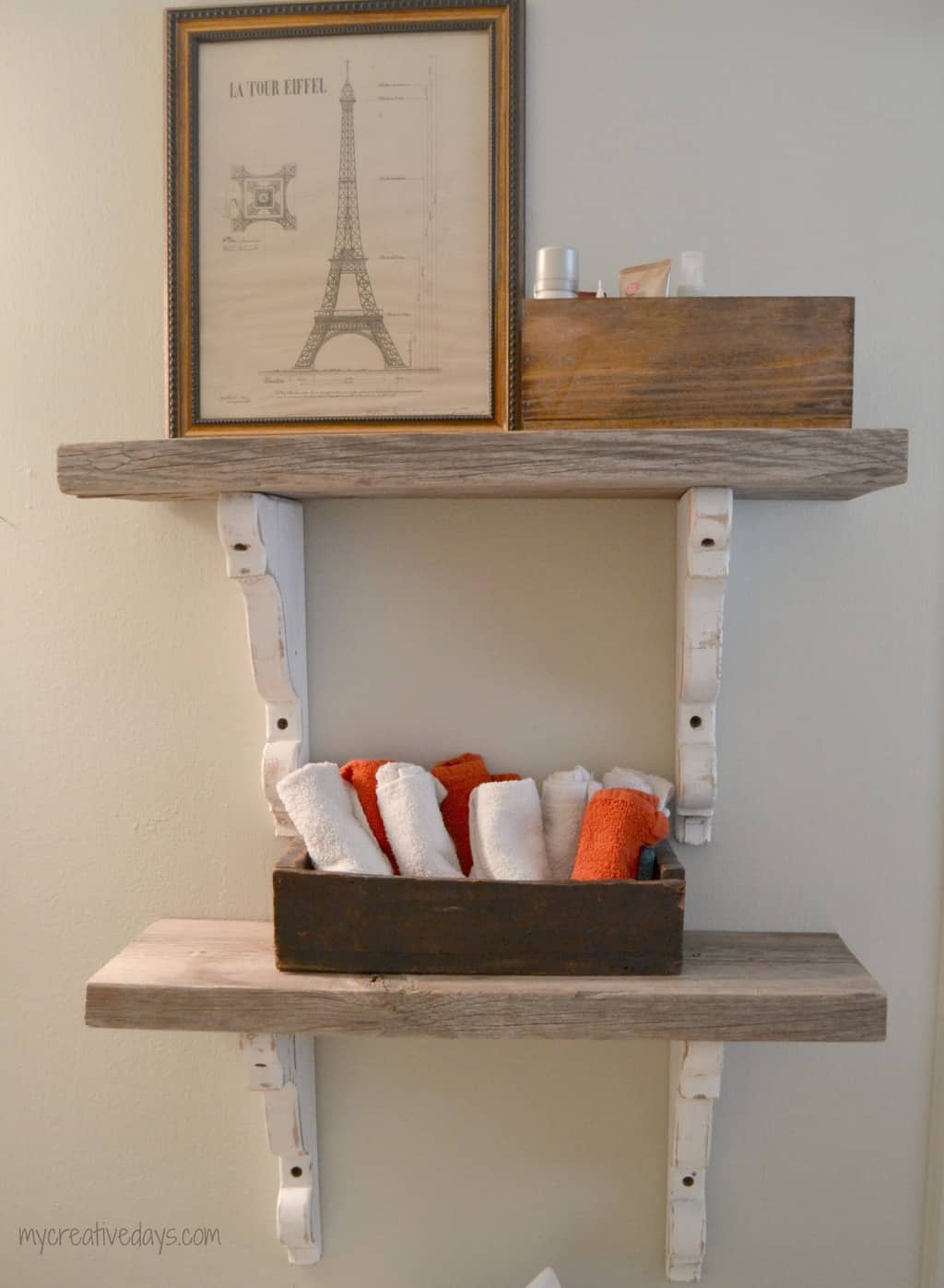 I added an old garden rake to the wall by the sink to hold a hand towel.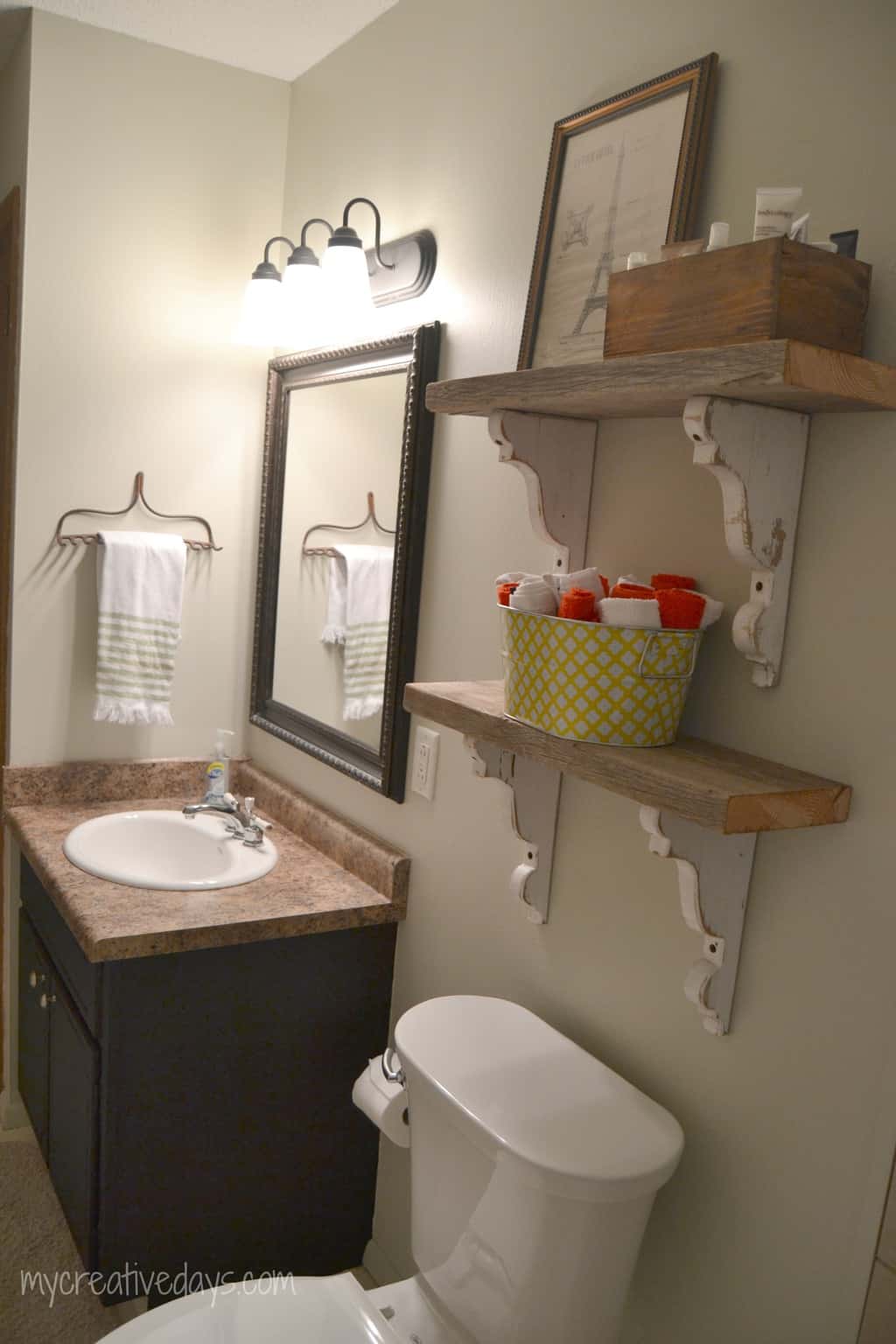 I bought some new gray towels for the bathroom and if I find a good deal on a pretty shower curtain, I might pick it up.
*Update: I found a shower curtain!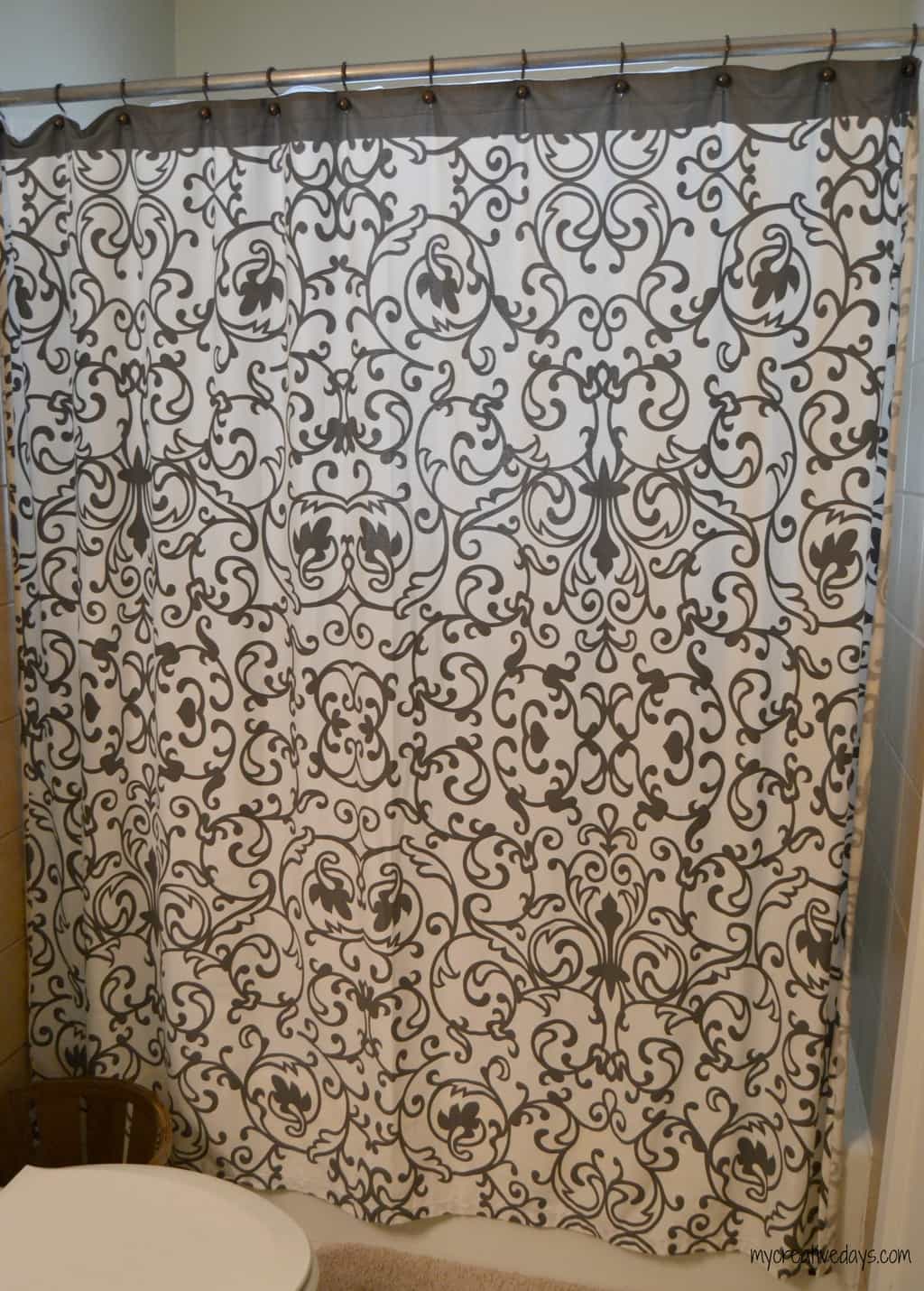 Other than that, I am so happy with the makeover. I am most happy that I got to use some of my favorite finds in the project and that I didn't break the bank to makeover the space.
*Update: I came across another great piece that I could not wait to put in the bathroom. This is a toilet paper holder from an old school! It is cast iron and AMAZING!!!! We screwed it on a fun architectural piece before we added it to the wall.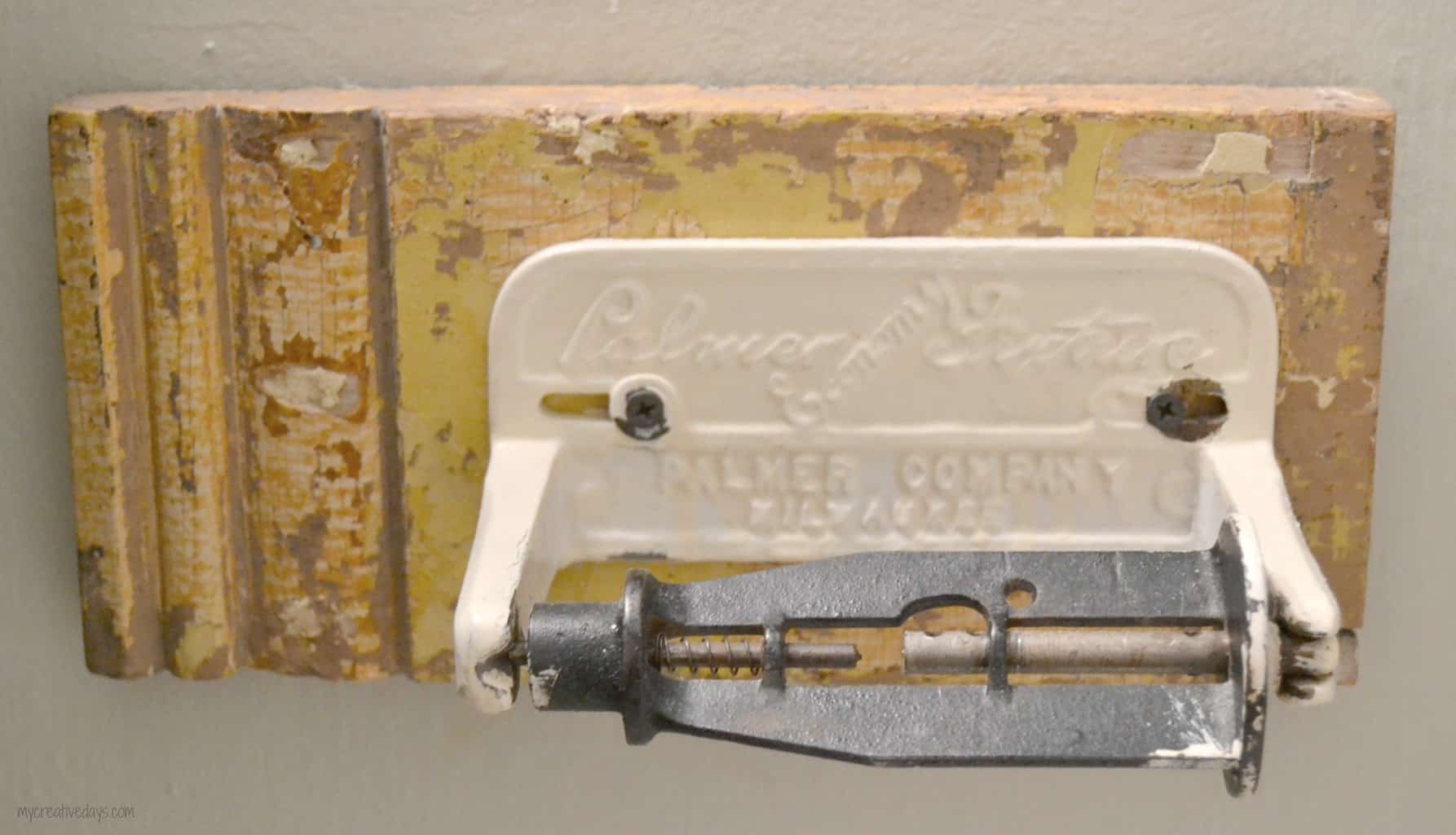 Here is a breakdown of our bathroom makeover costs:
Paint: $5 (walls: mis-matched gallon of paint mixed with leftover paint from other projects; feature wall: leftover white paint)
Brackets: $10 total (they were half off)
Cabinet doors: ($2)
Doorknobs: ($2)
Wood for wall: ($20)
Three gray towels ($9 at Target)
On to the next makeover………..