It is so much fun perusing through blogs and seeing all the beautiful pictures of blogger's homes and spaces. So many of them look like they are straight out of a magazine! I often wonder what things look like behind the camera. What does a normal day look like in these blogger's homes?
A group of eight bloggers thought it would be fun to share a "behind the scenes" post of what it really looks like behind the cameras of all those perfectly staged photos.
Here's mine:
I hate clutter and disorganization.
Now, that doesn't mean that my house is picked up and put away all the time, but when it isn't, I find that I can't get things done or move on to something else until everything is picked up and put away. Living in a smaller home forces me to stay on top of the messes before they really get out of hand. 🙂 (One of the many things I like about living in a smaller space).
When I need to take pictures for a post, set up a party for a post or need to complete a project for a post, a lot of things get shuffled around in our home. A smaller space does not make it easy to spread out, so a lot of the time, I have to move things around to make the post pictures work.
For instance, in the photo below, our dining room table had been taken over with a football tablescape, so the bar in the kitchen was a dropping zone and was not seen for a few days.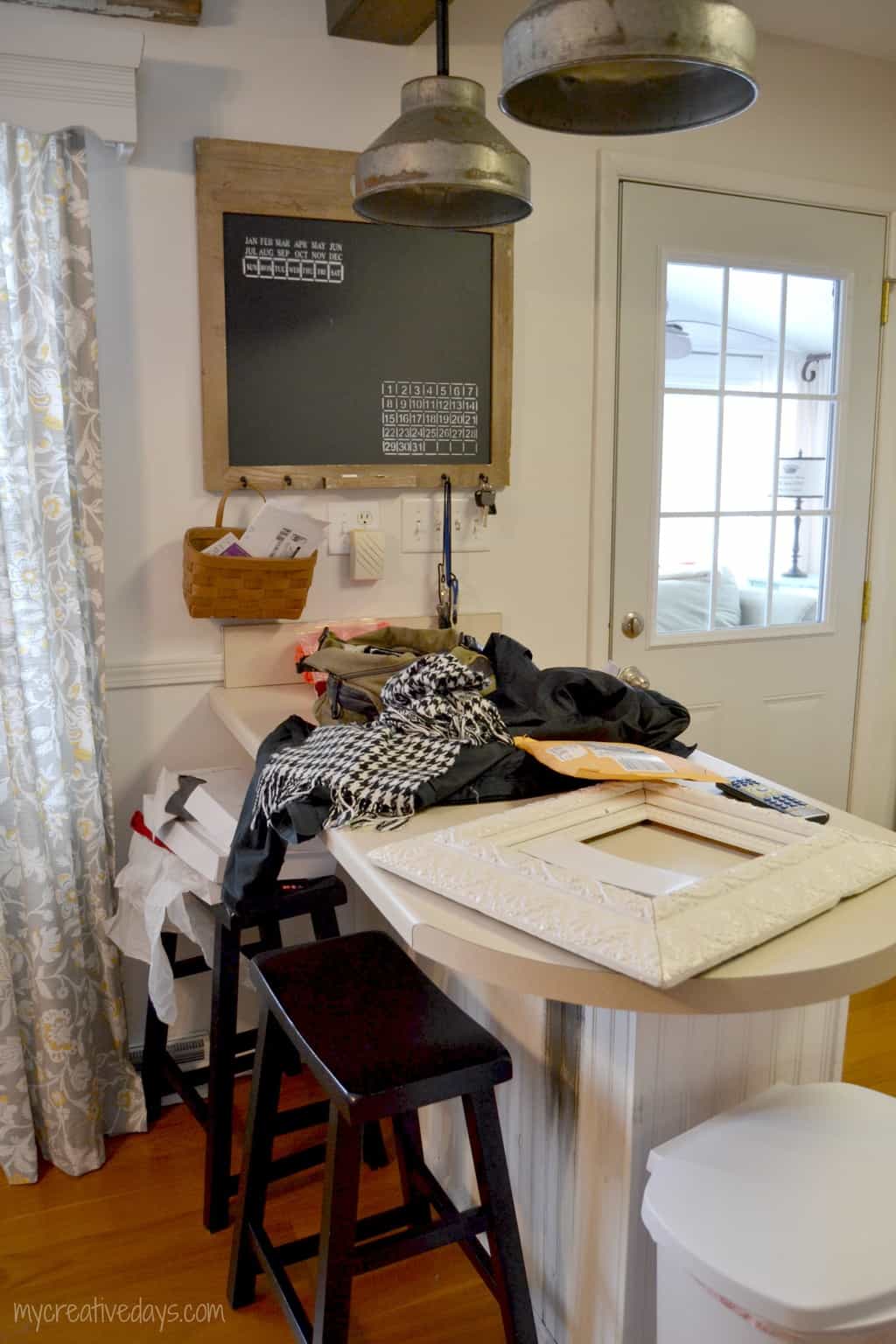 The buffet behind the dining room table also became a dumping ground.
When we added these cabinets and the counter top, I was so excited to have more room to serve food when we entertain, but its main function has been a catch-all for everyday things.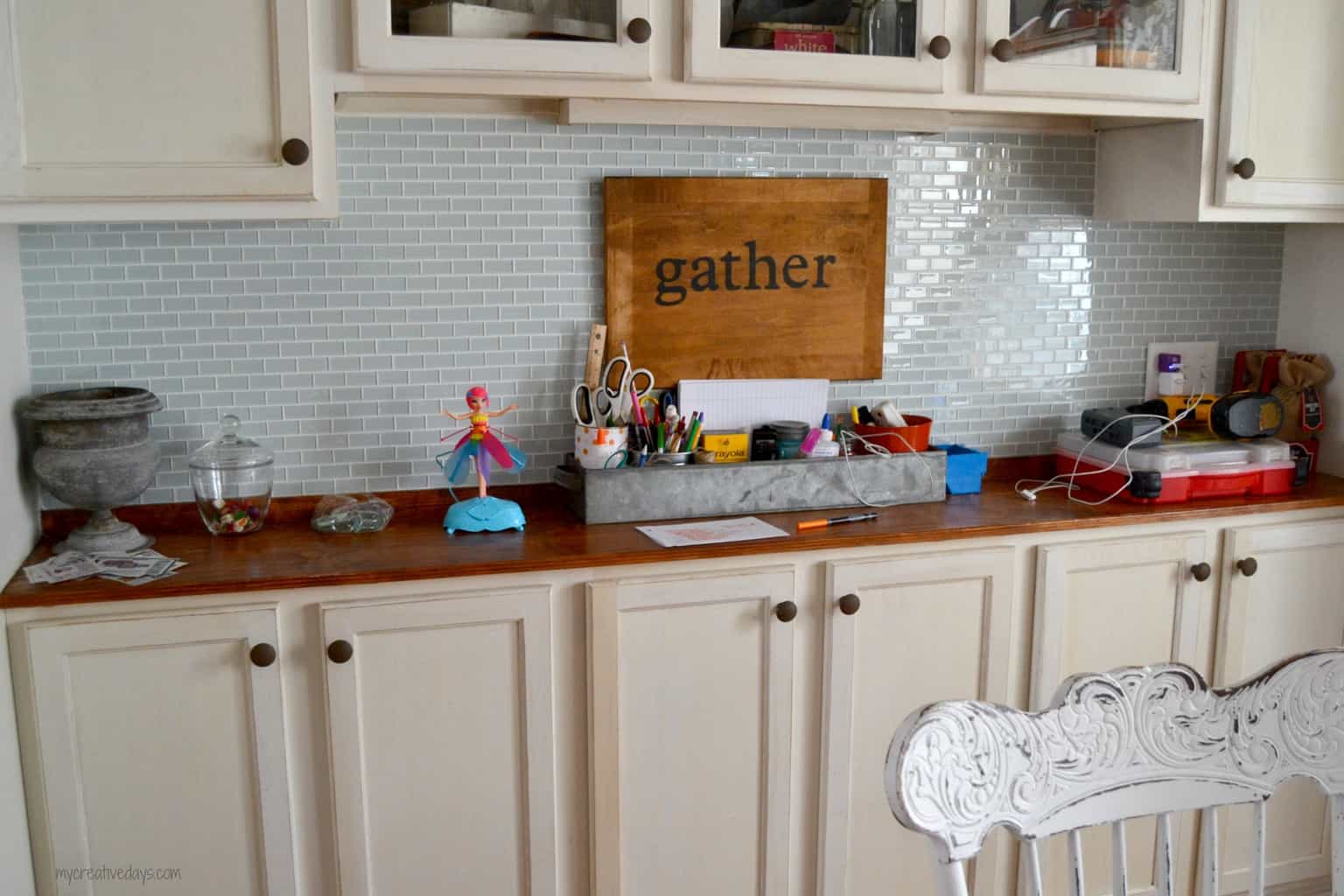 A lot of times when I am taking pictures for a post, I need to rearrange things to use in the picture. In the picture above, you see our metal homework box, but when I was setting up the football party for the blog, that metal box became an ice box for beverages.
That meant, our laundry baskets needed to house everything from the homework box for a few days on our living room floor.
Why not?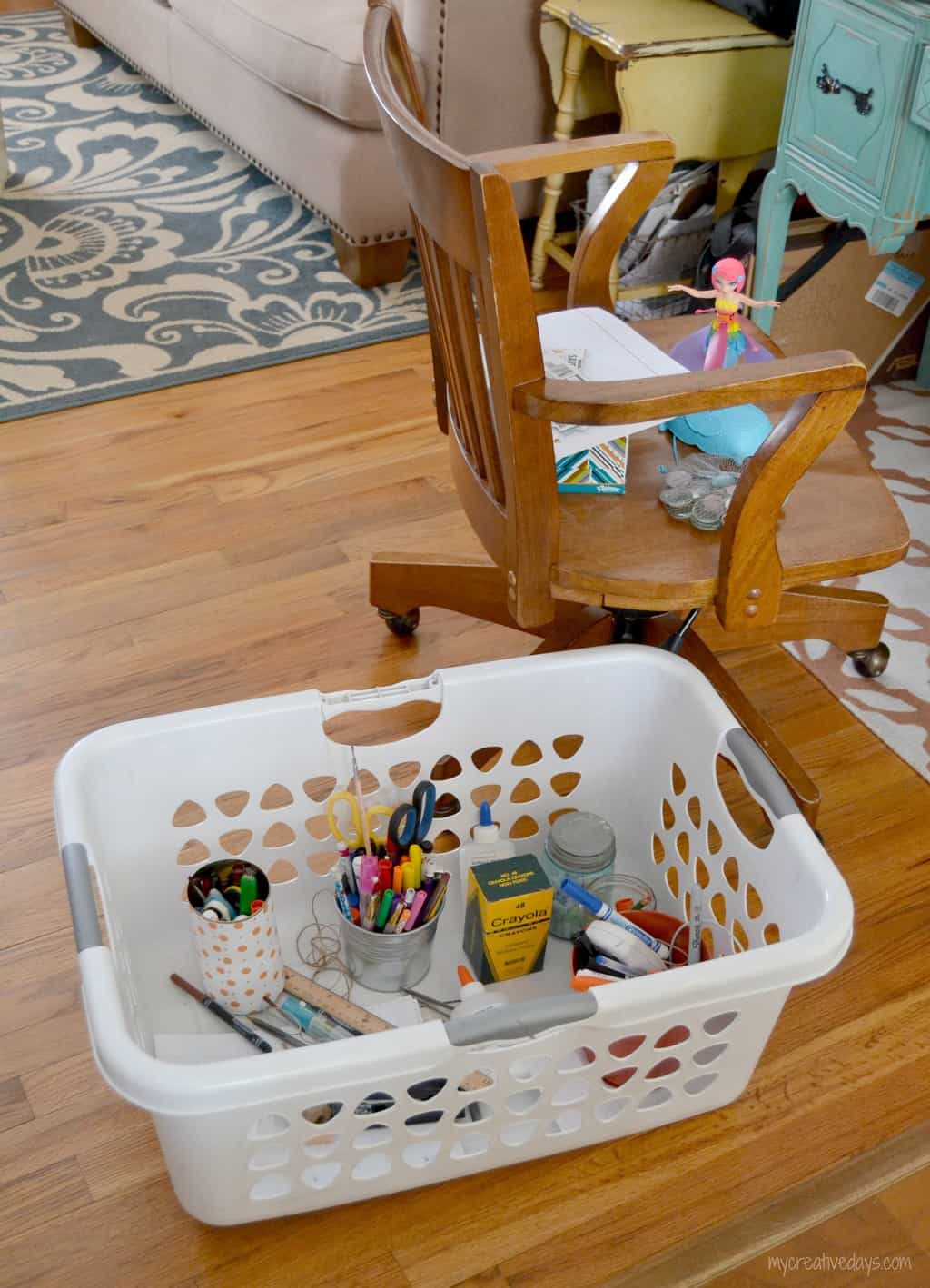 Laundry baskets are so great for this! I use them a lot when I need to move things around to take pictures.
Now, on to my creative table that is downstairs in our guest bedroom. This table is the dumping grounds for everything that needs to be put away in the basement and the rest of the family doesn't know where it goes.
"Just put it on Mom's table and it will magically get put away by the 'Cleaning' Fairy". 🙂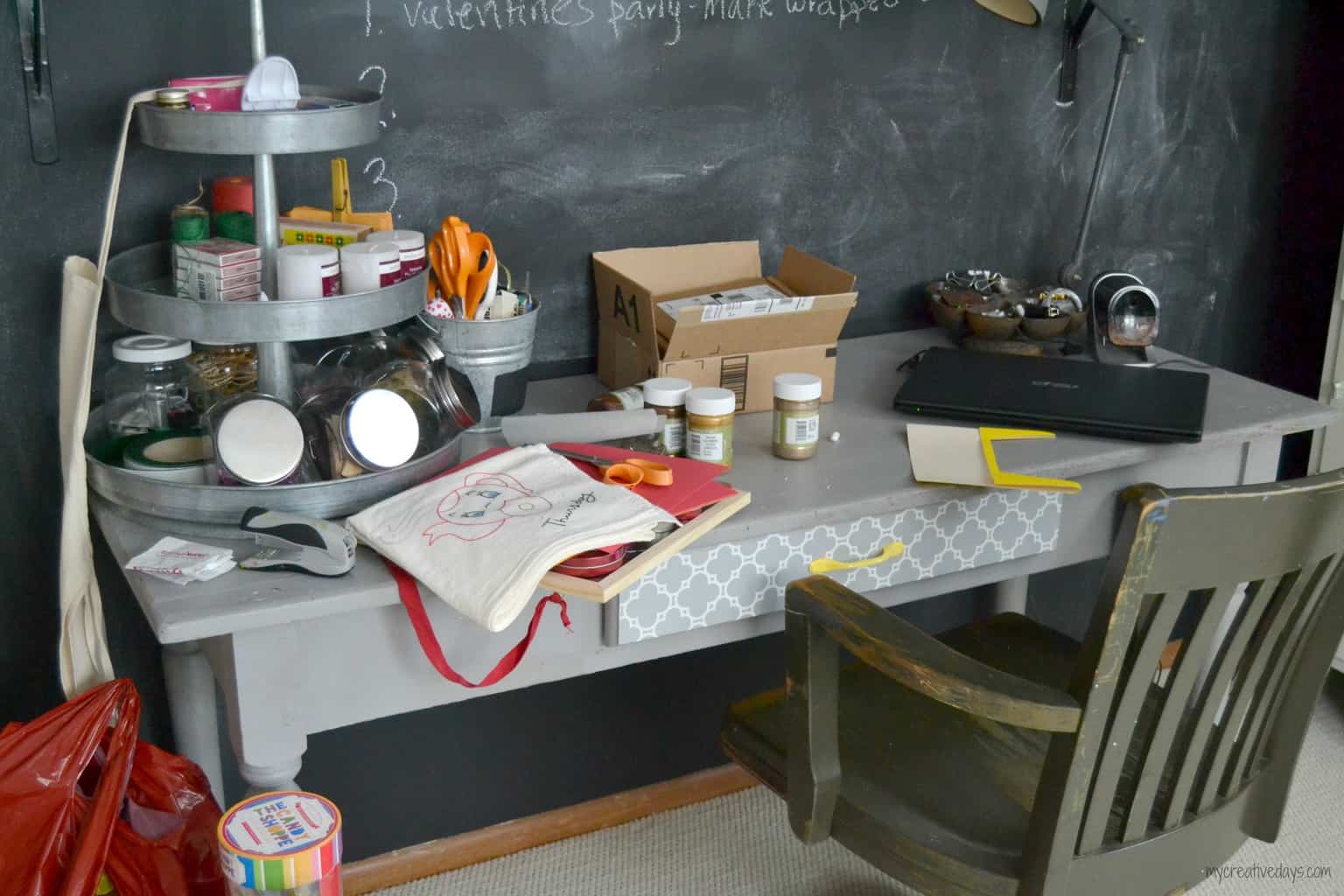 I do have to admit that my table looks a lot worse when I am working on a project.
Being a creative blogger means that there are probably a few projects lying around the house that have not been completed.
For example: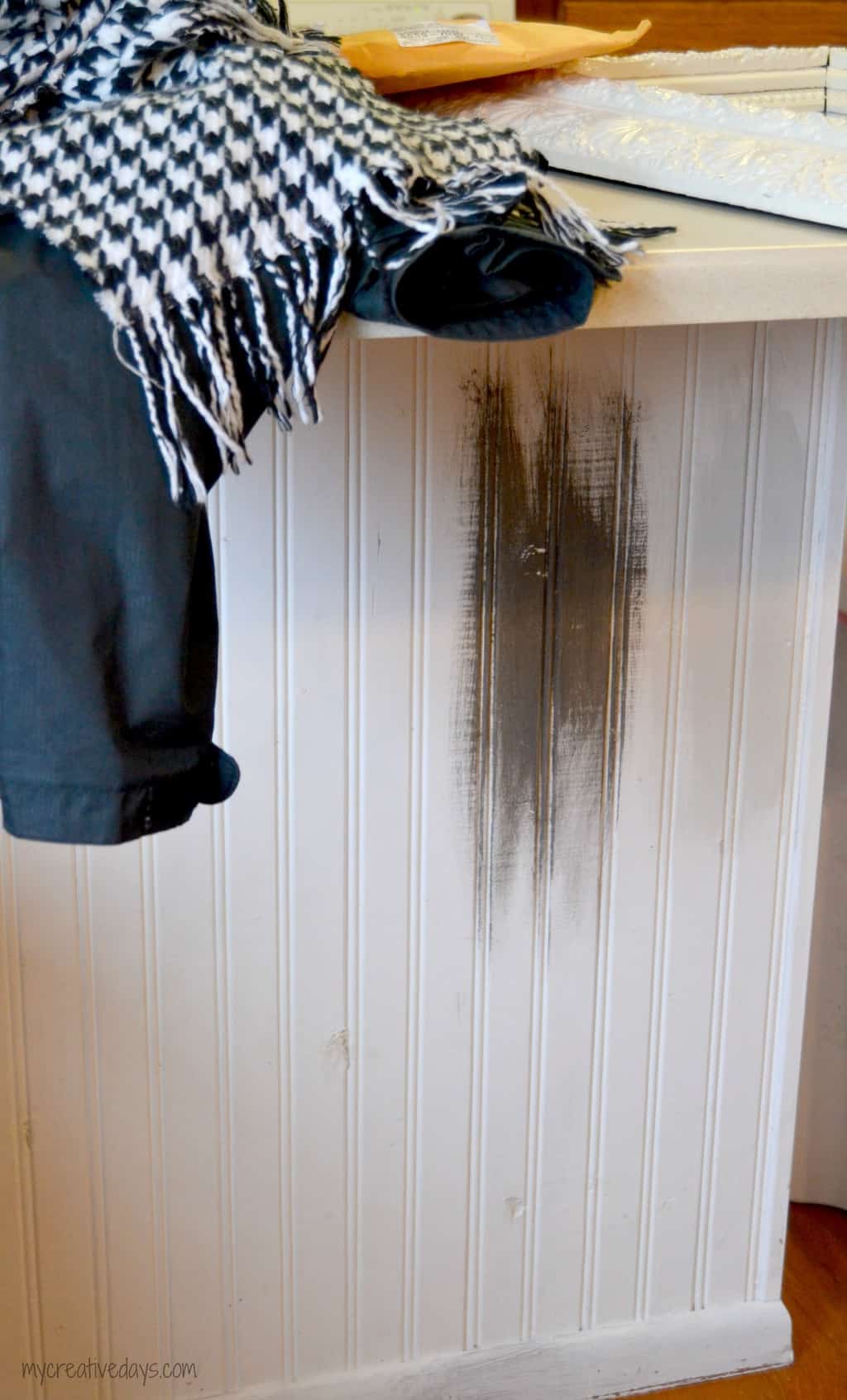 Some day, these cabinets will be painted. Some day.
And, when a creative blogger has kids stuck inside because of the freezing cold temps outside, you are likely to find a circus tent, play kitchen, clothes, coats and Legos strewn about.
Who knew?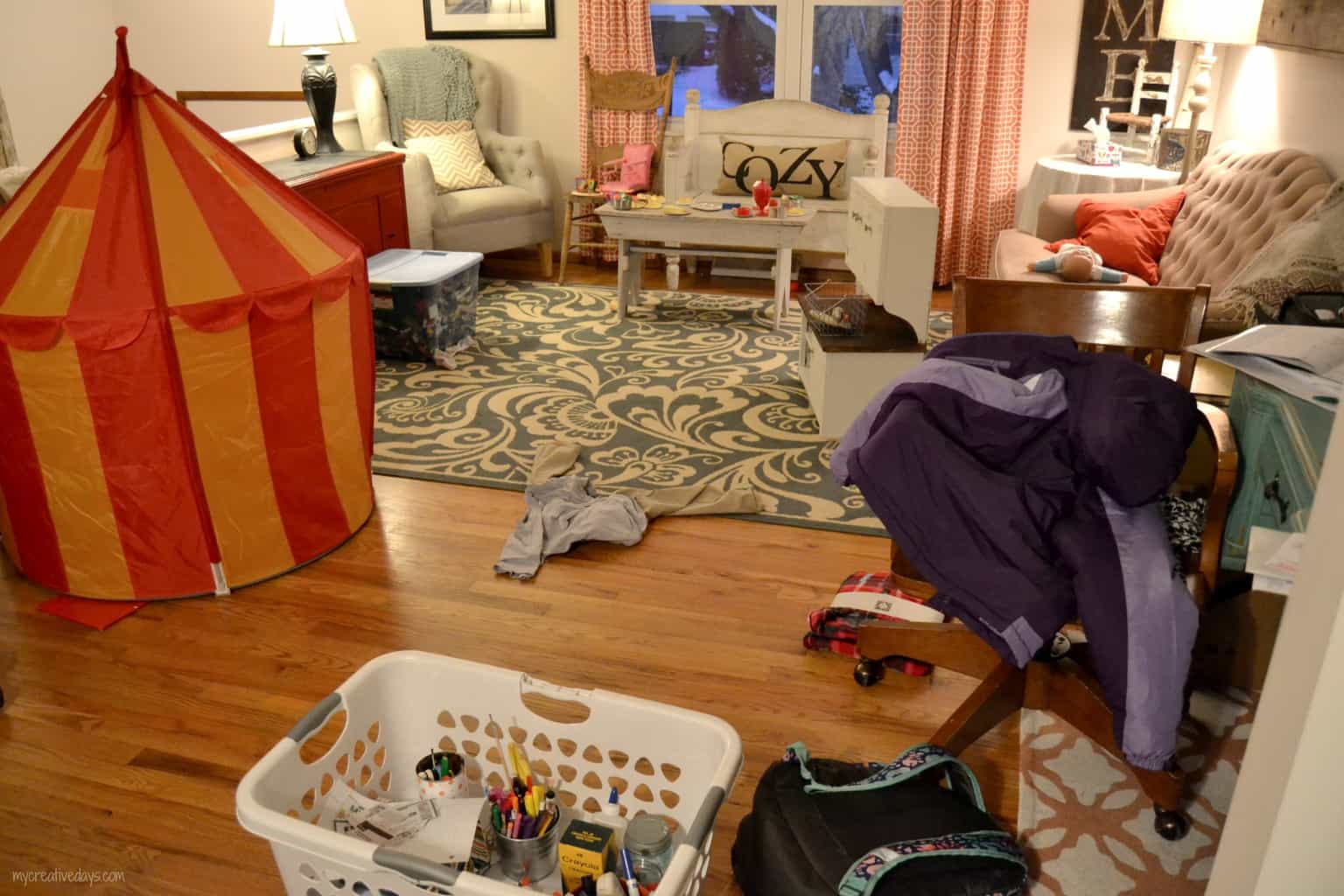 Just to set the record straight, my house doesn't always look like this, but it has its days. 😉
I loved keeping it real with you and I hope you enjoyed my messy, 'Behind The Scenes Of A Creative Blogger' post!
Want to see more behind the scenes? Head over to visit these ladies and see their homes:
Crumbs and Chaos … A Real Life Home Tour from View From The Fridge
Please Excuse the Mess, We're Making Memories from Crafts By Courtney
Silhouette School's Messy Office…Reveal from Silhouette School
Behind The Scenes Of A Creative Blogger from My Creative Days
Perfectly Imperfect Home Tour from The Blue Eyed Dove
The Many Hats of a Craft Blogging Mom from Delineate Your Dwelling
A Day in the Life of a Blogging Mama from 3 Little Greenwoods
A Real Life Page Out of the Dolen Diaries from Dolen Diaries
Our {Perfect}ly Imperfect Home Tour from One Krieger Chick