I hope you all had an amazing Christmas! I can't believe it is all over and we are now talking about the new year! I had so much fun taking the time off to relax and enjoy my family. We have so much to be thankful for and this holiday season was a great reminder of that.
I am back today as part of a fun blog hop!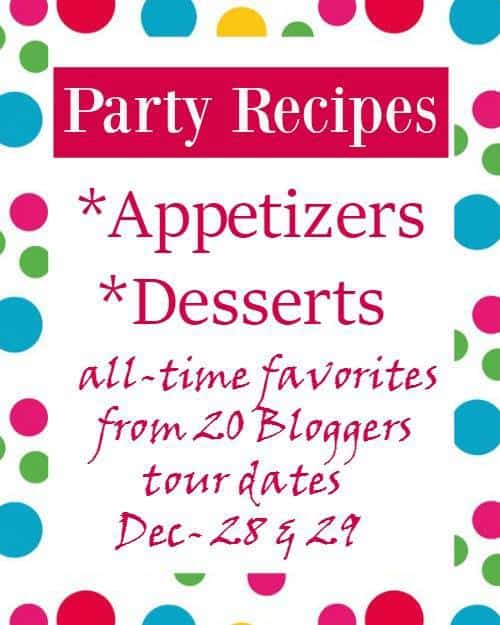 This hop is all about appetizers! Who doesn't love appetizers? And, with New Years parties this weekend, you may find something new you want to serve. I am always looking for new recipes and after looking through all of these, my menu is set for New Year's Eve! (You will find all the recipes at the end of this post).
For my recipe, I am sharing Turkey Bacon Meatballs.
They are so simple to make and serve.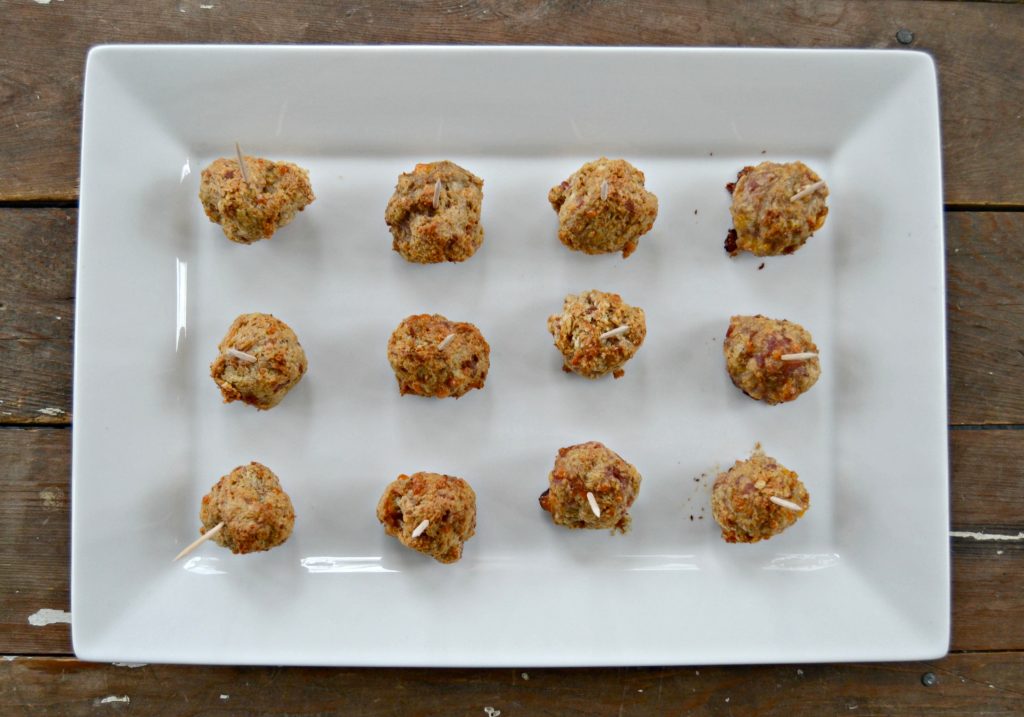 To make them, you will need:
1 lb. ground turkey
4 strips turkey bacon, cut in small pieces
1 egg
1 c. breadcrumbs
1 T. garlic powder
2 T. mustard (you can use any mustard; yellow, spicy, brown, sriracha mustard, jalapeno mustard – whatever you like)
1 T. Parmesan cheese
1/4 c. shredded cheese (any kind you like. I used cheddar for this batch)
1 teaspoon ground black pepper
Dipping Sauce:
1/4 c. plain Greek yogurt
2 T. Sriracha mustard (I used jalapeno mustard for this batch, but I think any mustard would be fine)
2 tsp. creamy horseradish
Pinch of salt and ground black pepper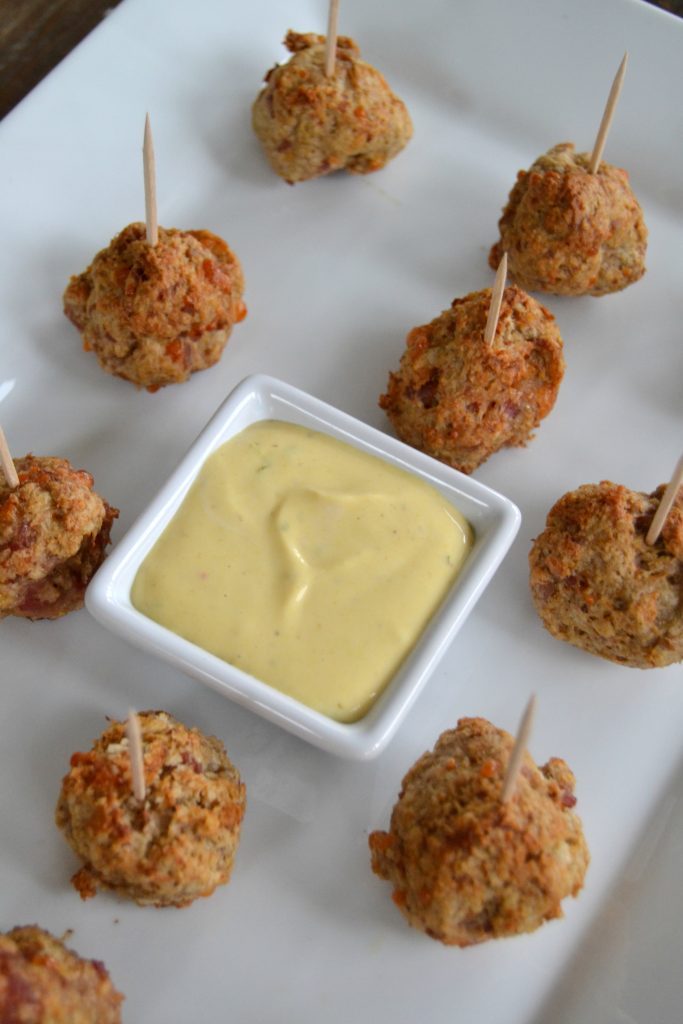 Preheat oven to 350°. Line a baking sheet with parchment paper. For the meatballs, place all the ingredients in a food processor and pulse until everything is well combined. Use a cookie scoop to make uniform meatballs. Put the meatballs on the parchment lined baking sheet. Bake for 25 minutes, or until the meatballs are fully cooked.
While the meatballs cook, mix the sauce ingredients until smooth.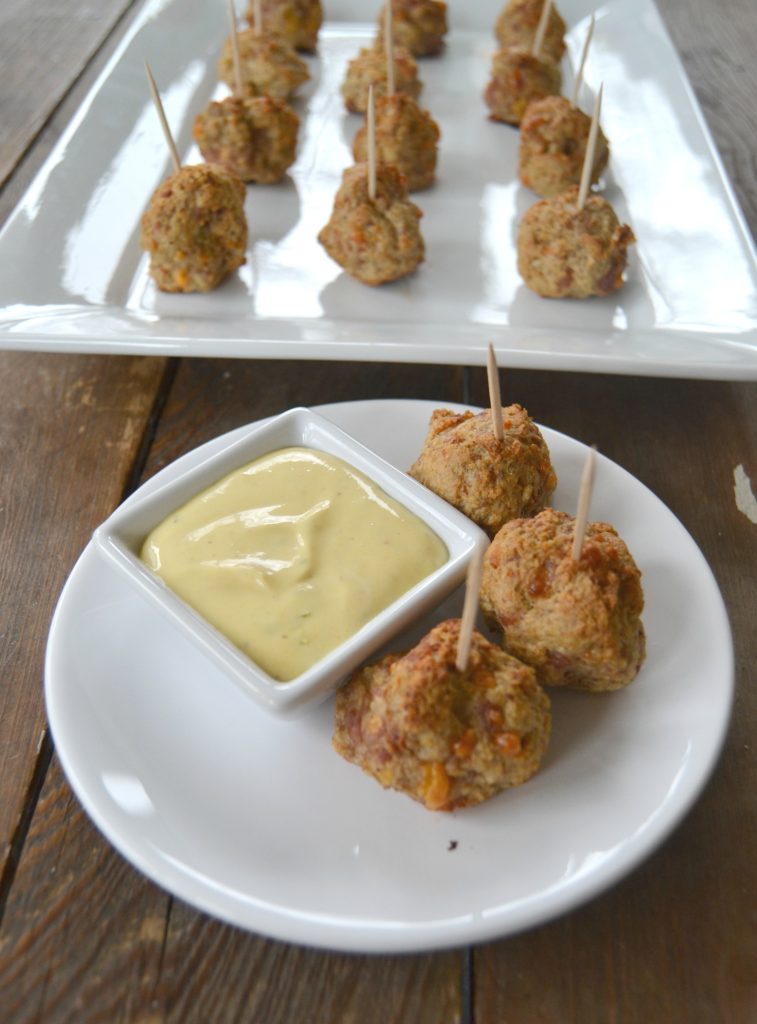 Serve the meatballs warm with sauce on the side or drizzle the tops of the meatballs with the sauce.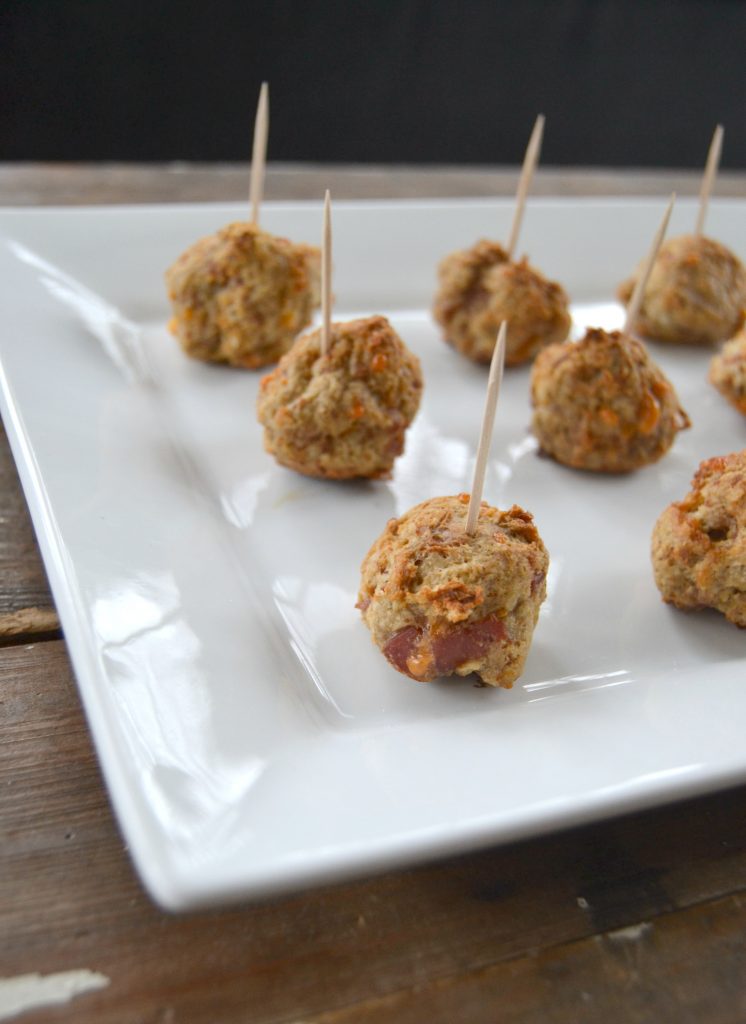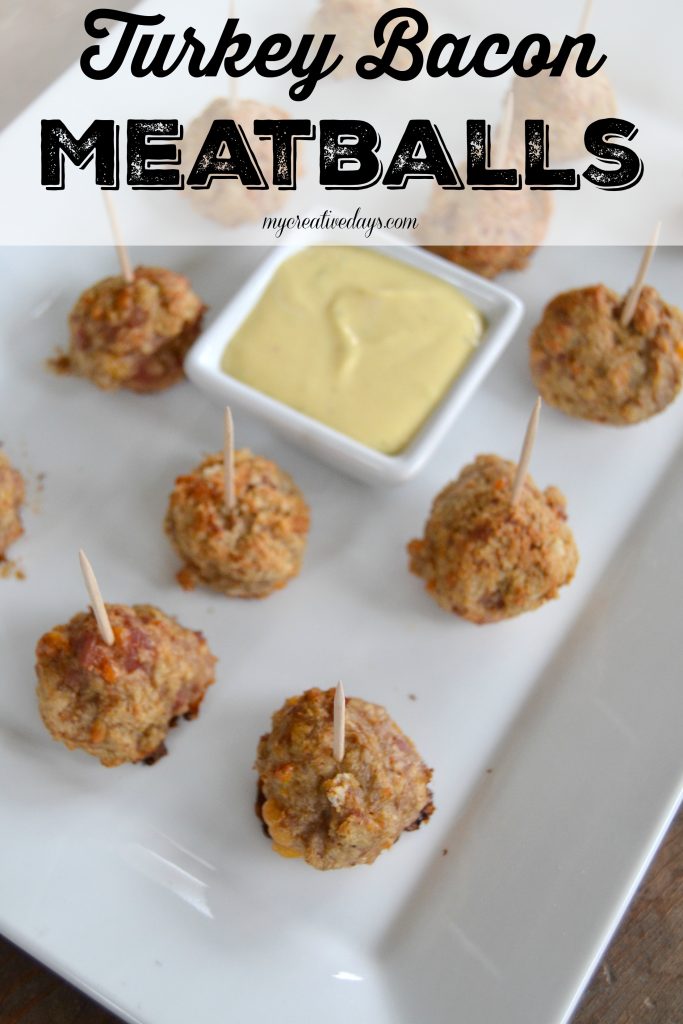 Now, since these are turkey meatballs, they are dryer than a regular meatball. We like ground turkey and chicken and are okay with that, but you can always substitute ground beef for these. These meatballs hold up well on a toothpick too so they are great for parties where you are serving finger foods. You can always serve them with your favorite marinara sauce too. In fact, when I have leftovers, I put them in marinara sauce the next day and served them with spaghetti.
For the sauce… whenever a recipe calls for sour cream and/or mayo, I like to substitute Greek yogurt. You get the same tang as sour cream but without the fat and calories. Again, you can substitute the Greek yogurt for sour cream.
When I make recipes like this, it is hard to get exact measurements. It is a dump, mix and bake recipe that you can make however you like. Try different things. Use different mustards and/or seasonings. Add in grated onion or garlic. This is a recipe you can't mess up. That is why I love it. It comes out different every time because I use what I have on hand.
Do you have plans for New Years? What is your favorite New Years tradition or recipe?
For more appetizer ideas, make sure to check out all the recipes from my blog hop friends!
Monday ~ Appetizers
Petticoat Junktion | Cottage At The Crossroads
Create & Babble | Plum Doodles
Opulent Cottage | Brandywine Cottage
Domestically Speaking | What Meegan Makes
Tuesday ~ Desserts
An Italian In My Kitchen | Cook With 5 Kids
Roots North and South |Garden Matter
The Coconut Head's Survival Guide
Day to Day Adventures | 2 Bees in a Pod