This shop has been compensated by Collective Bias, Inc. and its advertiser. All opinions are mine alone.
#SkittlesTourney #CollectiveBias
Welcome March! Around our house, we refer to this month as basketball month. Not only are we excited about all the tournament games that are played in March, but we are also wrapping up our own basketball season. Both of our kids play basketball and my husband coaches both of their teams. We are a basketball family. We love to watch, play and coach basketball. It is so much fun to watch our kids play a sport that we all love so much.
Our kids have not always liked basketball, but this year was a turning point. My son has really started to fall in love with everything about the sport. He knows more facts and stats than my husband does! I never thought I would see that day. My daughter will even repeat some player's names and stats that she has heard her big brother talk about.
With the tournaments coming up, we could not be more excited! My son and husband are already talking about picks and which teams they think will make it far in the tournament.
What is all this excitement without a party to celebrate it?!  Of course, I was all about a basketball party this month.
We had to incorporate one of our favorite treats – Skittles!
I went to Sams Club to get the 54 oz. bag of Skittles for our party.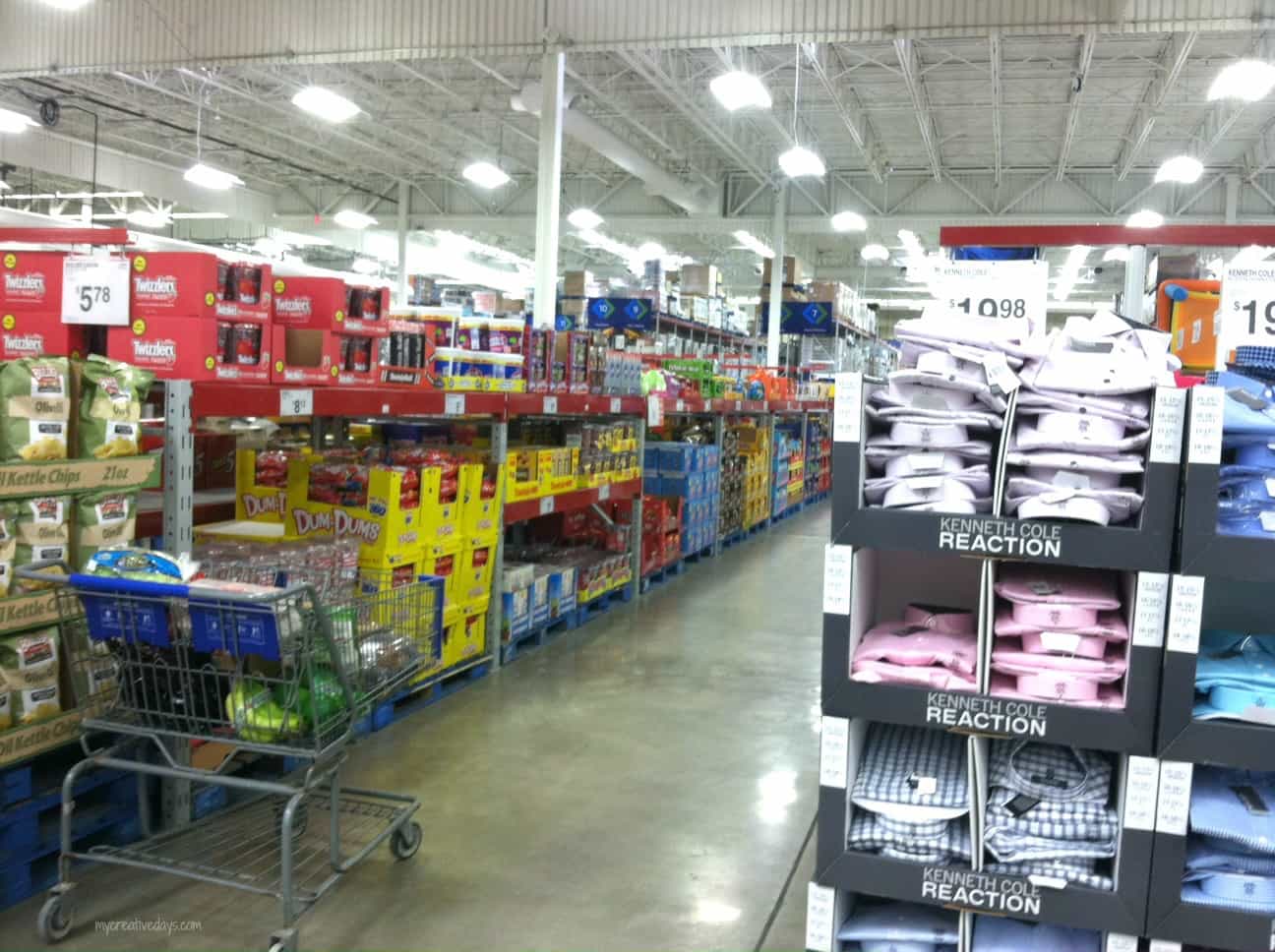 I found the 54 oz. bags of Skittles on a pallet in the candy aisle at Sams Club.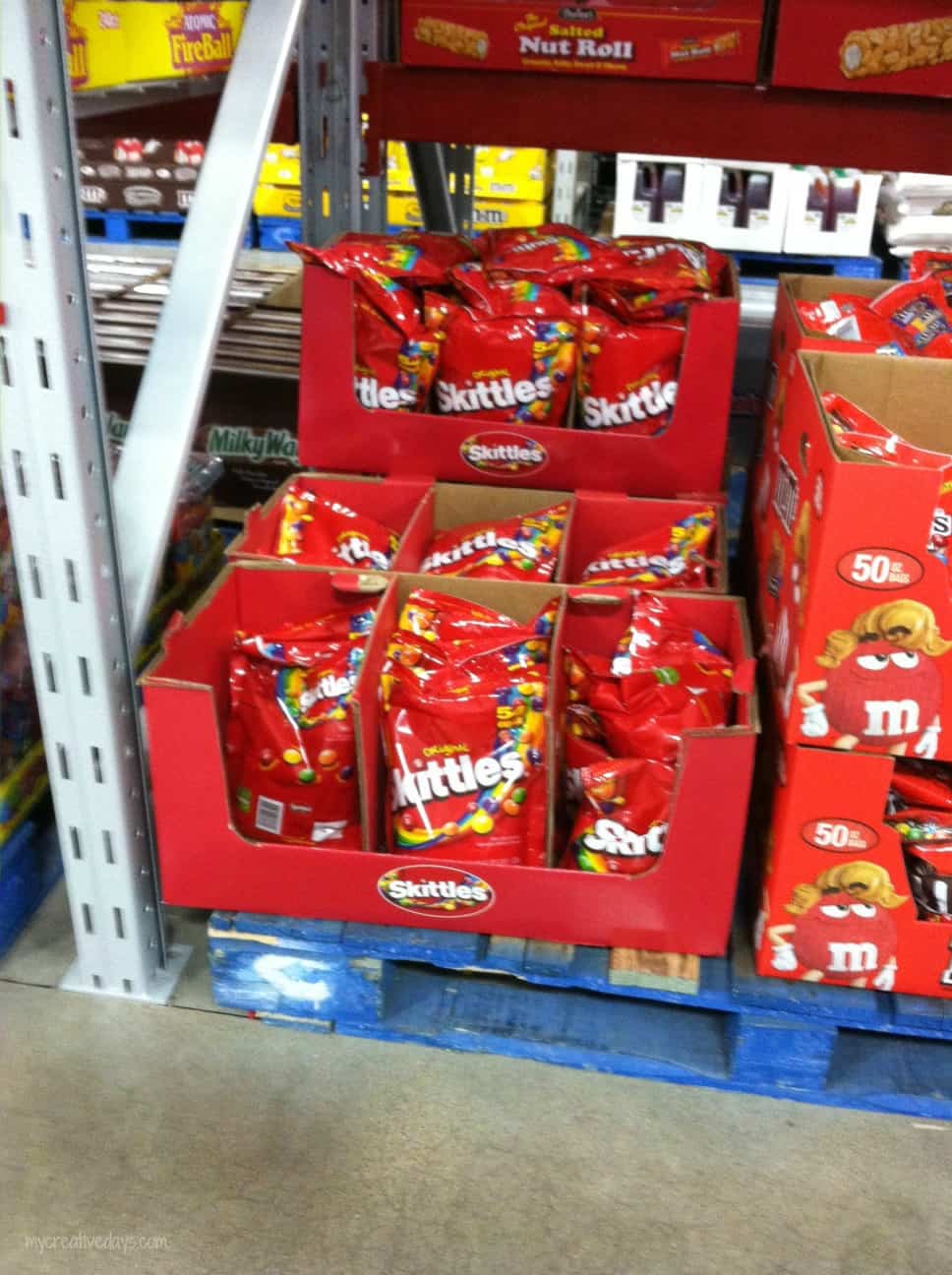 Sport parties are a lot of fun to set up for and the kids really wanted to get involved in this one.
To start the party table, I put orange and white streamers on our light fixture. Then, we covered the table with an orange table cloth.
Then, I started filling up the table with all of our basketball party decor.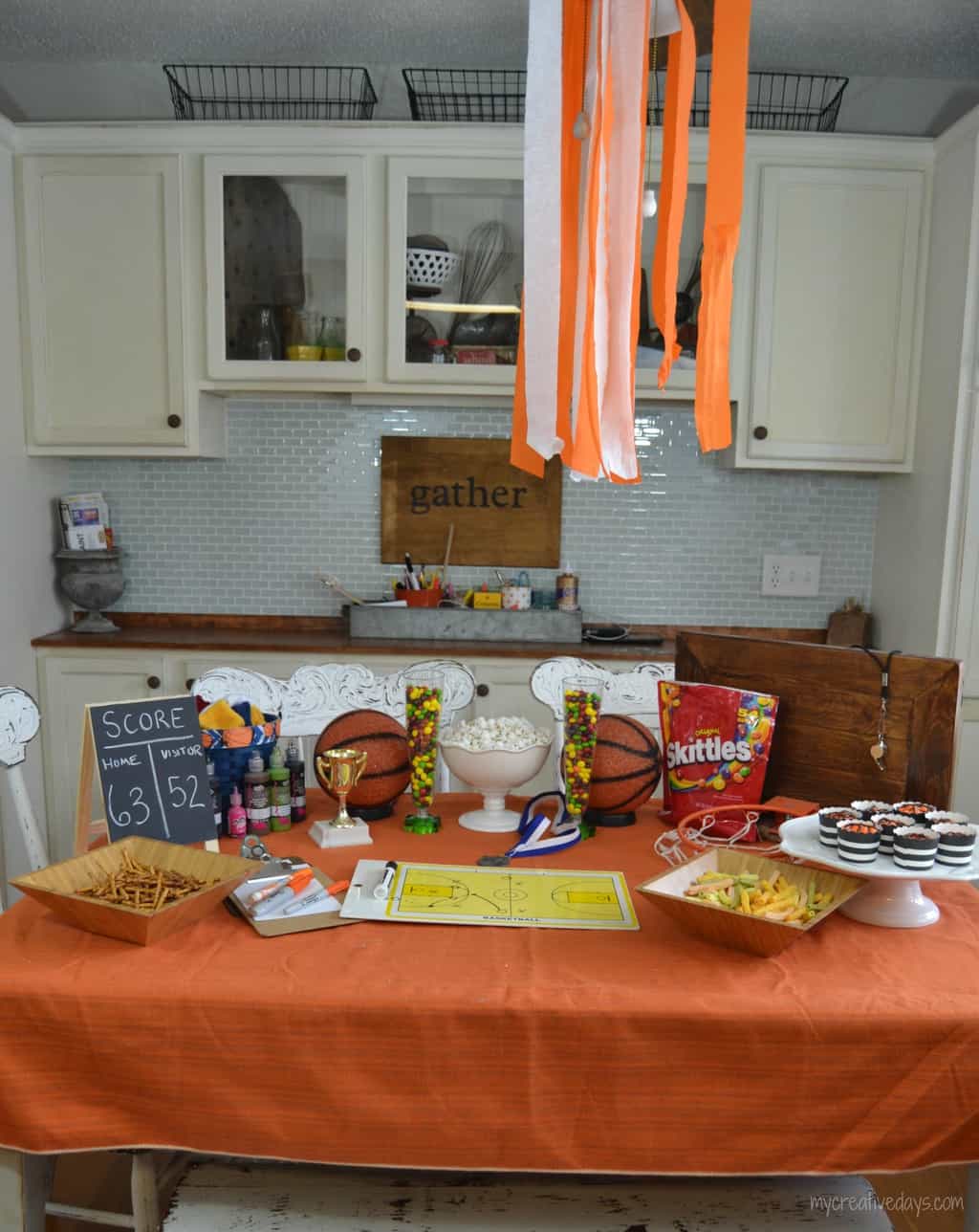 I added some of our favorite snacks to the table and filled tall glasses with Skittles.
We made basketball cupcakes with orange Skittles. We put them in "referee" holders.
This made it possible to "taste the rainbow" as we are "dunking" them into our mouths! 🙂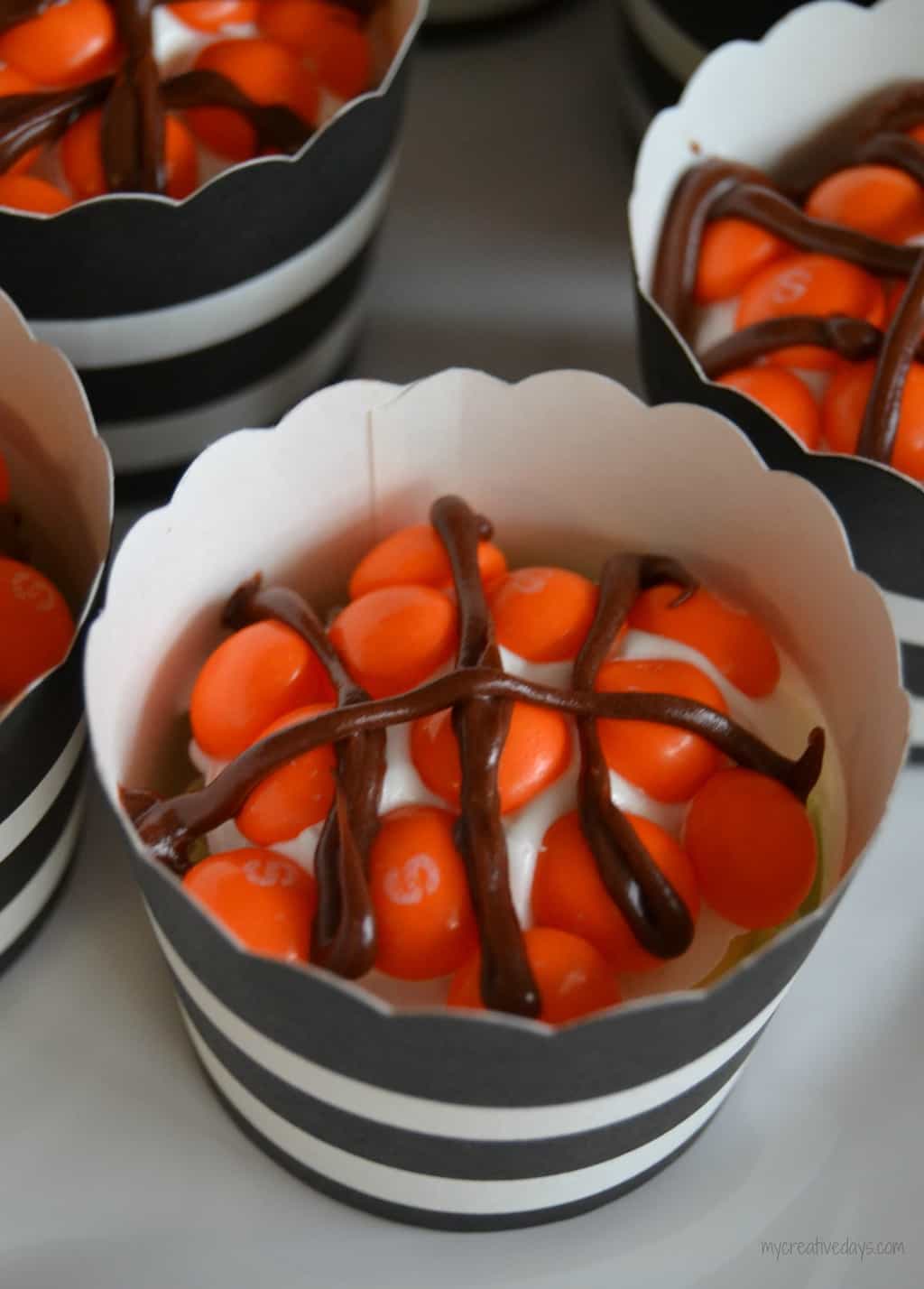 At every party we do, I always come up with ways to keep the kiddos entertained.
For this basketball party, I had them design their own wrist bands.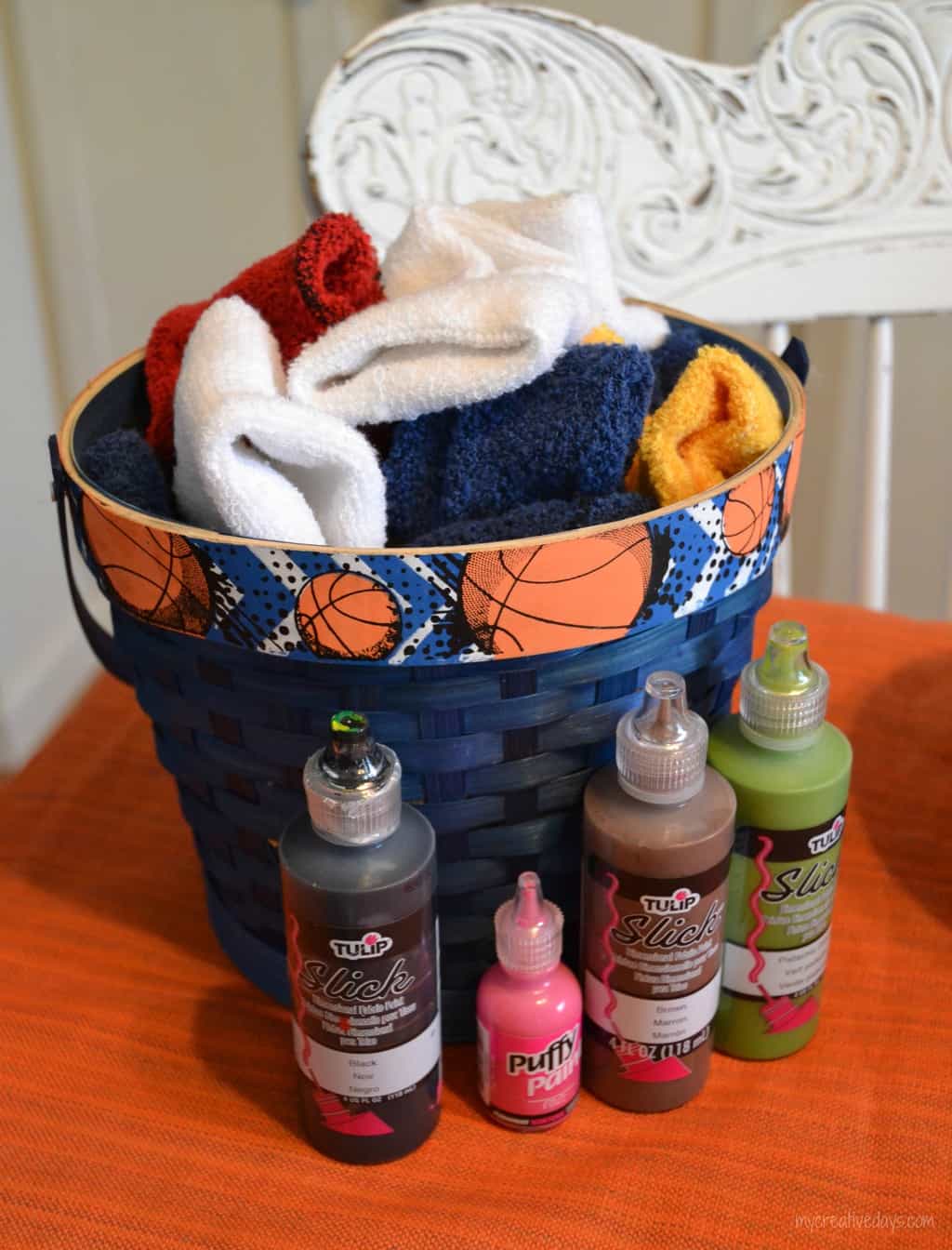 I bought multiple colored wrist bands so all teams were represented and the kids used different colored puffy paint to design their bands.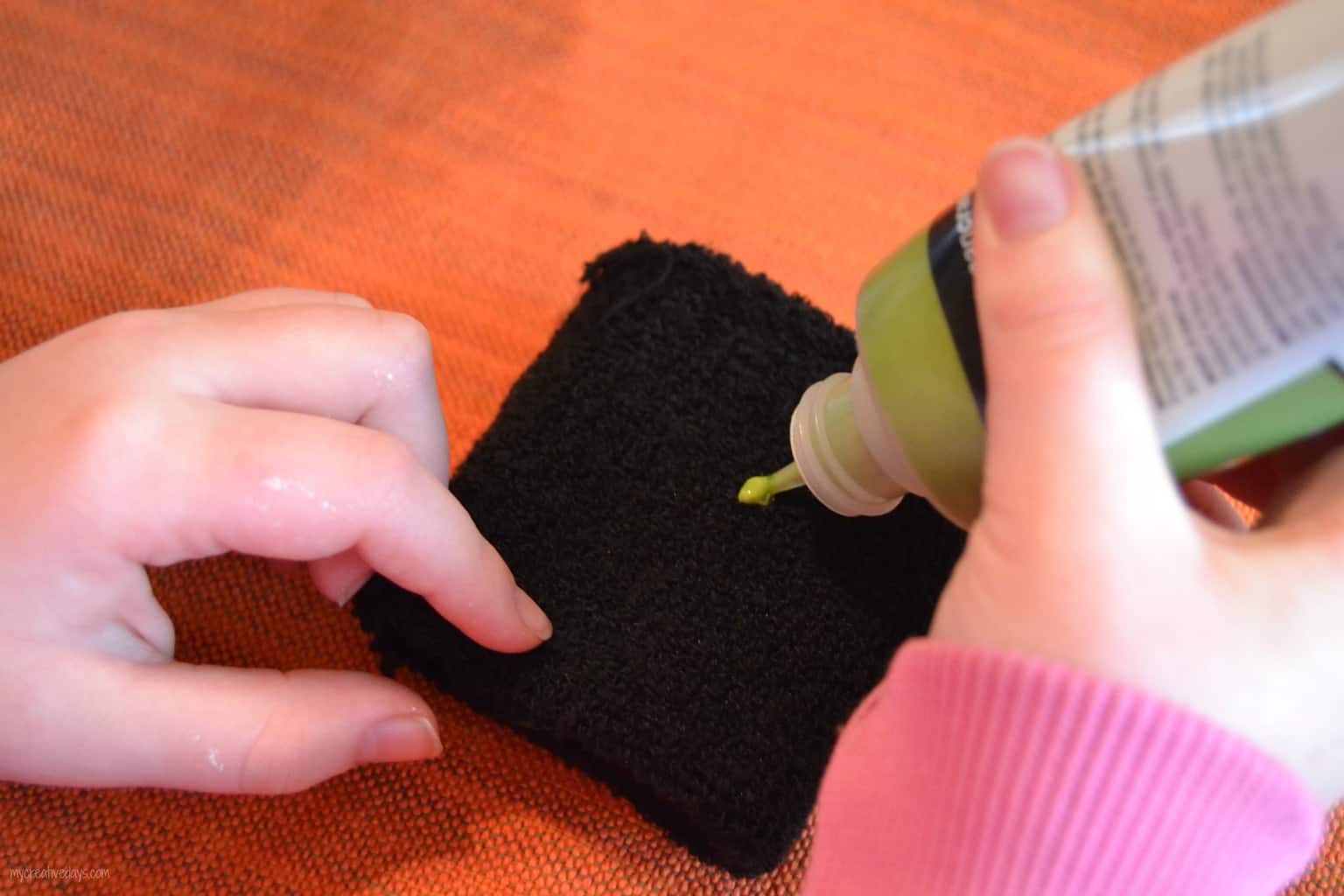 They LOVED this! Once they were dry, the kids put them on and wore them the entire day!
My husband made this basketball hoop for the party. I love it so much. We hung it on my son's room after the party was over.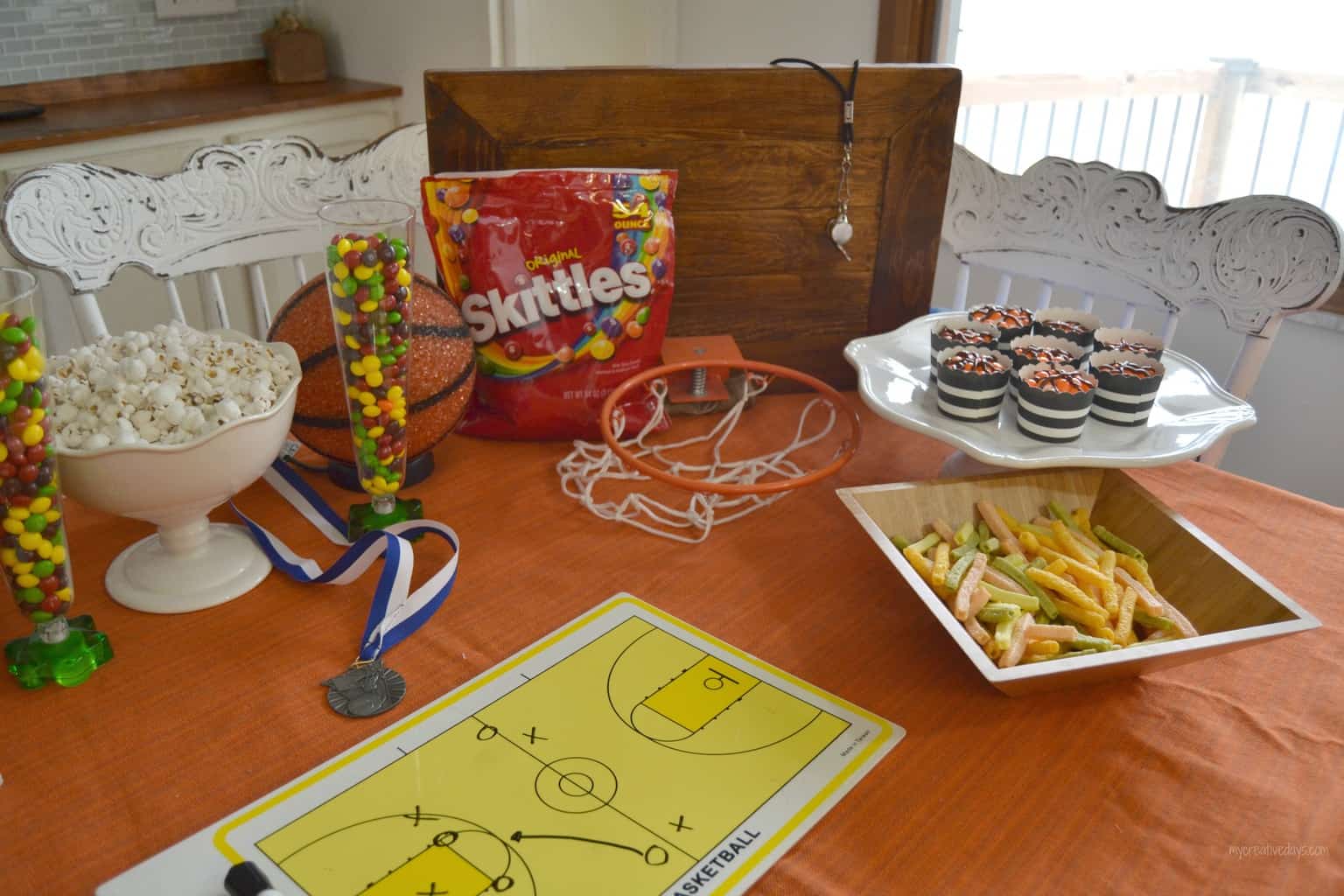 Some of the kids took the basketball clip board and started making up their own plays. This was an activity in itself. They had a lot of fun acting like coaches and writing down different things they thought their teams should do.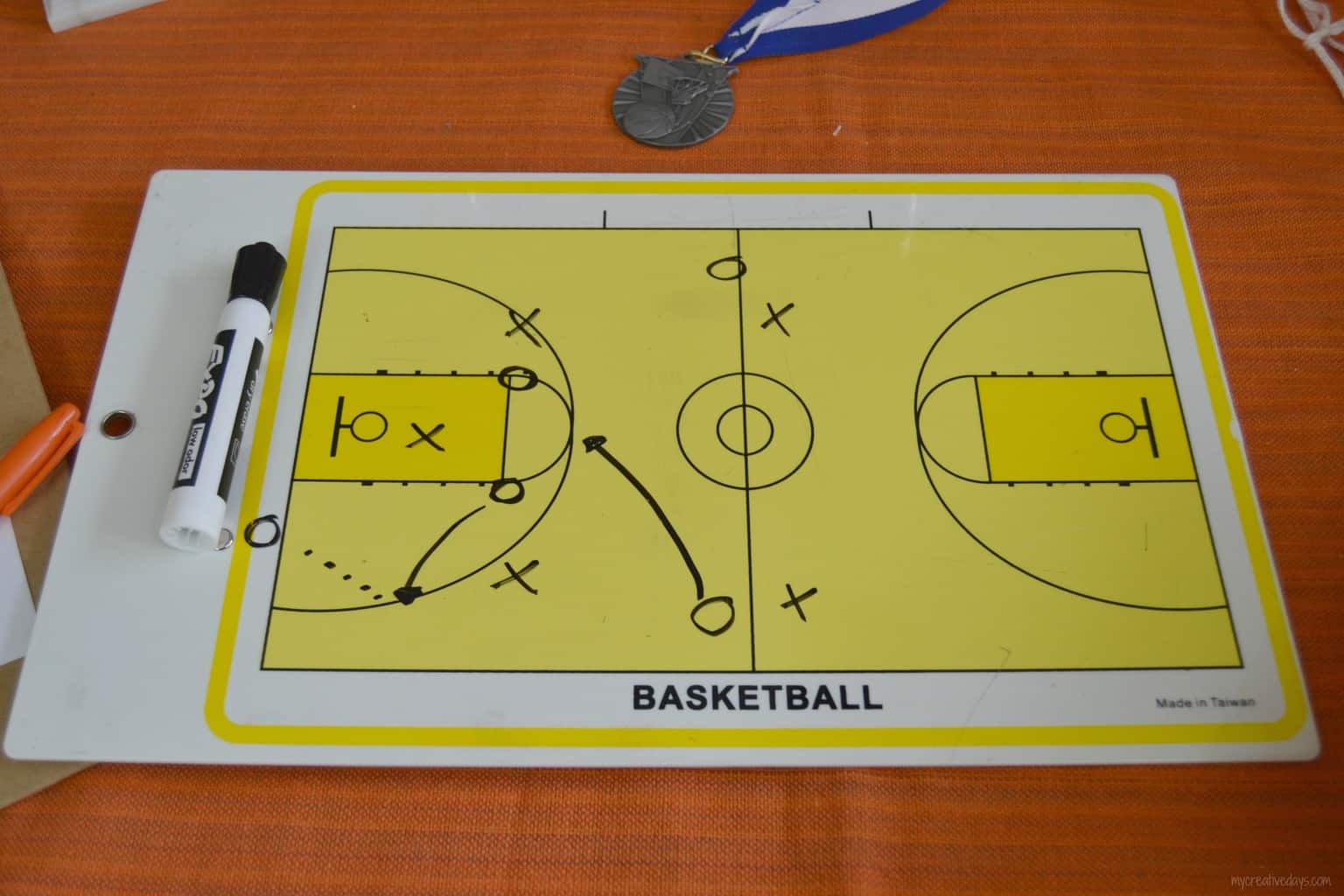 Since were weren't sure of the brackets yet, we couldn't pick teams, but my son still wanted everyone to write down some of their picks for the tournament. We gave everyone a clipboard and paper so they could write them down. My son wanted to keep track of all of them as the games are played to see who picked the best. He loves watching the games and players so much that he also wanted to keep track of all the rebounds, travel calls, double dribble calls, alley-oops and dunks for his favorite players.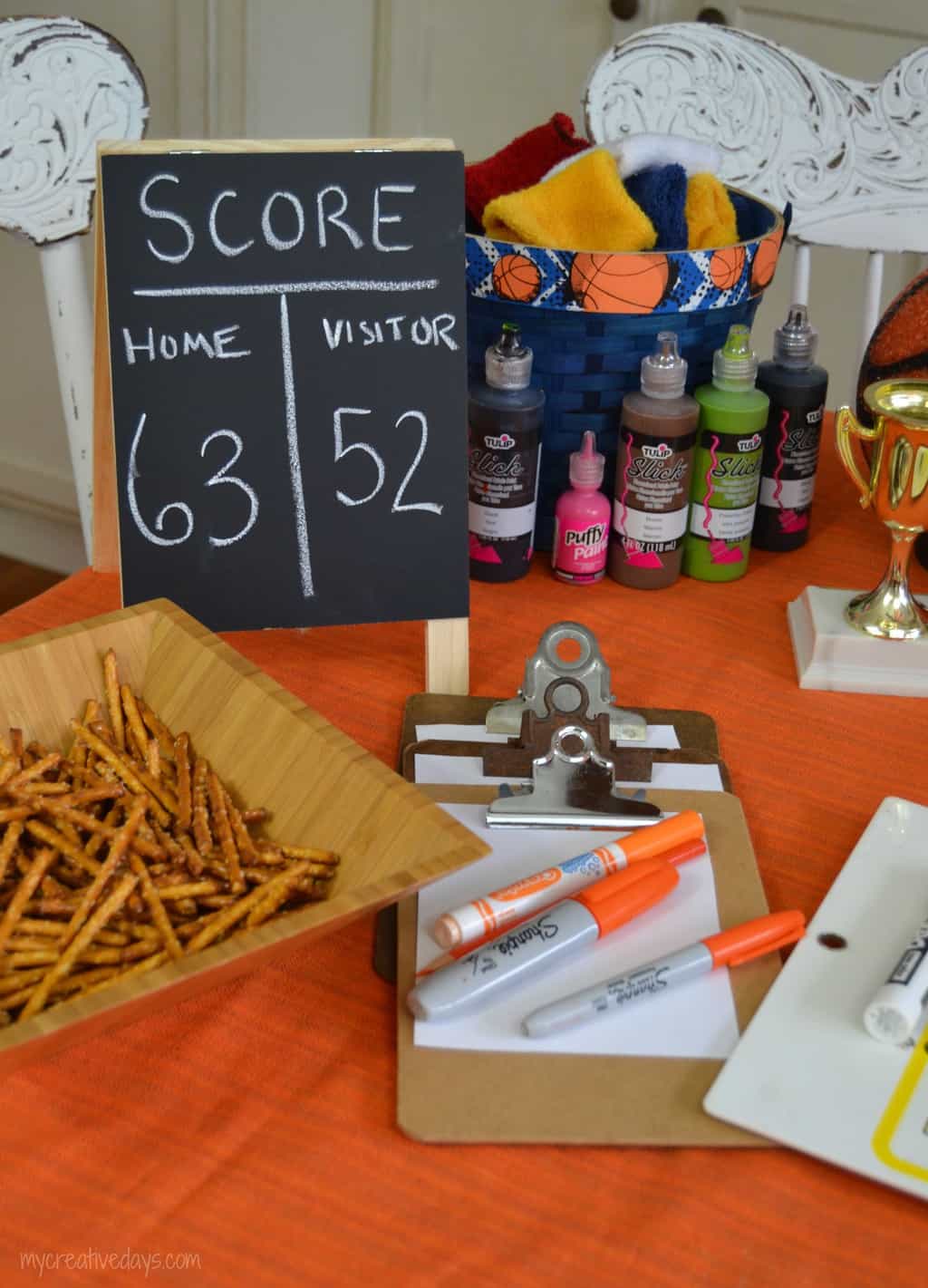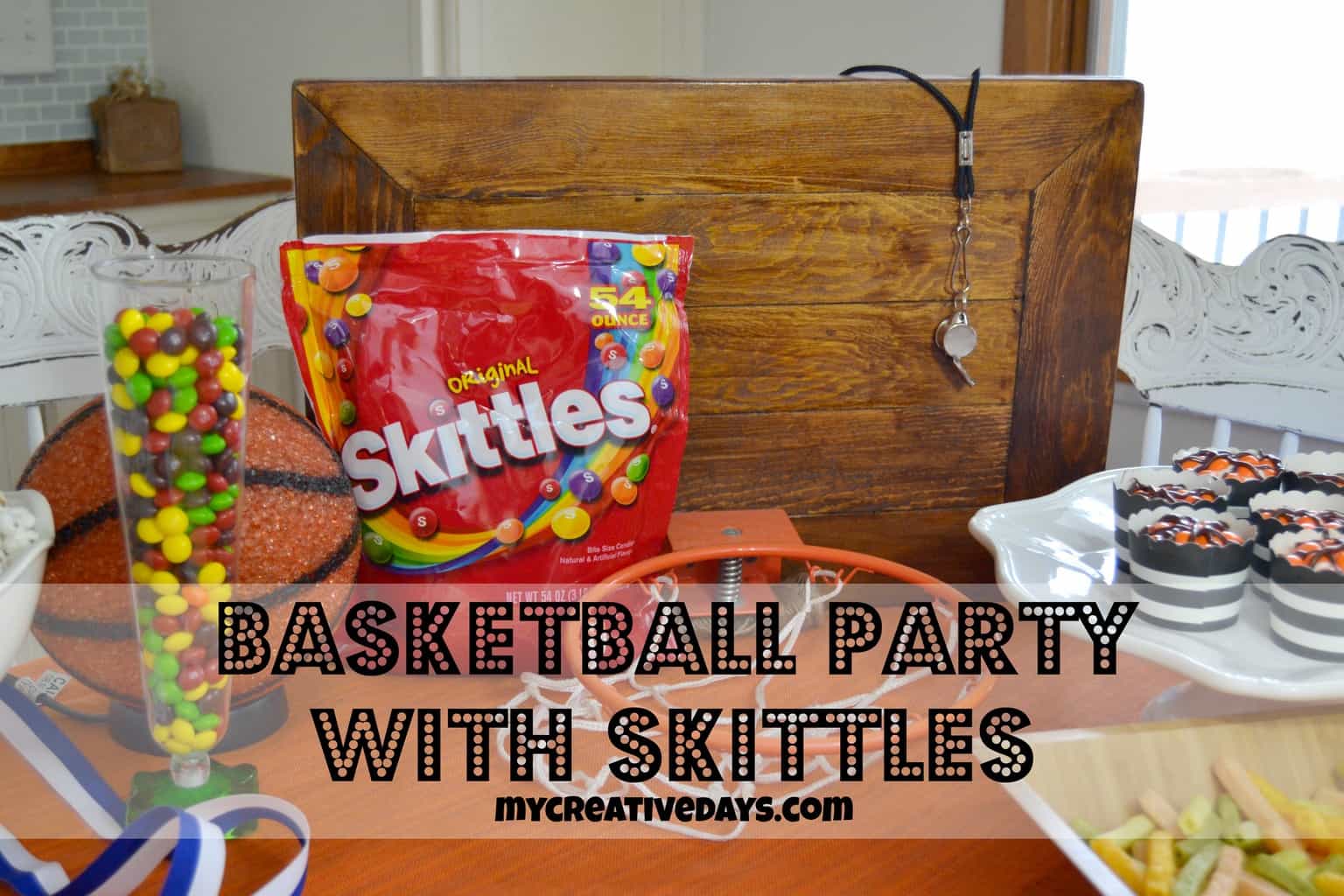 This basketball party with Skittles was so much fun. Celebrating something the entire family loves and gets involved with makes the party that much more exciting.
Check out Skittles on Facebook.
Does your family love basketball? Do you watch the tournaments? What is your favorite basketball snack to share during the games?