I am an habitual decorator. I am constantly coming up with ways to make our spaces better and prettier. I have painted and repainted every room in our home (a few times) and this time around, it was time for a bathroom makeover. Creating spaces exactly how you want them and coming up with frugal ways to get you there is what this blog is all about. You don't have to break the bank to have a great space and our bathroom makeover under $50 is a perfect example of that.
Here are a few pictures of what our bathroom looked like before the makeover:
I started the bathroom makeover with paint. Since we don't have a lot of natural light in our bathroom, I wanted a light paint color on the walls to brighten it up. I started my color search in the mis-matched paint section at my local Menards store. I found a gallon of creamy white. I knew one gallon would not cover the walls so I needed to mix paint and come up with my own custom color to get the job done. To come up with my custom color, I grabbed a 5-gallon bucket and mixed leftover paint we had used in previous projects to the creamy white paint I picked up at Menards. I mixed paints until I came up with a light gray-green color that I liked. A custom color for $5? That fits in my $50 budget.
*Tip: Don't throw away leftover paint! You can always use it to touch up your walls or mix left over paints to make your own custom colors for other projects. When you are mixing paints, make sure that you are mixing the same sheens together (ex. satin with satin, semi-gloss with semi-gloss, etc.).
The paint color really brightened the bathroom. We gave the ceiling a fresh coat of white paint with the left over ceiling paint we had. It always amazes me how bright the ceilings look after a fresh coat of paint on them.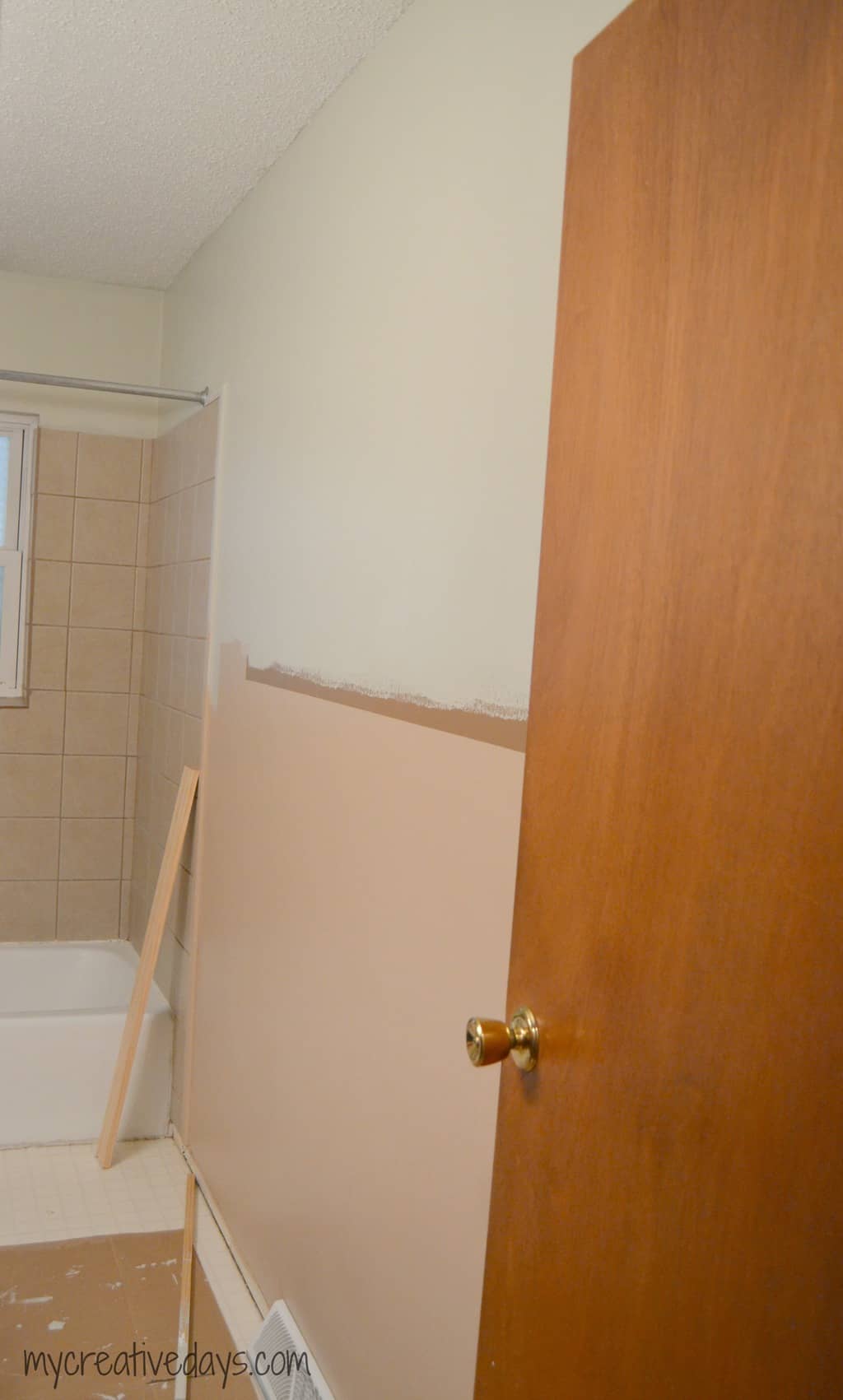 To be honest, I love seeing a mess like this in our home. It means that there is a project going on. So. Much. Fun!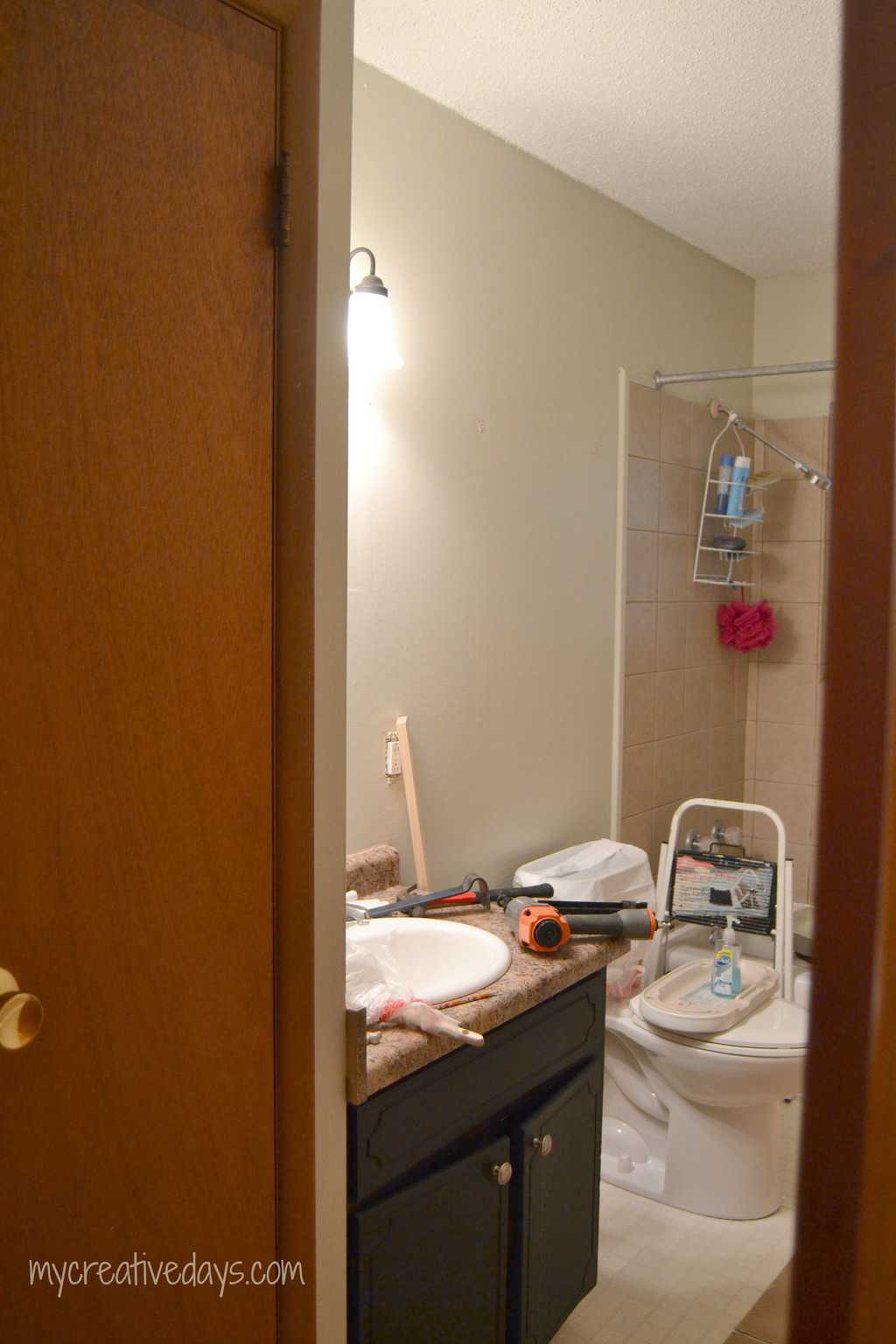 We only have one "blank" wall in our bathroom and I wanted to add a little interest to it and incorporate some hooks for towels. We gave the wall interest by putting a 1 x 4″ board horizontally a little over halfway up the wall. Then, we added a 1 x 4″ board on the base of the wall (and some small trim boards to go around the vent). Lastly, we put five 1 x 3″ boards vertically between the top and bottom 1 x 4″ boards, about 16″ apart.
For the hooks, I saved money on new ones and used old doorknobs! Matt attached the knobs to the top board before attaching it to the wall.
The knobs add so much more character than regular hooks would have.
Once we got the vertical pieces on the wall, it really started to come together.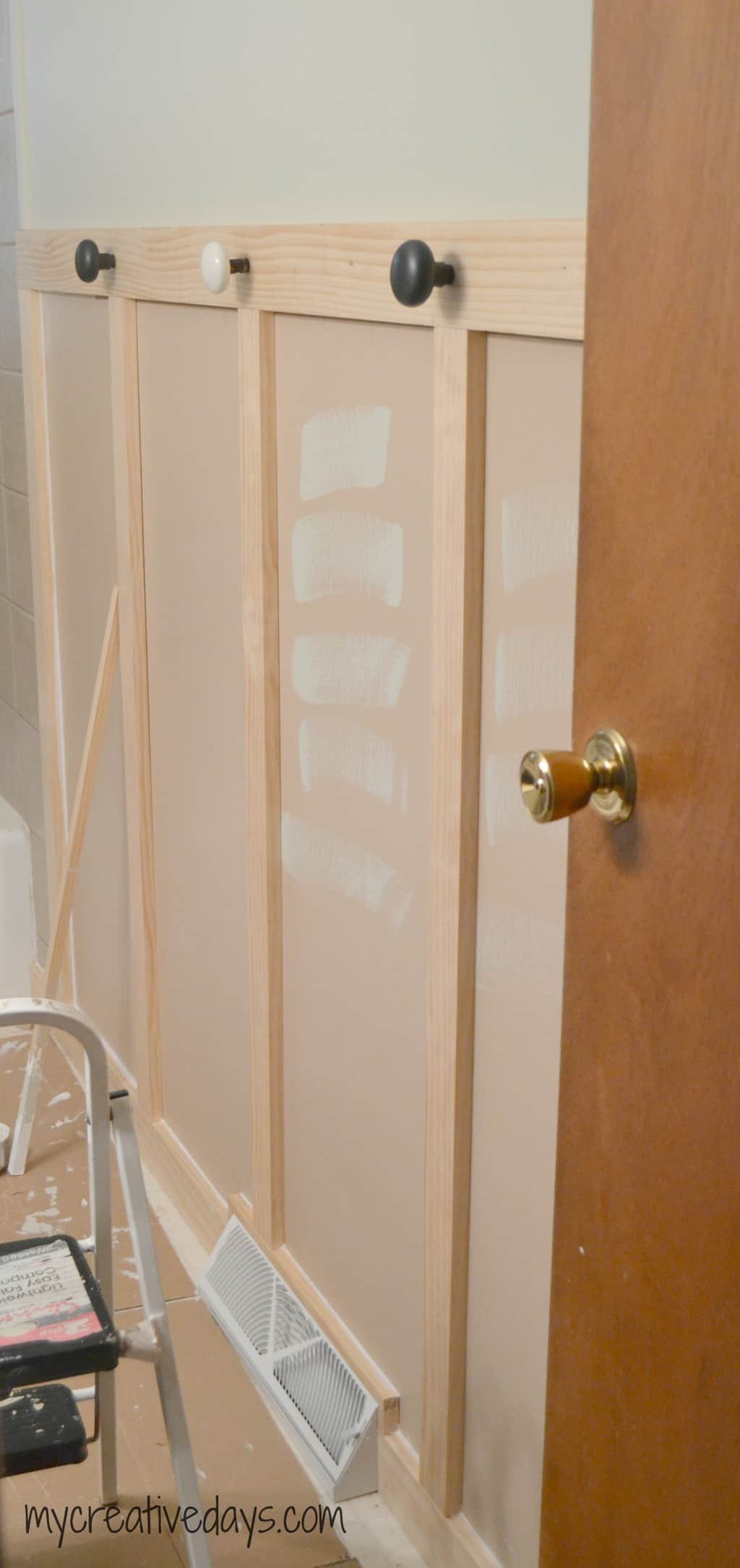 After some caulk, it was time to paint. We had a gallon of white paint left over from a previous project so we used that on the wall we just did.
Look at the new wall now!!! It is such a vast improvement from what it was.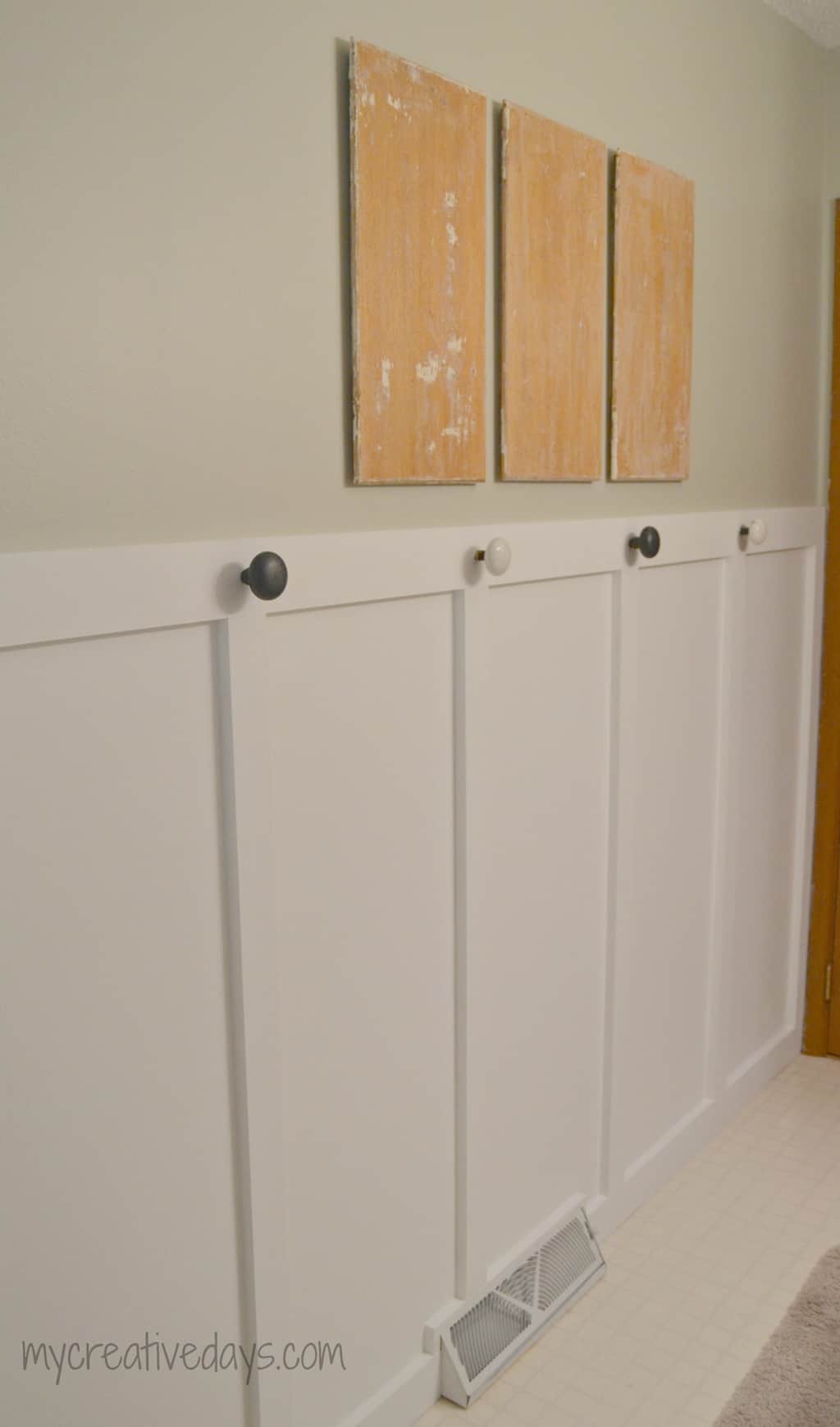 I wanted to take down that old black cabinet we had above the toilet and add open shelving instead. We had an old board in the garage that I knew would make perfect shelves, but I didn't want to use plain, metal shelf brackets to hang them.
ReStore to the rescue! We found these pieces there and Matt was able to remove the four brackets for the shelves in the bathroom. We put the rest of the architectural pieces together and made a trellis for the backyard.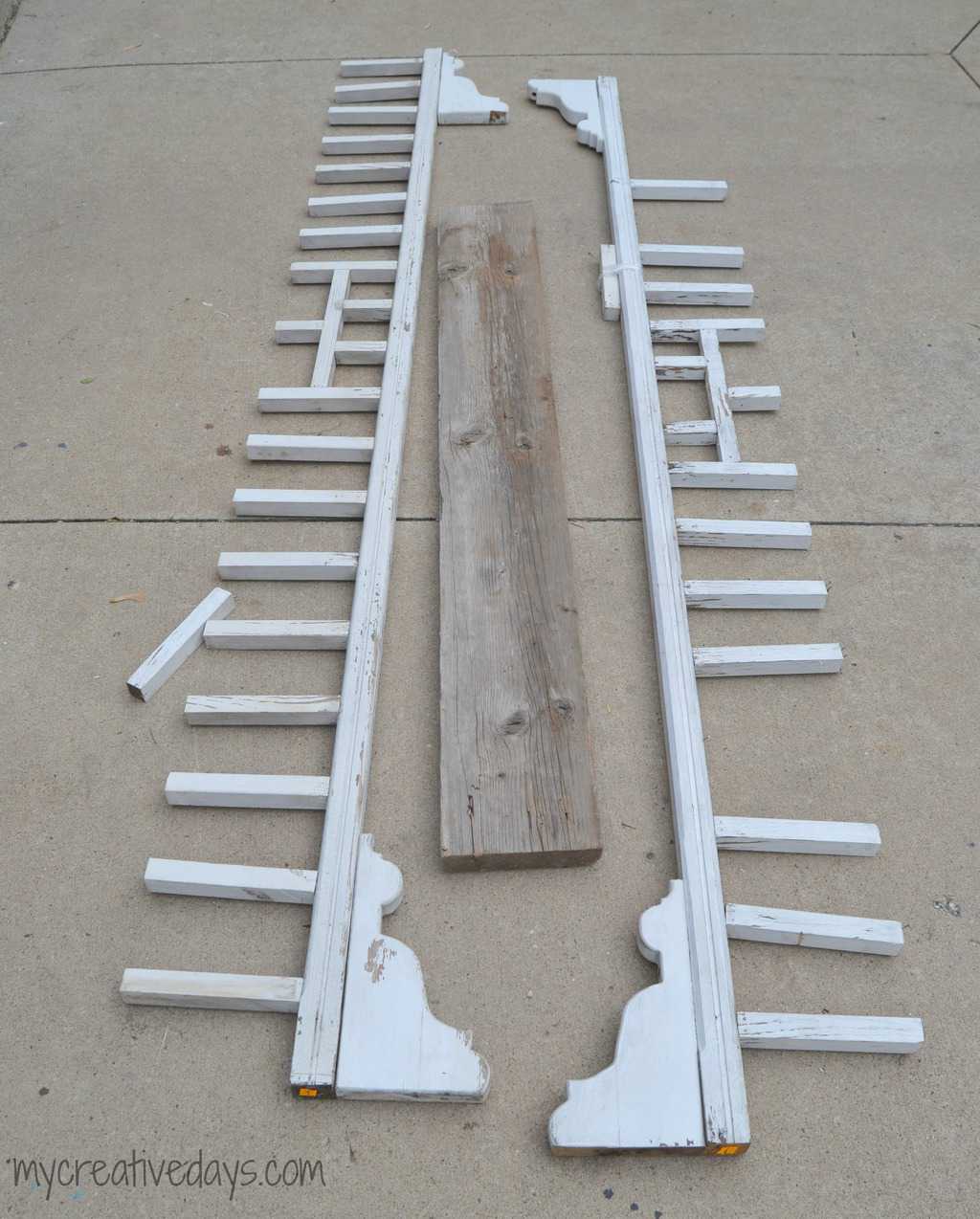 The brackets were perfect for the bathroom shelves. One of them split when Matt was working with them, but it was easily fixed with some glue.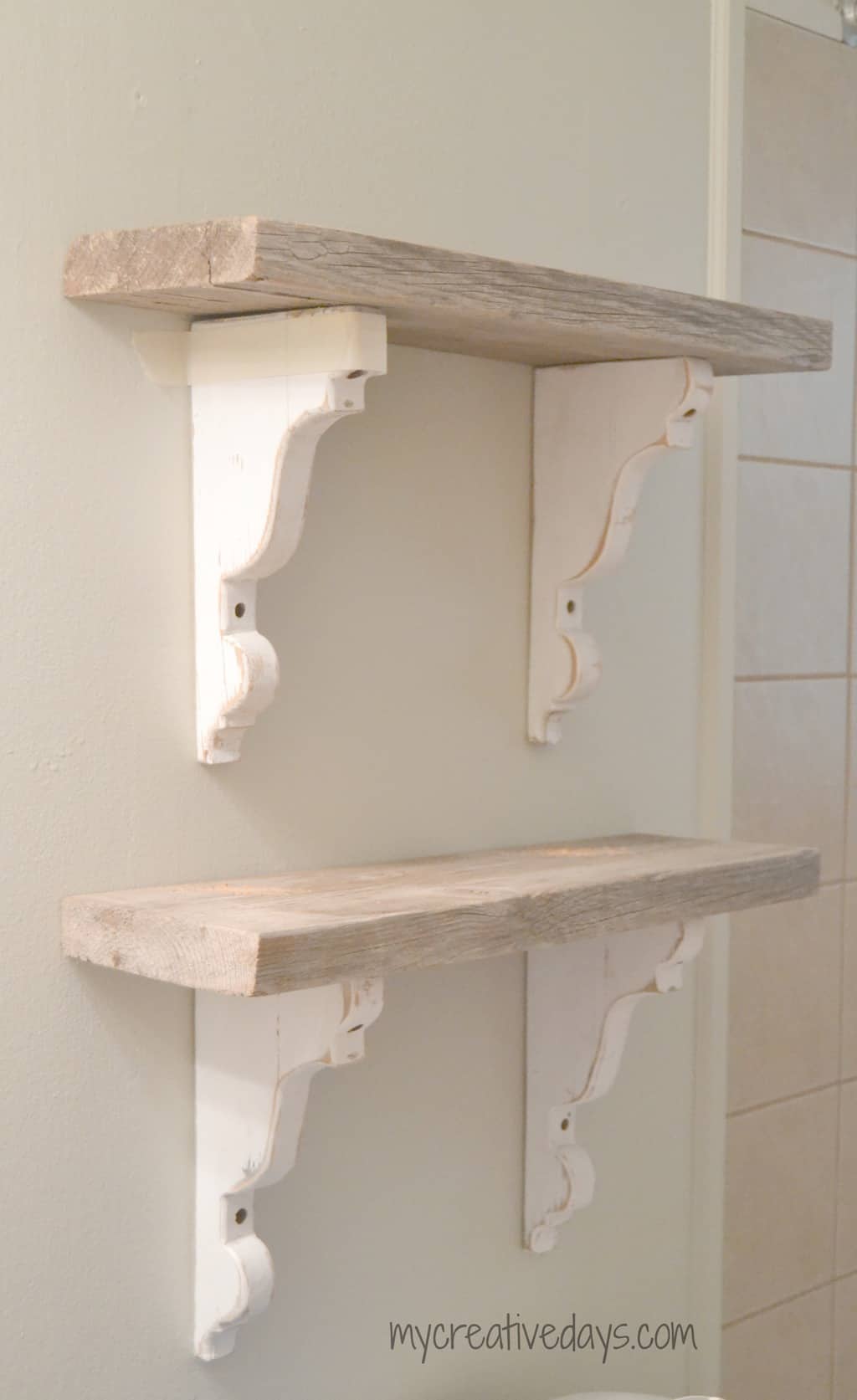 I shopped our home for things to add to the shelves. This will change many, many time.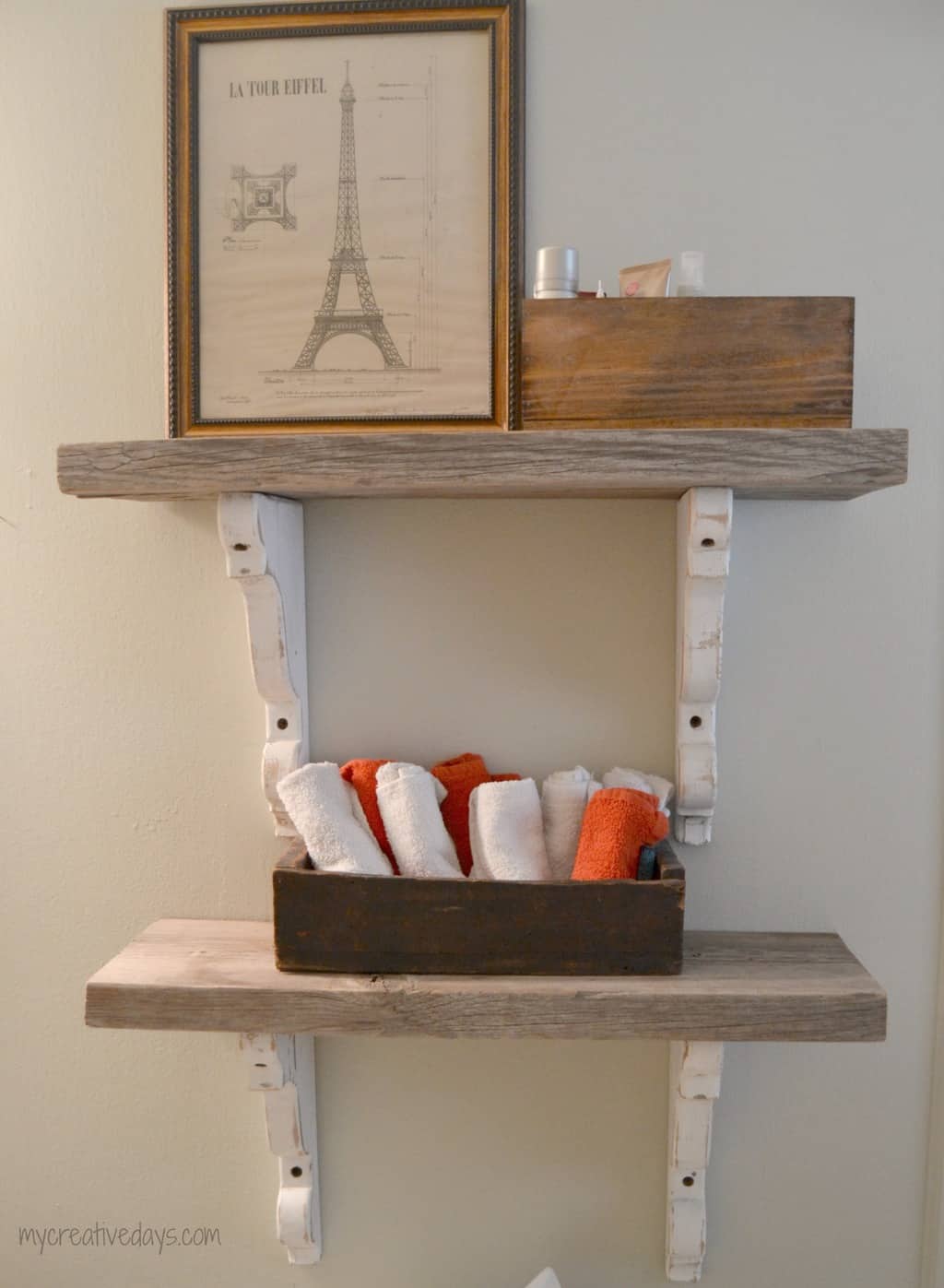 I added an old garden rake to the wall by the sink to hold a hand towel.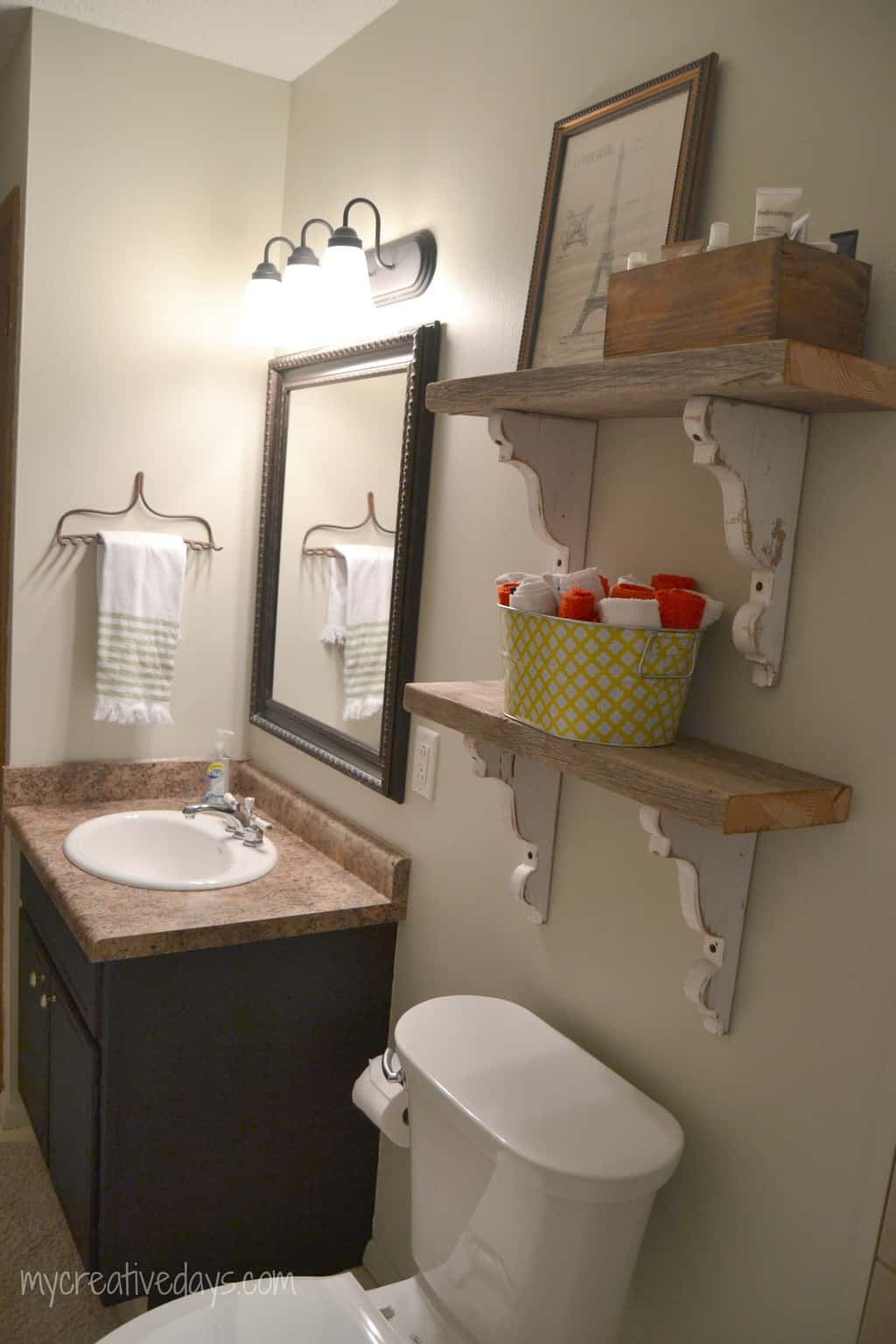 I bought some new gray towels for the bathroom makeover and if I find a good deal on a pretty shower curtain, I might pick it up. Other than that, I am so happy with the makeover. I am most happy that I got to use some of my favorite finds in the project and that I didn't break the bank to give it a new look.
Here is a breakdown of our bathroom makeover costs:
Paint: $5 (walls: mis-matched gallon of paint mixed with leftover paint from other projects; feature wall: leftover white paint)
Brackets: $10 total
Doorknobs: ($2)
Wood for wall: ($20)
Three gray towels ($9 at Target)
On to the next makeover………..