Now that our daughter's bedroom only has a few minor changes to finish the makeover, I decided to change some things in our bedroom. For a while now, I have been thinking about making some changes to our bedroom. The long winters are breeding grounds for me to start thinking about all the changes I want to make to our home once spring comes around.
This is how our bedroom looked in my Summer Home Tour last year.
You can see more of the room in this post as well.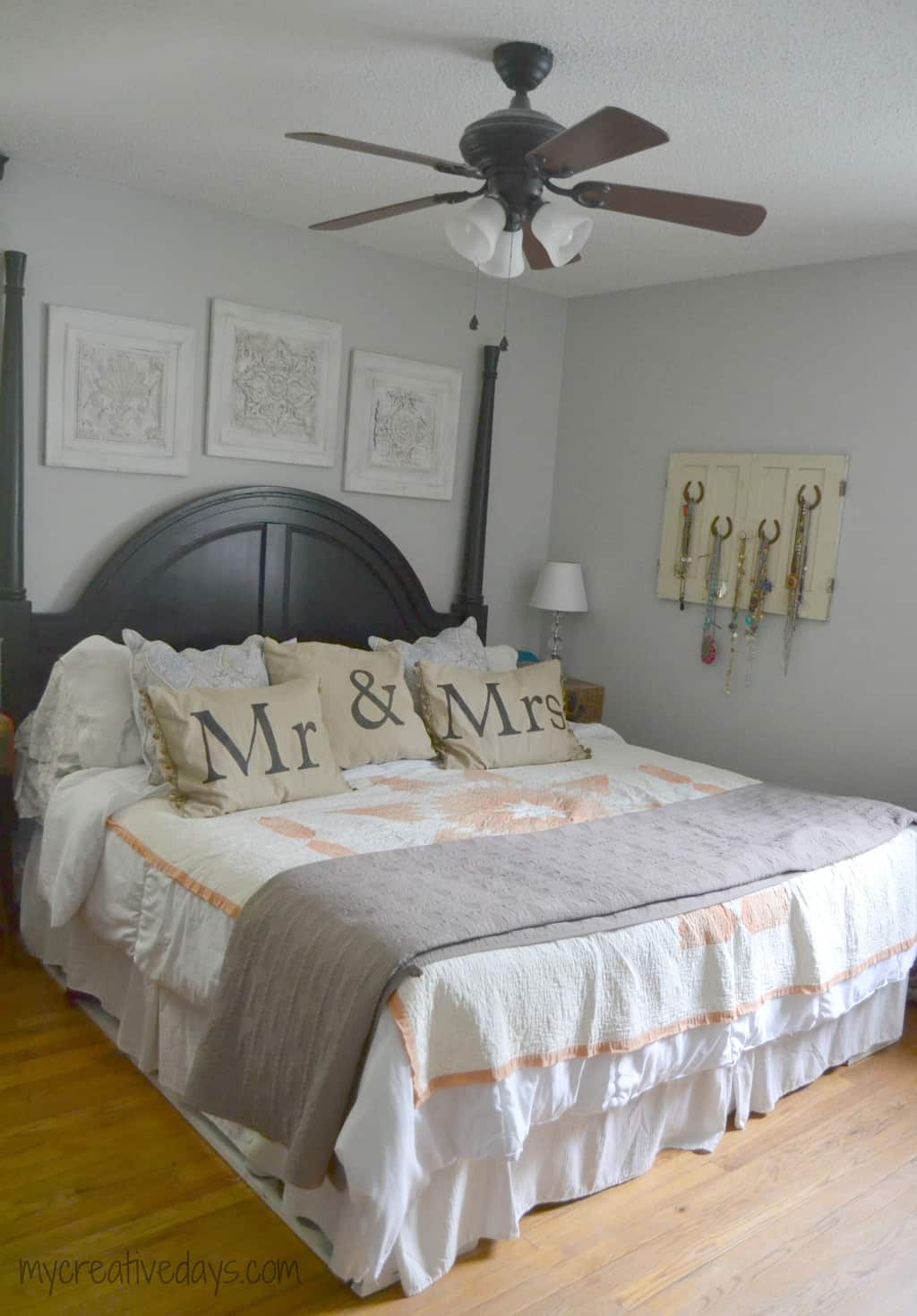 The walls were a very, pale blue color. I got the headboard at Slumberland for $25 because it was a floor model. We have had it for the last ten years. I knew it was too big for our tiny bedroom, but wasn't sure what I wanted there instead. When we started our daughter's bedroom makeover, I really started thinking about our bedroom. I knew we could make it more us and bring in some "new" things we really love.
At first, I thought about adding wood to the back wall. Then, I came across a beautiful barn door at the Elegant Barn Sale. I wanted to incorporate the door into our bedroom so I knew wood on the wall was out of the question. (Our room is small so too much of one thing is not a good thing.)
I wasn't giving up on the back wall though. I wanted to do something different on that wall. I didn't want to just paint it the same as the other walls. I wanted to make a statement.
Then, Cutting Edge Stencils contacted me and I thought this was the perfect answer. I could paint the stencil on the wall and is wasn't as permanent as wood or wallpaper and I would not feel bad if I wanted to change it in five years.
I searched around the Cutting Edge Stencil website for some time and decided to go with the Tamara Trellis Allover Stencil.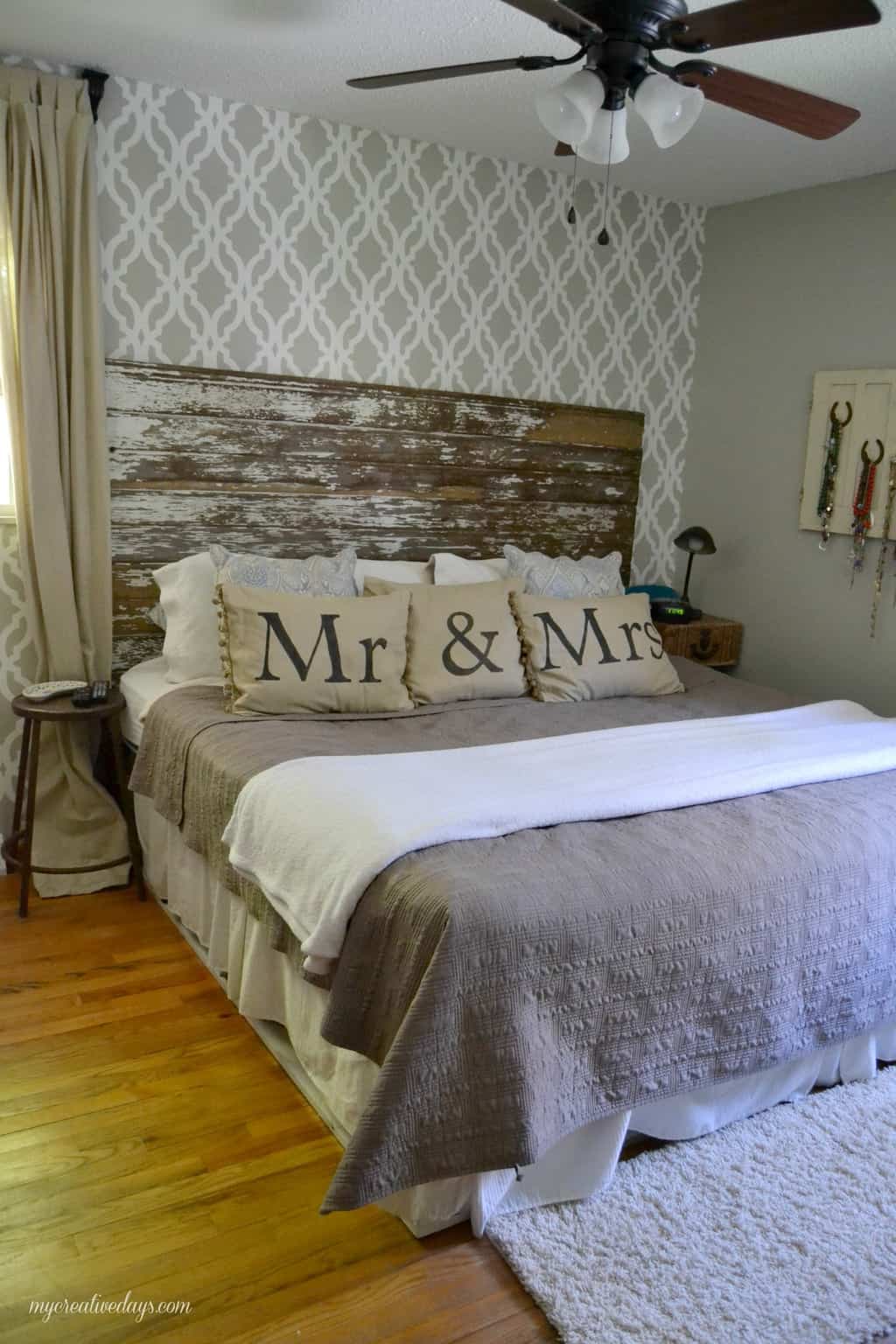 For the paint color, I went to Menards and started in the mis-mixed paint. I always start in the mis-mixed section because if I find a great color, I save so much money! This time around, I found a pretty gray color. I also picked up a gallon of white paint.
To make sure I had enough of the gray color to cover all of the walls, I mixed a few left-over paints I had at home to it. I have done this numerous times. Again, it is a great way to save money and get rid of paint you have lying around. The color I came out with is a beautiful "greige" color. And, I have more than enough paint left over so I am excited to use it on other things.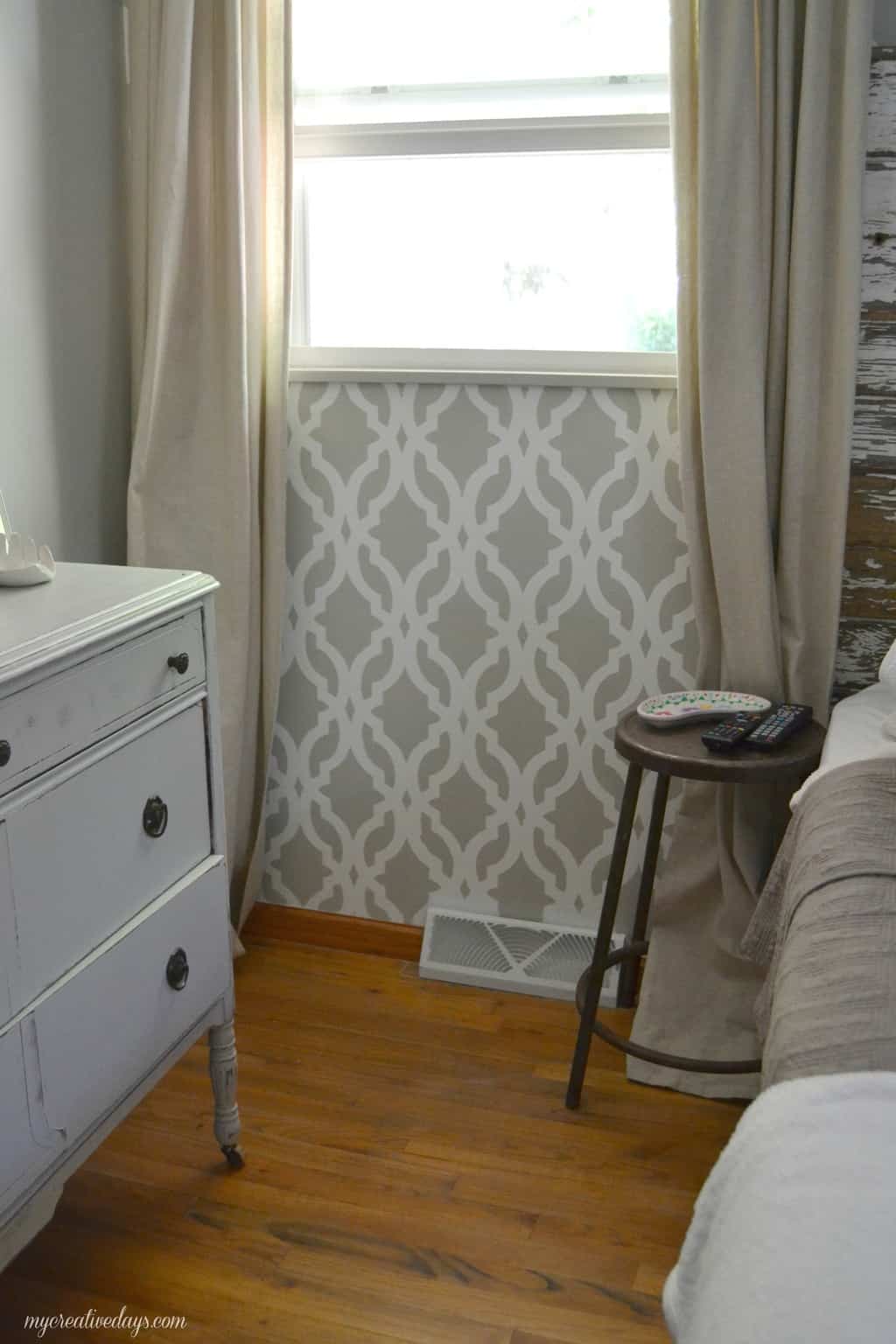 We painted all of the walls except the back wall with the "greige" color.
For the back wall, we needed to start with the wall painted white since I wanted the design white.
You can have it any color you want.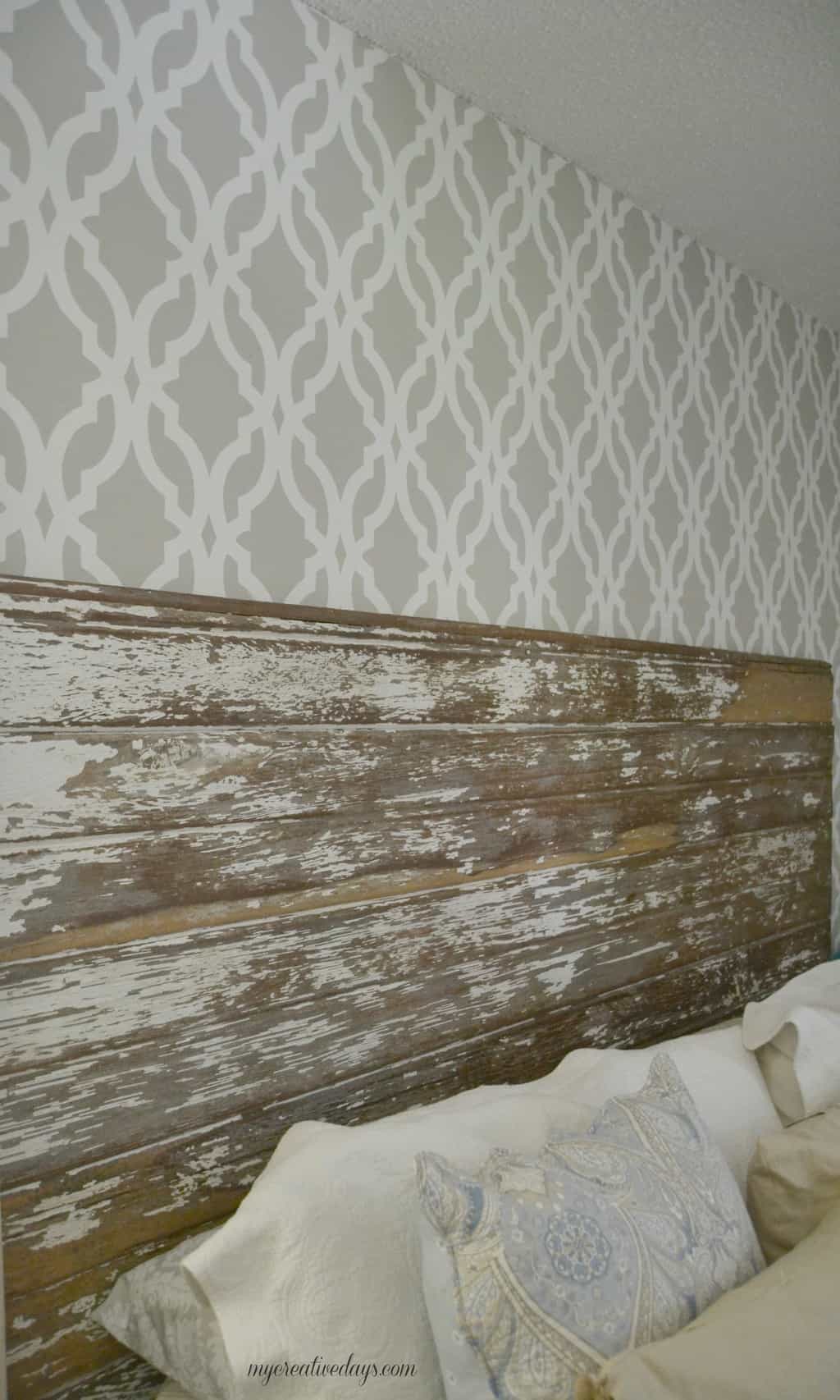 When the white paint dried, we started with the stencil.
To be completely honest, I was scared out of my mind. I watched the video tutorials on the Cutting Edge Stencil website and that really helped ease my nerves. Once we got into it, it was not bad at all. It did take a lot of time, but it was not hard.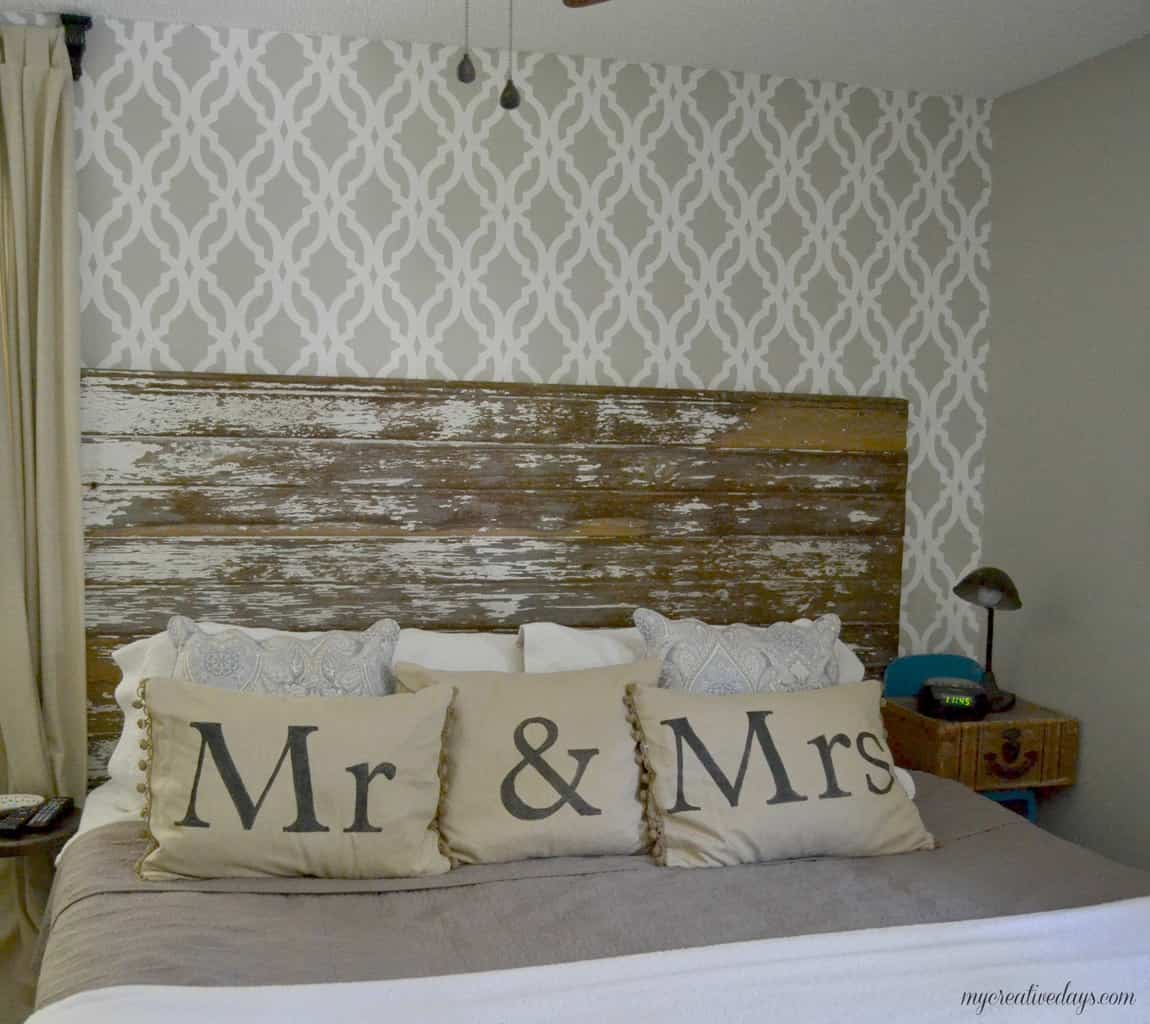 If I could give a first-time stencil'er' some advice, I would say to work your way through it. At first, you may think you aren't going to like it, but as more of the pattern goes on the wall, it starts coming together and you really get the full picture of what it will be.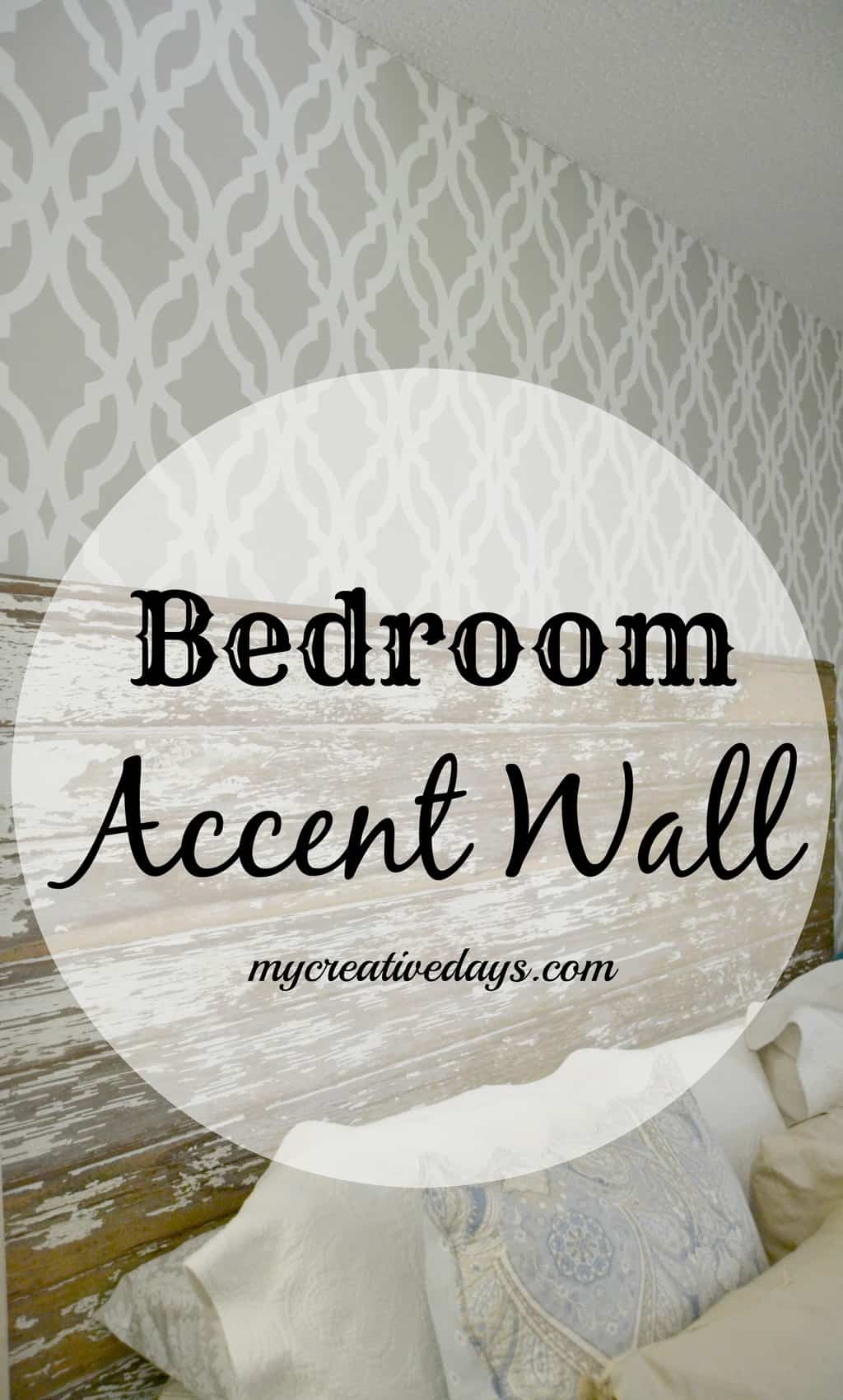 I think this wall makes a big statement in our bedroom. I am so glad we did it and I am more excited to get some other projects done in there. I am thrilled with our new headboard (I will share more of it once we get more things done) and am starting to search for sconces/lights to put on it. I will also be searching for new bedding and pillows.
I will share all of the changes we make as we do them.