*WARNING: This post is loaded with pictures. There is something about my DIY lighting posts that come with a lot of pictures. My last lighting project I decided to break into two posts: Part 1 and Part 2 because there were so many pictures. Okay, you have been warned. 😉
I get excited to share every project here, but there are certain projects that I get super excited to share. Those projects usually have little or no money invested and make a big impact or change.
These DIY Headboard Sconces did both.
After we made over our daughter's bedroom, I felt inspired to make a few changes in our bedroom. Then, I felt inspired to start a kitchen makeover at the same time. (It is just the way things go around here). Since we have been at a standstill in the kitchen (we are waiting for countertops to be installed), we started this lighting project in our room.
The inspiration for this project came when I saw these amazing sconces on Painted Fox Treasures*.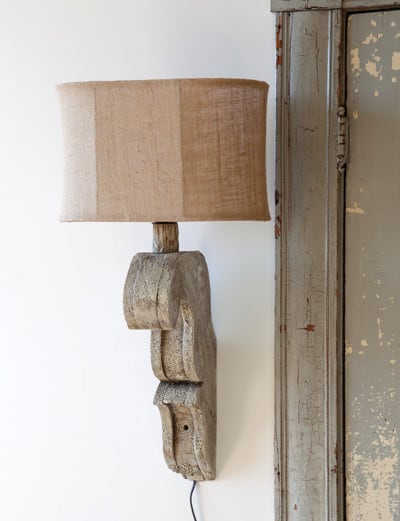 Hello, beautiful.
I love these sconces. They would look so great on our barn door headboard, but the $348 price tag quickly made them not an option.
I was determined to come up with my own version.
A trip to a local thrift store had the DIY sconce gods shining down on me.
I say that for a few reasons:
You never find a pair of anything at a thrift store.
You never find a pair of anything that is going to work exactly for what you need at a thrift store.
And, you never find a pair of anything that is going to work exactly for what you need for under $10 at a thrift store.
I scored two of these lamps for $4.38 each!
After some alterations, they were going to be perfect sconces for our headboard.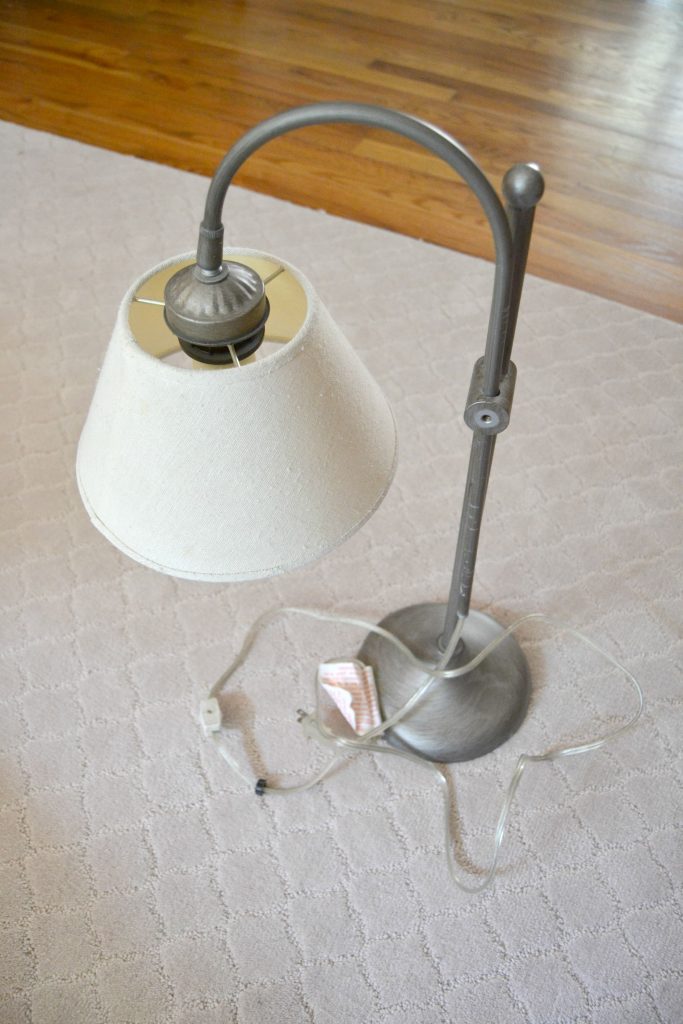 Like most rooms in our home, our bedroom is small so I need to get creative for space and storage. The back wall is the only wall our bed can go and why the original owners only put one window in the left corner of this wall is beyond me. It makes everything feel off-centered. We have a king size bed so we don't have tons of space for side tables. I have used small, metal stools as side tables because they serve the purpose but don't take up a lot of space. I like to read at night so lamps on the side of the bed is essential. The problem is that they take up way too much room on the stools. I knew sconces on the headboard would take care of that problem.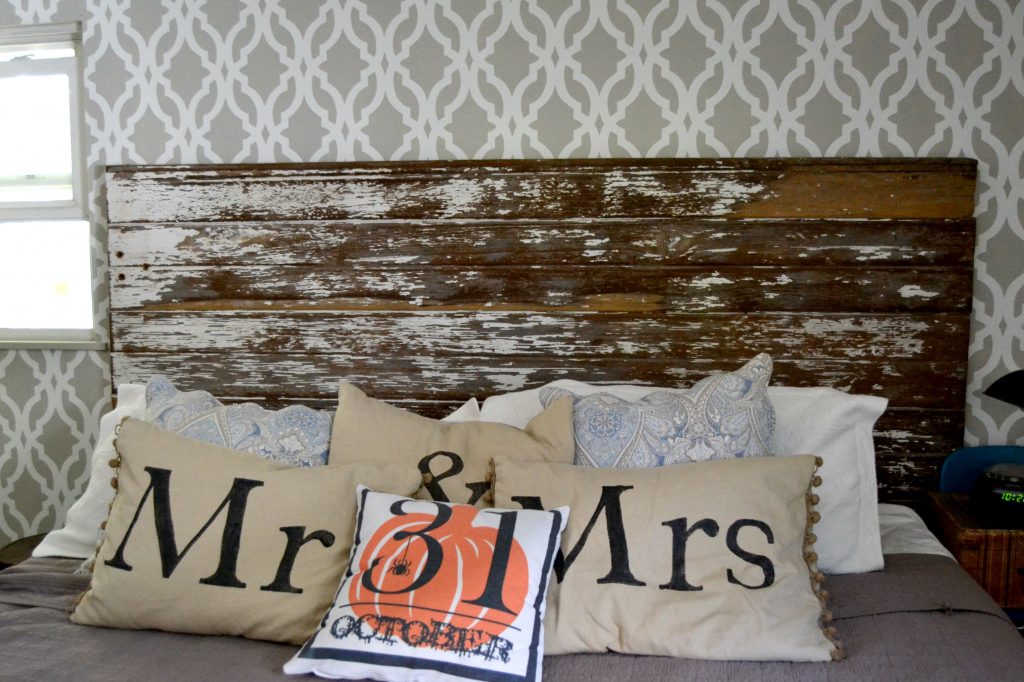 This is how we did it.
I took the lamps apart and spray painted the parts we were going to use black.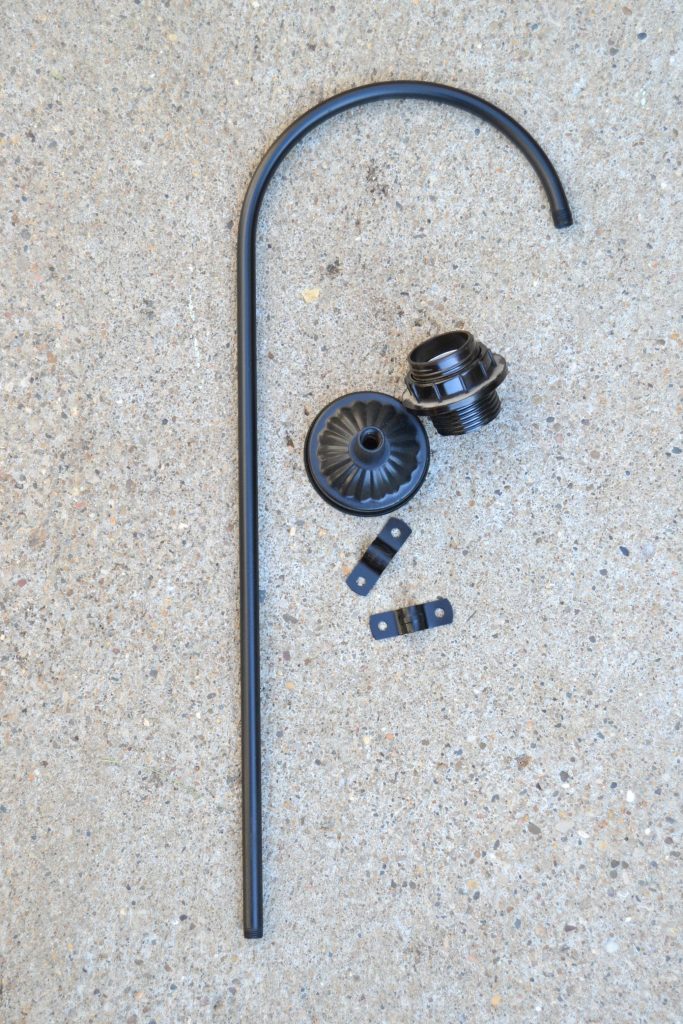 Matt has made so many DIY lights around here so he knows how to rewire different things to make them work as lights.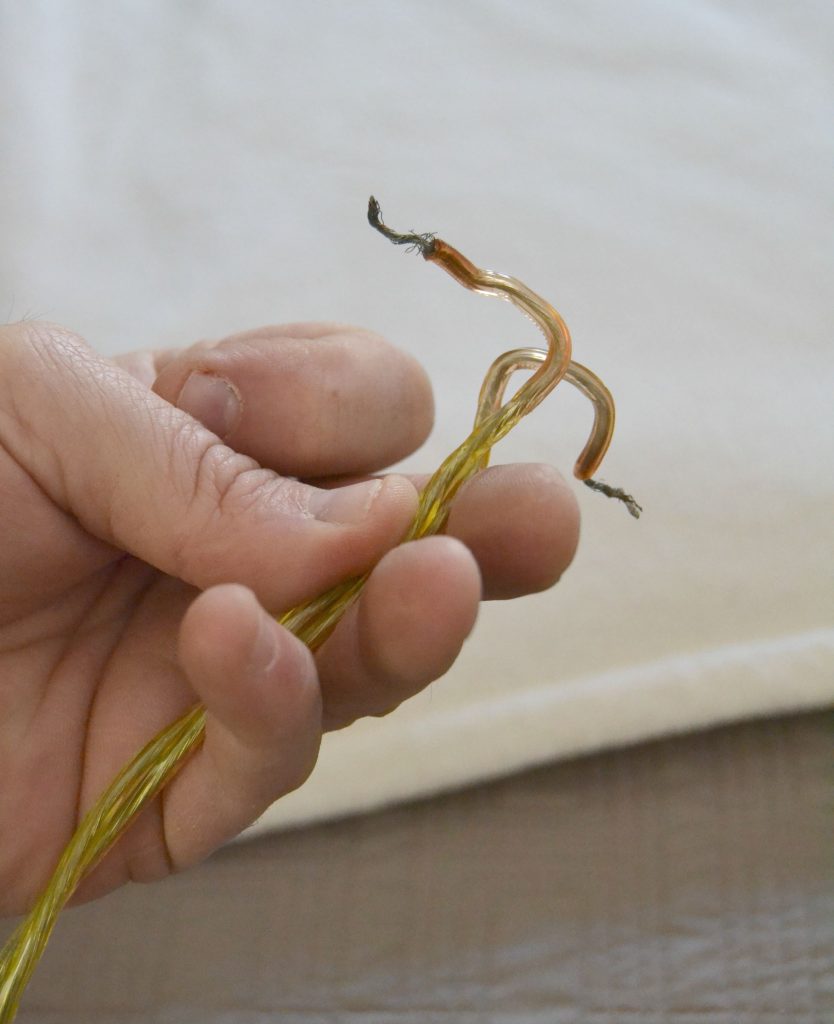 We were only using the "arm" of the lamp (the base wasn't needed) so we had to take the wires out, paint the arm and then push the wires back through. This was kind of tough, but we were able to push it through.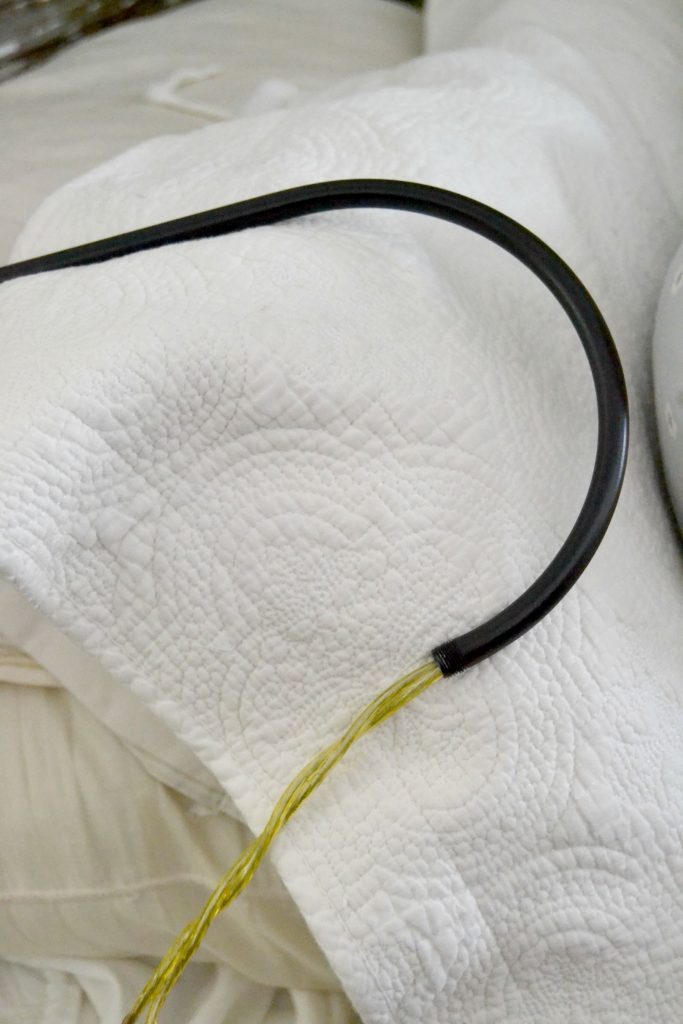 We figured out where we wanted the lights to hang and Matt drilled the holes in the headboard.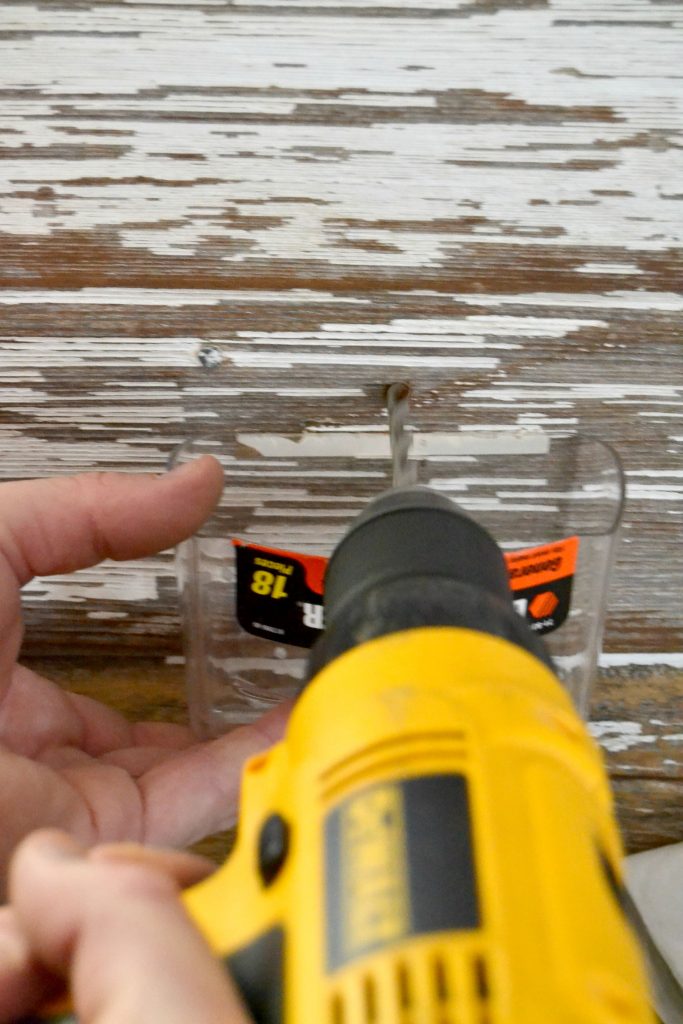 We threaded the wires through the headboard.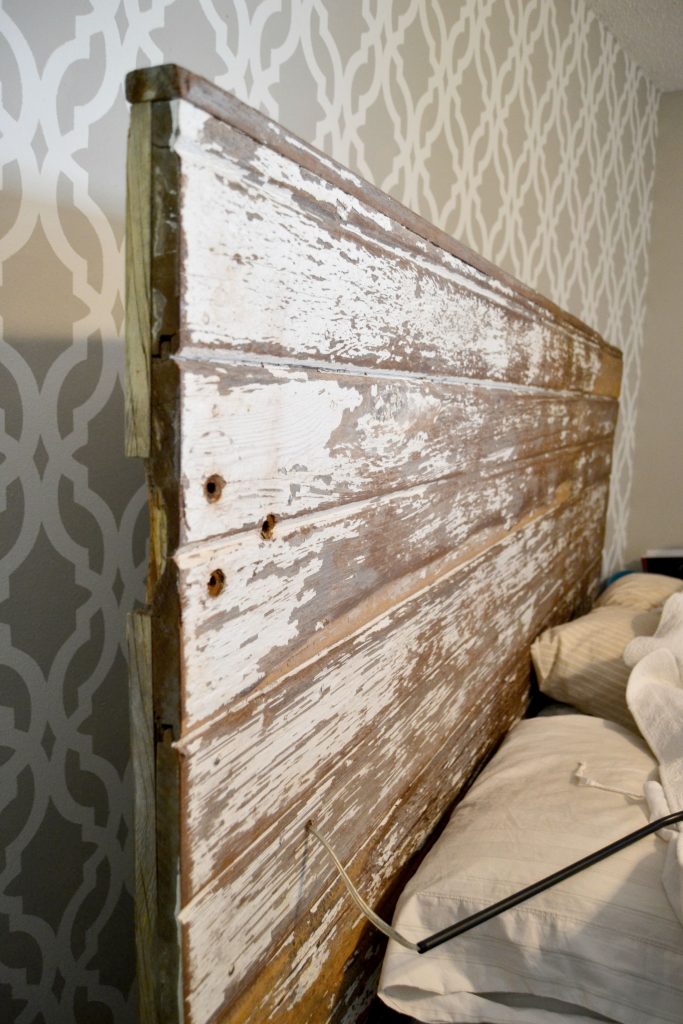 Then, it was time to put the light back together.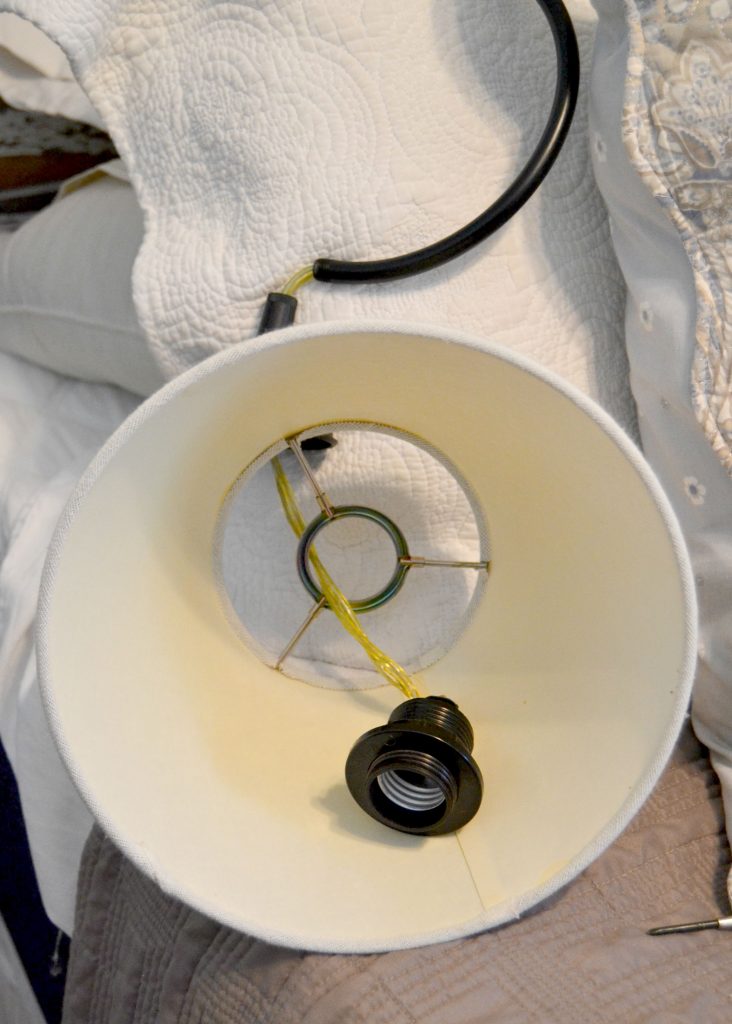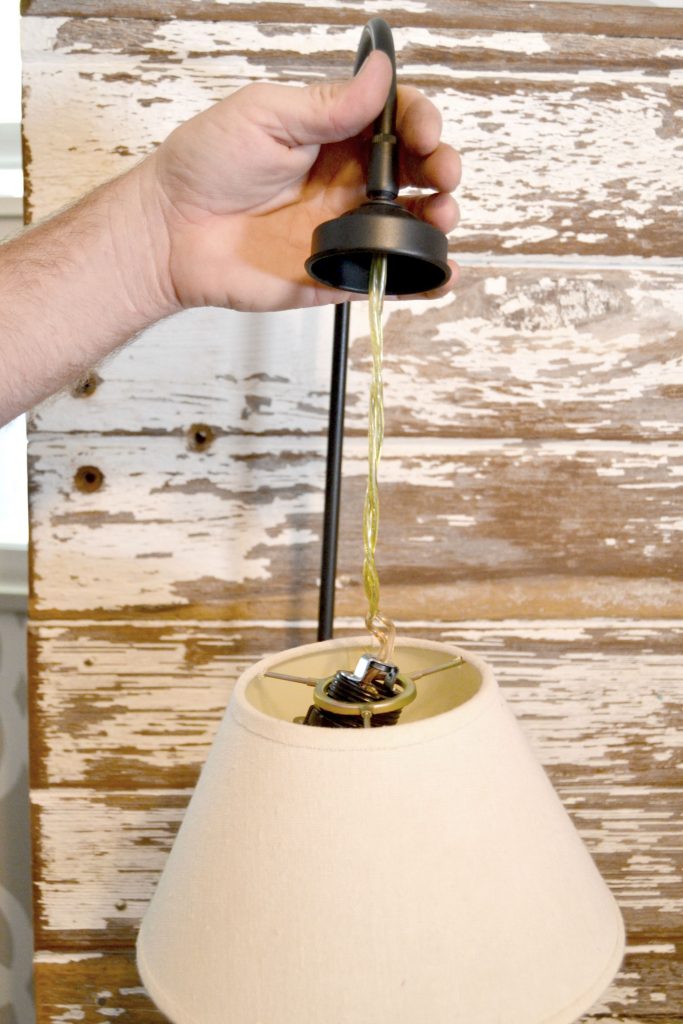 We used small clamps over the arm to secure it to the headboard.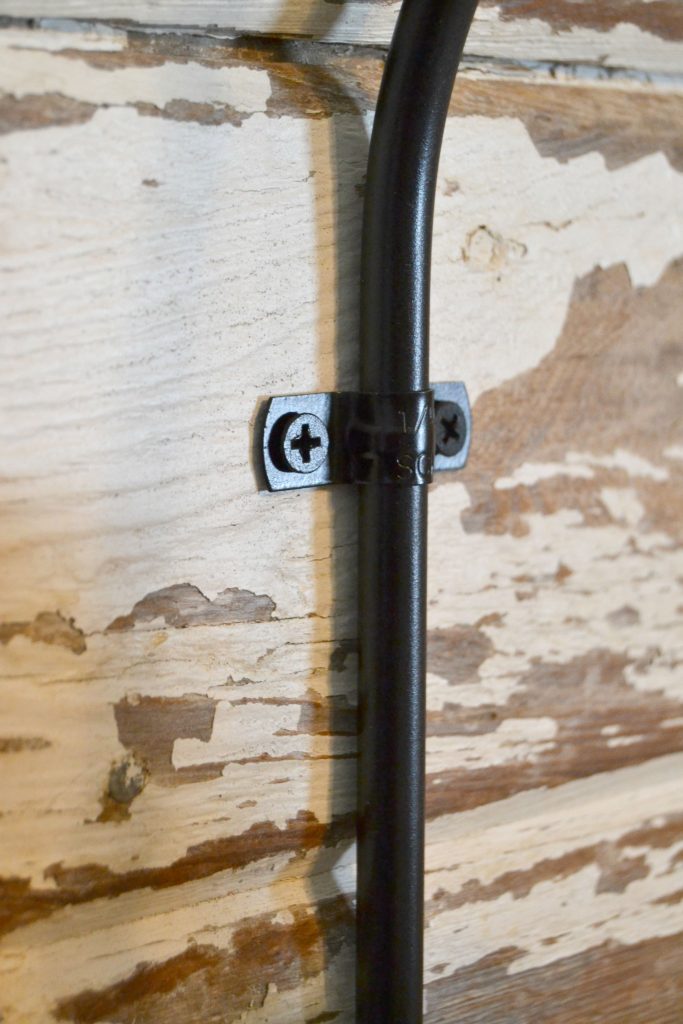 Matt put a second clamp at the bottom of the arm to hide the wire coming out and through the back. Genius!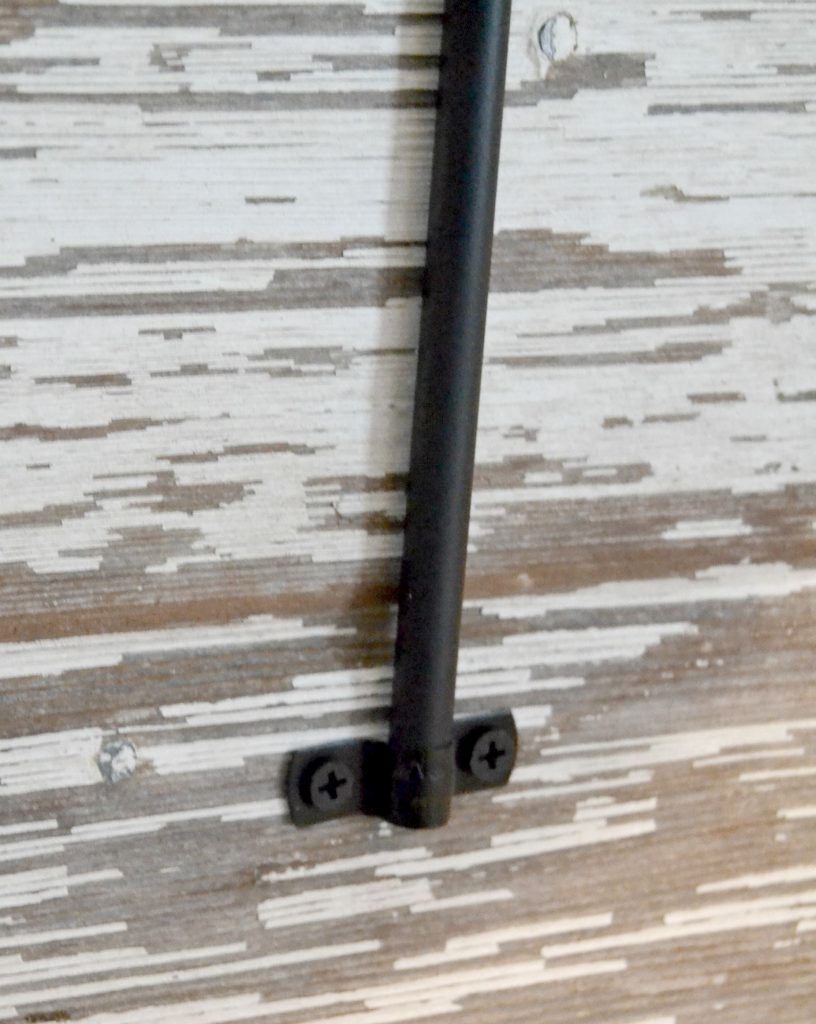 The switch on the cord needed to be assessable so we used electrical staples to nail the switch at a spot that was easy to reach when we are in bed.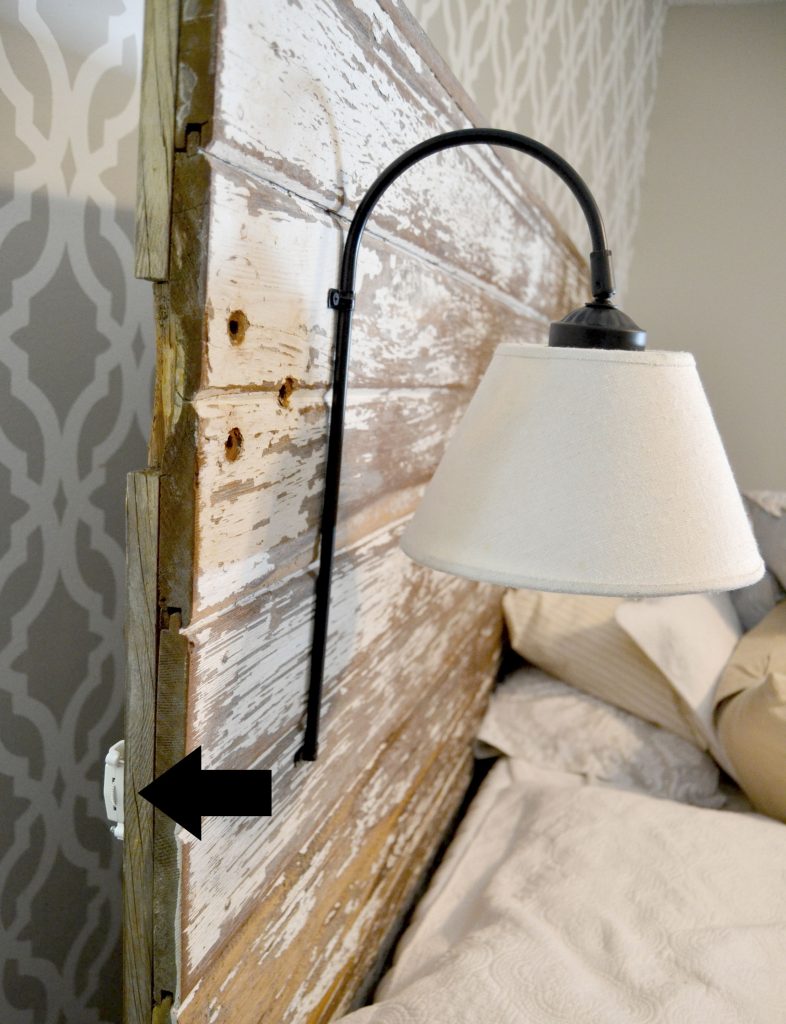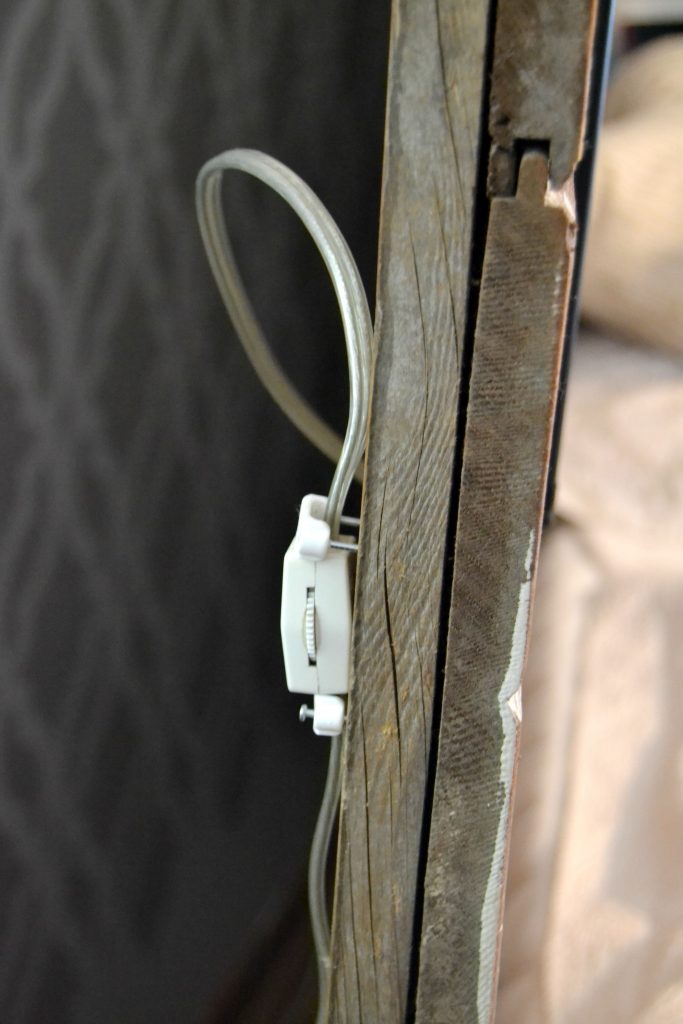 They are simple, quaint and take up no extra space on side tables.
Mission accomplished.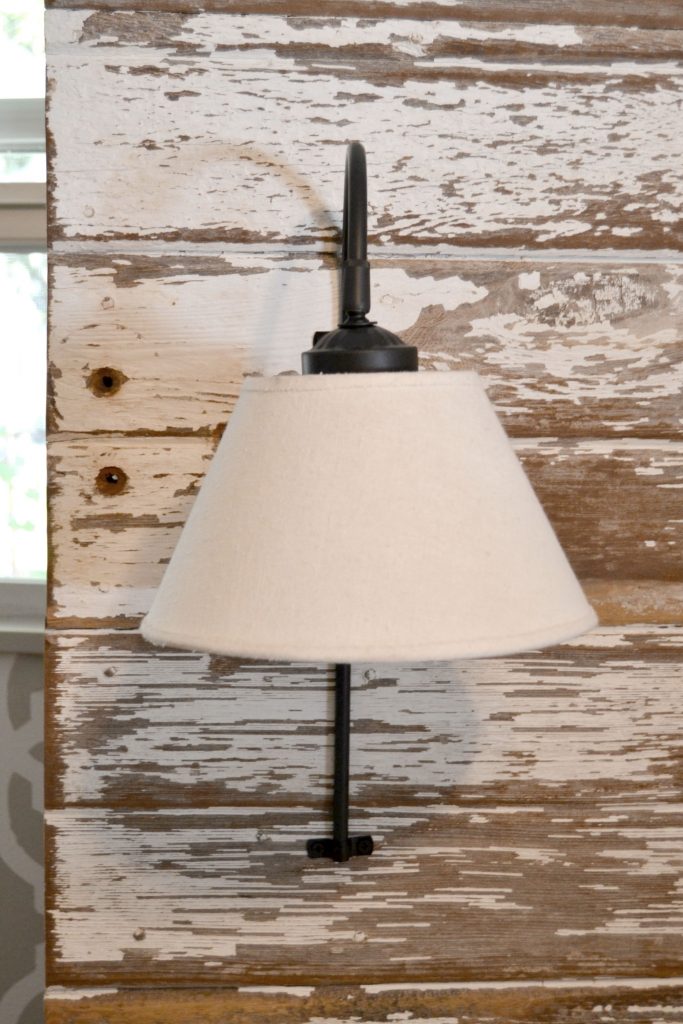 I am in love with these sconces! Once I find new bedding and we make a new closet door like the one we did in our daughter's room, our room should be done for a while. 😉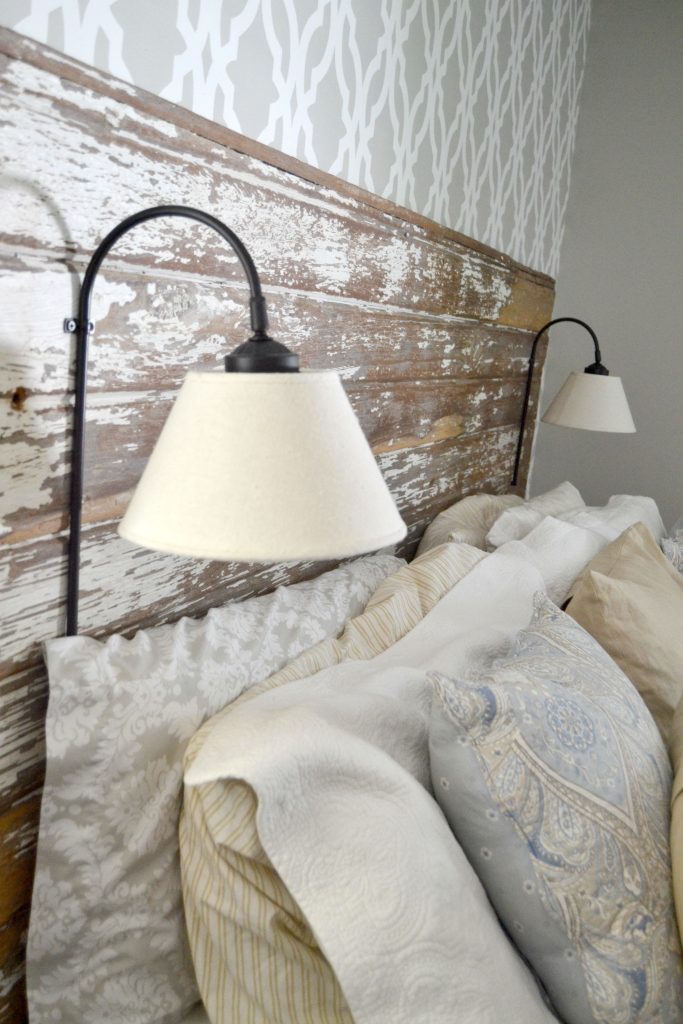 The best thing about these lights is that they swivel!
We can move them from side to side so they are exactly where we need them.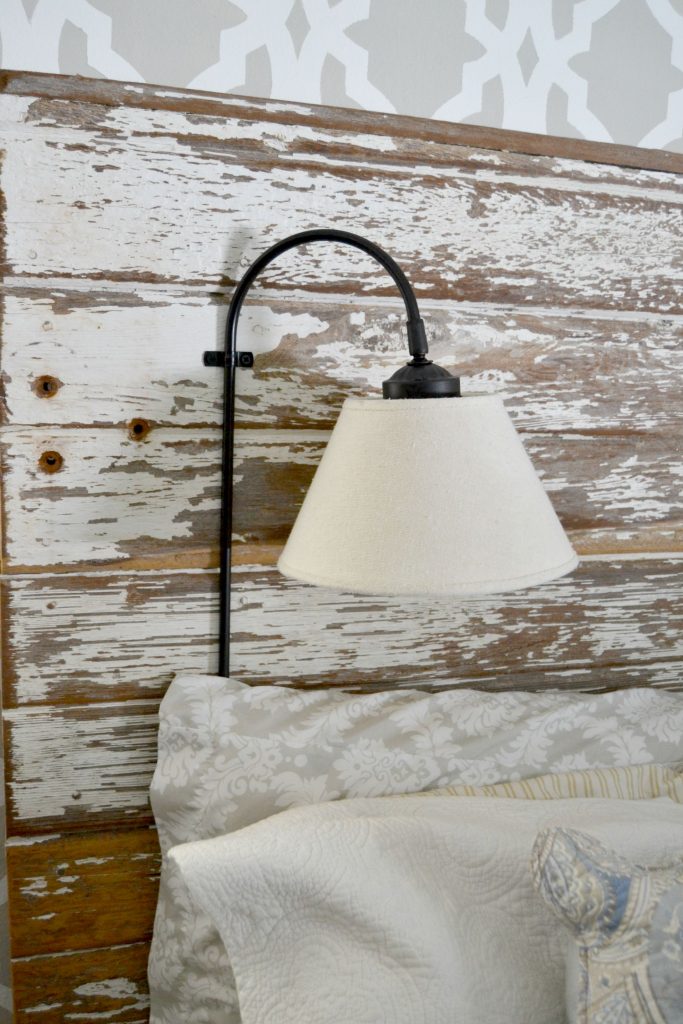 I must have some kind of "table" on the side where I sleep. I am the one who gets up a lot earlier than anyone else so the alarm is on my side. But, look at all the space I have on that suitcase now!! No lamp to compete with.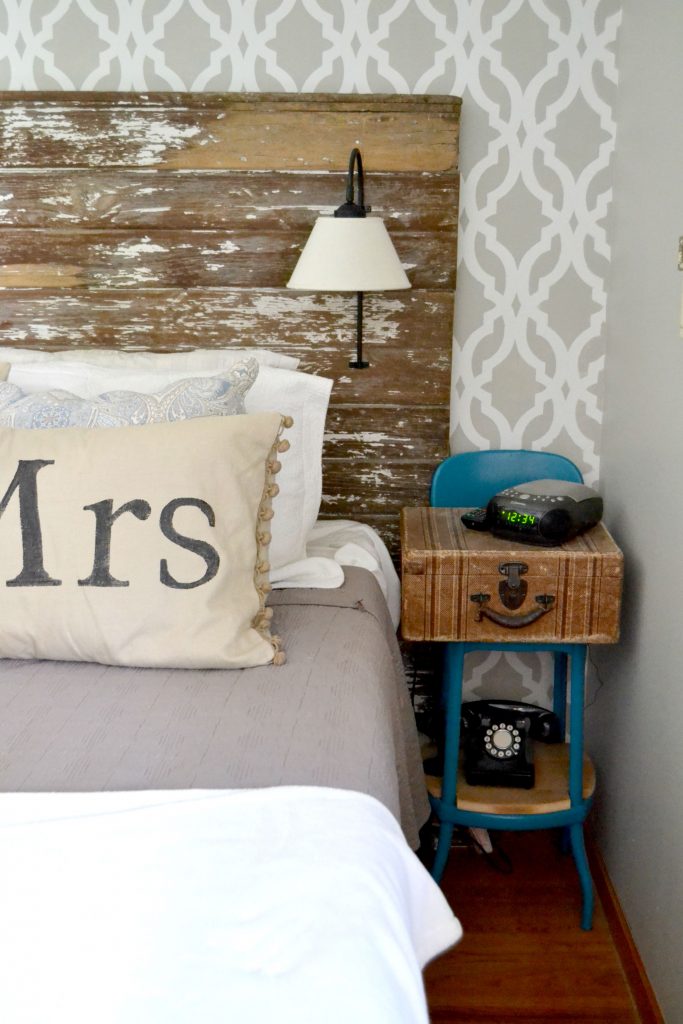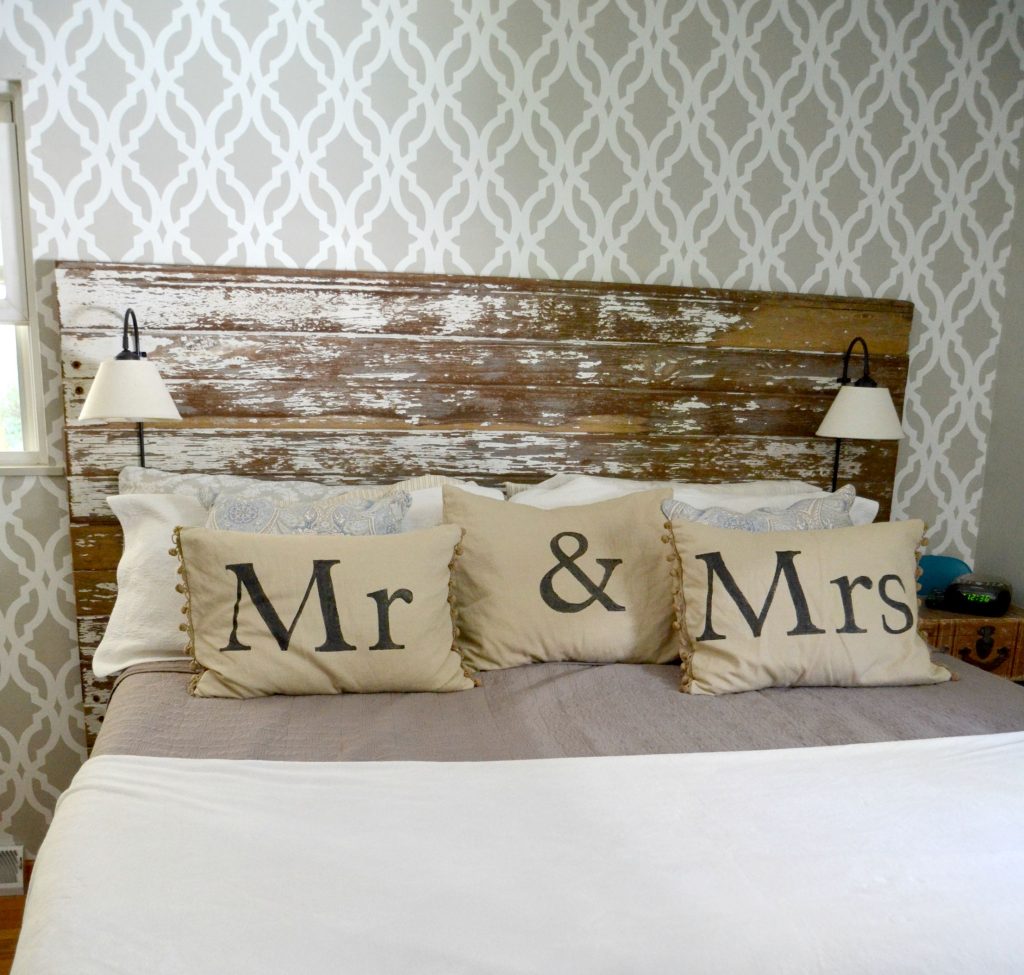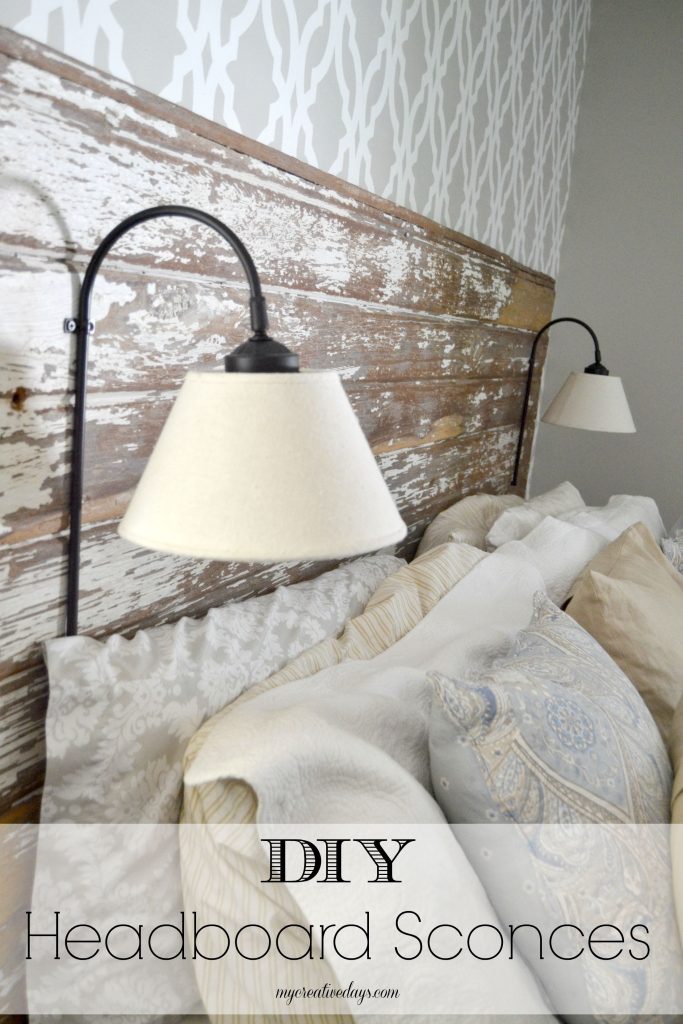 Even though these aren't exactly like the sconces I fell in love with from Painted Fox Treasures, they are perfect because:
They are unique.
We made them.
They solved a problem.
They fit the room.
They cost less than $10!
Sounds like the perfect sconce to me.
*denotes an affiliate link so you can easily find things I love online.