Storage is a big issue in our small home. When I starting thinking about this post and the reason why things change a lot around here, I wanted to research what actually constitutes a "small home". The opinion varies. Some people say 200-400 square feet, while others say anything under 1000 square feet. I love how Tiny House Giant Journey put it: "We believe it's as small as you're willing to go to obtain financial freedom with a small home footprint."
Our home is over 1000 square feet, but well under 2000 square feet and the rooms are small. The storage in each room in minimal (at best) so I am always trying to come up with new ways to create more storage. That is one of the biggest reasons why things change around here so often. If I can find (or DIY) something that will help add storage, I do. Last year, we gave our daughter's room a makeover. I found an old dresser with a mirror at a yard sale that I stripped and stained for her room. It worked for about a year and then we were having a hard time fitting all her clothes in it. We had to come up with a better solution for her clothes.
Here is the solution.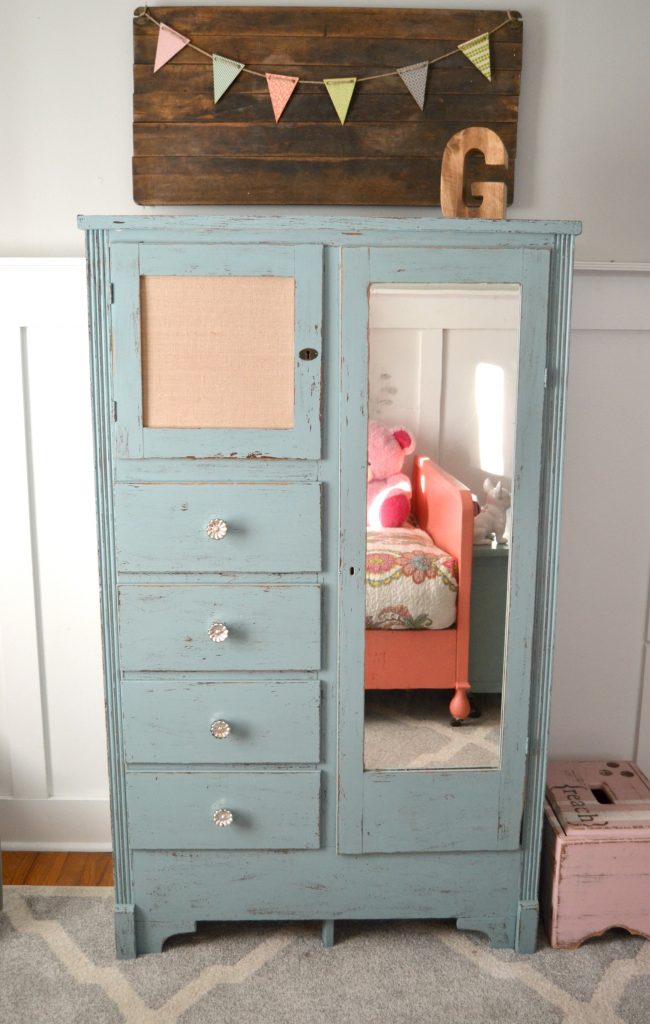 If you follow me on Instagram, you know I found this piece at Restore for 50% off.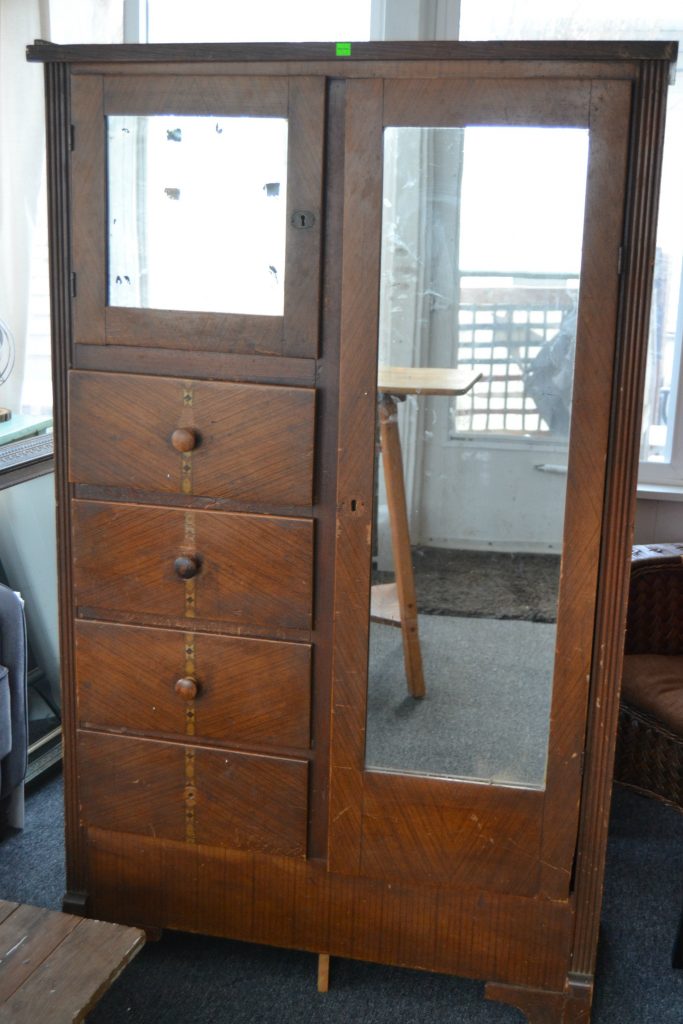 Just like most of the pieces I rescue, it had some issues.
The drawer fronts were very worn.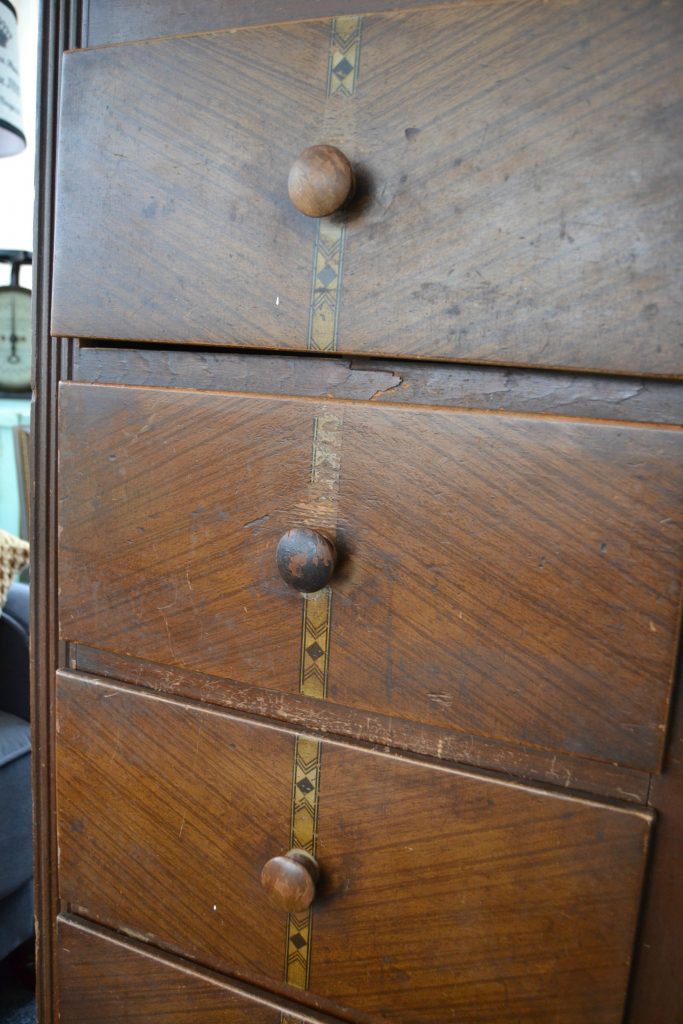 The "painted-on mirror" on the top door was peeling off.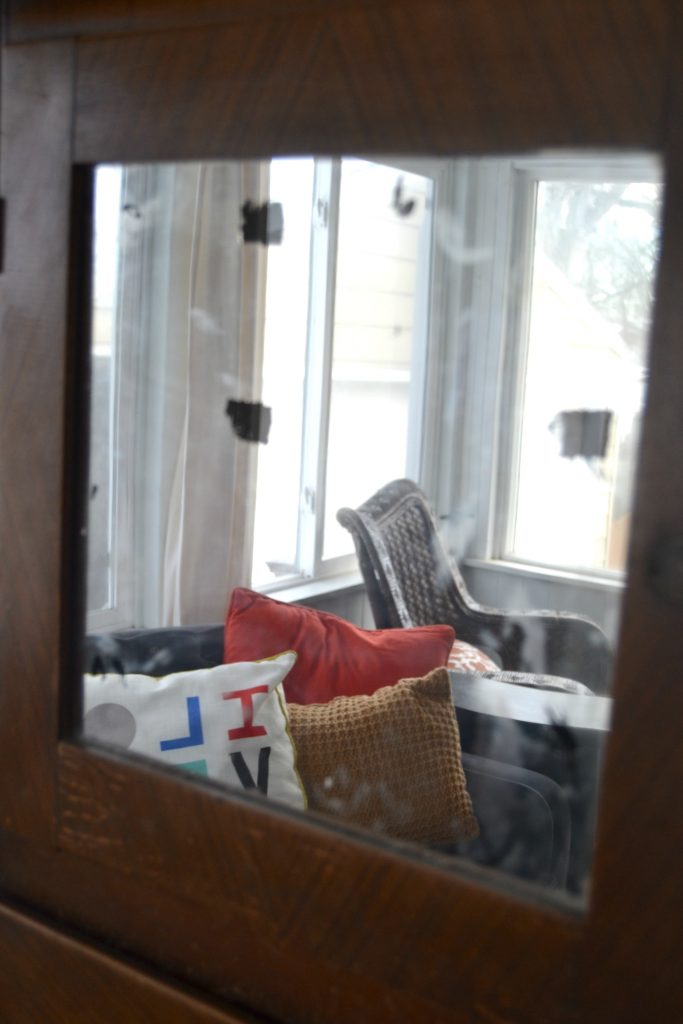 It was also missing a knob and the trim was coming off on the top.
These were all things I could look past because it had so much more storage for my daughter's clothes!
Someone had even done all the work to add shelves in the right side of it. (Matt really wanted to make these shelves "better" but I told him once it was filled with clothes, no one will ever see them. Why make extra work when you don't need to?) 🙂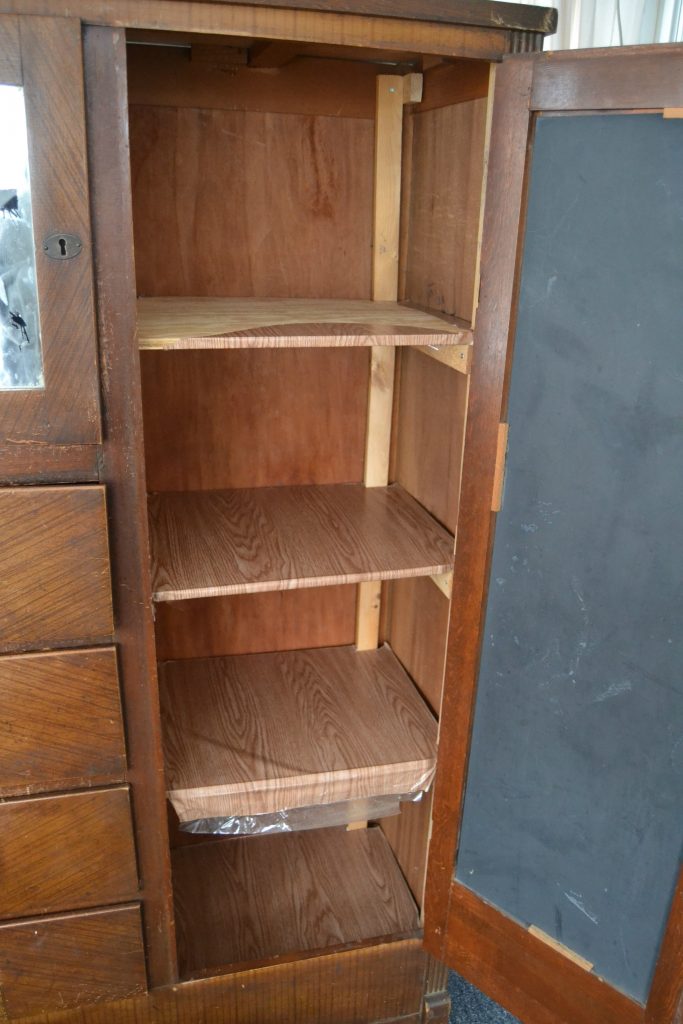 (Affiliate links are used in this post so you can easily find the things I used in this makeover. You can see my full disclosure here.)
The supply list for what I used on this DIY Wardrobe Makeover: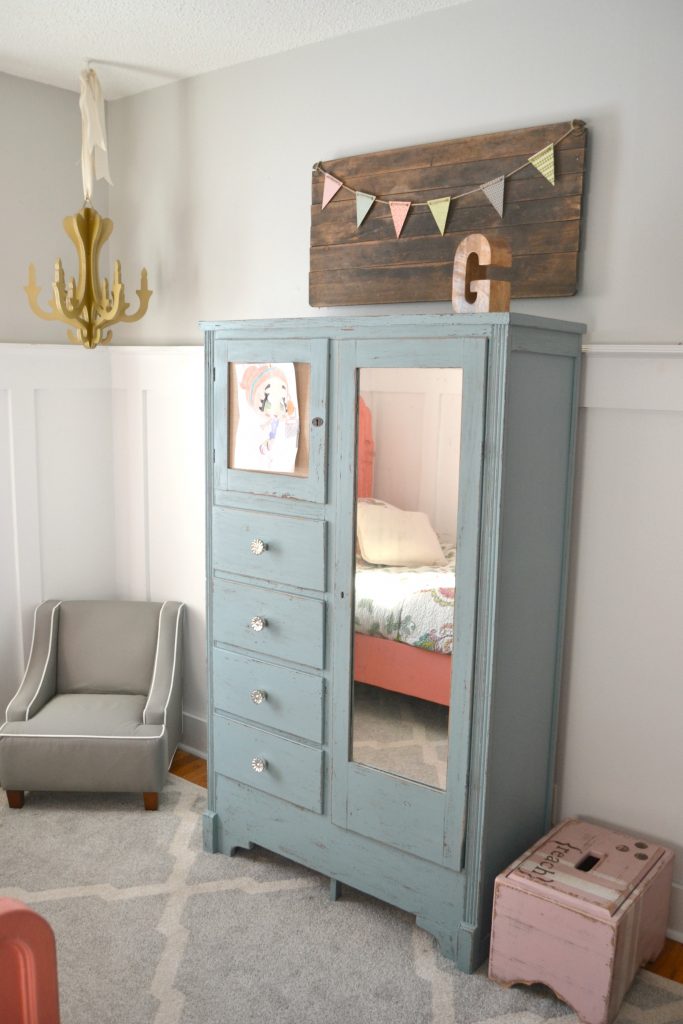 The first thing I did was remove all the faux wood contact paper from the shelves inside the cabinet.
Then, Matt fixed the trim that was coming off and I painted the entire piece in "Heirloom" by Fusion Paint. My daughter actually picked out the color. It is a very pretty blue.
My daughter is definitely a "mirror girl". The more mirrors the better (I love that about her). Since the right side had a long mirror, I decided to remove the peeling mirror on the left and add a piece of cork wrapped in burlap instead.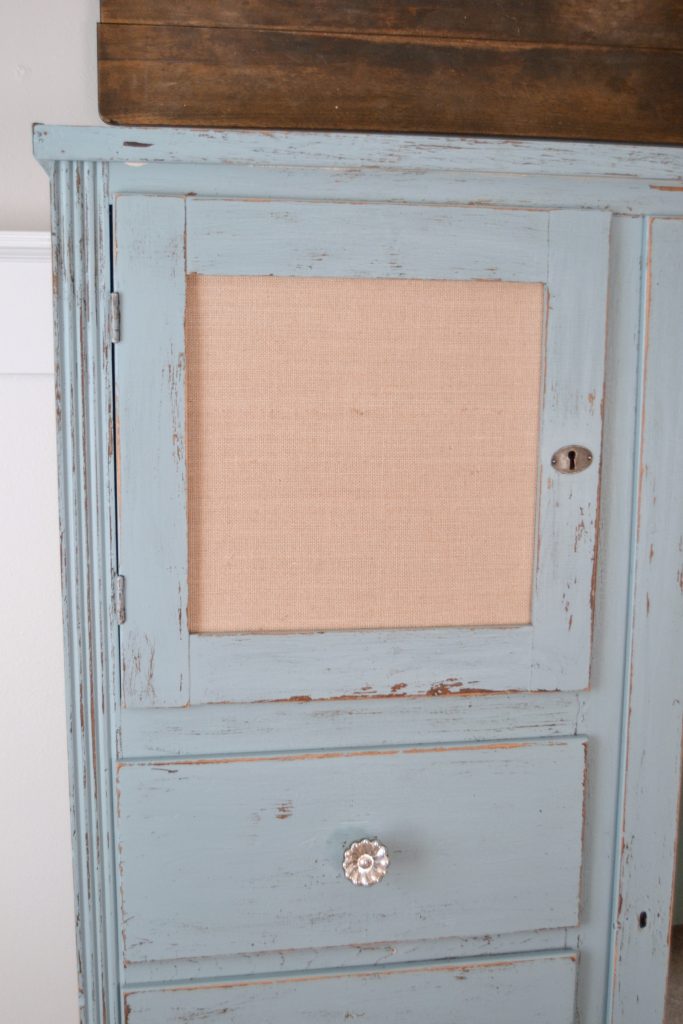 This way, she can hang different things on it.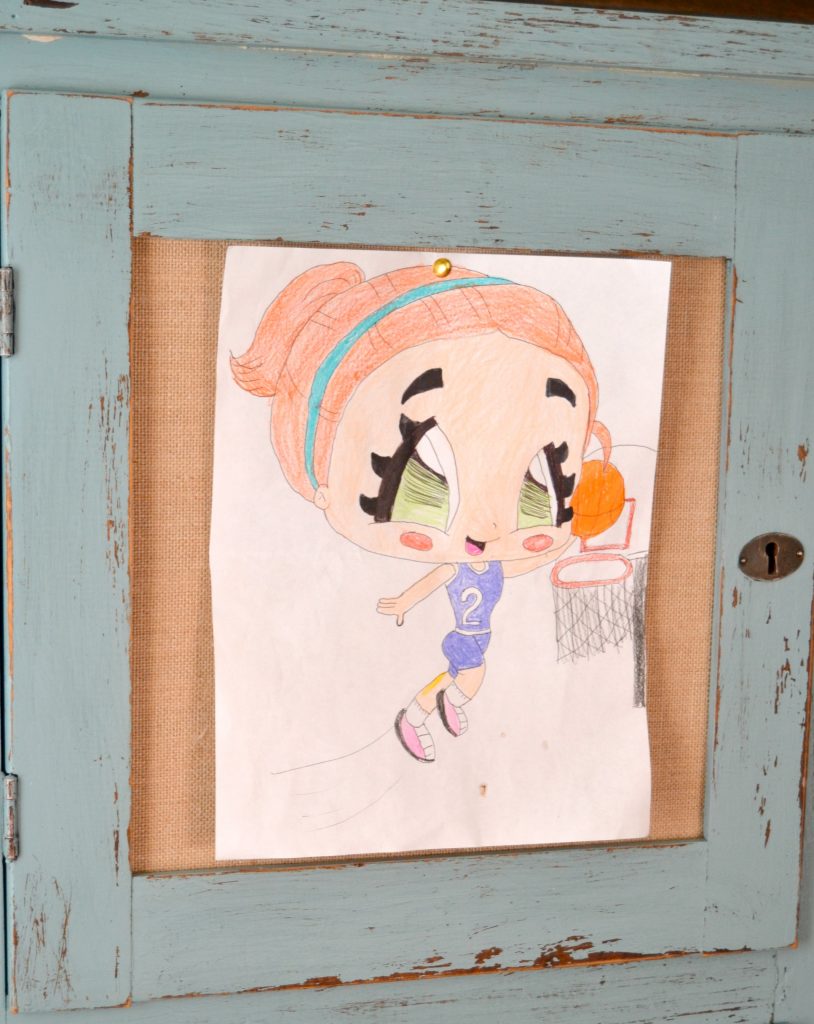 I scored the knobs on clearance on TJ Maxx. They were a steal!
They only had two sets left. I still have a set of four to use on another piece.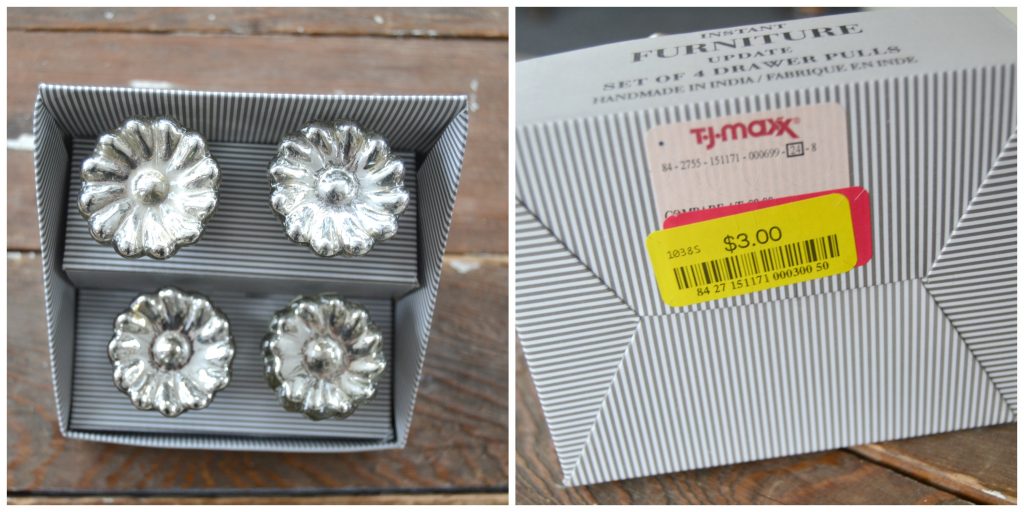 Not only does our daughter like mirrors, but she loves all things shiny and sparkly so these knobs were perfect for her.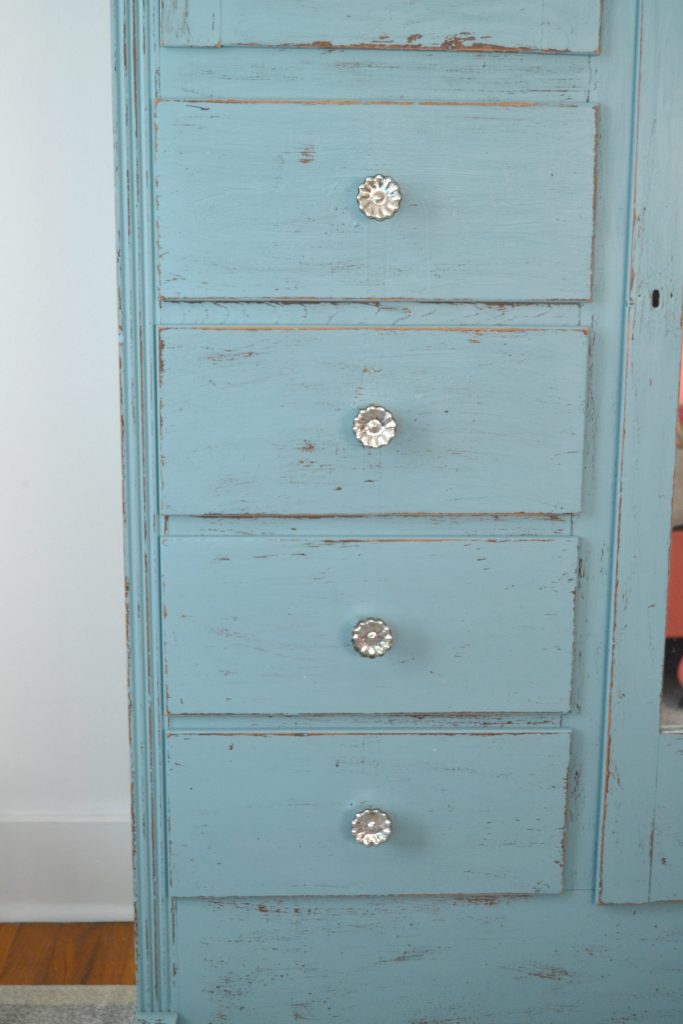 The dark wood came through beautifully when I sanded it. You can really see all the details this wardrobe has now.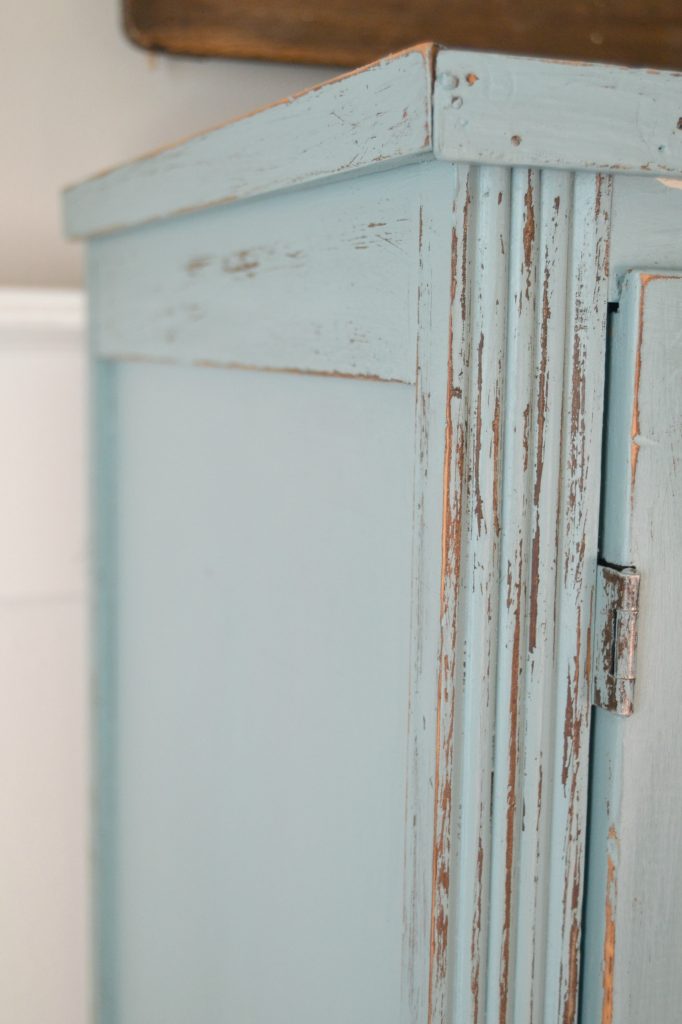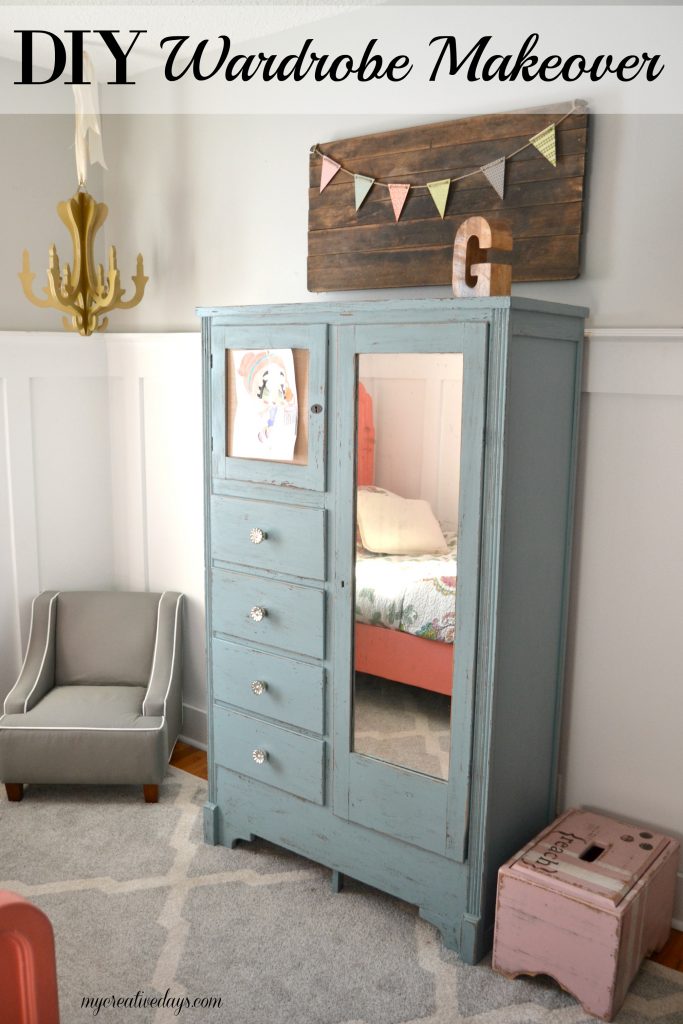 I really thought I was going to be looking for a bigger dresser for my daughter's room. This wardrobe was such a better fit. It added more storage, takes up less space and is a color my daughter loves. It is perfect…… for now. 🙂
If we could only tackle the loft she has been begging us for this easily…..
What space-saving/storage tricks do you use in your home? I am begging you to share them with me!! Tell me all your juicy storage secrets. 🙂