Hello, and welcome to my Fall Home Tour! It is no secret that fall is my favorite time of year. There is nothing about this season that I don't like. When summer starts winding down, I get excited to start decorating for fall. As with all of my decorating, I don't like to make my seasonal 'flair' too fussy or time consuming. Adding a few touches here and there is what I like to do to introduce a season or holiday in our home. I reuse decorations each year, but I also like to add new things by either creating them or picking up a few fall related pieces (leaves, fall colored flowers, small plastic pumpkins, etc.) in the dollar bin at Target or at the Dollar Tree.
Okay, let's get the the fall home tour already.
We will start in our living room.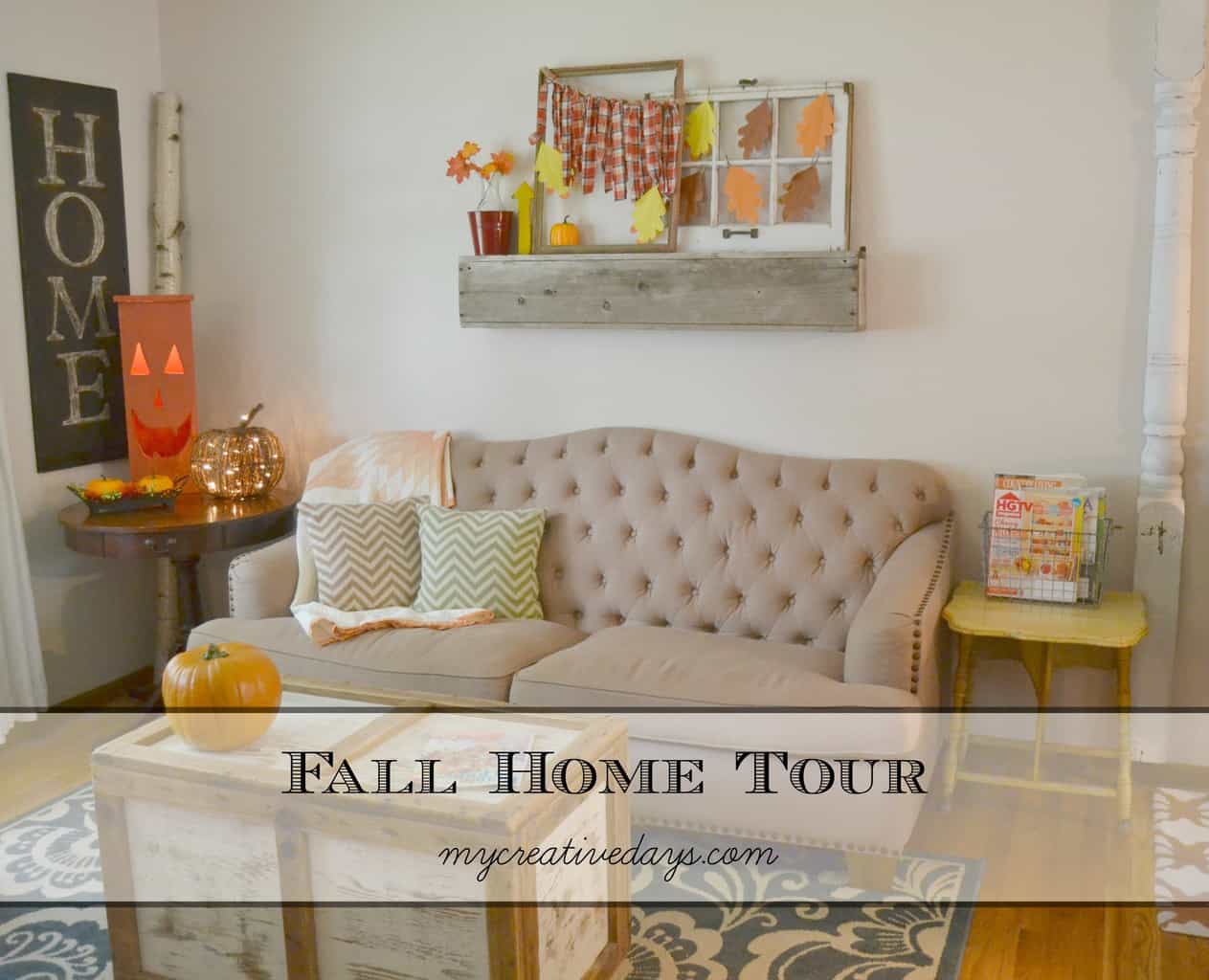 Since we added our faux "mantel" to the wall, it has been a lot of fun decorating it. I am already planning what to do at Christmas (without wanting fall to be over).
There are so many things that resonate fall to me and one of my favorites are plaid, flannel shirts. To incorporate that into my fall decorating, I made a garland from one. I picked up an orange, plaid shirt at the thrift store and cut it up and tied it to some burlap ribbon. I attached the garland to an old frame and added some Dollar Tree tissue paper leaves.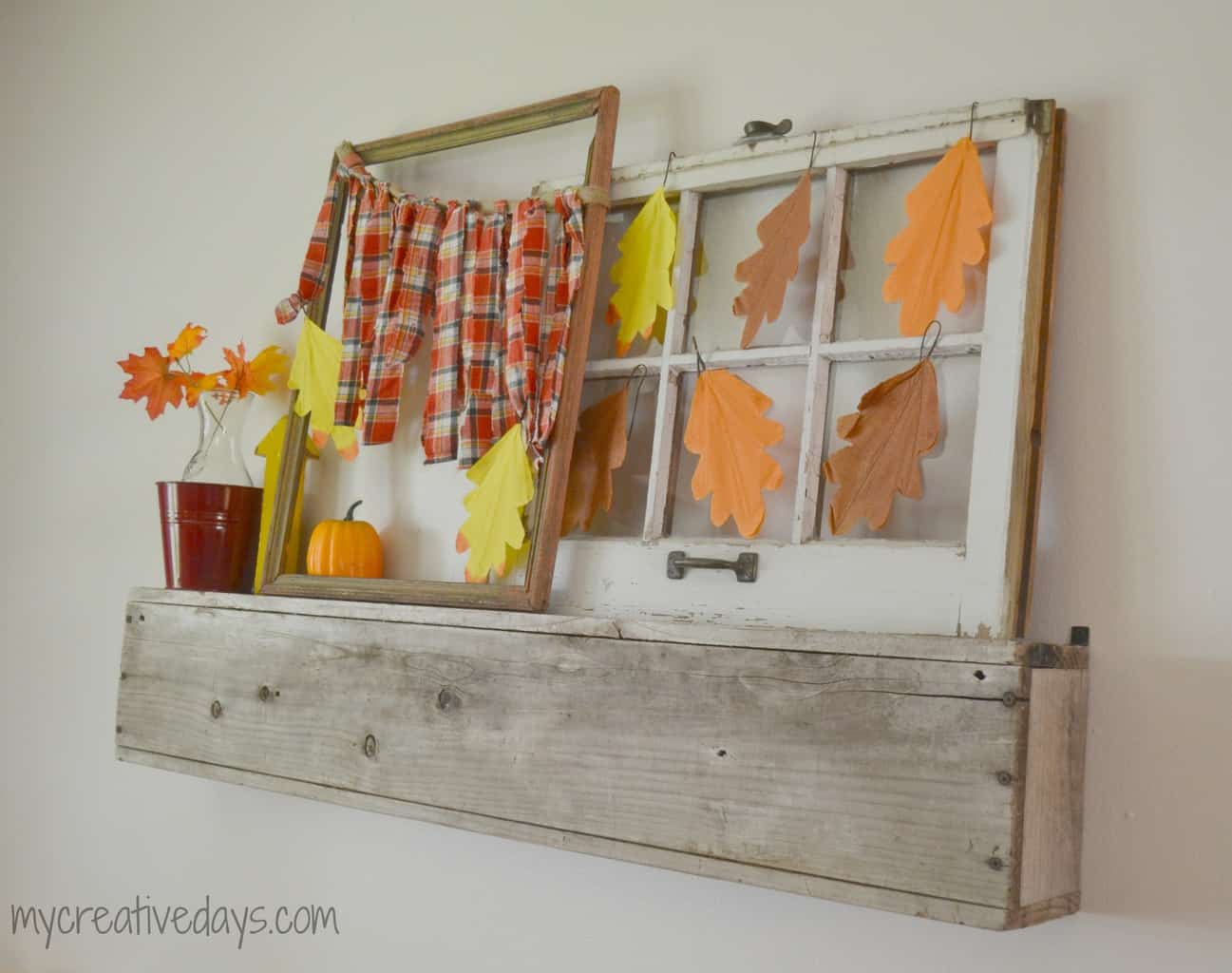 I know the Wood Jack-O-Lantern is more Halloween than fall, but I needed something taller in that corner. I will be adding a lot more things around the house for Halloween and will be posting about that too . Stay tuned.
I had these flowers in my summer home tour. I really liked them and wanted to use them in my fall decorating too so I spray painted them some fun, fall colors.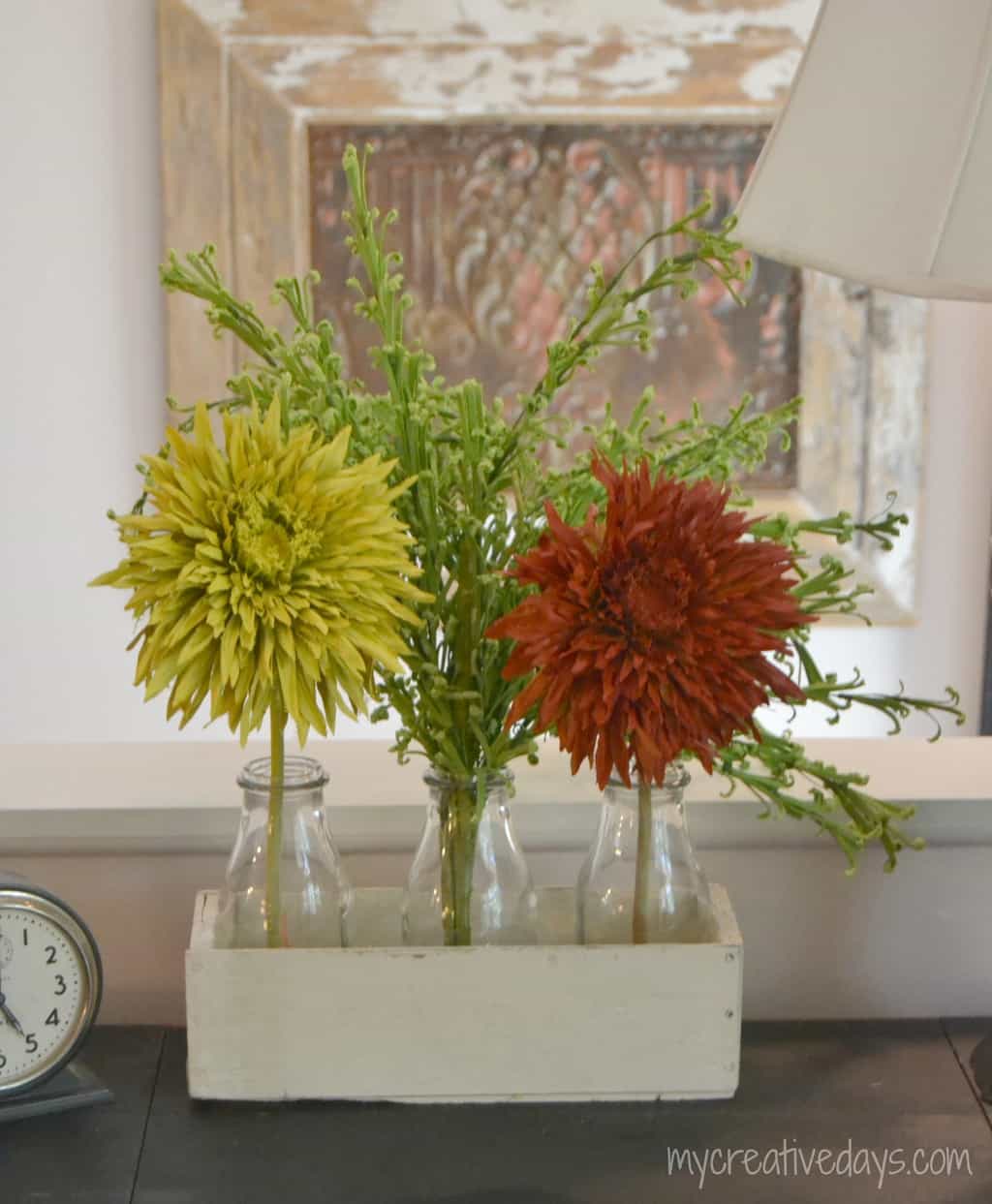 What fall home tour is complete without a chalkboard message? The chalkboard is fun to draw and write new messages as the seasons change and the holidays roll in.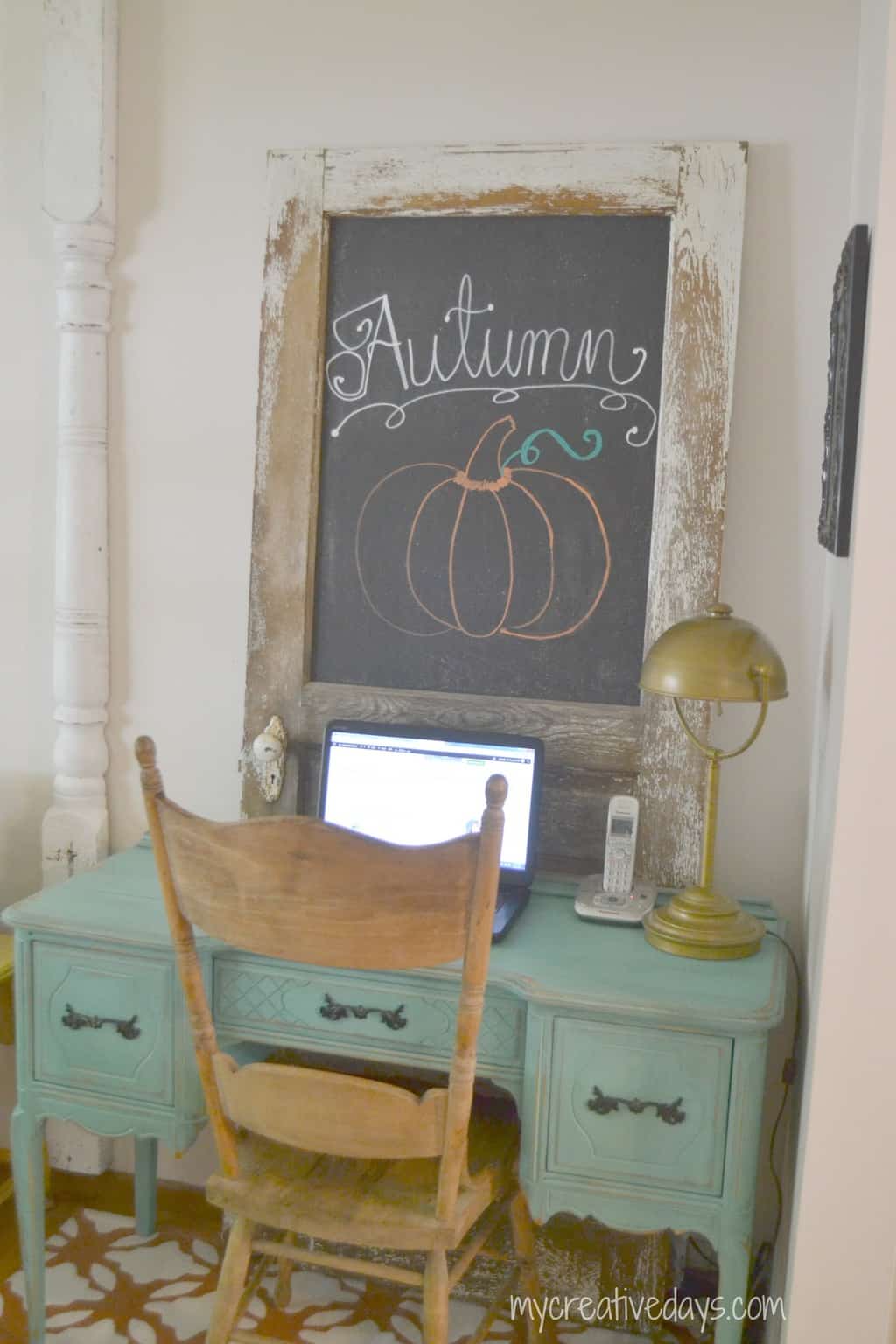 Now, I do not buy new curtains and pillows and all that with each season. #1, I am not going to spend the money for new things every season and #2, we don't have the storage to house it all. But, if you follow me on Instagram, you saw that I bought new curtains for our dining room/kitchen makeover at Target on clearance. Well, on my next trip to Target (I am there a lot) I found these curtains that were 'repackaged' and less expensive than the curtains I bought for the dining room. I couldn't pass them up.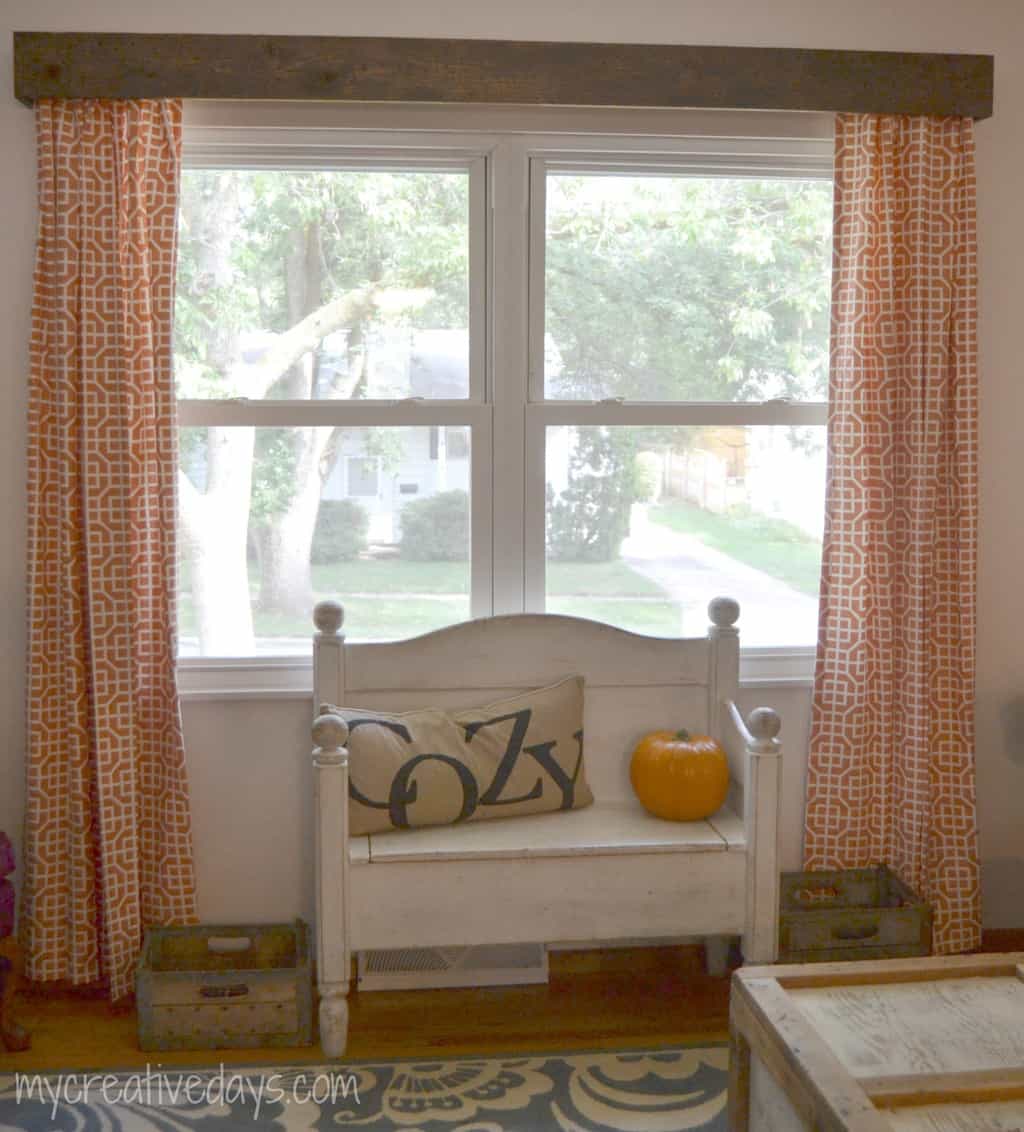 Our "entry" got a fall face lift as well.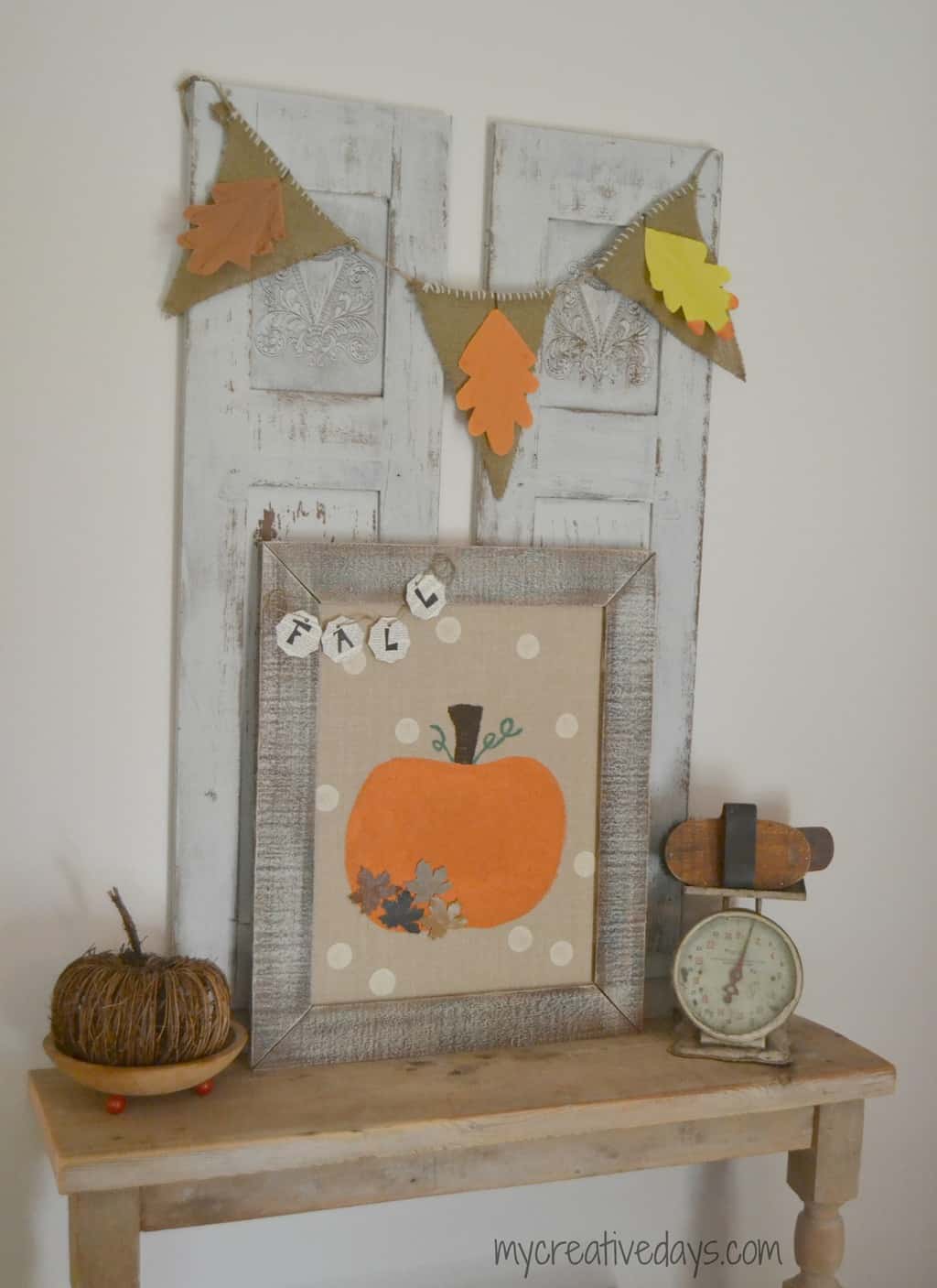 I love putting white or brown butcher paper on our table. On this day, I set up the table for a fall craft with the kiddos. They love writing and drawing on the butcher paper and when they are done, it is a decoration in itself.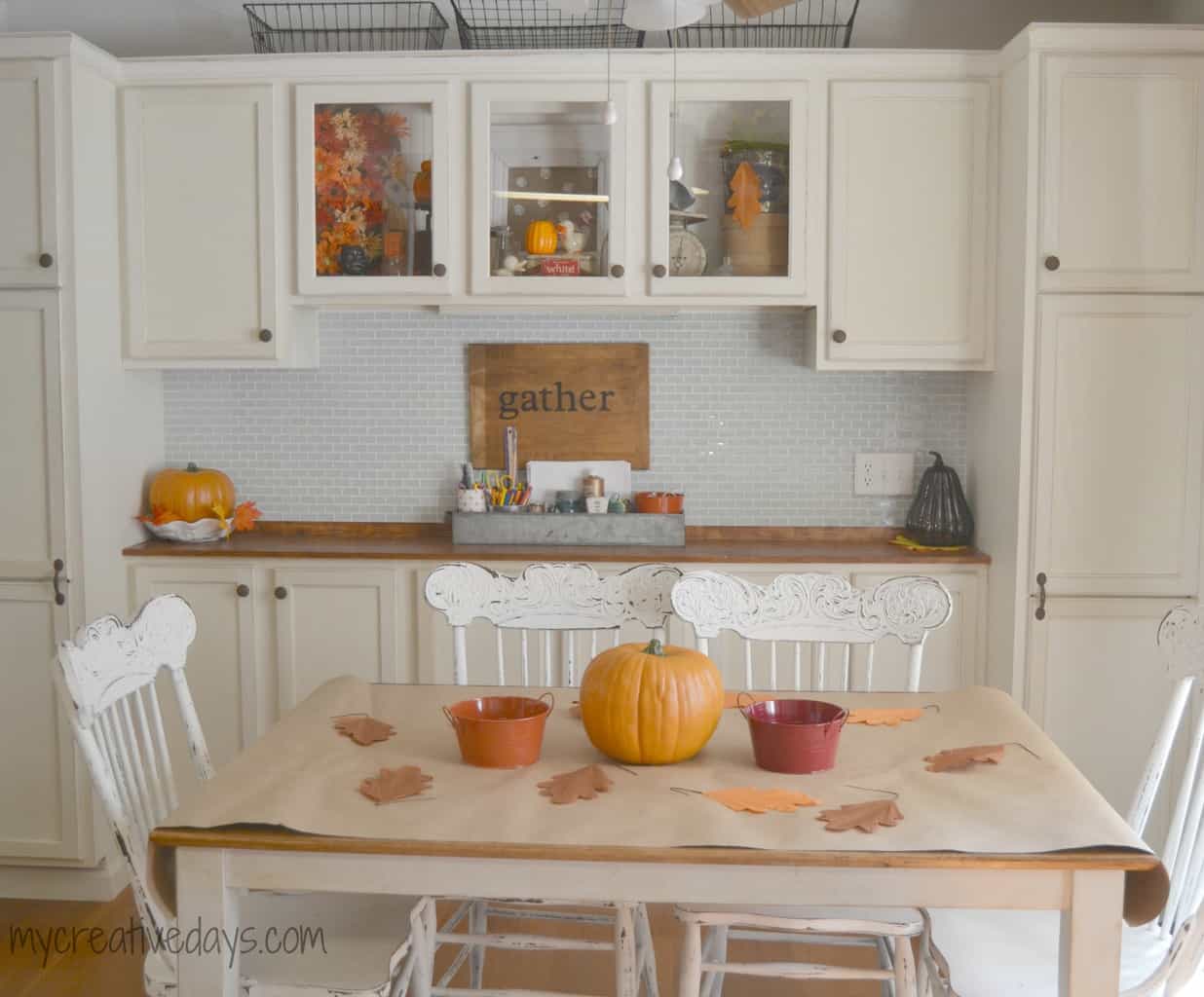 The glass front cabinets in our dining area are always fun to decorate with each season. This year, I bought some fall colored flowers and small pumpkins at Dollar Tree and used them in the cabinets.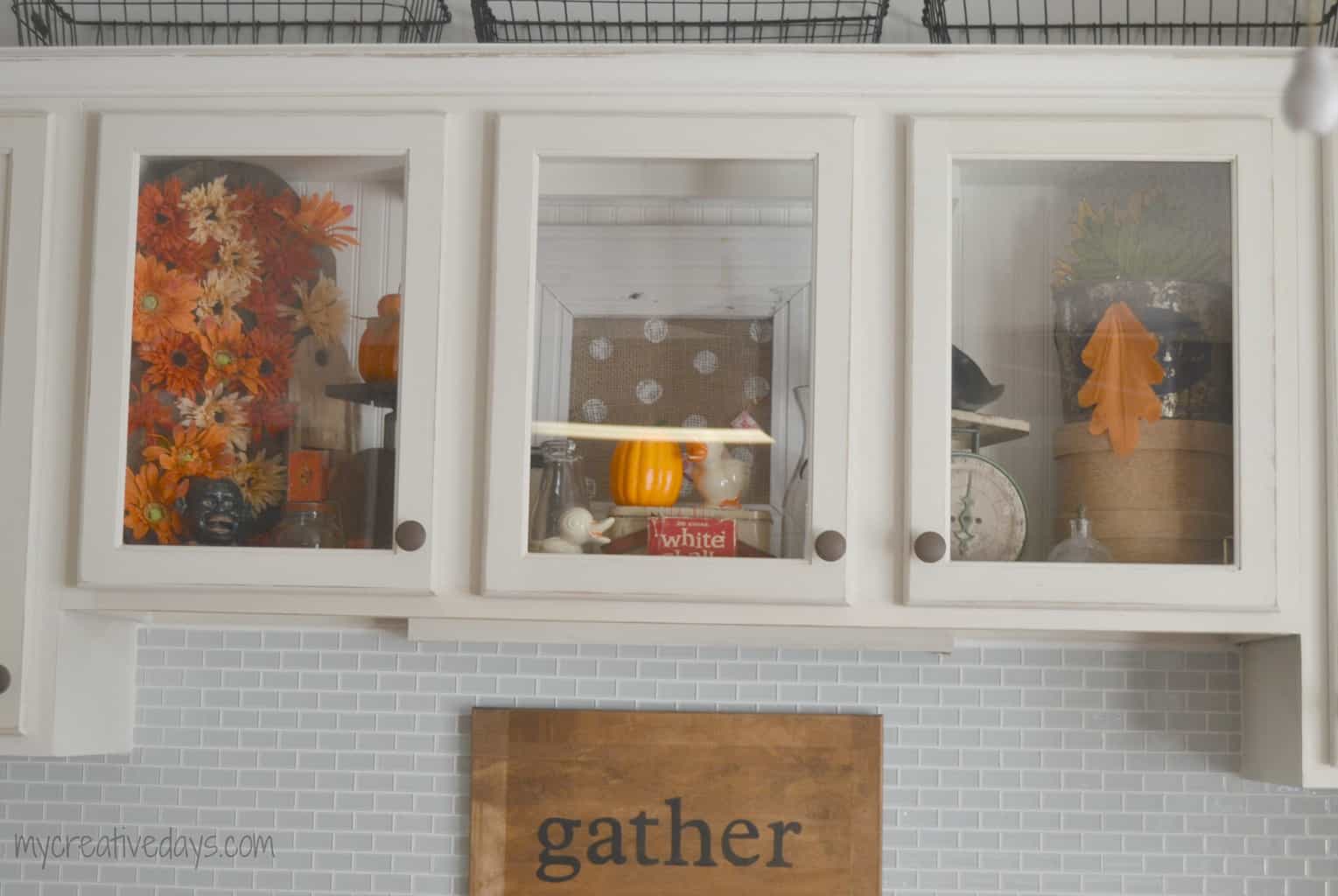 During the fall, our back porch gets a lot of use. It is so nice to open all the windows and enjoy the crisp fall air while watching all the football games.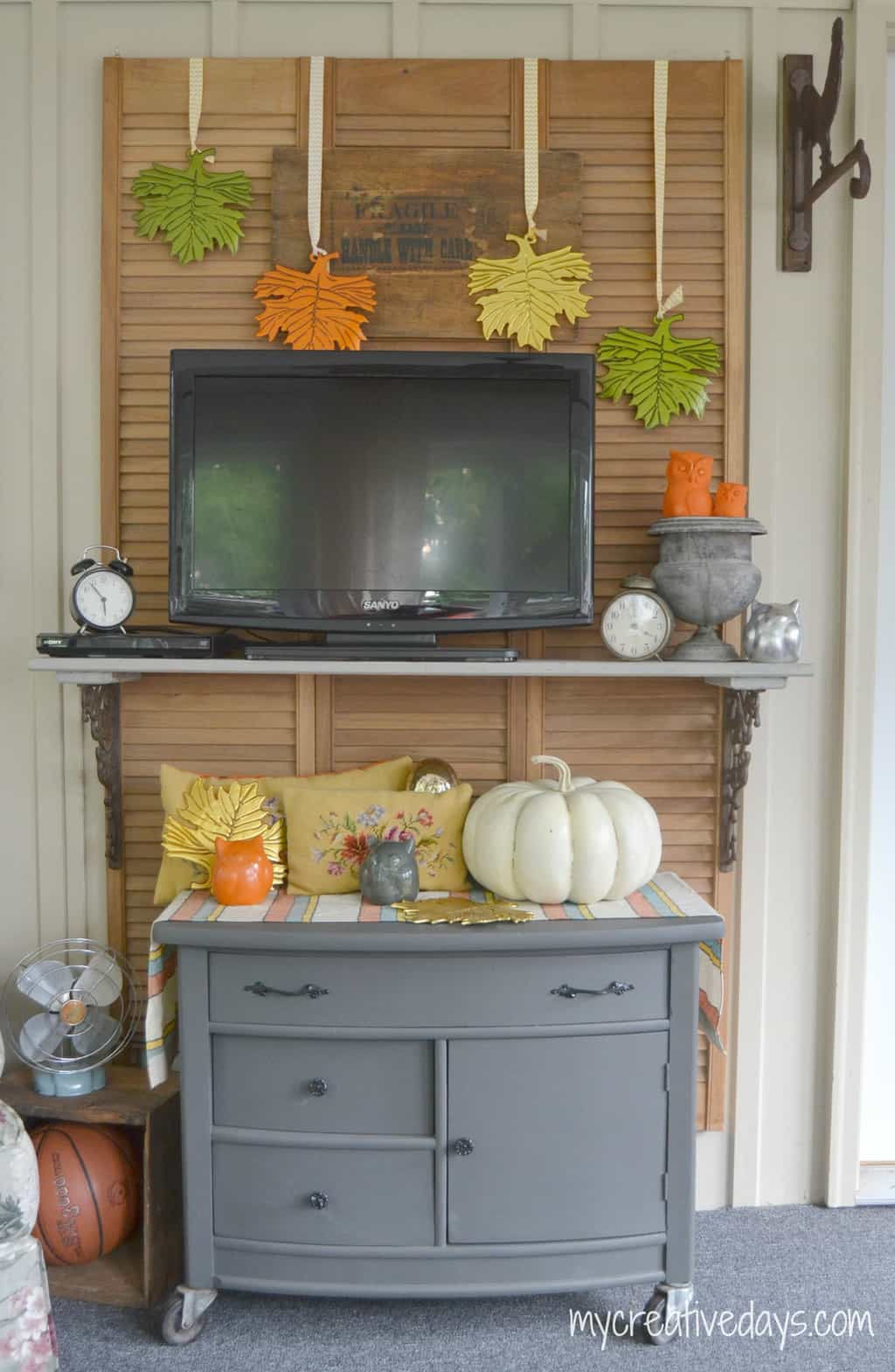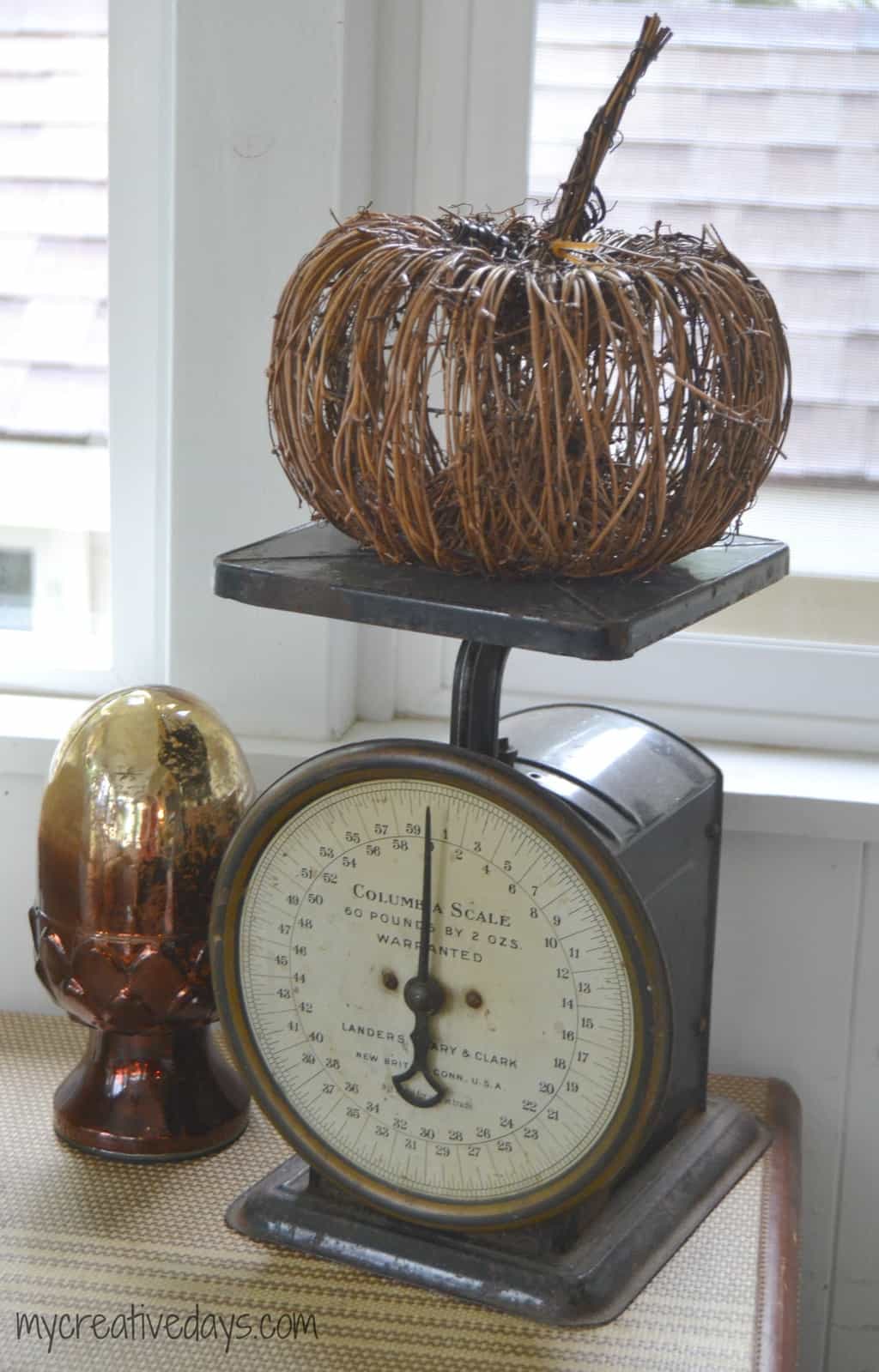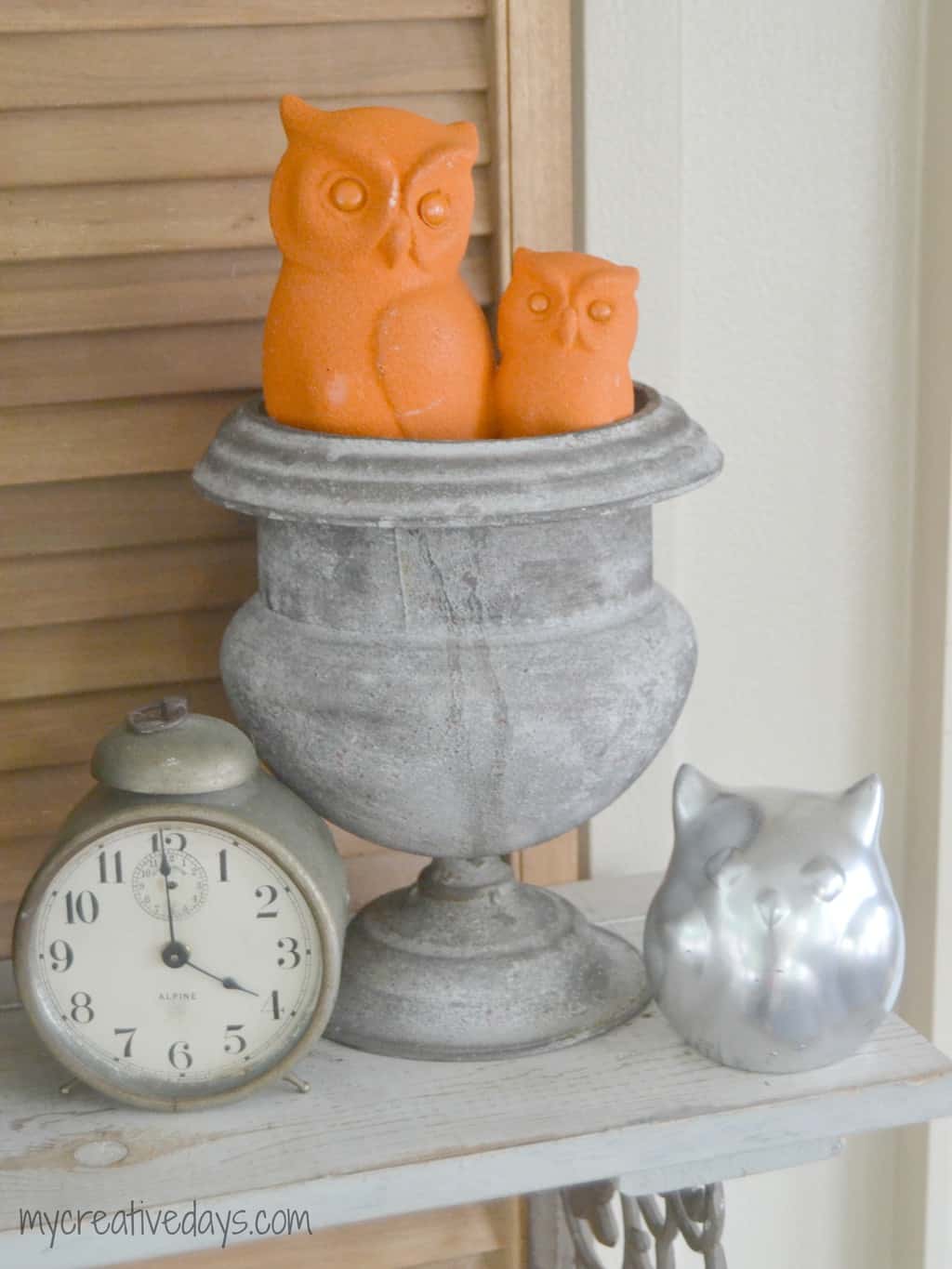 I always decorate the outside of our home as well. I made this simple rake 'wreath' and hung it on the old fence at the back of the house.
At the front of our home, you are greeted with the Curbside Table Turned 'Hello' Pumpkin I made last year.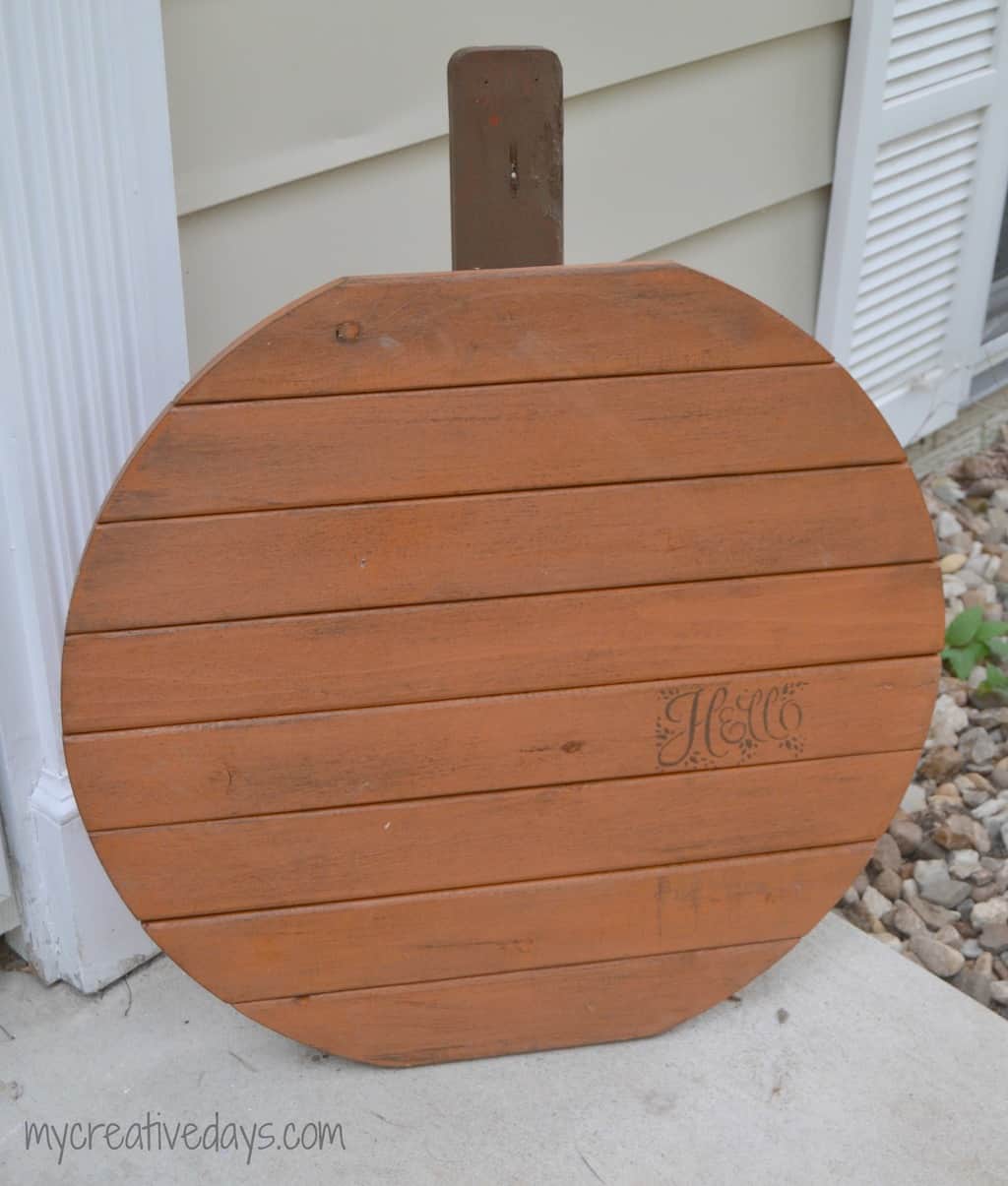 I added this small fall statement to our front door. I picked it up at a yard sale and painted all the leaves a different color.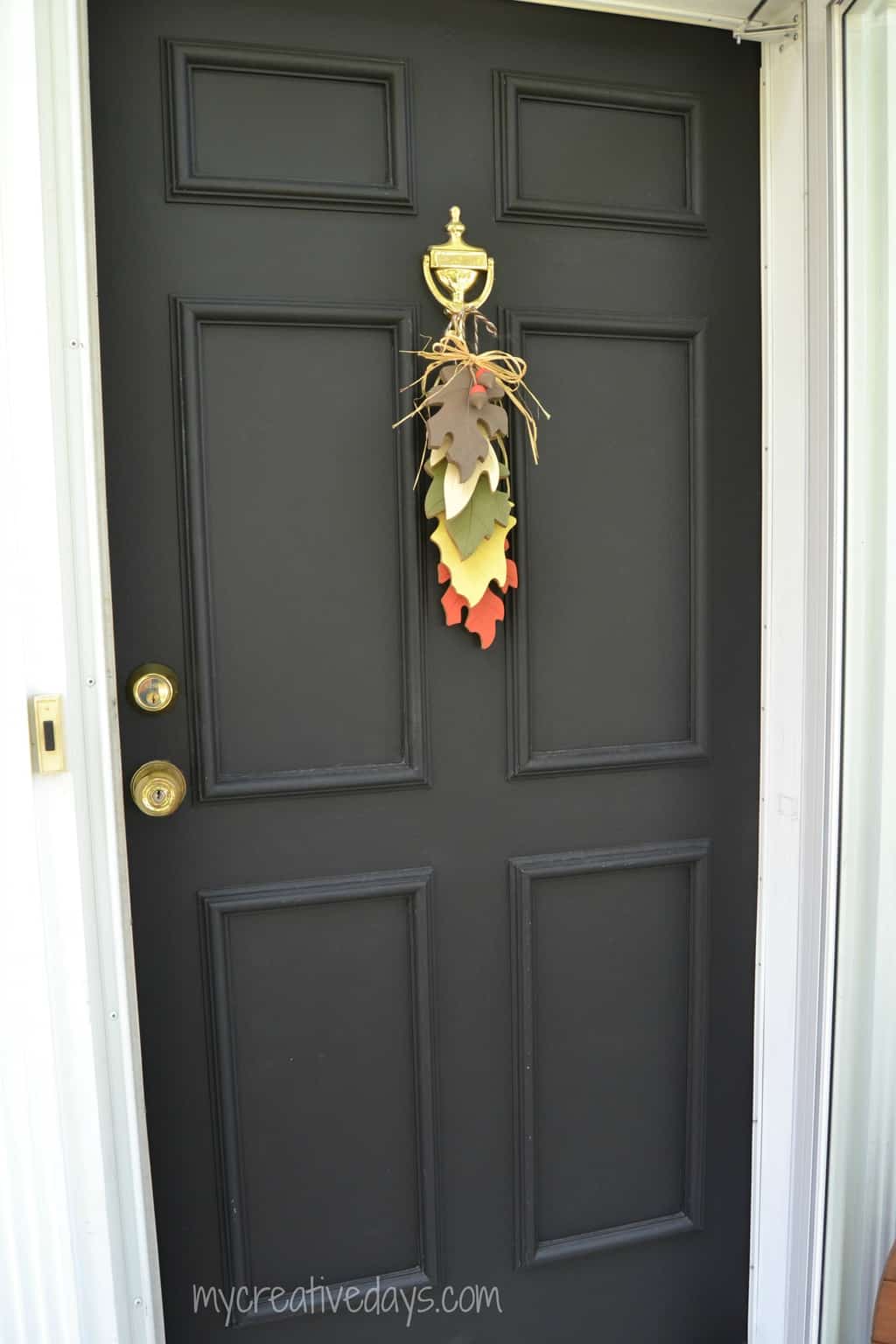 Thank you so much for coming in for our fall home tour! We are ready for fall and welcome it with open arms.