Recliners. They get a bad rap. For me, I was dead set against ever having one in my home. Growing up, my dad would sit in his over-stuffed, dark maroon recliner while watching TV. The recliner was hideous, but he loved it. Back then, a lot of people had recliners and I thought they were all hideous. (Does it age me when I start sentences off with, "back then"?) I vowed that I would never have a recliner in my house when I grew up. Fast forward to the present and Matt has said it would be nice to have one while watching games on TV. What?! NOOOOOOOOOOOO! We are not going to the dark side. No way. Then, I found myself researching recliners. Y'all, I was blown away! I found so many that I would actually put in our home. Not kidding! I even starting picturing myself curling up in one with a heavy throw and a book. What has gotten into me? While I figure all that out, you must check out these 10 Farmhouse Recliners Under $500 I found. Stylish and affordable????? Now, things are getting really crazy.
(Affiliate links are you used in this post. You can read my disclosure here.)
This first farmhouse recliner under $500 is spot on! I love this one. The tufted back and the wood legs are beautiful. You can see this chair in The Shabby Creek Cottage's Christmas tour!
Fiona Recliner via Joss & Main
This next chair is probably my favorite on the list. It is another tufted option and I like the lighter color and the taller back.
Sara Tufted Recliner via Joss & Main
A good print is always fun and black and white are a classic combination.
Dellarobia Arm Chair via Joss & Main
Gray is my favorite neutral and this chair would fit in any room. Loving the straight lines and then the unexpected curve in the legs.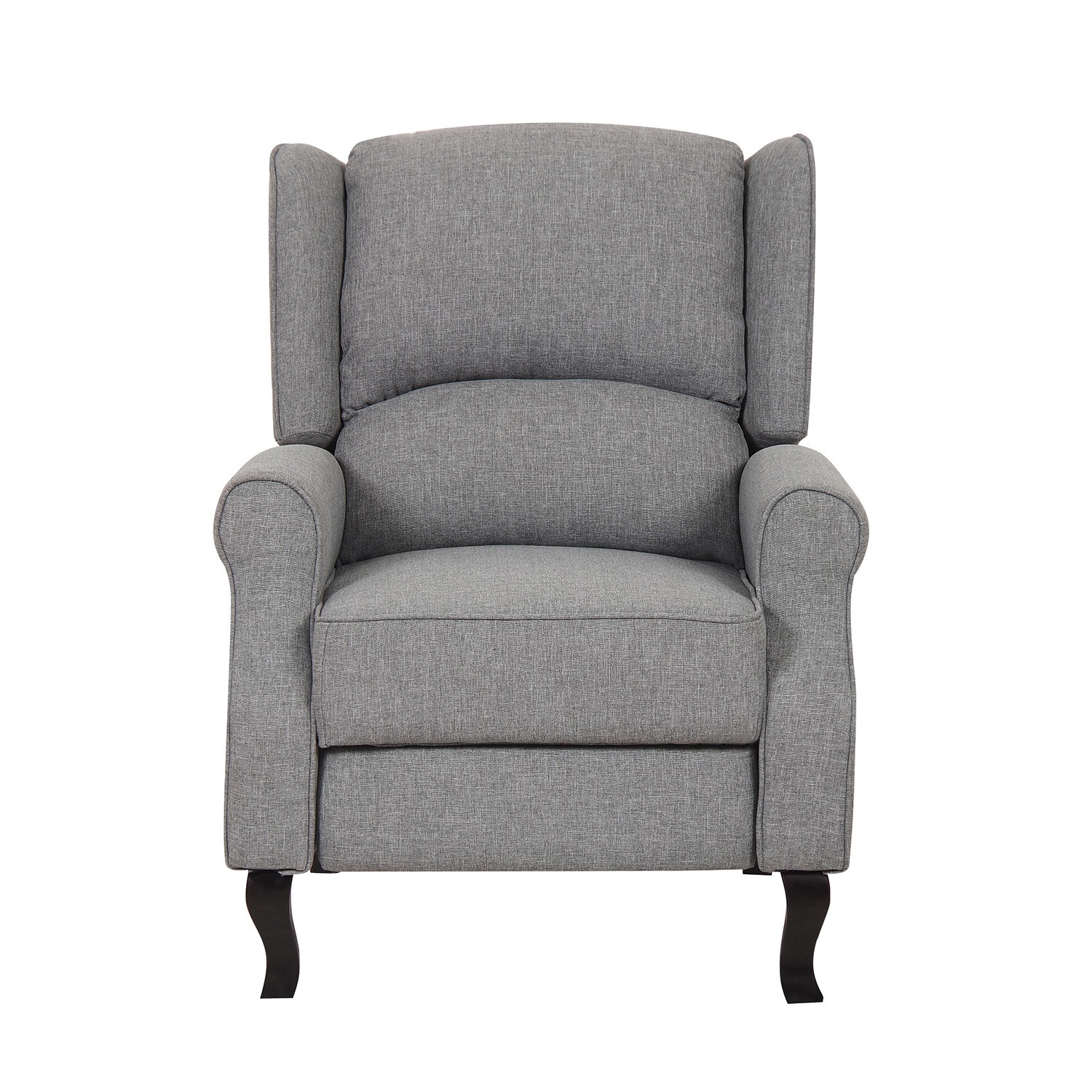 Modern Wingback Linen Fabric Accent Recliner Chair via Over Stock
Another fun print, but this time in a pretty blue. Soft, muted colors are always welcome in a farmhouse room.
Georgina Recliner via Joss & Main
I wish more chairs were like this when our kids were babies. I would have bought one and kept in the house after I was done using it in their nurseries. It looks so cozy to read in with your favorite hot drink and soft throw.
Dixon Recliner via Joss & Main
I like the look of the fabric in this next farmhouse recliner under $500. I think this chair has more of a masculine feel, but could easily be made to have a softer look with the addition of a throw and a great pillow.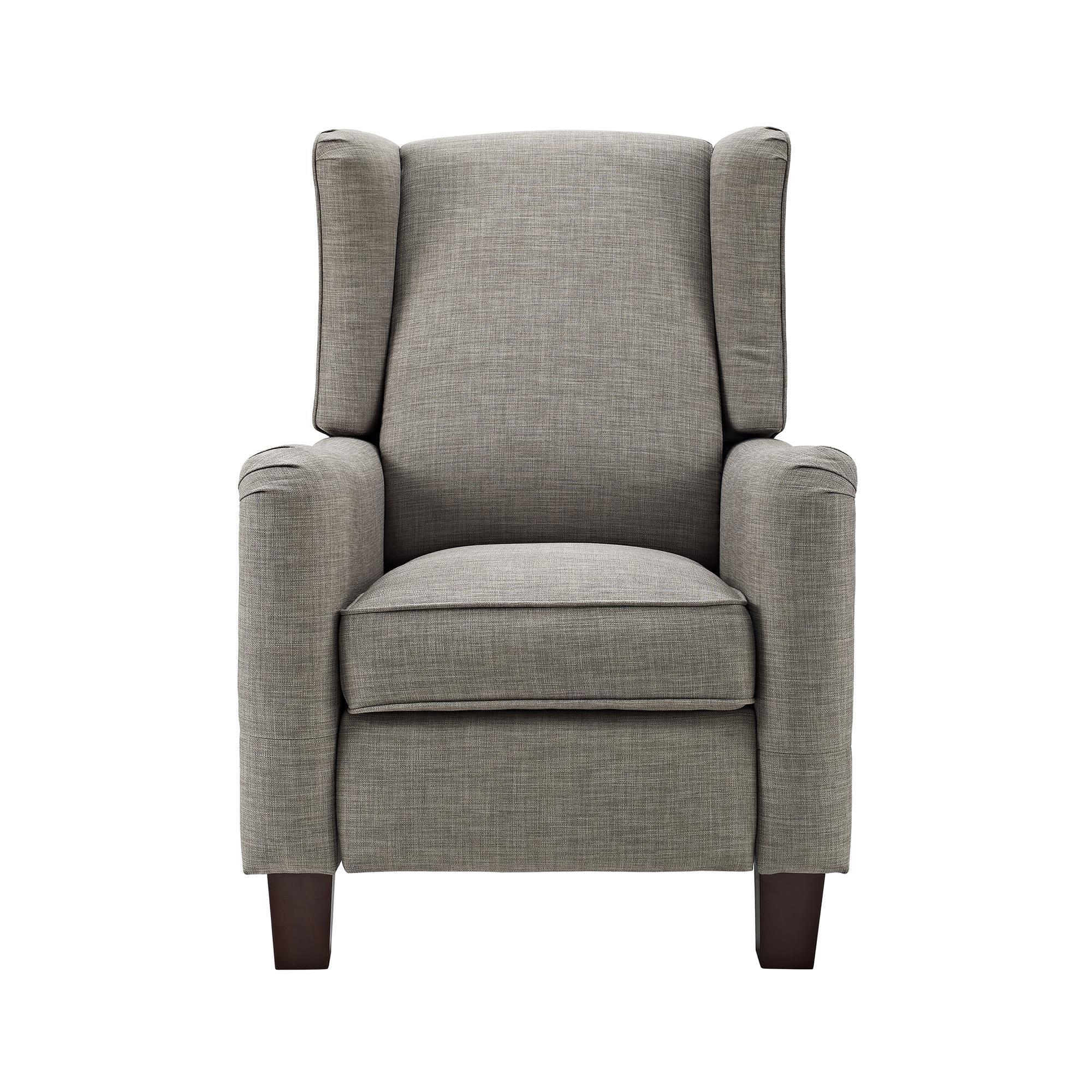 Avenue Greene Leighton Grey Wingback Pushback Recliner via Over Stock
When I first saw this chair, I was on the fence. Then, I started thinking of all the porches and rooms I share on my Facebook page and this chair immediately made the list. I can see it in a southern farmhouse porch for sure.
Theodora Recliner via Joss & Main
Another soft blue, but this time in a solid. To me, accent chairs are like rugs, throws and curtains. They can add the life, color, pattern and texture to any farmhouse space.
Ginny Recliner via Joss & Main
This next one had me at its legs. The wood color is spot on. The pattern on the fabric is not my favorite, but I would just add a cream, knitted throw on it to tone it down.
Serta Upholstery Richmond Recliner via Joss & Main
I can not believe I am actually writing a post about recliners! Who knew they could be pretty and affordable? The 1o Farmhouse Recliners Under $500 I found floored me! I really am contemplating getting one now. I would love to relax in one after a long day. I can't believe I am saying that.
Another lesson learned….. Never say, "never".
Do you have a recliner in your home? Which one on this list is your favorite?
Not in the market for farmhouse recliners under $500 right now? Pin this post for later when you convert like I did!!!