This shop has been compensated by Collective Bias, Inc. and its advertiser. All opinions are mine alone. #SpooktacularSnacks #CollectiveBias #Ad #Sponsored #GetYourBettyOn
It is Halloween party time!
It is always a lot of fun to set up the first Halloween celebration of the month.
This party plan all started with our sweet treat. I picked up Betty Crocker™ Fudge Brownies, Devil's Food Cake and Target exclusively packaged Halloween PEEPS® multi-pack at my local Target store.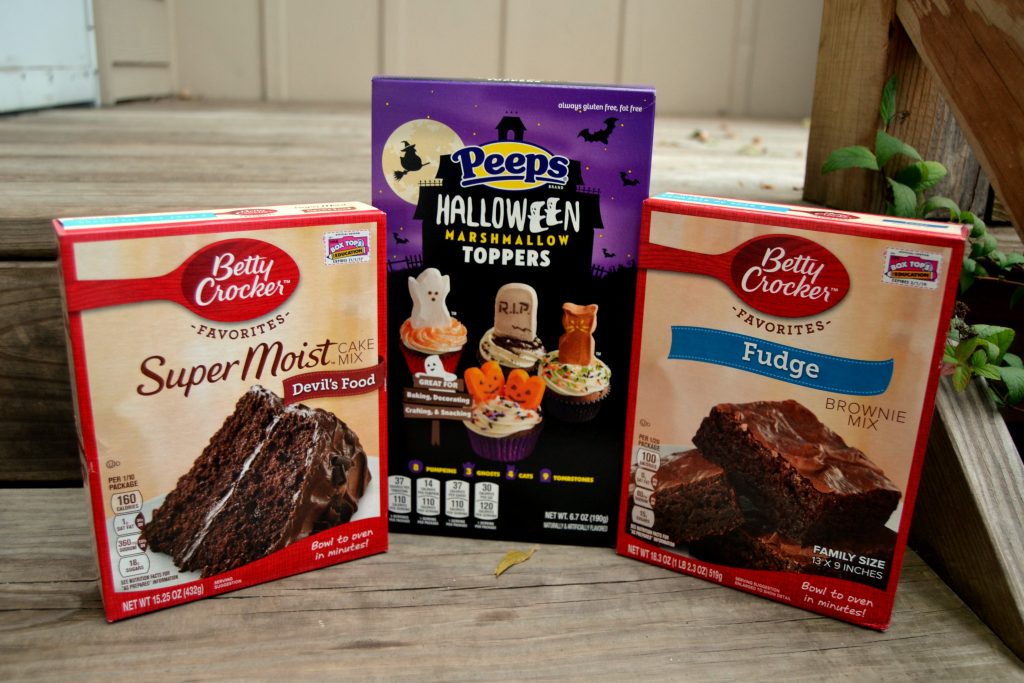 I found the Halloween PEEPS® multi-pack in the front of my Target store around all the Halloween themed foods.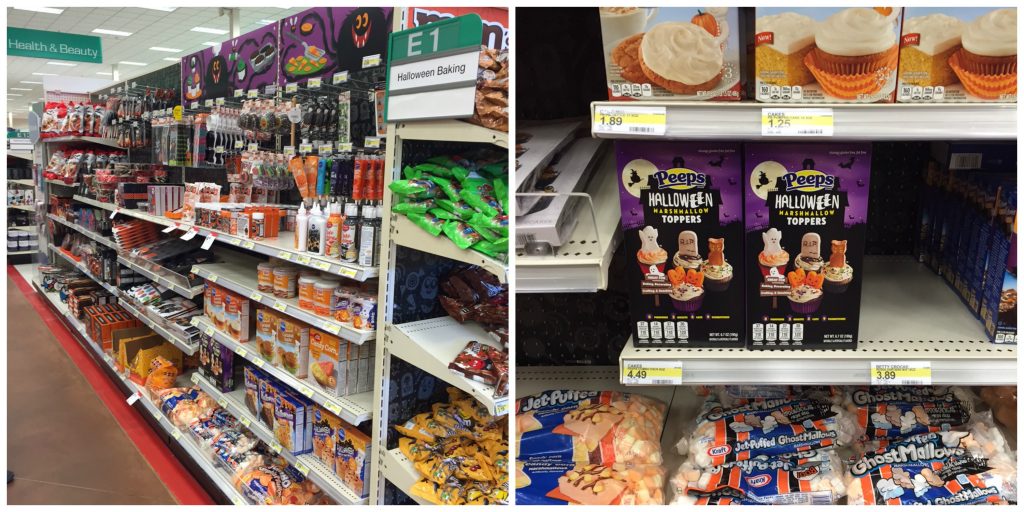 PEEPS® Mini-Trifles were on the menu for this party.
To make them, you will need:
The Halloween PEEPS® multi-pack will make 24 trifles so this is the amount of ingredients I used to make 24. 
Betty Crocker™ Fudge Brownies
Betty Crocker™  Devil's Food Cake
Whip cream (2 – 8 oz. containers)
Graham cracker crumbs (from two packages of graham crackers)
Halloween PEEPS® multi-pack
Halloween straws (cut regular straws in half to get more straws)
Clear cups
First, cook the brownies and the cake as per the directions on the back of each box. Let cool. Crush two packages of graham crackers. (I do this with a rolling-pin and a gallon sized plastic storage bag.)
This Mini-Trifle recipe is best to set up like an assembly line. It is a great recipe to get the kids involved with too. We had them all done in no time.
Many hands make light work, right?! 🙂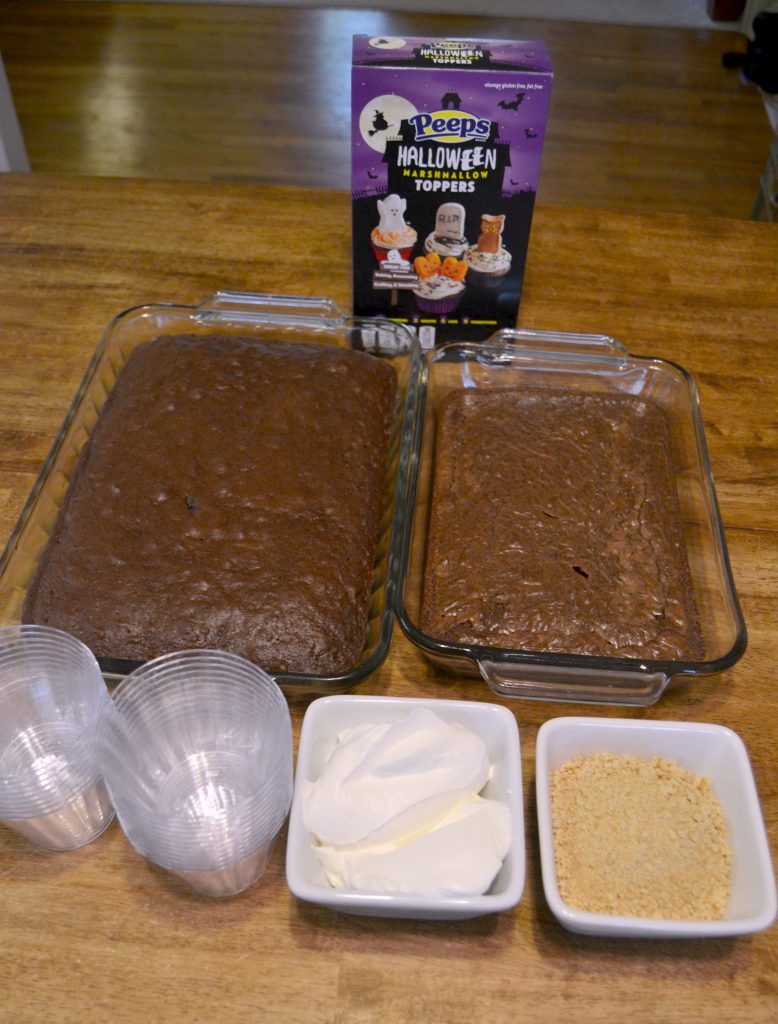 Once the cake and brownies are cooled, use a fork to crumble them up.
Now it is time to build the trifles.
Start with graham cracker crumbs in the bottom of the cup. Then, add some brownie crumbles. The next layer is whip cream. On top of that goes cake crumbles. Add another layer of whip cream and then a sprinkling of cake mix on top. Stick your Halloween straw in the bottom of the PEEPS® and stick it in the trifle.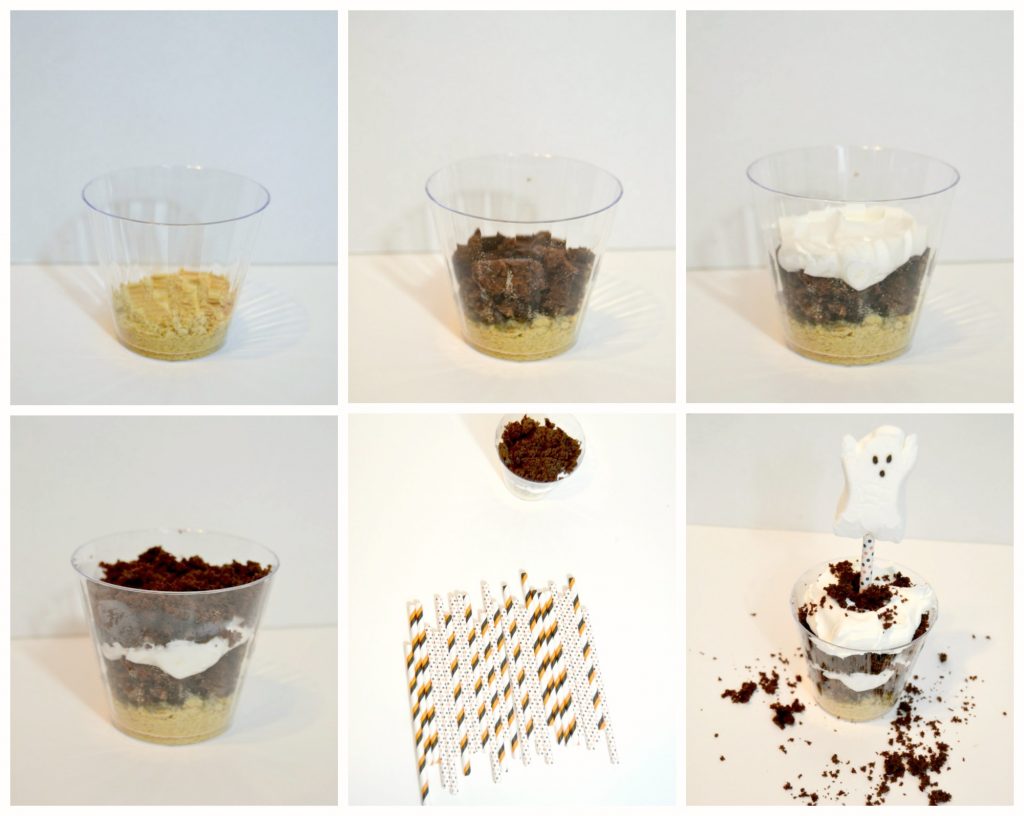 Aren't they adorable?!!!!!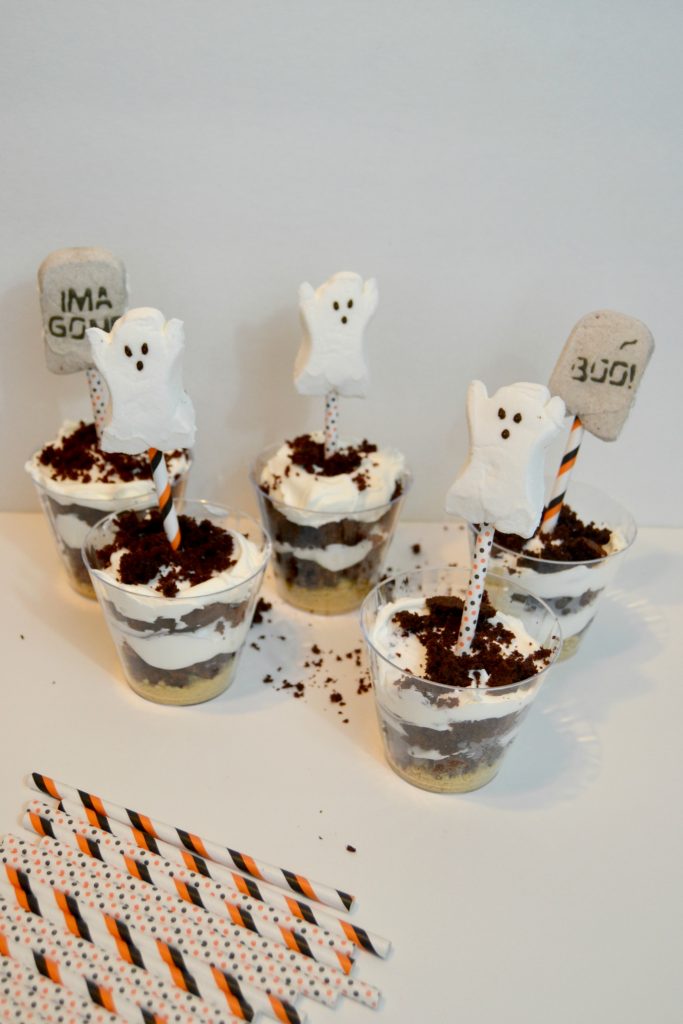 Next up, is the Monster Goo.
To make it, you will need:
2 – 4 oz. bottles of white glue
1 tsp. Borax
1/2 c. warm water
(This will give you about three "portions" of Monster Goo so adjust the recipe for as many as you need. It is very popular so over-estimate. 😉 )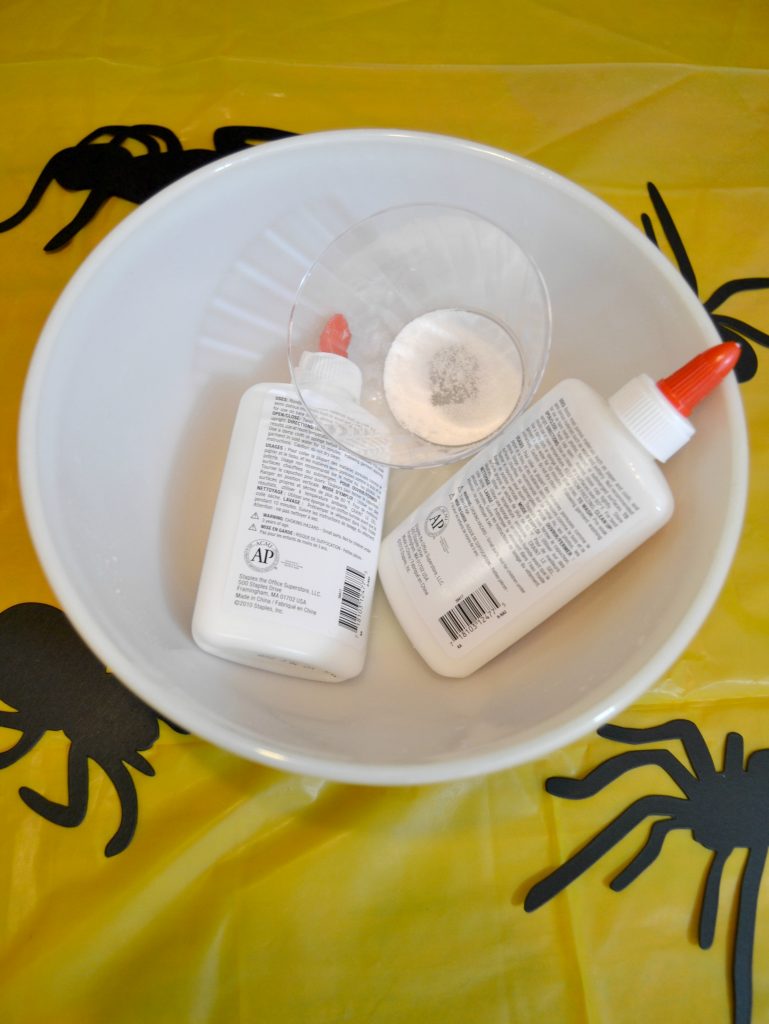 Add the Borax to the 1/2 c. warm water and stir until it is dissolved. Pour the two bottles of glue into another bowl and then fill each glue bottle with warm water, shake well and dump into the bowl with the glue. Add food coloring to the glue and stir until everything is combined. Then, add the Borax mixture to the glue mixture and let the kids mix it up.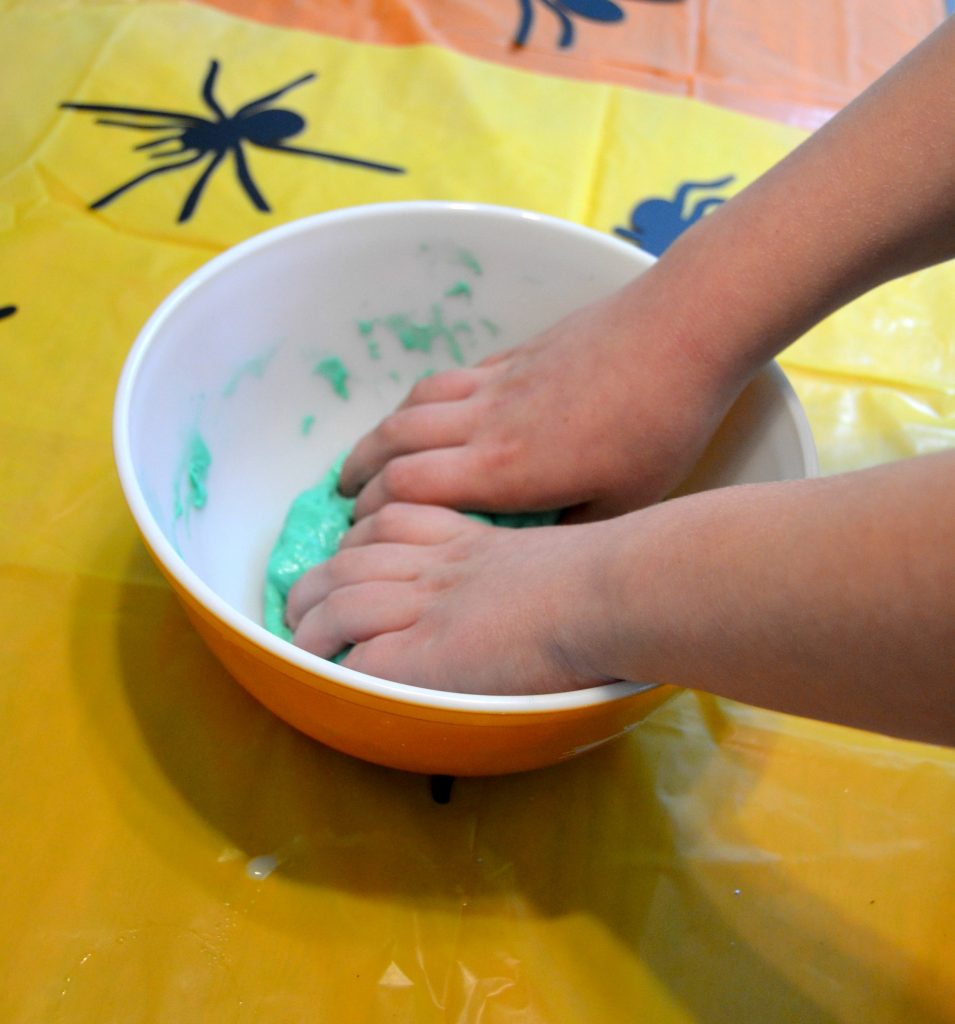 It will become a "goo" as they work with it.
I bought glass jars from the Dollar Spot at Target for their Monster Goo.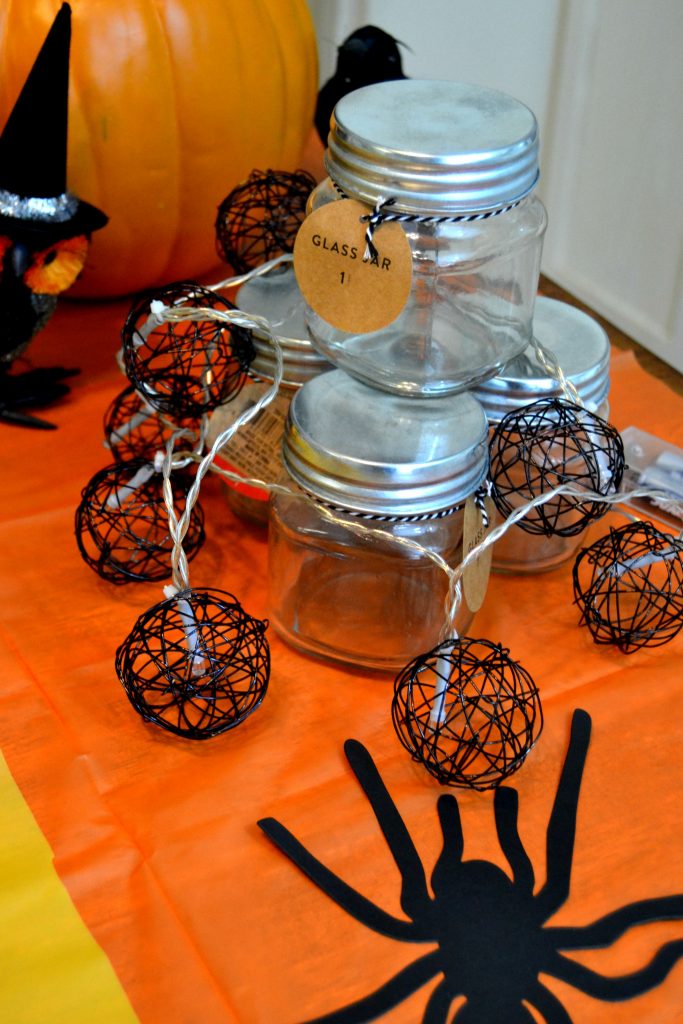 Each child put their Monster Goo in their jar and added some monster eyes to it.
These jars went home with them for hours of Monster Goo fun!
I don't know what was more cute; the Monster Goo jars or the PEEPS® Mini-Trifles.
What do you think?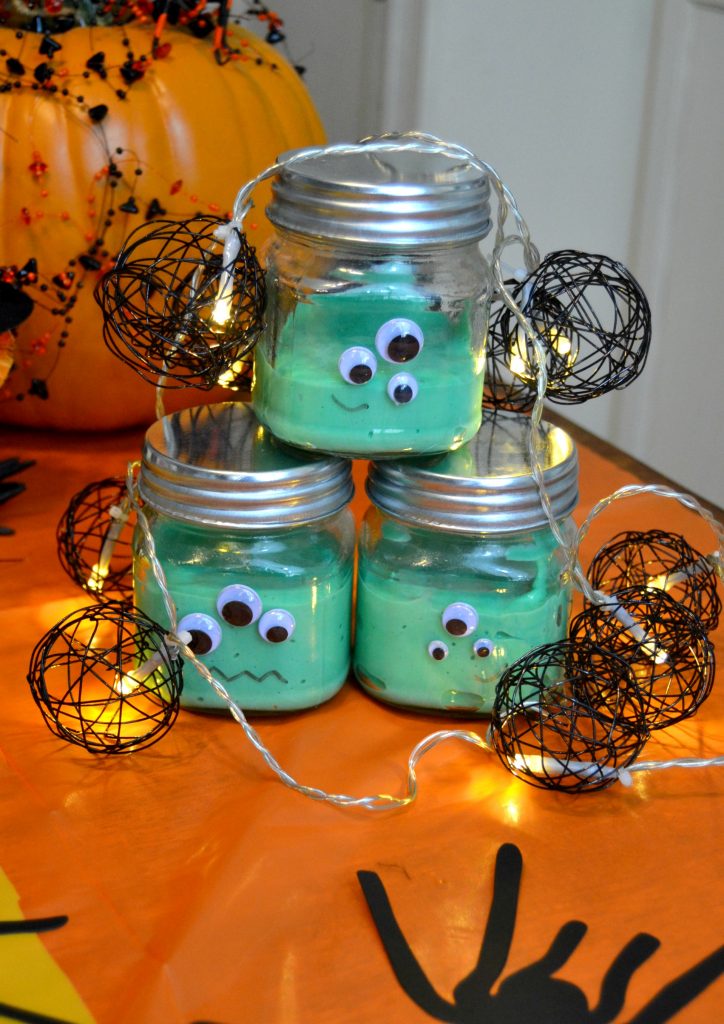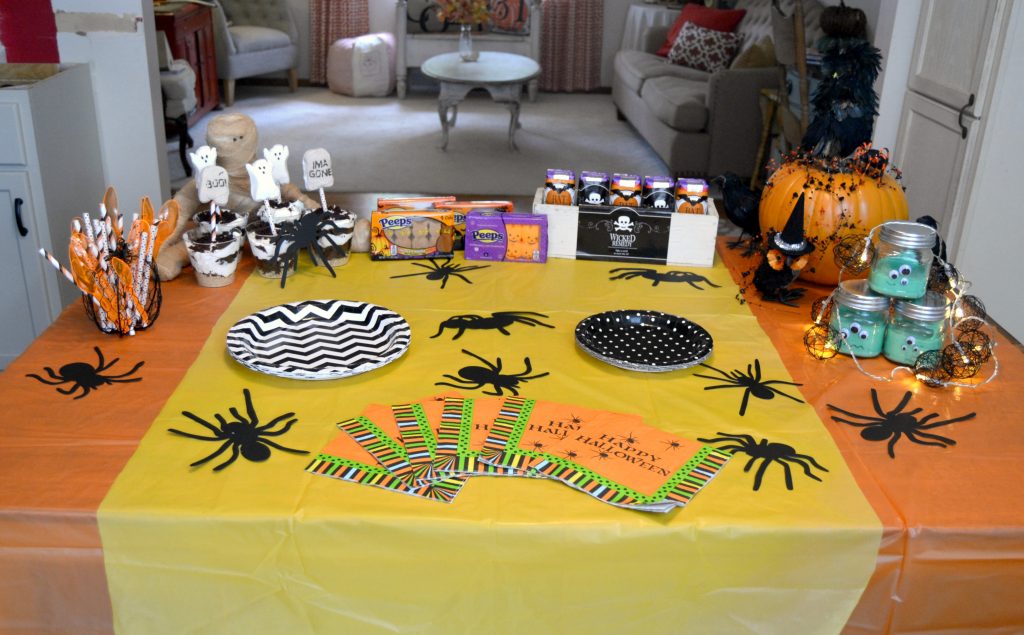 The great thing about shopping at Target for a party is the Dollar Spot. They have so many inexpensive items there that can be used for so many things.
I bought wire pumpkins from the Dollar Spot and they were perfect for holding straws and silverware! They could be a centerpiece on their own.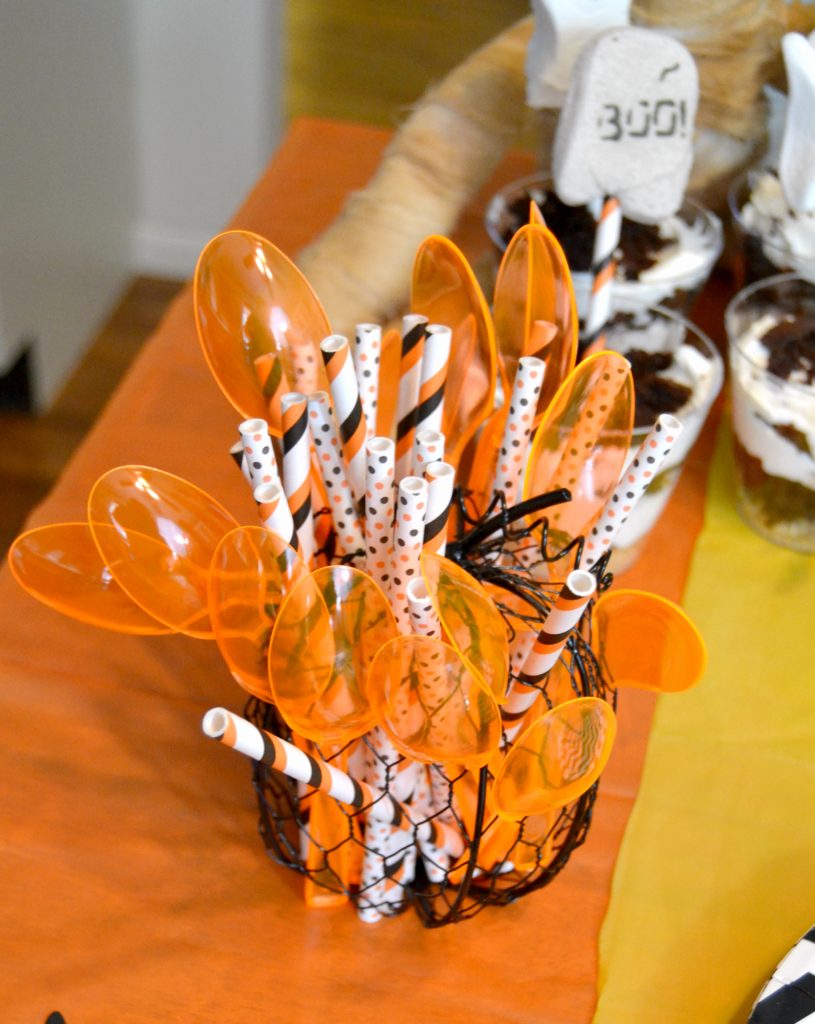 Mr. Mummy was happy to keep watch over the PEEPS® Mini-Trifles.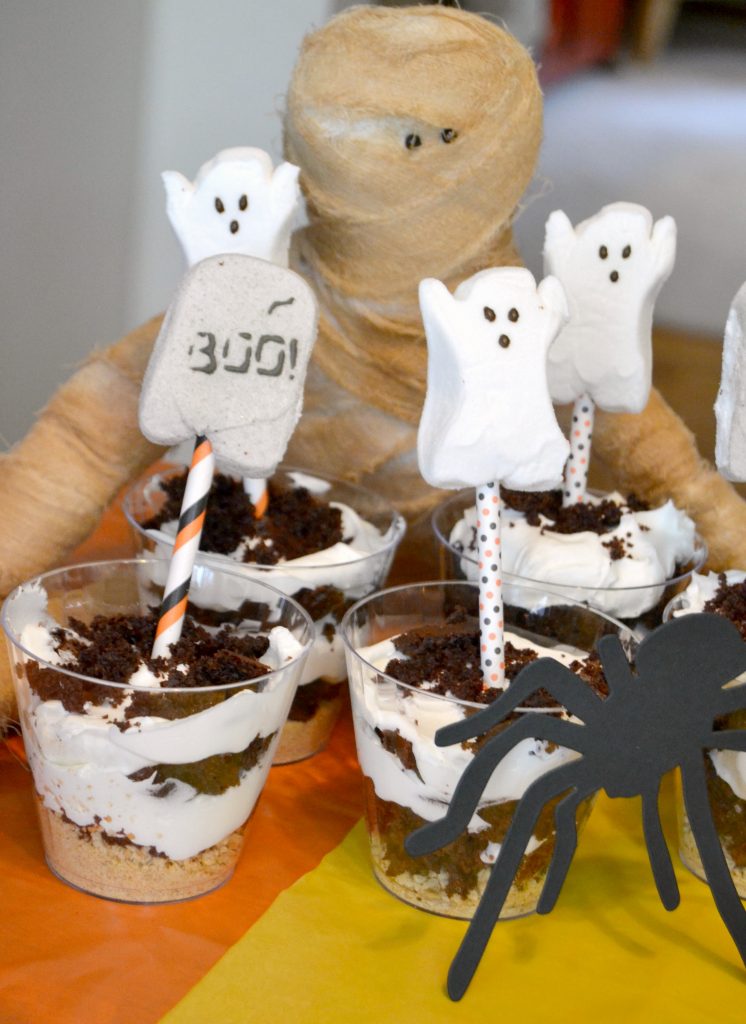 Last year, I picked up some Halloween drink labels on clearance. They were perfect for our milk and juice cartons!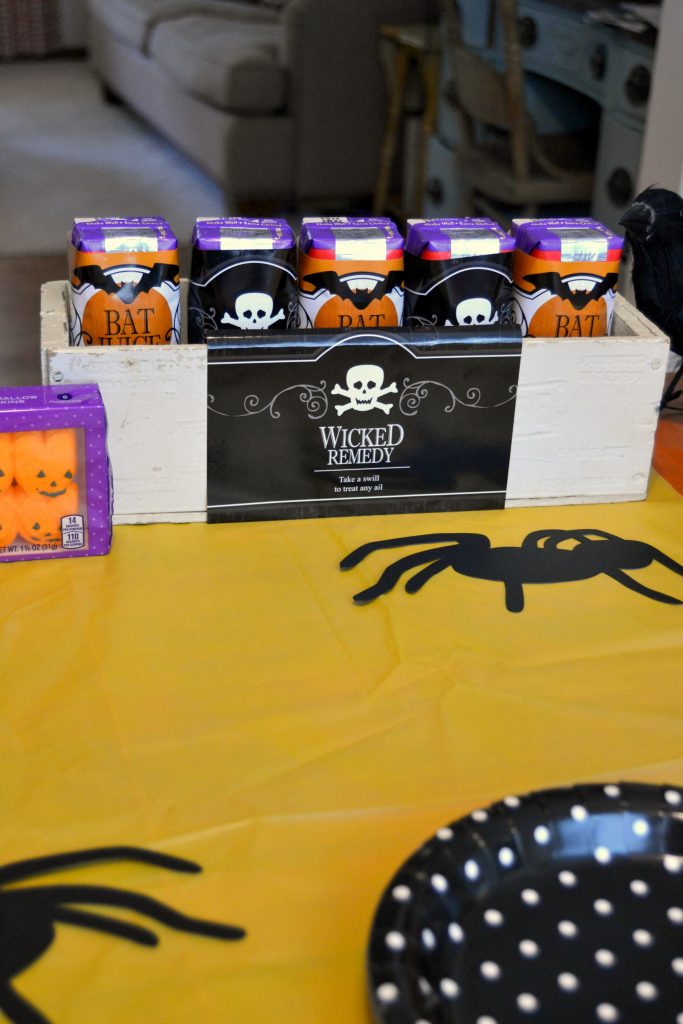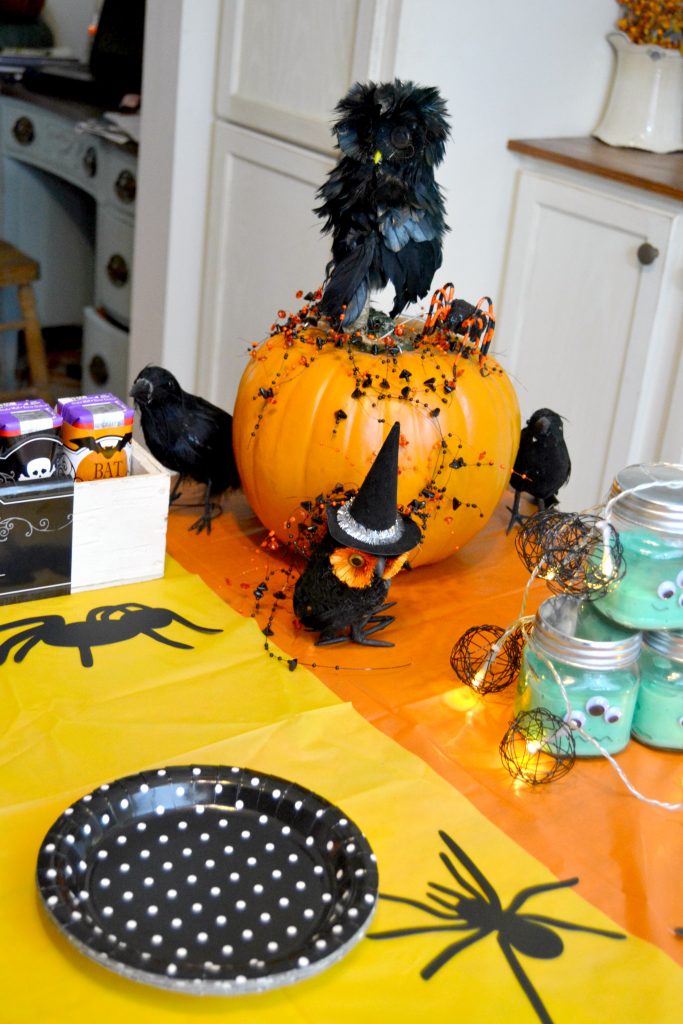 I love easy party set-ups and this Halloween party came together in a cinch with the help of Target, Betty Crocker™ and PEEPS®. What are you doing this Halloween season? Do you have any parties planned? I would love to hear all about your sweet treats, games and activities!