I want to thank Hickory Hardware for supplying the new hardware for our kitchen makeover. All opinions are my own.
I know it seems like it has been a long time since I have posted a kitchen update and then this week, I posted two!
I wish it was moving that fast, but the fact is, it isn't.
The kitchen makeover is nothing like we have done before. We are usually done with a makeover in a weekend or two so to have it take this long is an adjustment for us.
So far, we have the cabinets painted, the half-wall removed, new cabinets added and the new laminate floor put down. The new hardware is finally on and then we still need to do the countertops, backsplash and feature wall. After that, I can't wait to "decorate" the kitchen with new towels, dishes, paper towel holder, etc.
When I pick out hardware for any project, I get excited. It can be the best feature of any piece and looking through the hardware at Hickory Hardware is like setting a child free in a candy store. So many options, so little time. 🙂
Here is the hardware we were replacing.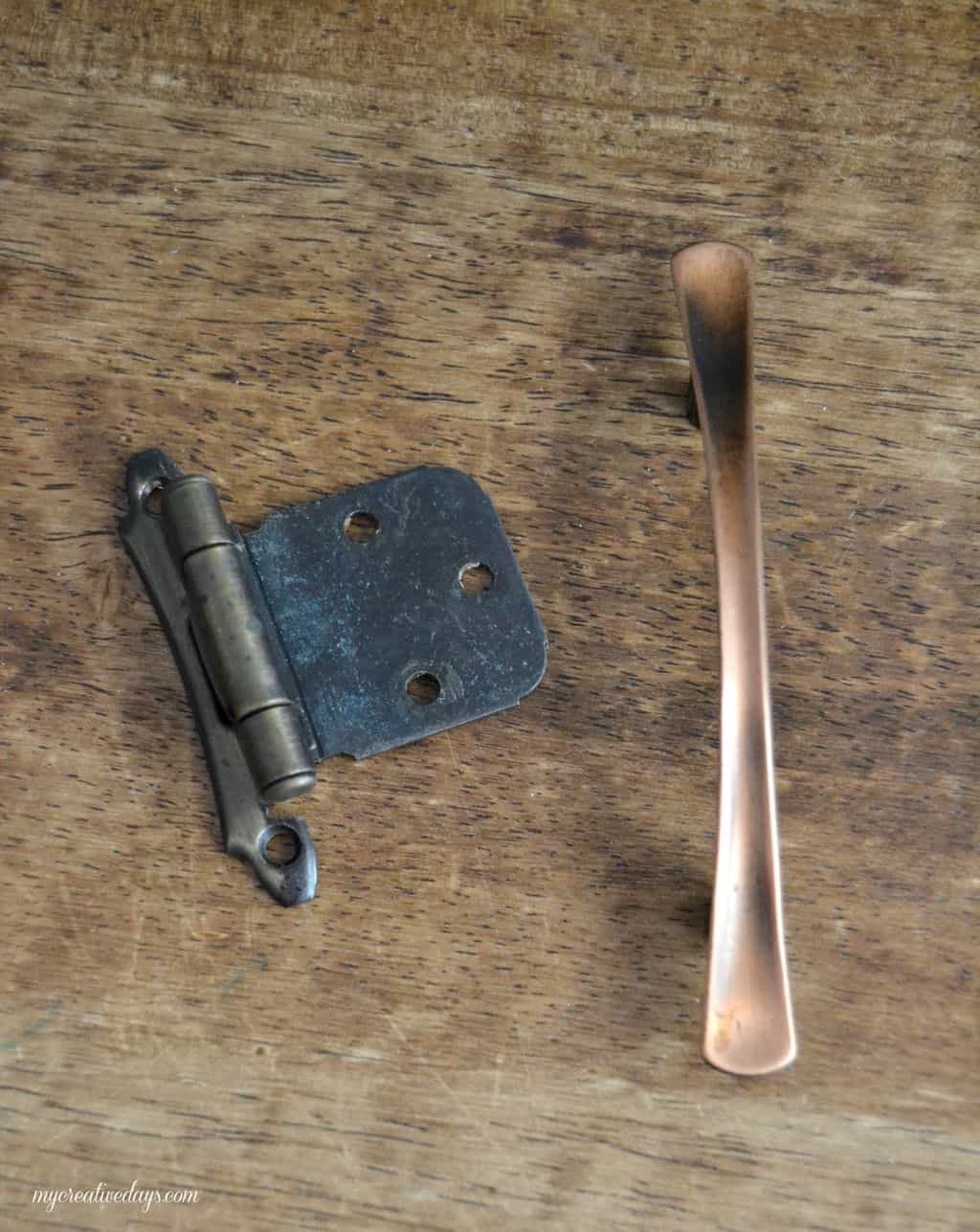 I spray painted them black after we painted the cabinets so I could get the cabinet doors back up until we picked out new hardware.
I really liked a few options from Hickory Hardware.
The 3 In. and 96mm Bungalow Oil-Rubbed Bronze Cabinet Pull is too chunky for our cabinets, but I love it.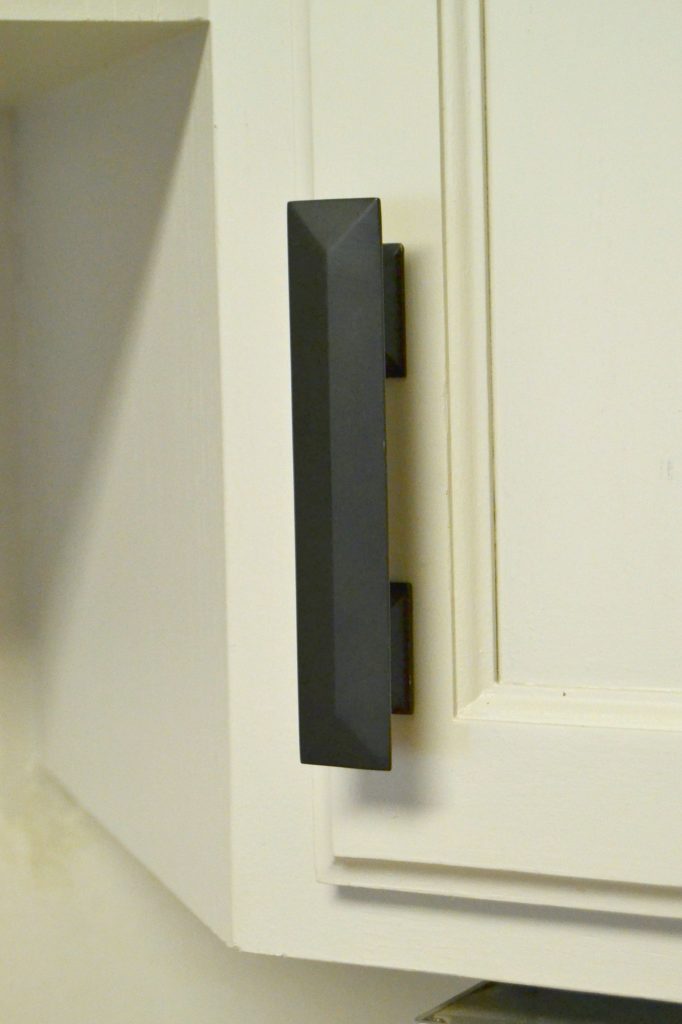 I had to laugh when I got this one because it is exactly like the original ones we painted black. I must have liked them a little bit if I picked them again. 😉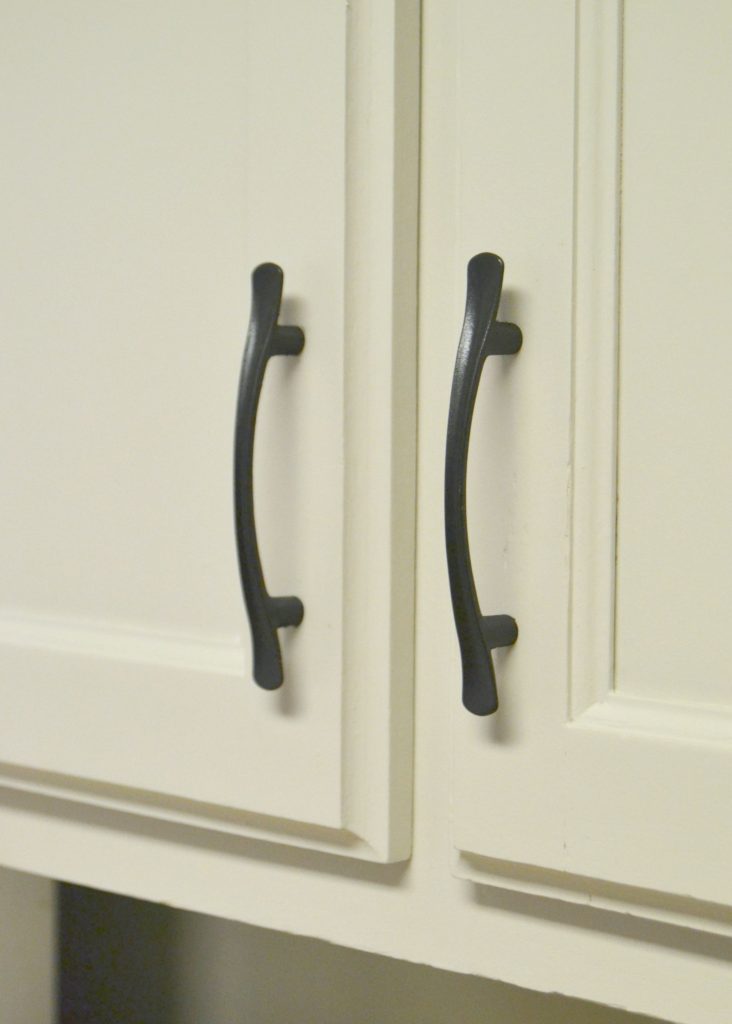 The 3 In. Eclipse Vintage Bronze Cabinet Pull was similar to our original pulls, but had a different finish and was more square.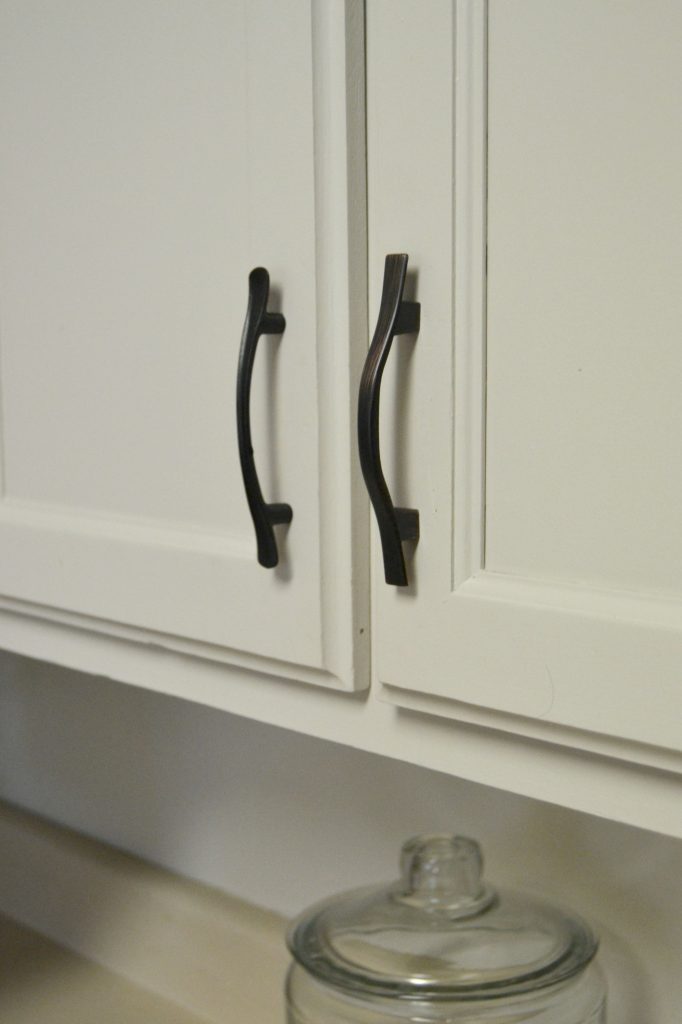 I really thought I was going to go with the 3 In. Luna Matte Black Cabinet Pull (the one on the right in the picture below).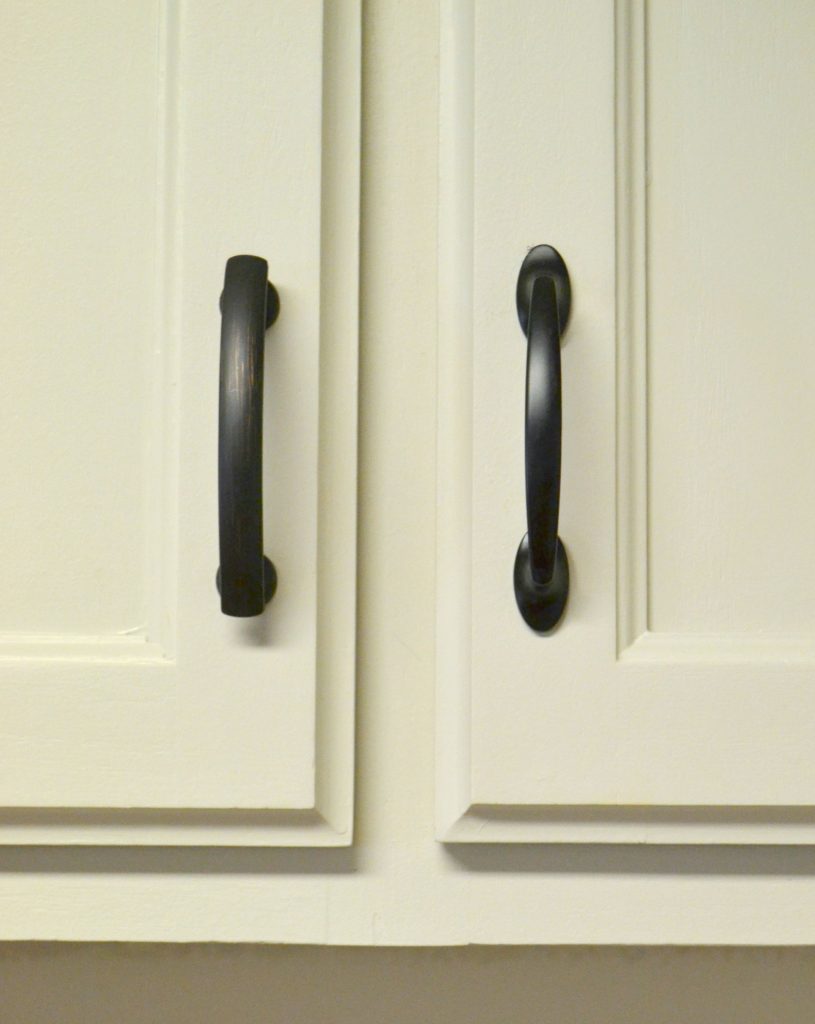 But, once I saw the 3 In. American Diner Vintage Bronze Cabinet Pull (the one on the left in the picture above), I really liked the color with the paint color on the cabinets and I liked how they felt in my hand. Something I didn't think would make a difference, but when I put them all on the cabinets and used them, this one was the most "comfortable". Call it weird, but it is true.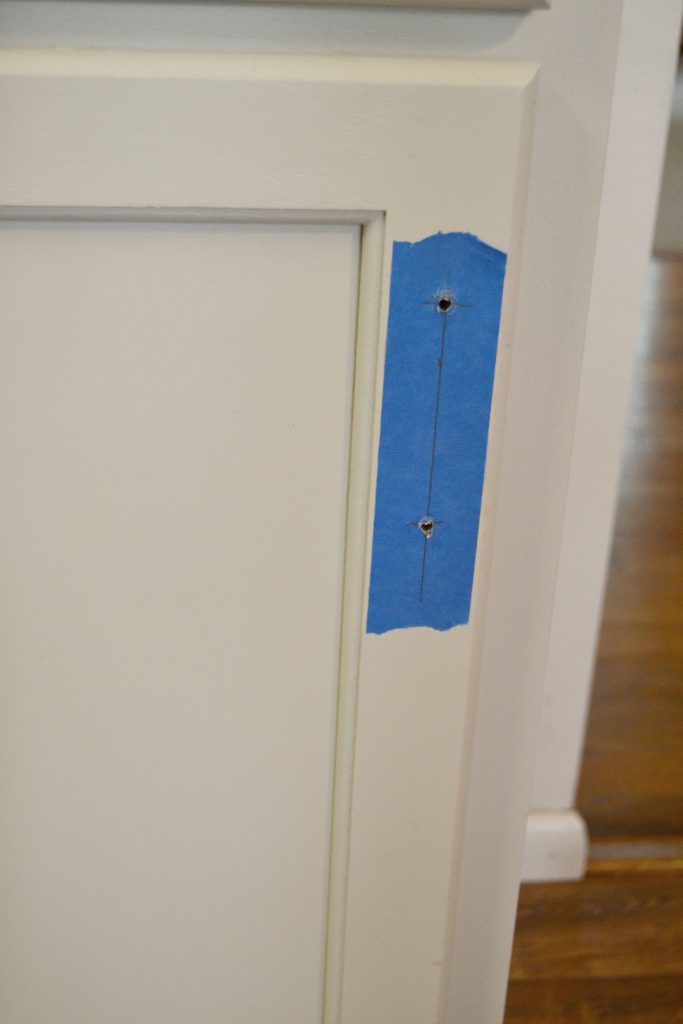 All the original cabinets already had the holes for the pulls, but we needed to drill holes in the cabinets we put in. Matt used painter's tape on the cabinets to mark the measurements so he didn't mark up the paint. (He is always thinking of things like that). The biggest "hardware" difference came when we added the pulls to these cabinets. It is a great example of the difference hardware can make.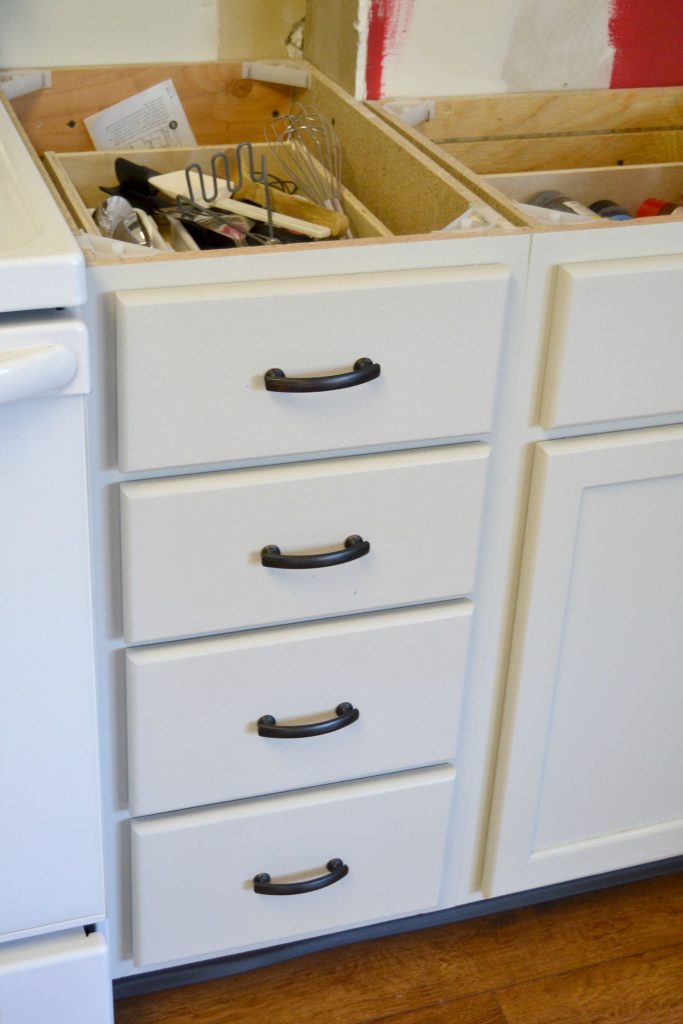 Now, let me talk to you about my relationship with hinges. Hinges and I are not friends anymore. After this process, we are taking a break from each other.
I had no idea how hard it would be to match up hinges! Of course, we could not find a hinge that would match up perfectly with what we had. After much trial and error, we were finally able to find something close. We had to do some touch-up paint after we put on the new hinges, but we were thankful that we didn't have to fill old holes and drill new ones.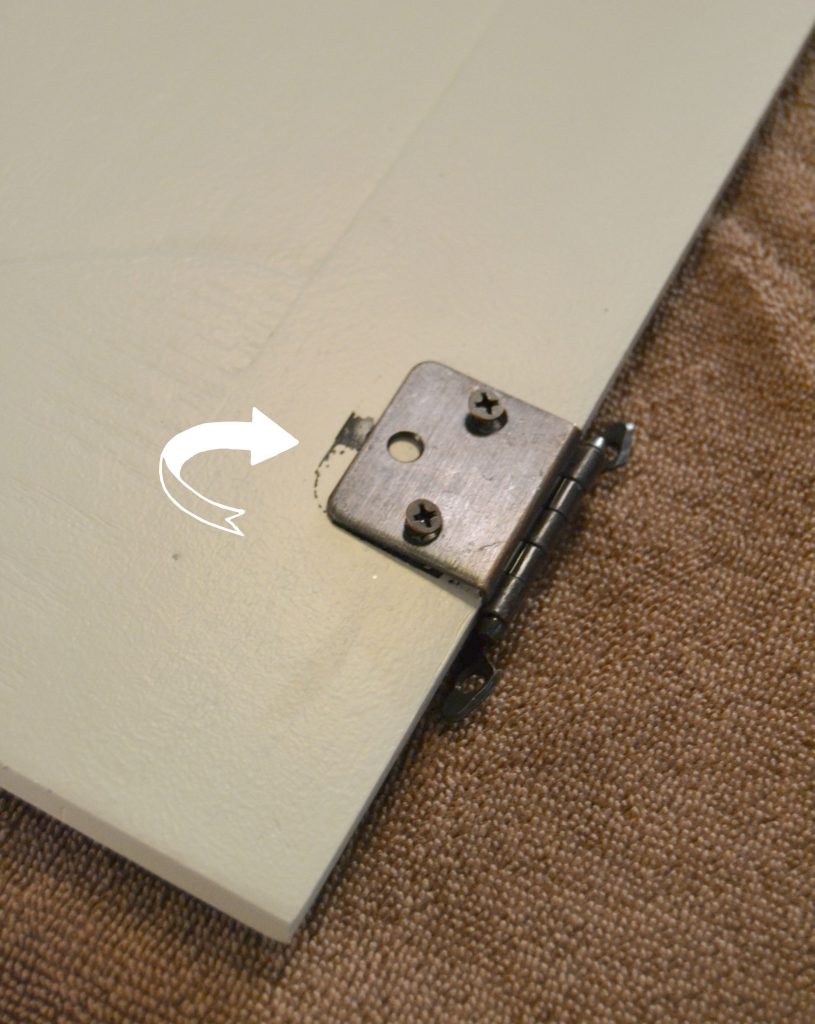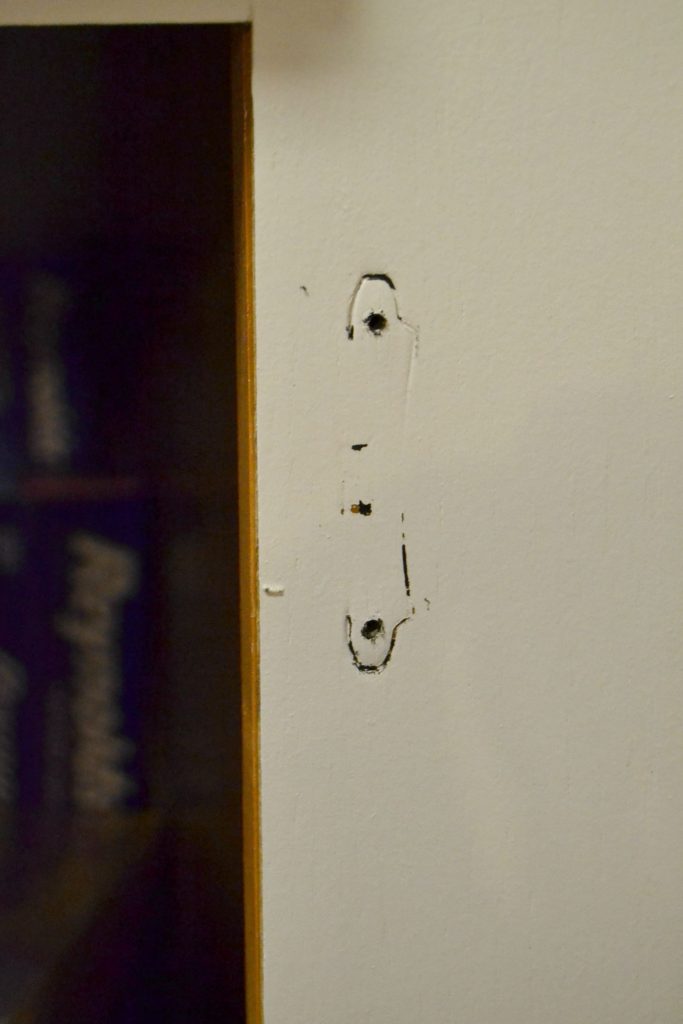 The Vintage Bronze Surface Self-Closing Hinges look so much better and they match the finish of the new handles.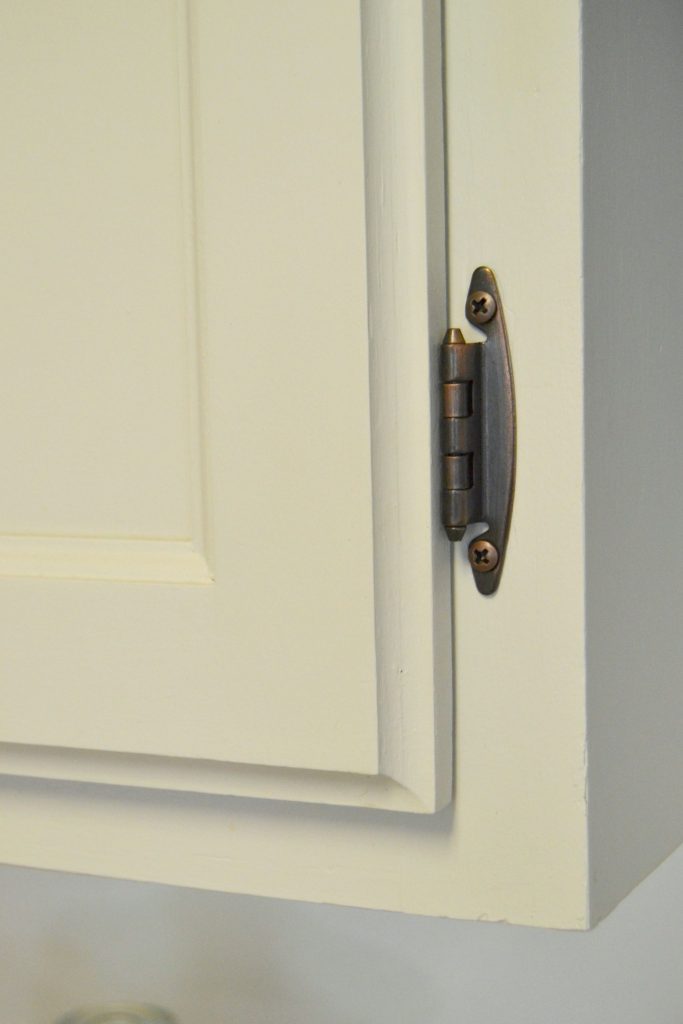 The hardware is so pretty and was the finishing touch the cabinets needed.
The cabinets we put in don't even look like stock cabinets anymore!
So far, the hinges have been the toughest part of this makeover. I did learn that you need to make sure you are getting self-closing hinges for your cabinets. Otherwise, they won't stay closed! We had to learn the hard way and put new hinges on twice. UGH. Not fun, but worth it in the end.
If you are in the market for new hardware, you must check out Hickory Hardware. They have an amazing selection and I have loved every knob, pull and hinge 😉 we have gotten from them.
Countertops are the next on our list. I can't wait to get them in and start seeing this kitchen come together.