I want to thank eFaucets for providing our beautiful new Kraus sink and faucet for our kitchen makeover. All opinions of these amazing products are 100% my own. You can see my full disclosure here.
Another kitchen update!
This time, we are talking sinks and faucets. You can see the sink and faucet we started with in the picture below.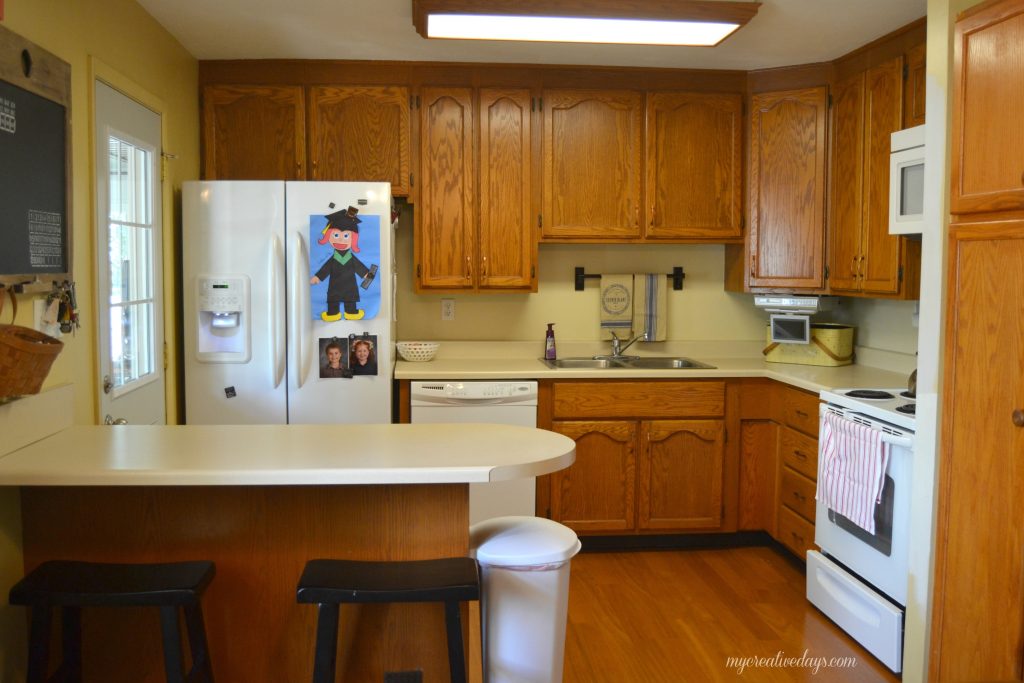 The sink was small and divided in the middle. I could not get more than one pan in one side of that sink. The divider was a nuisance. It took up so much room and wasn't needed. I remember when my sister and I were growing up and washing dishes by hand; she would stand on one side and I would stand on the other. One of us would wash and the other would rinse. Now, a lot of homes have dishwashers so you don't need the divided sinks.
Another thing I did not like about our old sink was that it laid on top of the countertops. Do you know how grubby the edges of that sink could get?? YUCK!
The faucet we had was your basic kitchen faucet. Nothing fancy. It sat on top of the sink and had a "base". That was another thing I didn't like cleaning.
When I started shopping for a new sink and faucet, I had a few "must-haves".
The sink needed to be divider-free. 😉 I wanted it to be deep, but the same size as the sink we originally had so it didn't look too big in our little kitchen. The faucet had to be base-free. I wanted one spout coming out of the countertops. I also wanted a faucet that pulled out so I could wash the sink and dishes easier.
I was super excited when I received the Happy Mail from eFaucets.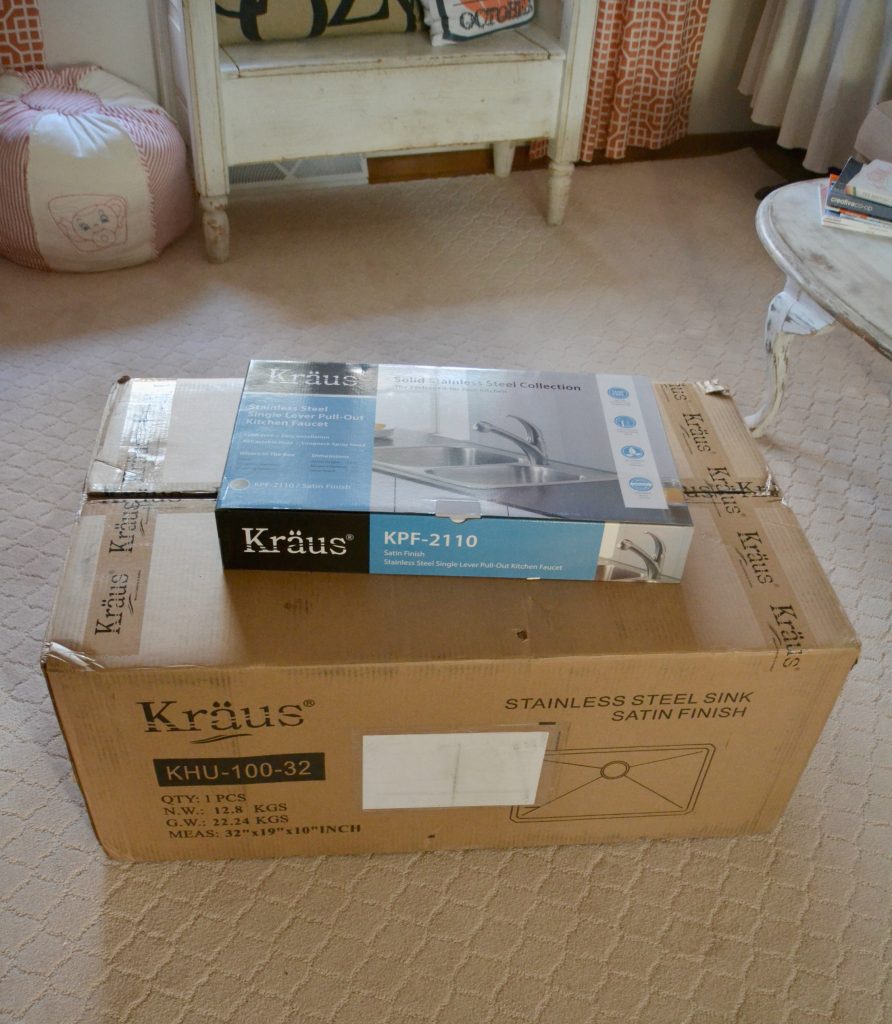 I chose the Kraus KHU100-32 Professional Kraus 32 Inch Undermount Single Bowl 16 Gauge Stainless Steel Kitchen Sink and the Kraus KPF-2110 Professional Kraus Single Lever Stainless Steel Pull Out Kitchen Faucet.
Look at all that beautiful shine in our kitchen!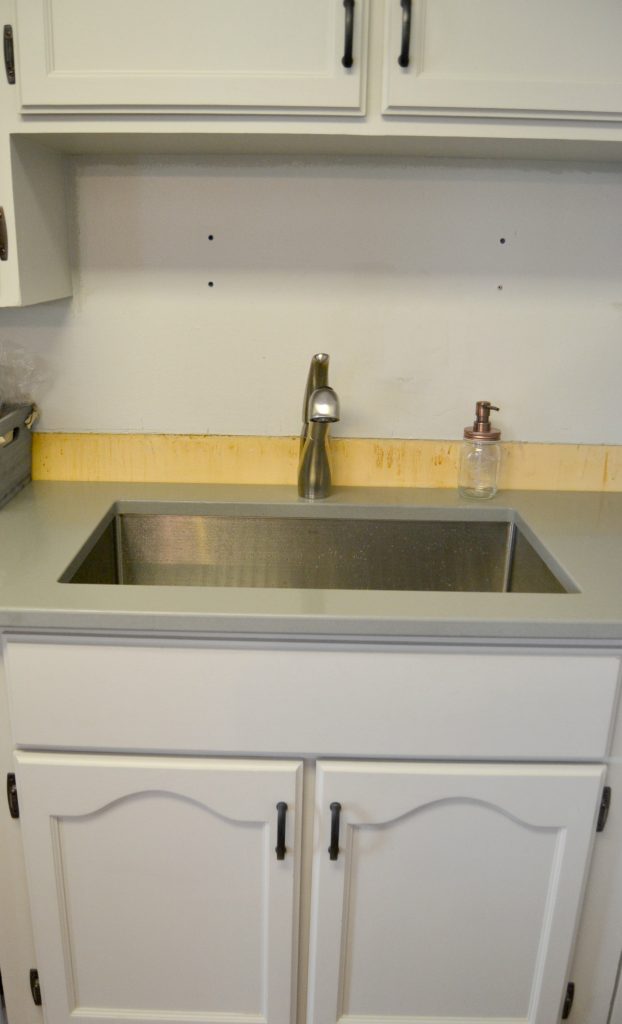 (The tile backsplash still needs to be done, but like I said before, I wanted to bring you this makeover as we completed projects. I will post a final reveal when it is all done too.)
I could not be happier with the sink. It is very deep so I can have dirty dishes in there from a full meal and not see them overflowing onto the countertops! The sink came with a bottom grid with protective feet and bumpers too. I love it. And, did you notice the edge around the sink? It is a undermount sink so no more yuckiness under the sink's edge! Now, I just wipe the counters down into the sink. That alone makes my kitchen cleaning a lot more fun.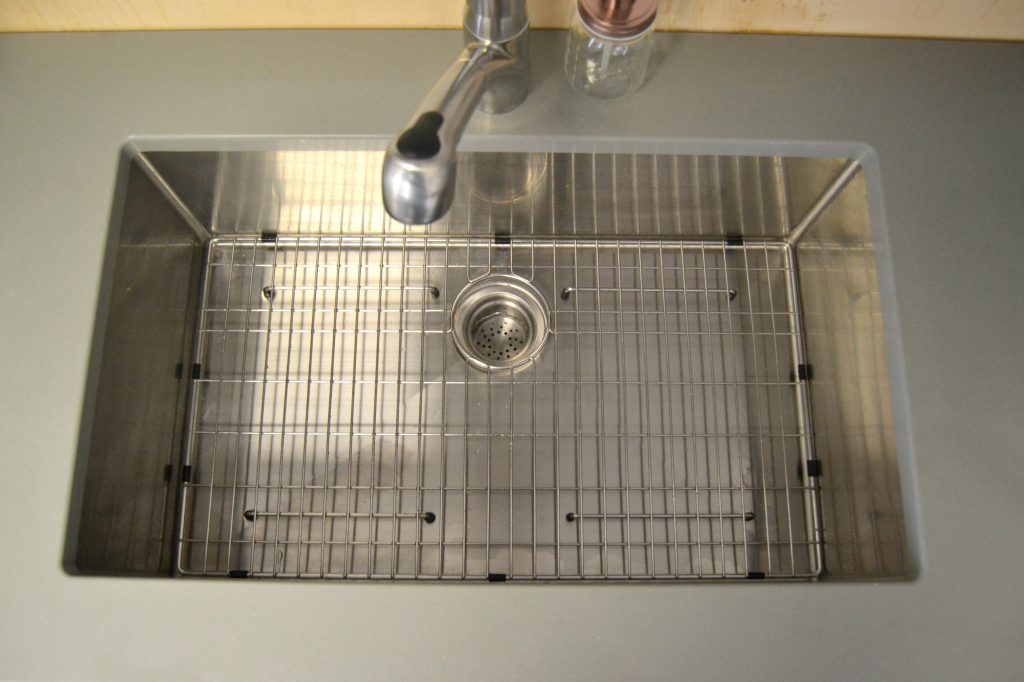 We had stainless steel before and I like how user-friendly it is so I went with that again.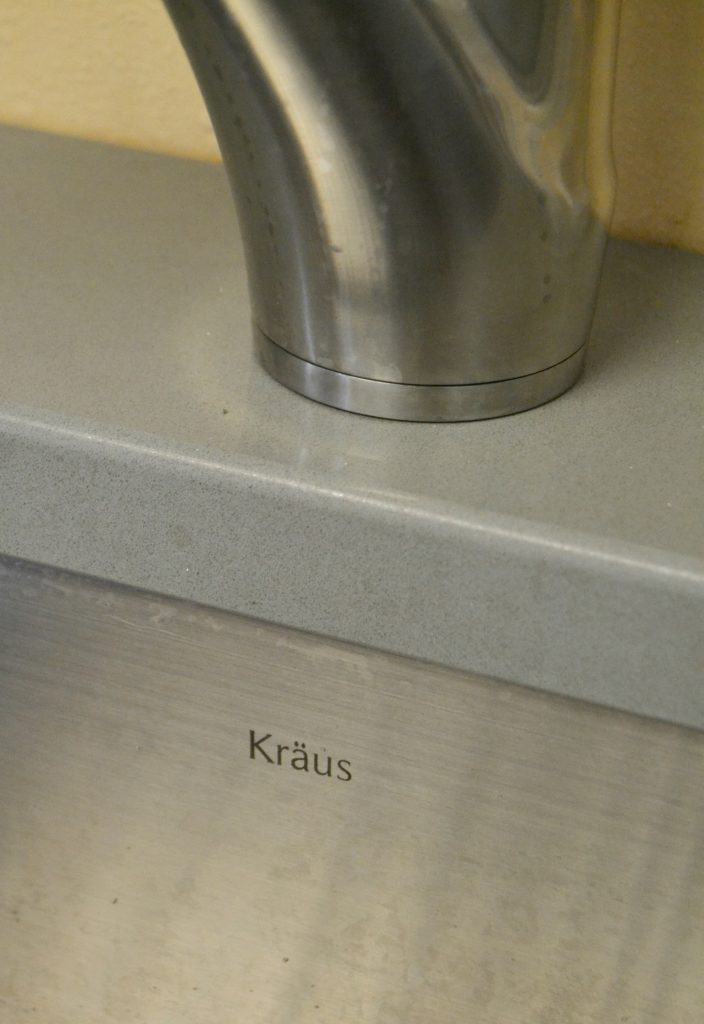 My new sink even came with a basket.
Yes, a basket…… with a handle!
This basket catches all the food in it and I just lift the handle and dump it.
It is a great feature and so much better than the old-fashioned one I had before.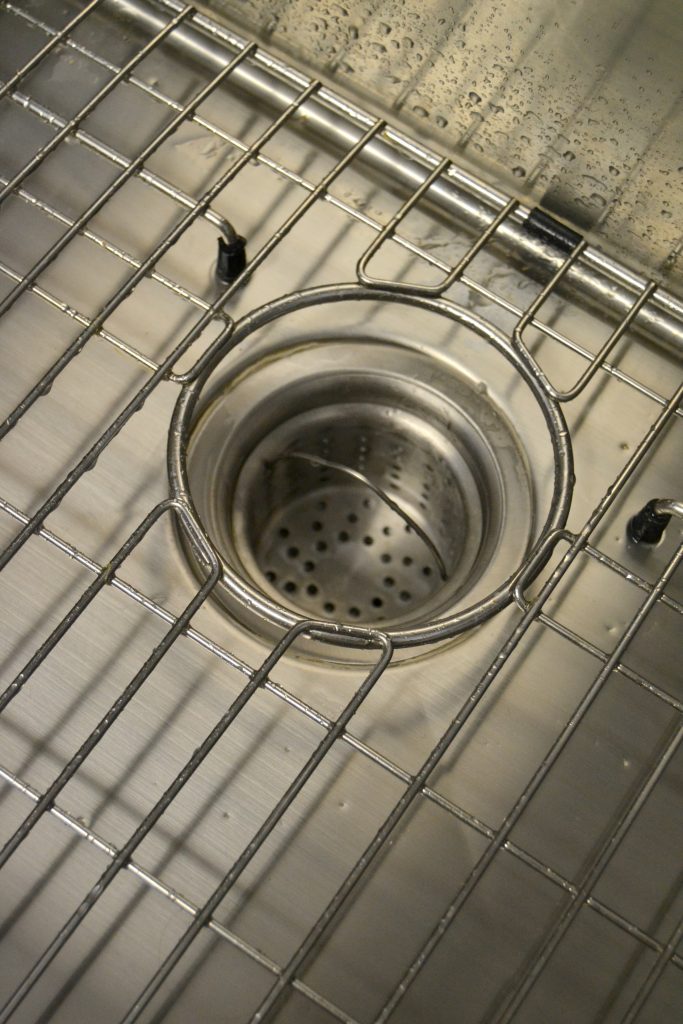 Hello, beautiful faucet.
This Kraus faucet has two different flow options that is controlled by a button on top.
A faucet with buttons? What?!
The faucet does pull out for easy cleaning and also so I can spray the family in the living room.
Okay, I haven't tried that yet, but it is tempting. 😉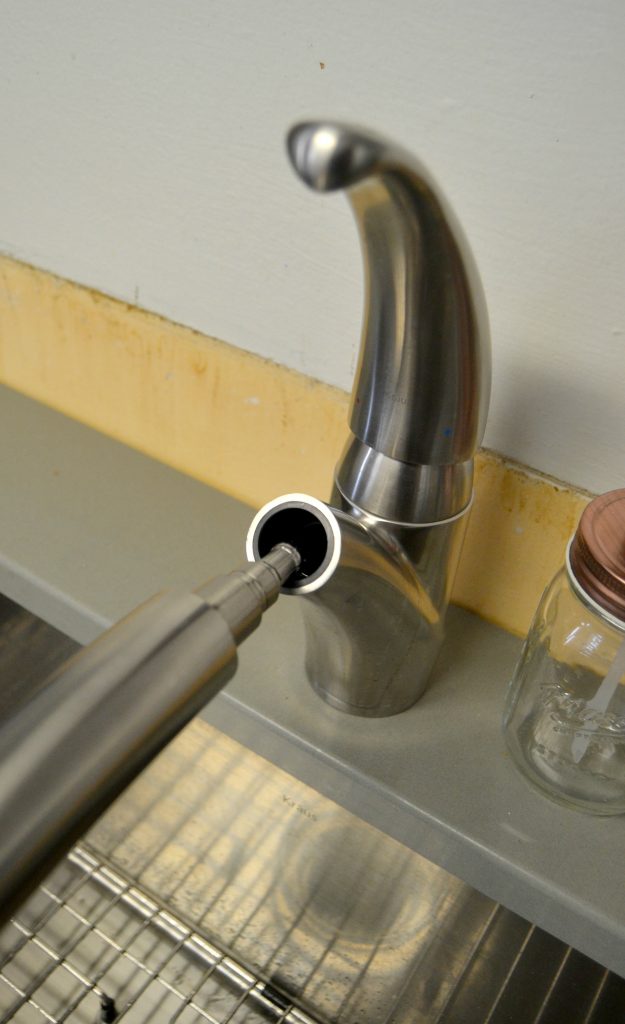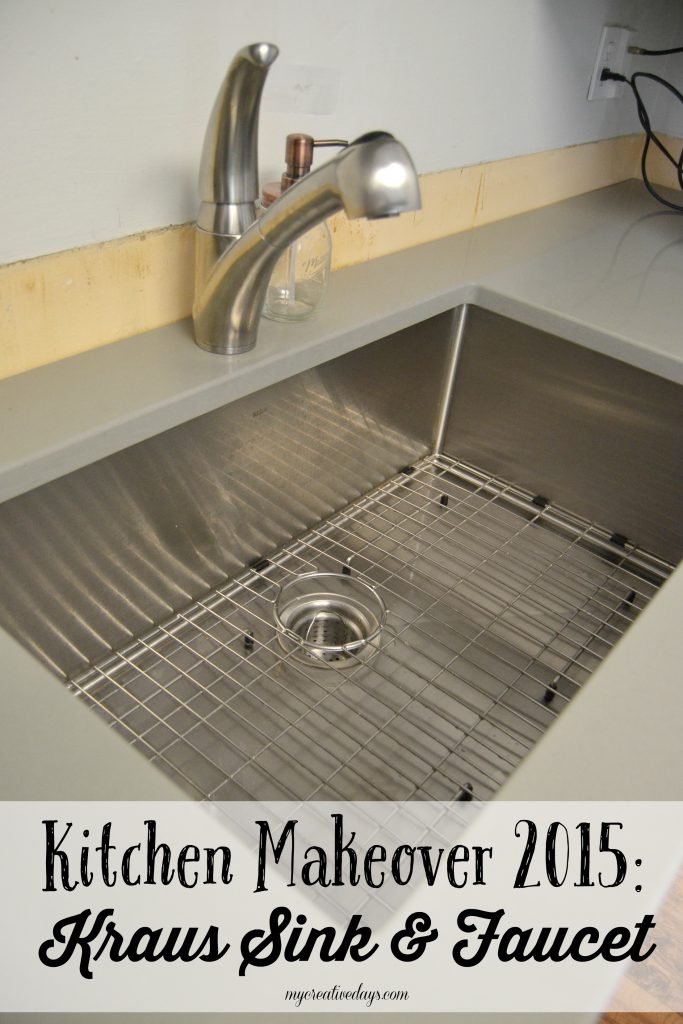 I could not be more happy with our new sink and faucet. Efaucets is the one-stop-shop for all your sink and faucet needs. If you are in the market for a new one, you have to check them out.
I always find it amazing when you get new things and upgrade from what you used to have that you realize you were really missing out. The features on this faucet and sink are so nice that I have no idea how I was functioning in this kitchen before. 😉