I want to thank The Builder Depot for providing the backsplash tile for our kitchen makeover. All opinions of this beautiful stone tile are my own.
I can't even believe I am posting this.
We have finished the last big project in our kitchen makeover!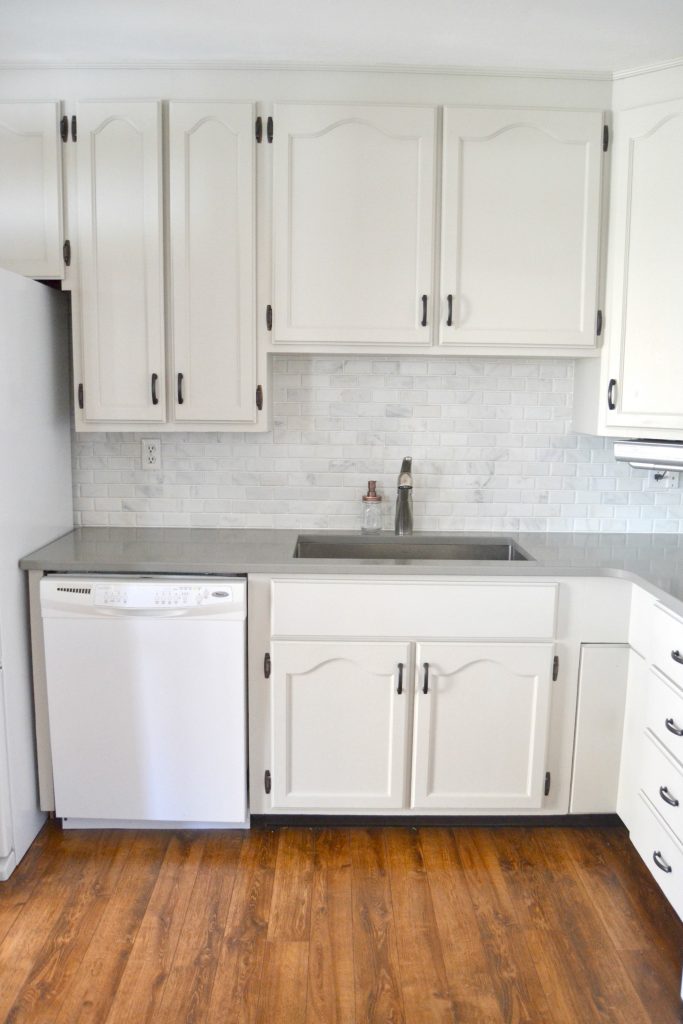 Did you ever think you would see the day?
Me neither.
When we started this kitchen makeover, I didn't know how involved we were going to get and then we decided to do it all.
Why not?
It has taken FOREVER, but I am so happy we did it. Not only does the place look totally different, but we learned so much throughout the process.
The backsplash tile was something I picked out pretty early in the process. The Carrara Venato Beveled 2″x 4″ tile from The Builder Depot is gorgeous! It has been sitting in our guest bedroom for so long just waiting to be put up. Not only was I excited to get it on the kitchen wall, but I was also excited to get it off the bedroom floor! 🙂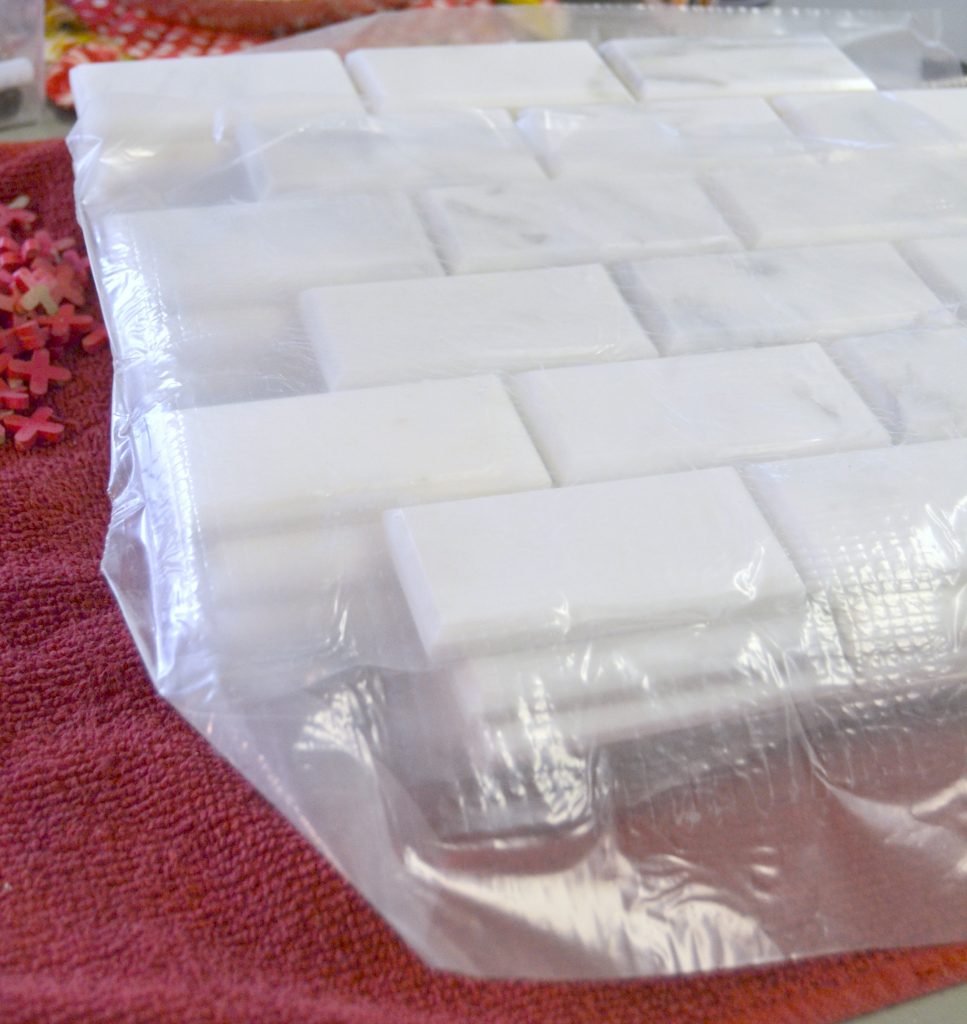 This tile is beveled (which I will talk about later) and has gray and beige streaks in it so it really picks up the gray Wilsonart Quartz countertops and works well with our cabinet color.
When tile comes in sheets like this, I think it makes the job a little easier. We liked the way our very first DIY tile job went in our dining area so we went with "sheets" again.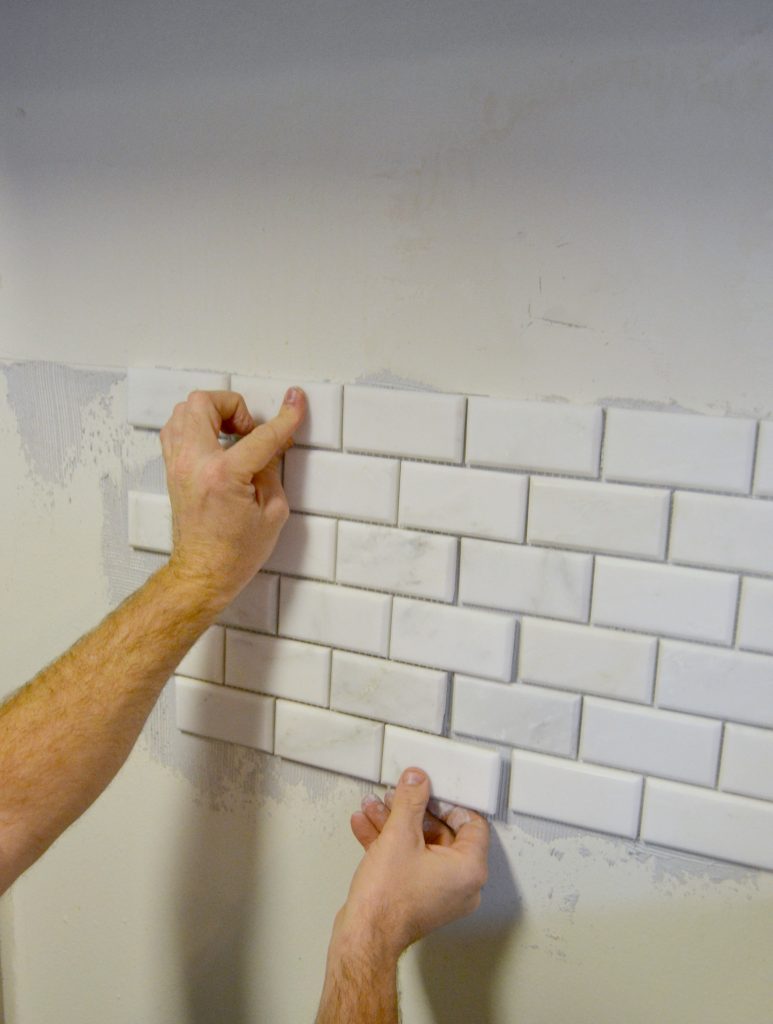 BUT, this time around, we got to experience this bad boy.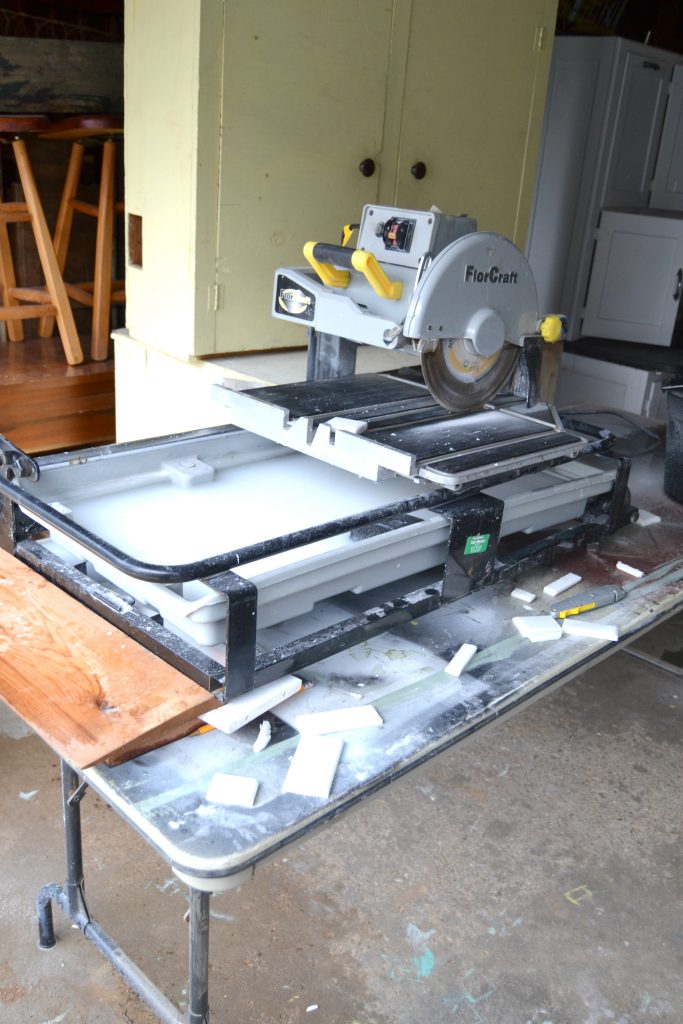 We rented a wet tile cutter.
The kitchen tile is real stone and it was a lot thicker than the glass tile in our dining area. We knew we would have to use one of these. Once we got the hang of it, it really wasn't hard at all.
*A tip for renting a tile cutter: Don't pick it up until you ready to use it. Before we got the tile cutter, we had all the tile up that we could put up without cutting. Then, we got the cutter. Doing it that way enabled us to get the machine back within the two hours we paid for. (Bigger kitchens will need more time). If we would had picked up the tile cutter right away, we would have wasted money having it sit while we put "un-cut" tile up. Does that makes sense? Just trying to save your kitchen makeover budget. 🙂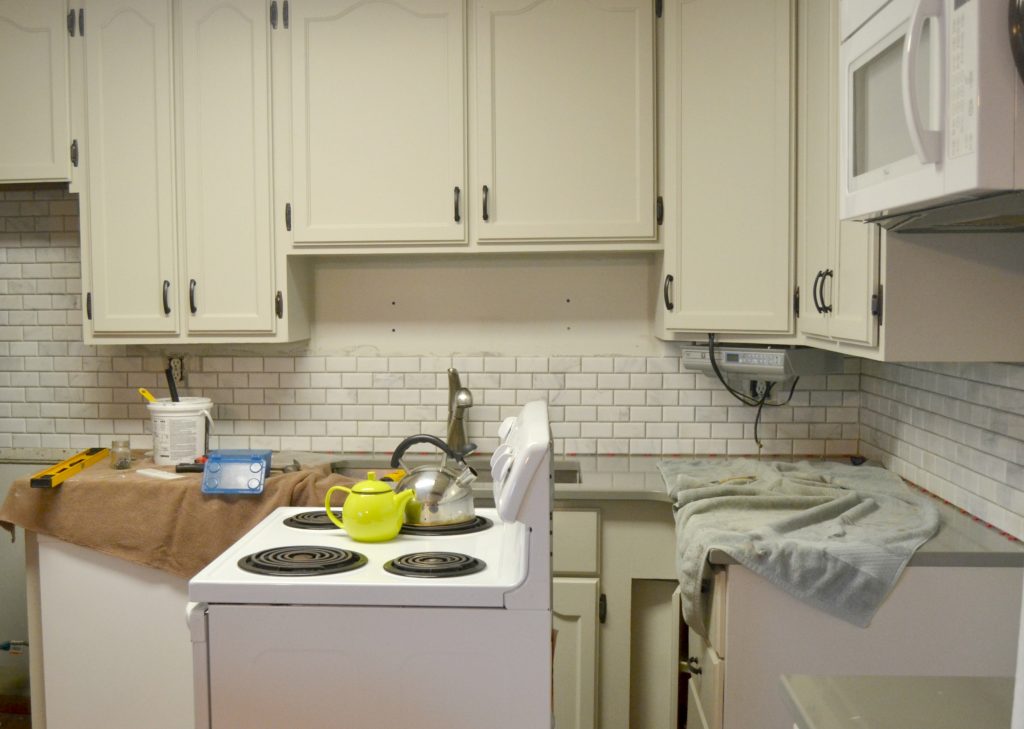 Of course, our kitchen was in mayhem for the weekend while this project was going on. I laugh because you can tell our kids have been through the "makeover scene" many times around here. It doesn't phase them anymore. They know how to walk around pieces and walls with wet paint, how to get a snack when the kitchen is awry and where to get a spoon or fork when all the utensils are in your basement bedroom. 🙂
They adjust well. In fact, they adjust so well that I would love to move to a fixer upper and start from scratch.
(They are too keen on the moving part).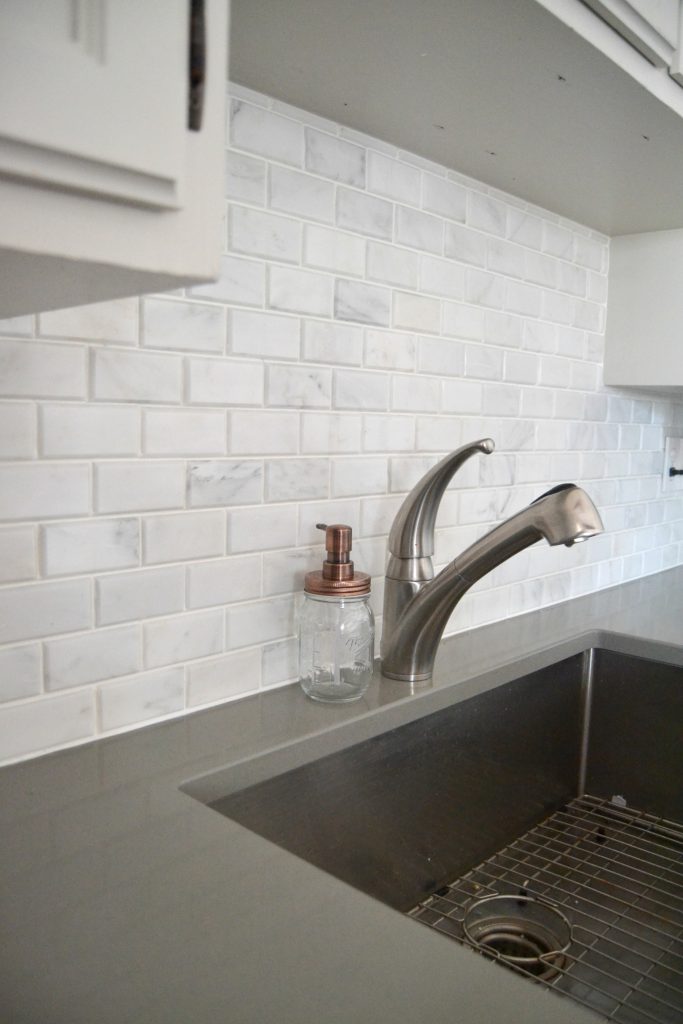 Remember when I told you I would talk more about the "beveled" part of the tile?
Well, here it is.
This tile was easy to put up, easy to cut and we love the outcome.
The beveled edge of the tile was not fun when we were grouting.
AT ALL!
It was fine spreading the grout on initially, but as we were taking off the excess, the grout would stay on the beveled edges. It took many "swipes" to get it right. We went through tons of paper towels and found that our fingers were the best tools to use around the edges. It was a very messy and time-consuming job which we weren't happy about while doing it, but once we got it all done, it was worth it. If I were to do this again, I don't know if I would pick a beveled tile. If I had a bigger kitchen to do, I would not pick a beveled tile unless we were paying someone to do it (which we usually don't because we have a tight budget).
Lesson learned and another experience to add to the books.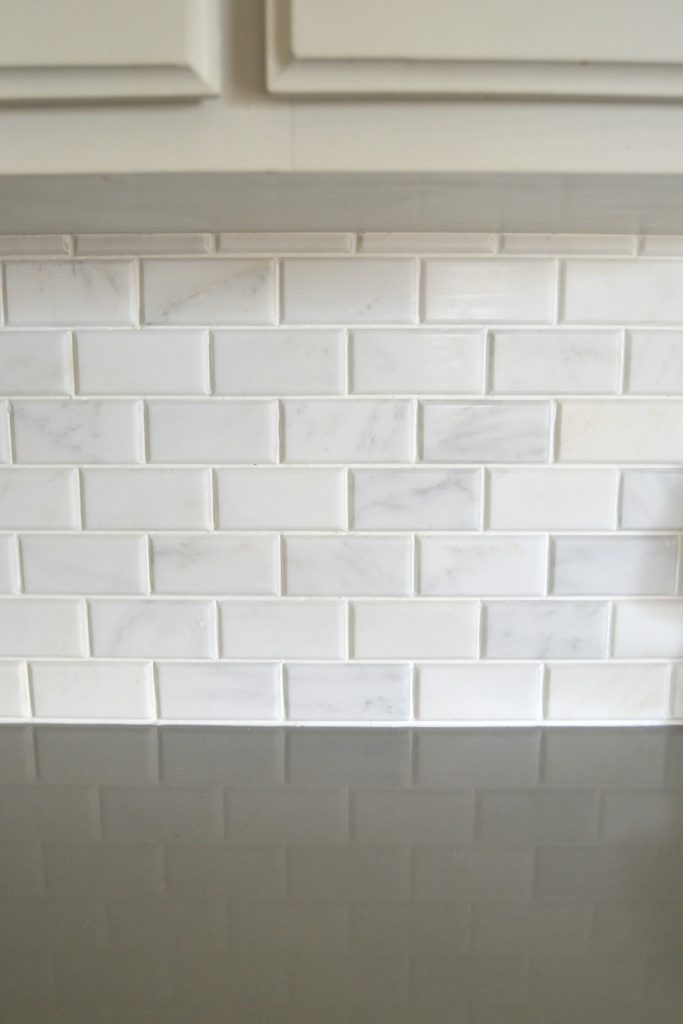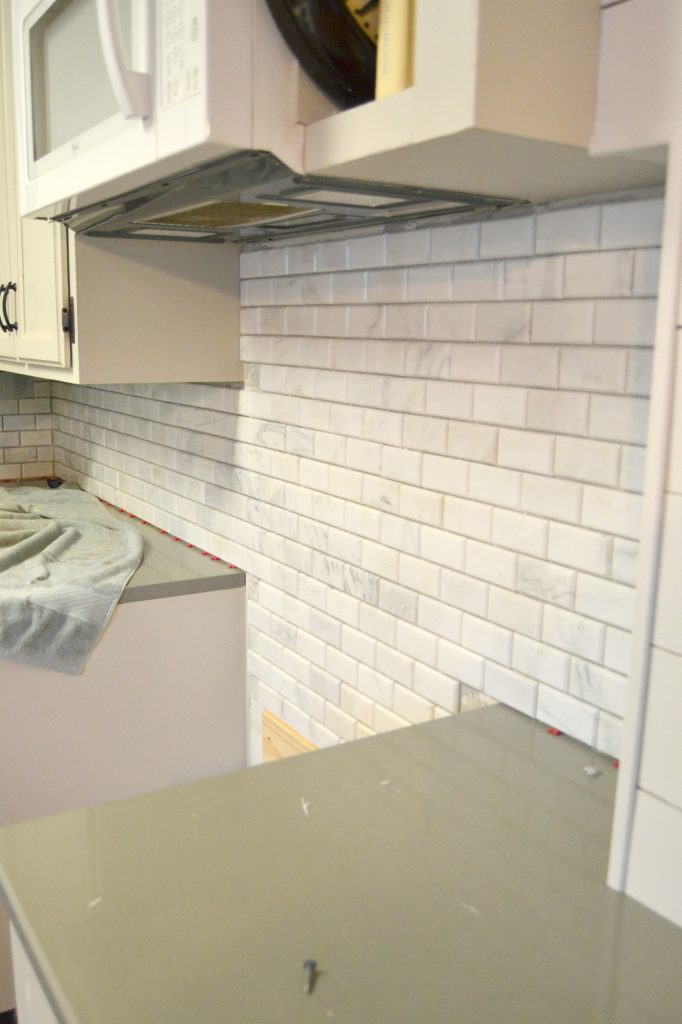 I got the tea kettle for Christmas.
The first "pretty" thing in our new kitchen. (You can find a similar one here*).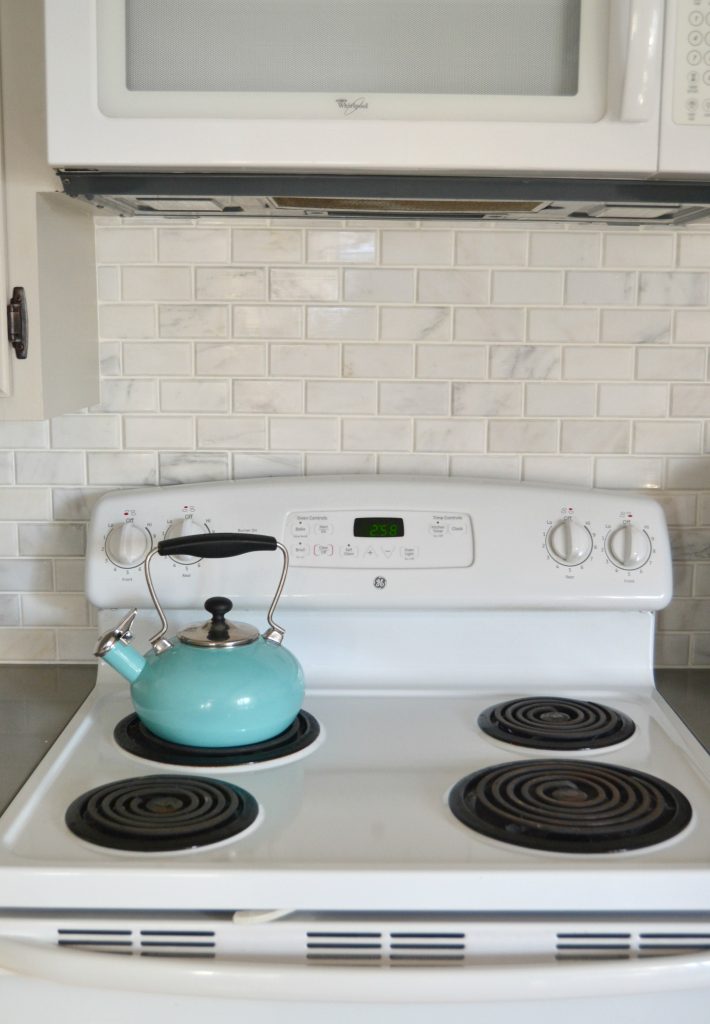 I took a lot of pictures so here are a few more shots of this pretty tile: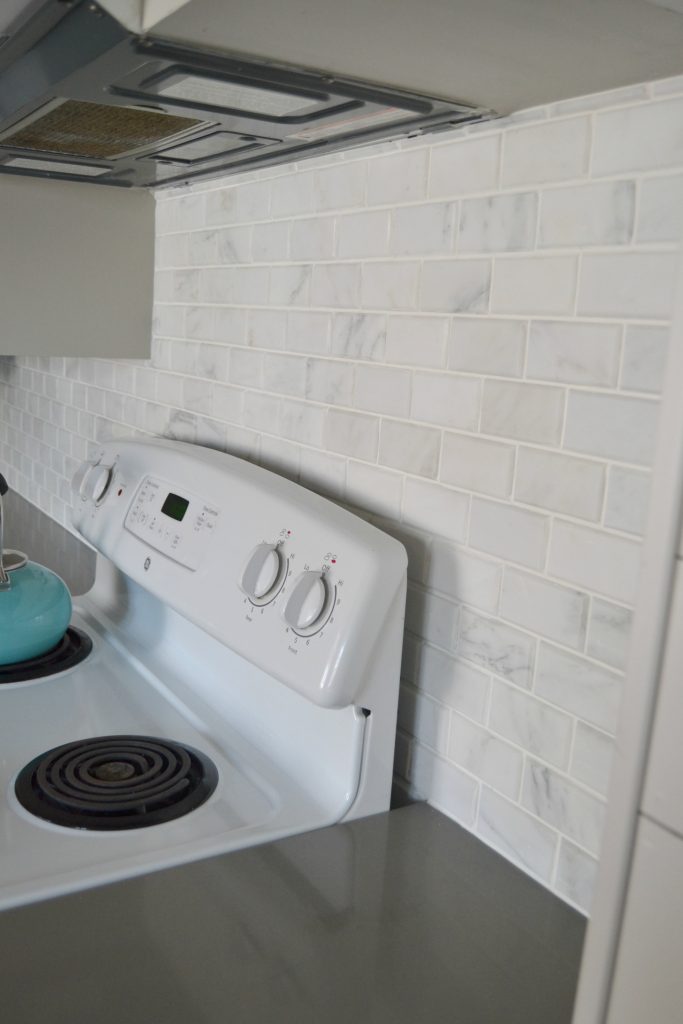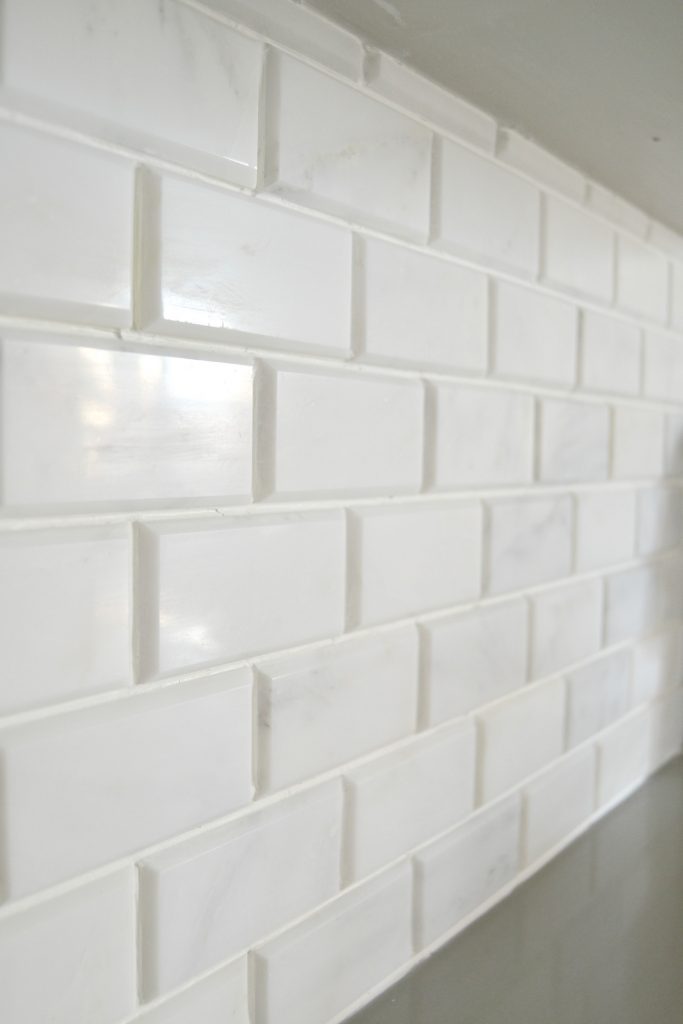 Phew! We got it done. I can't believe how much we have done in this kitchen. My next post will be the full reveal and round-up of everything we did. I am still working on some fun things for the kitchen and want to buy some new towels and things. I also have an old school clock that I really want to put up. Matt is trying to figure out how we can make it battery operated.
If you are looking for amazing tile for a job you are doing, you must check out The Builder Depot. Their prices are reasonable and they have so many beautiful tile choices.
I am excited to move on to other projects in the house now! (I am not sure if Matt is quite ready though 😉 .)
*denotes affiliate links.