We hosted a Gingerbread Party for our kids and their friends. It was a huge success! I made it easy to put together and didn't spend a lot of "gingerbread dough" to shot it. For one of the activities, I had each child decorate their own gingerbread house. Sometimes, putting the actual gingerbread house structure together is the hardest part. It falls apart before you get all the walls on. The gingerbread breaks and before long, the kids are more frustrated than anything. A few years ago, I decided to take a different route and make this gingerbread house making a fun activity. I came up with an easy way to get the house structure together so they wouldn't break or fall apart and so the kids could actually have fun decorating them.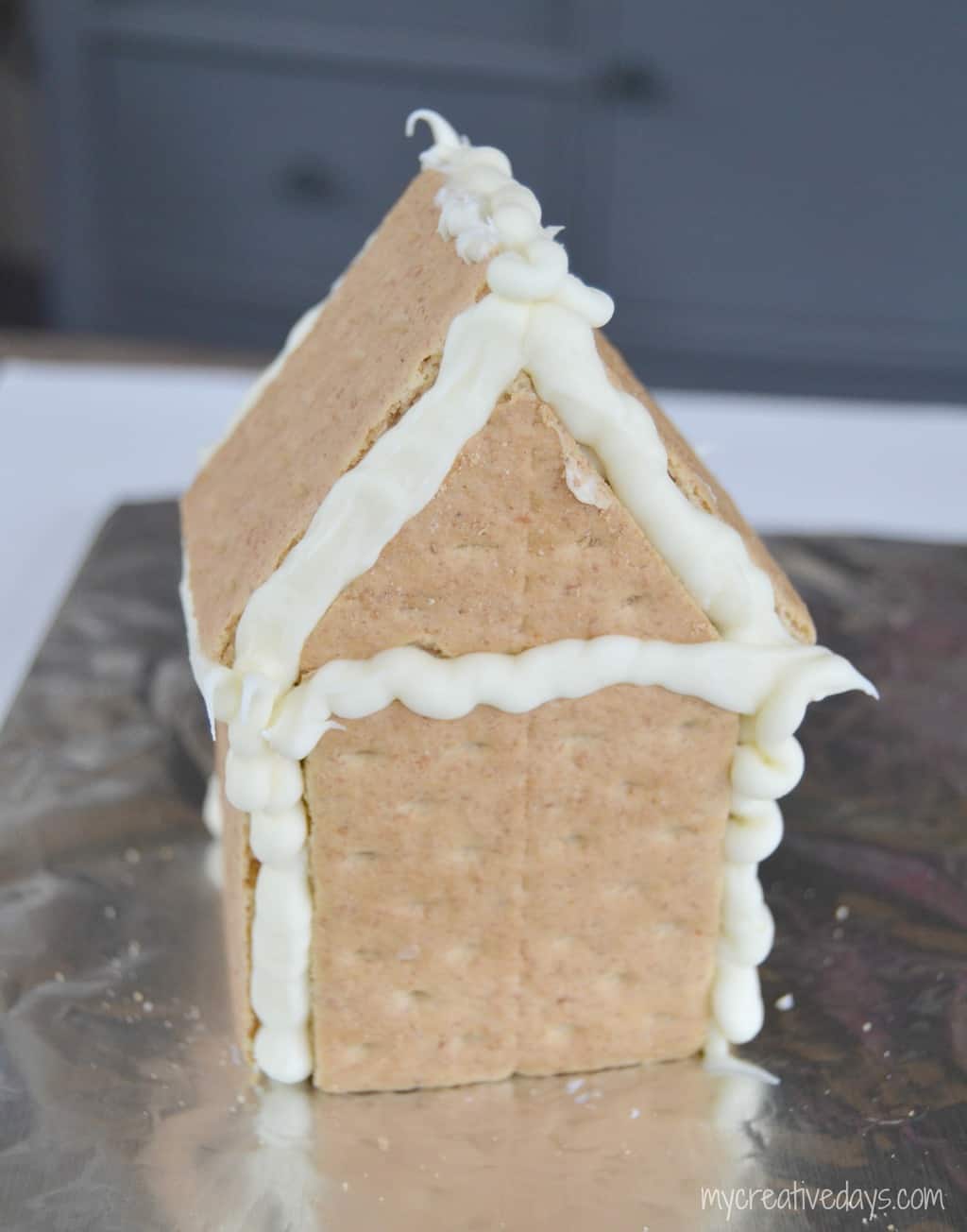 Supplies Used To Make A Gingerbread House Structure:
School milk cartons (obviously, cleaned out and dry 😉 )
White Frosting (I used store-bought, but if you want to make homemade, go for it!)
Graham crackers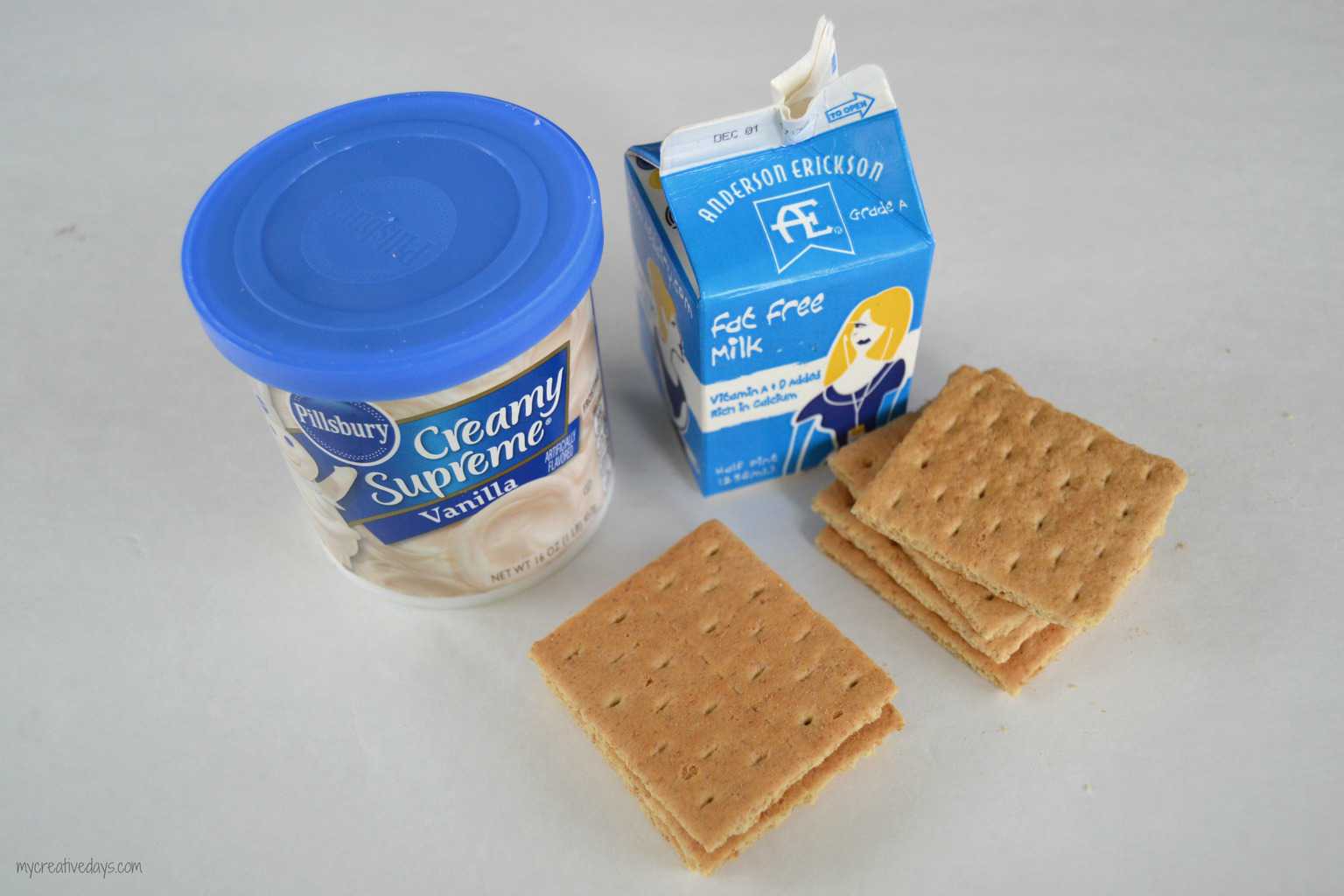 How To Make A Gingerbread House Structure:
The first thing I did was break the graham crackers in half along the seams. You will need 8 graham cracker halves for each house.
Then, I spread frosting on four of the graham cracker halves and covered each side of the milk carton with them.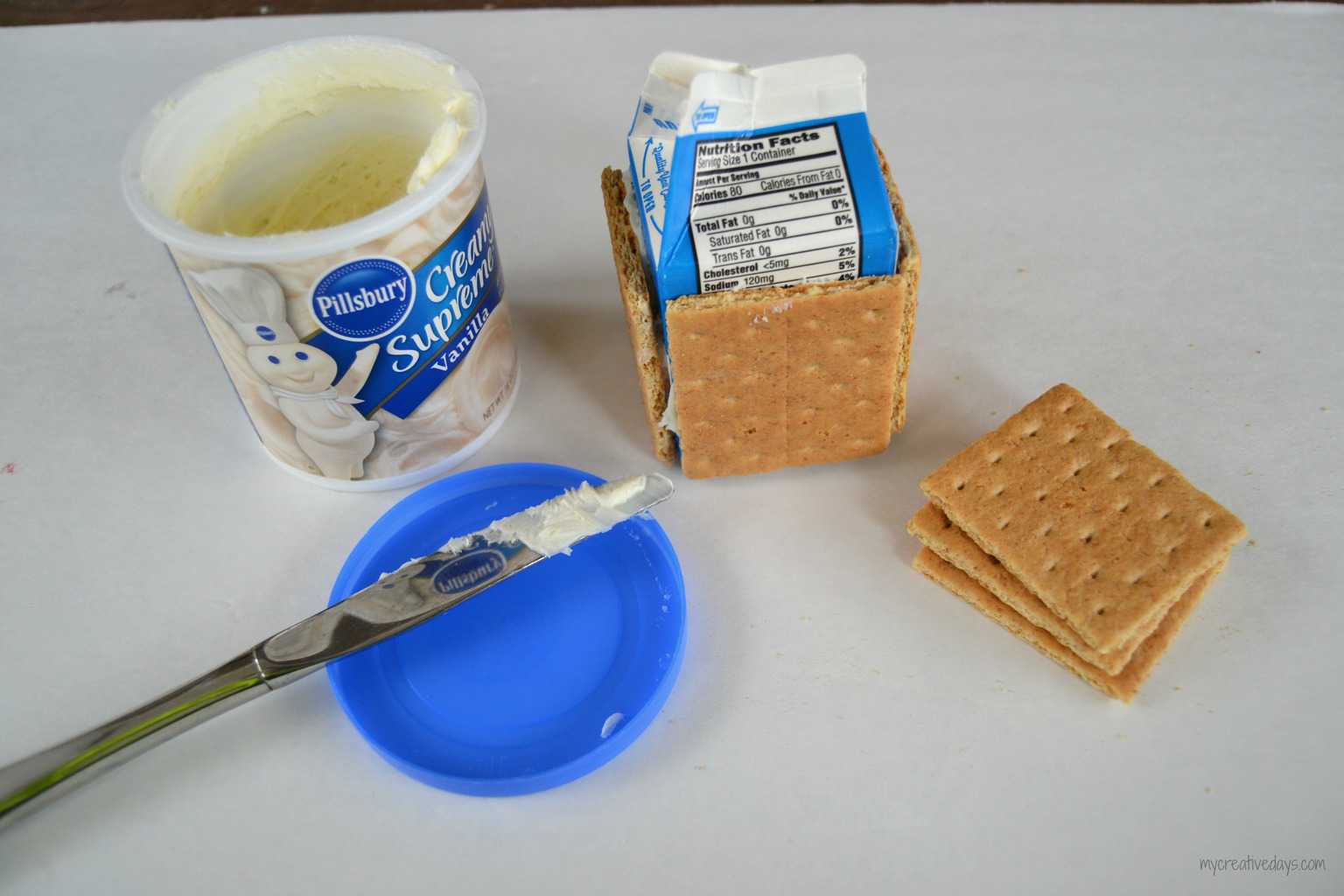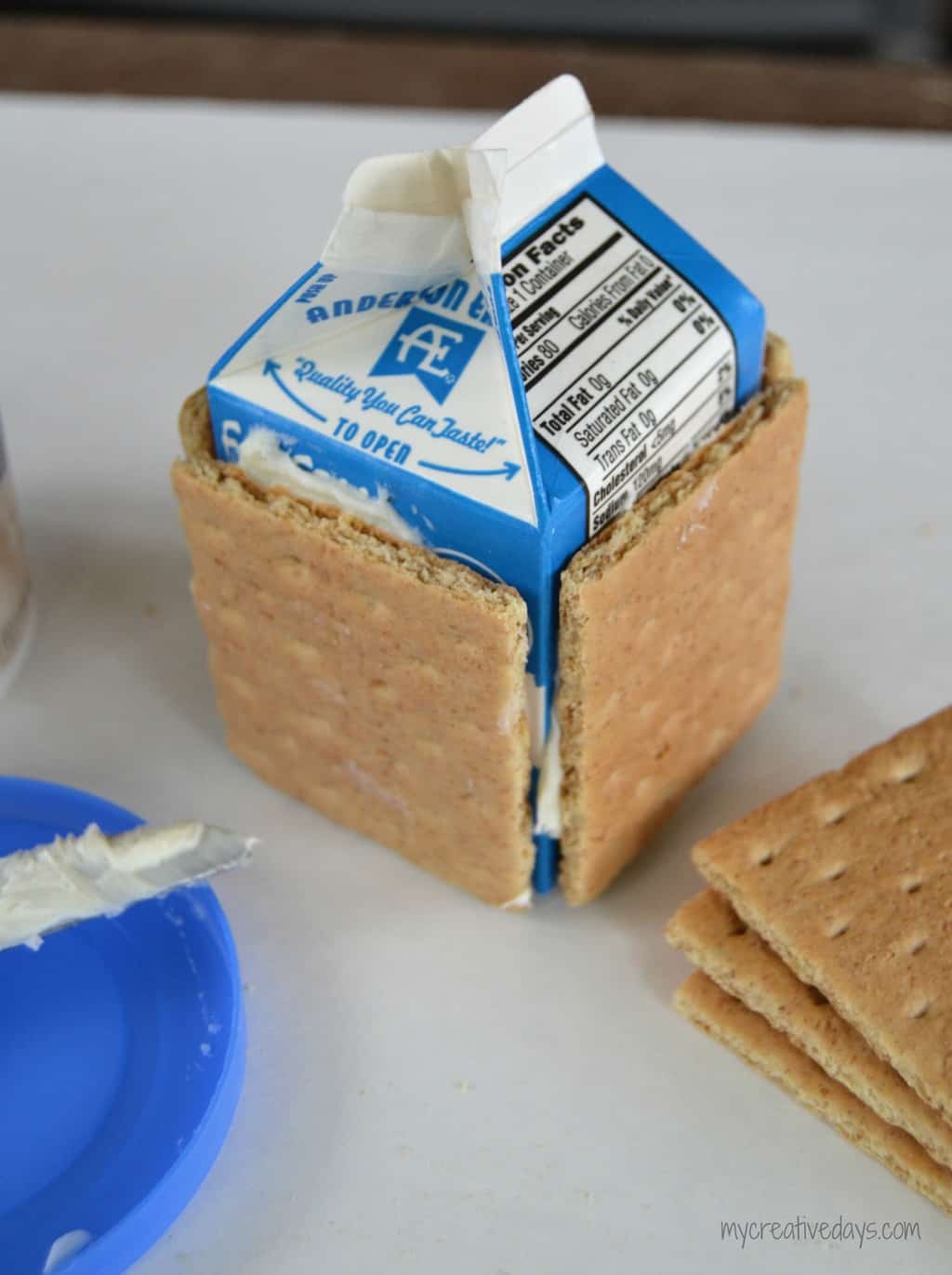 Next, I spread frosting on the back of two graham cracker halves and put them together on the top of the milk carton. I added more frosting to the edges of the crackers where they were going to meet so they would stick together.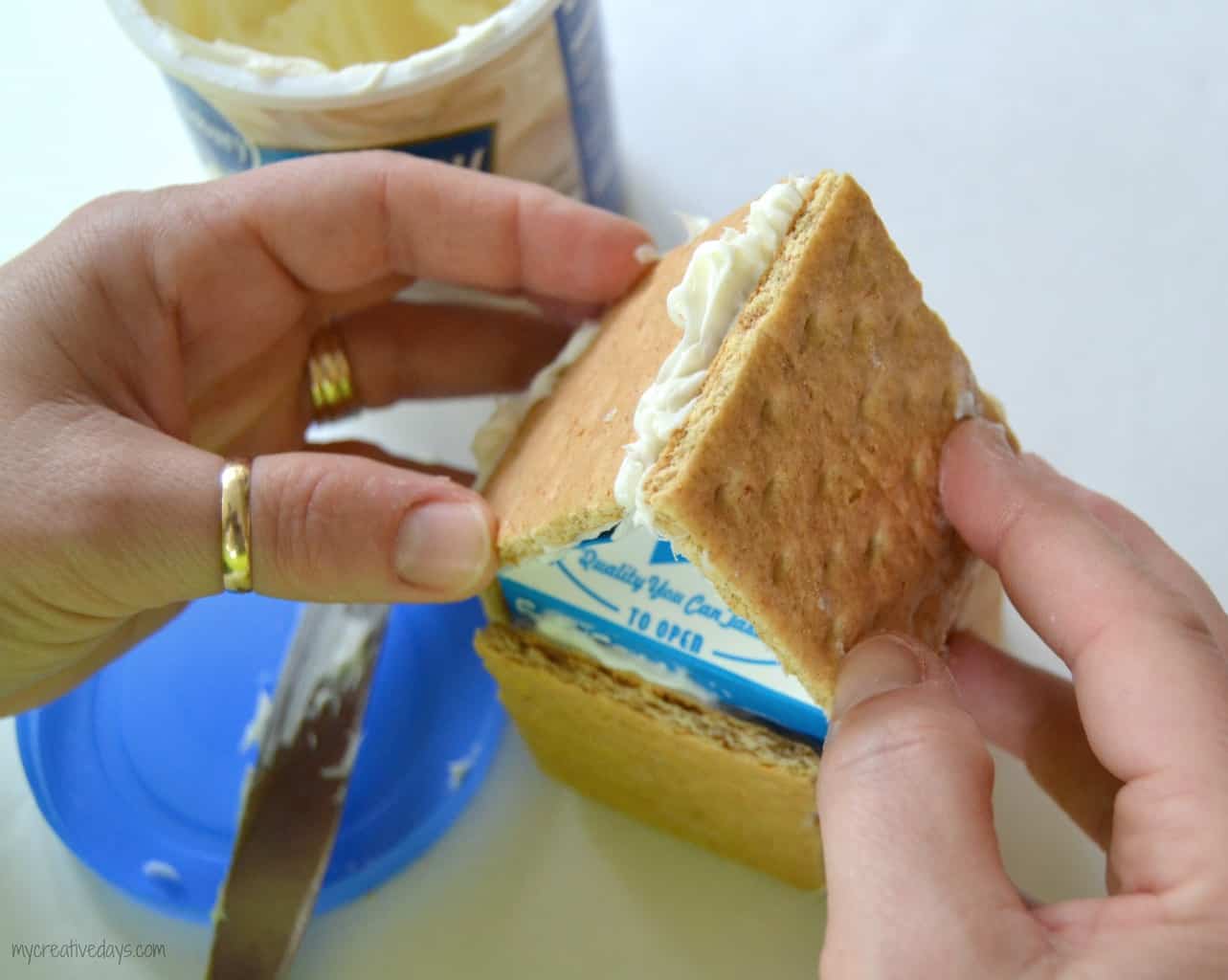 Now, the tricky part (this took me a few times to get this right). To cover the rest of the milk carton, you need to cut the other graham cracker halves into triangles. You can measure them out by lying the house on them and cutting around them, but I just eye-balled it because I knew I would be able to cover up any "imperfections" with the frosting.
***Pay close attention***  To cut the triangles, hold a steak knife level with the cracker and saw back and forth (gently) until they come apart.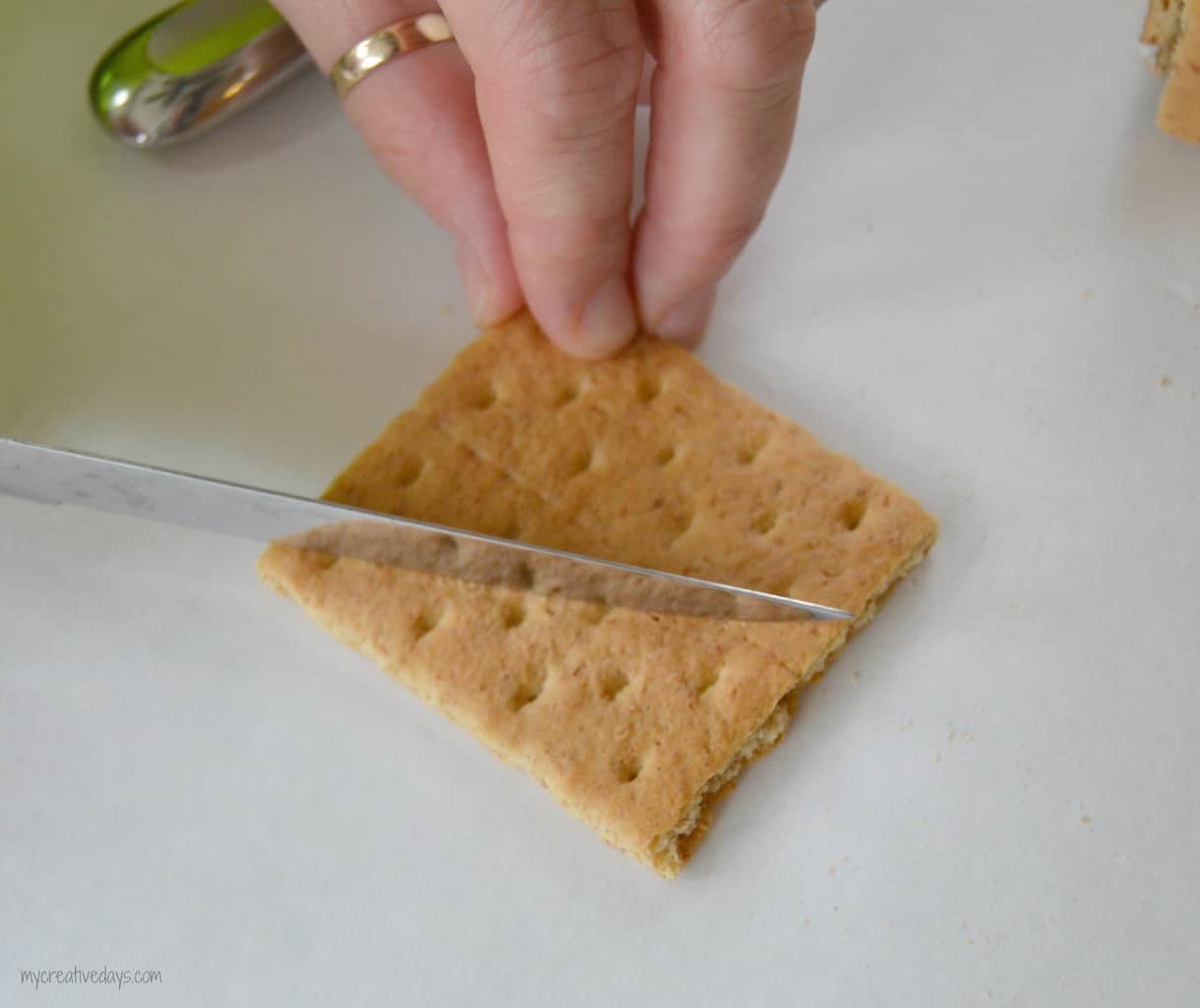 You will end up with this: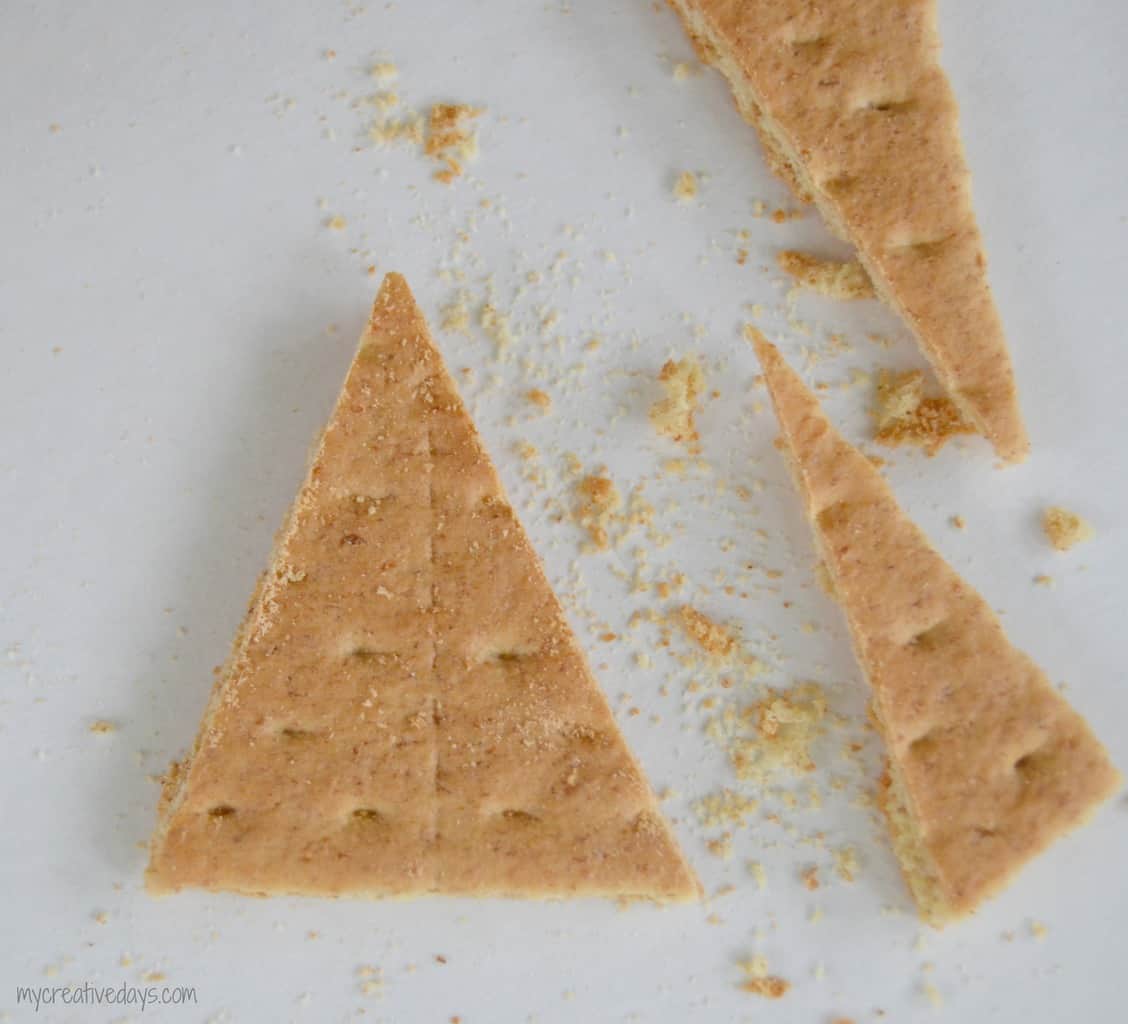 Now, spread frosting on the back of the triangle and place it on the house.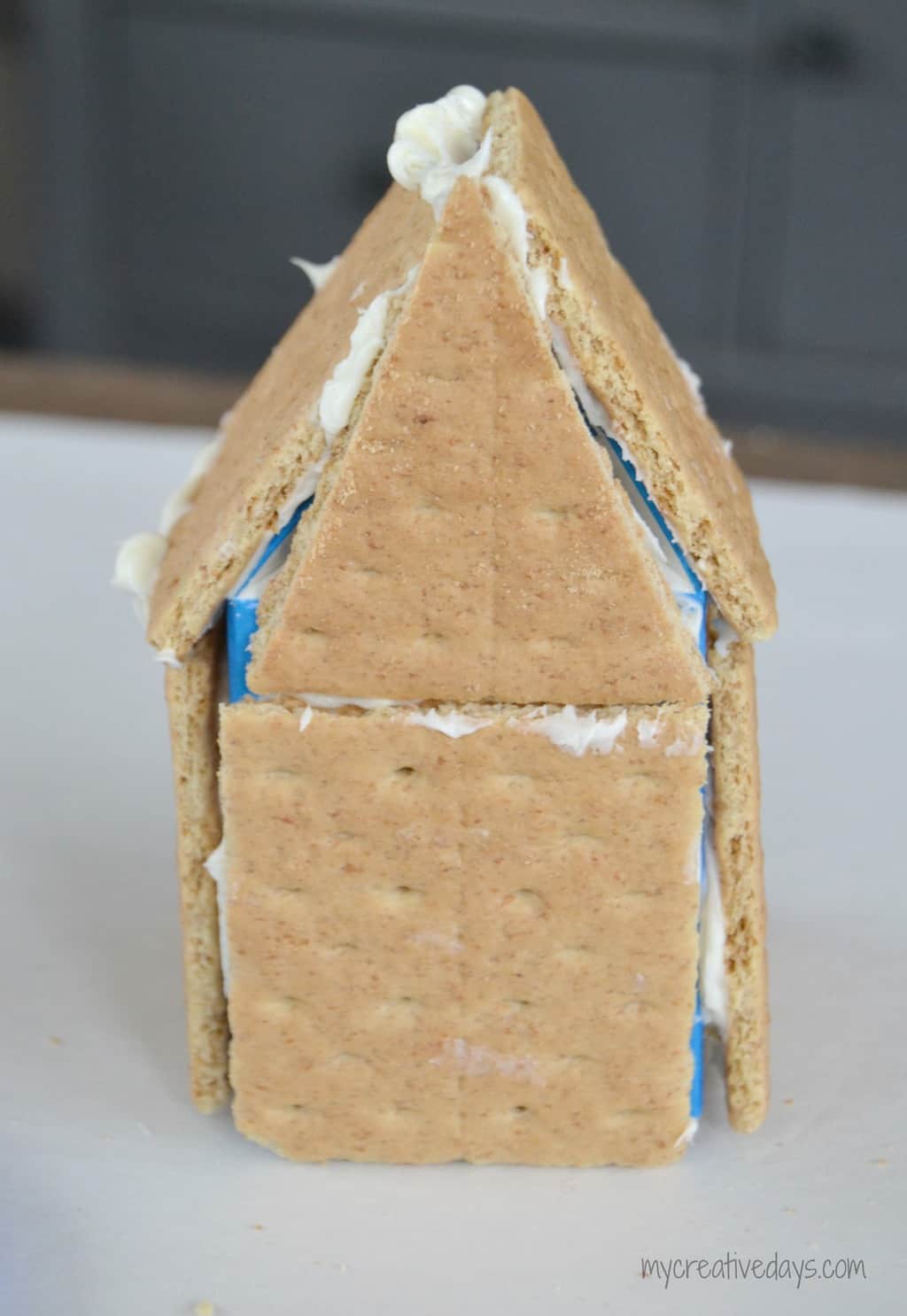 Don't freak out if it is not perfect!
You will cover up all the seams with frosting.
I used a piping tool to do this.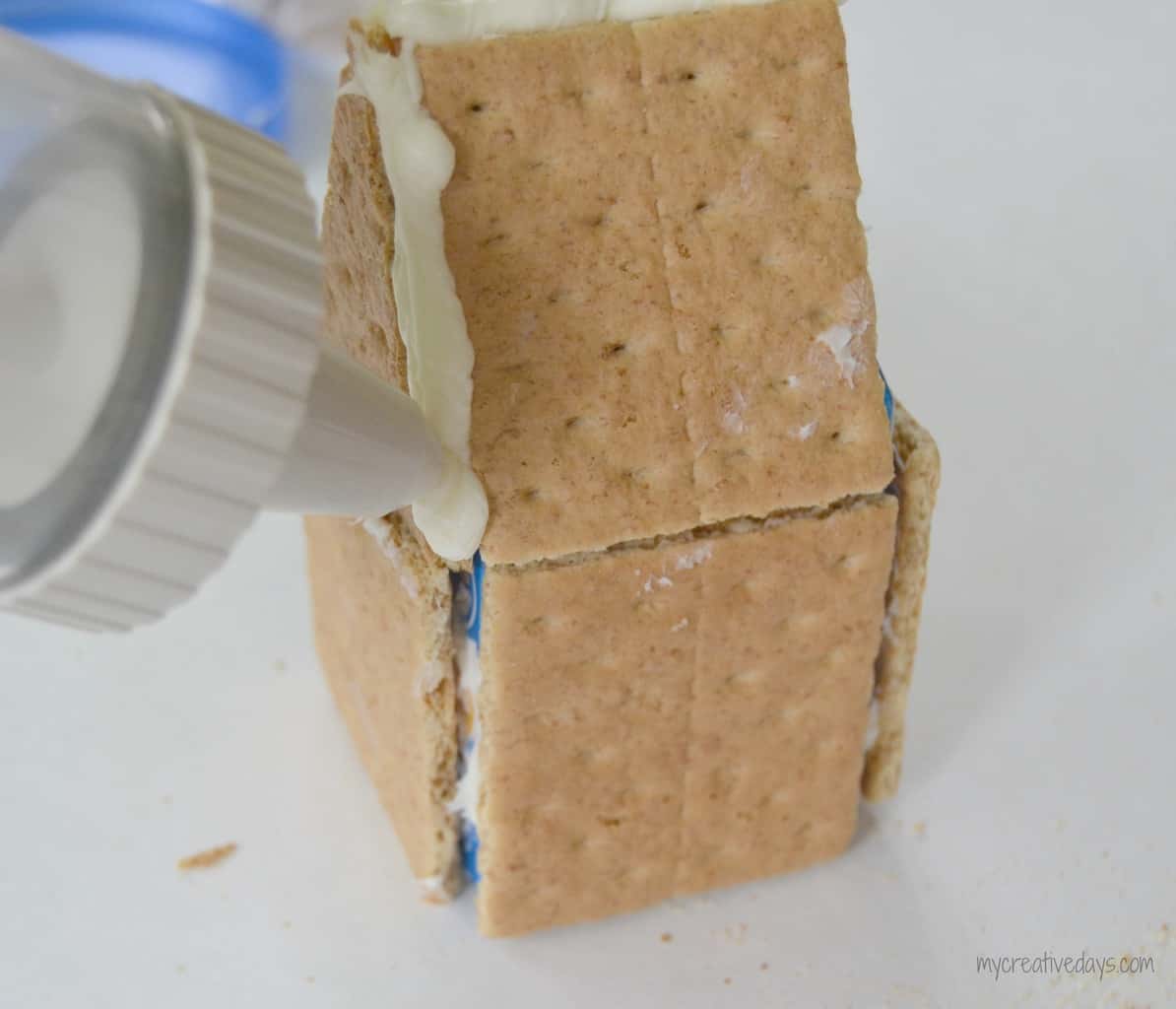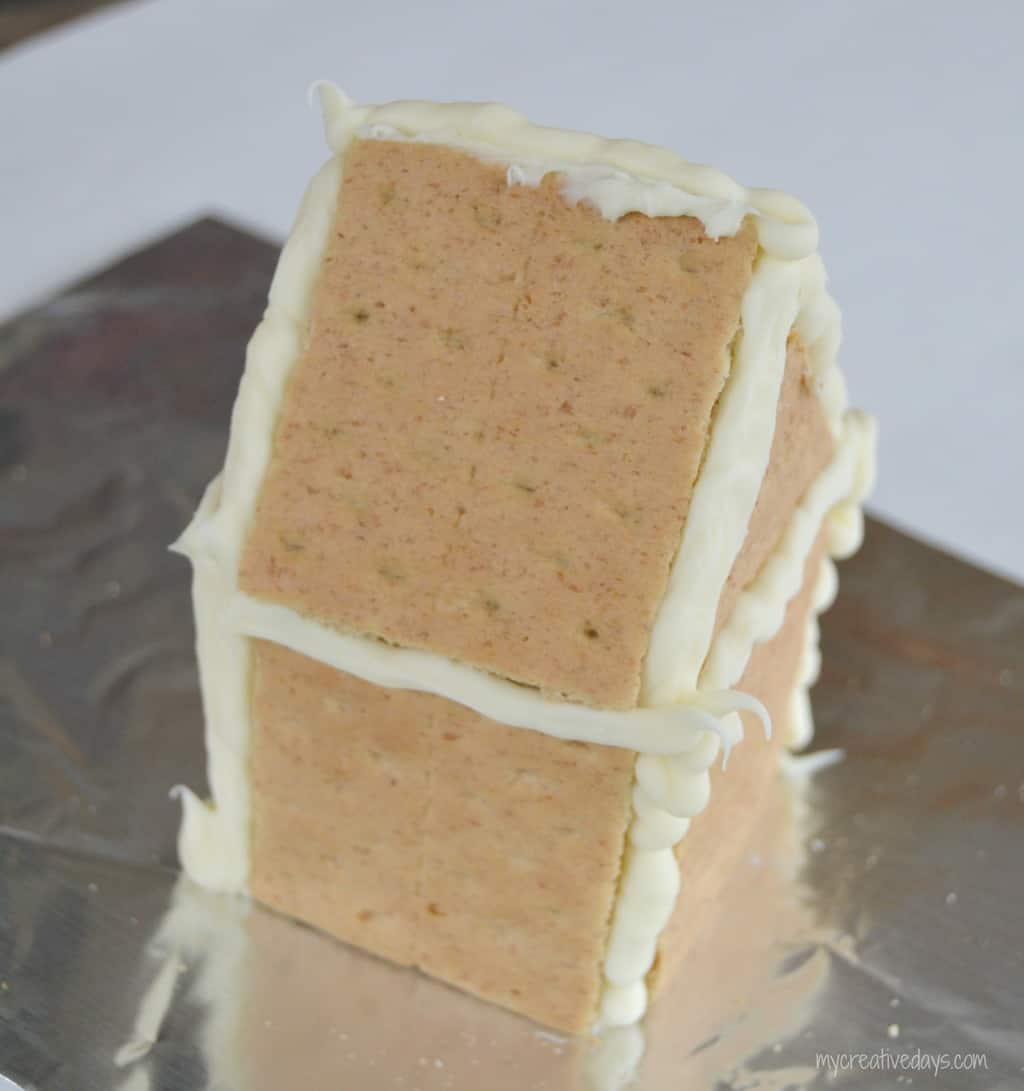 See! The milk carton has vanished! 😉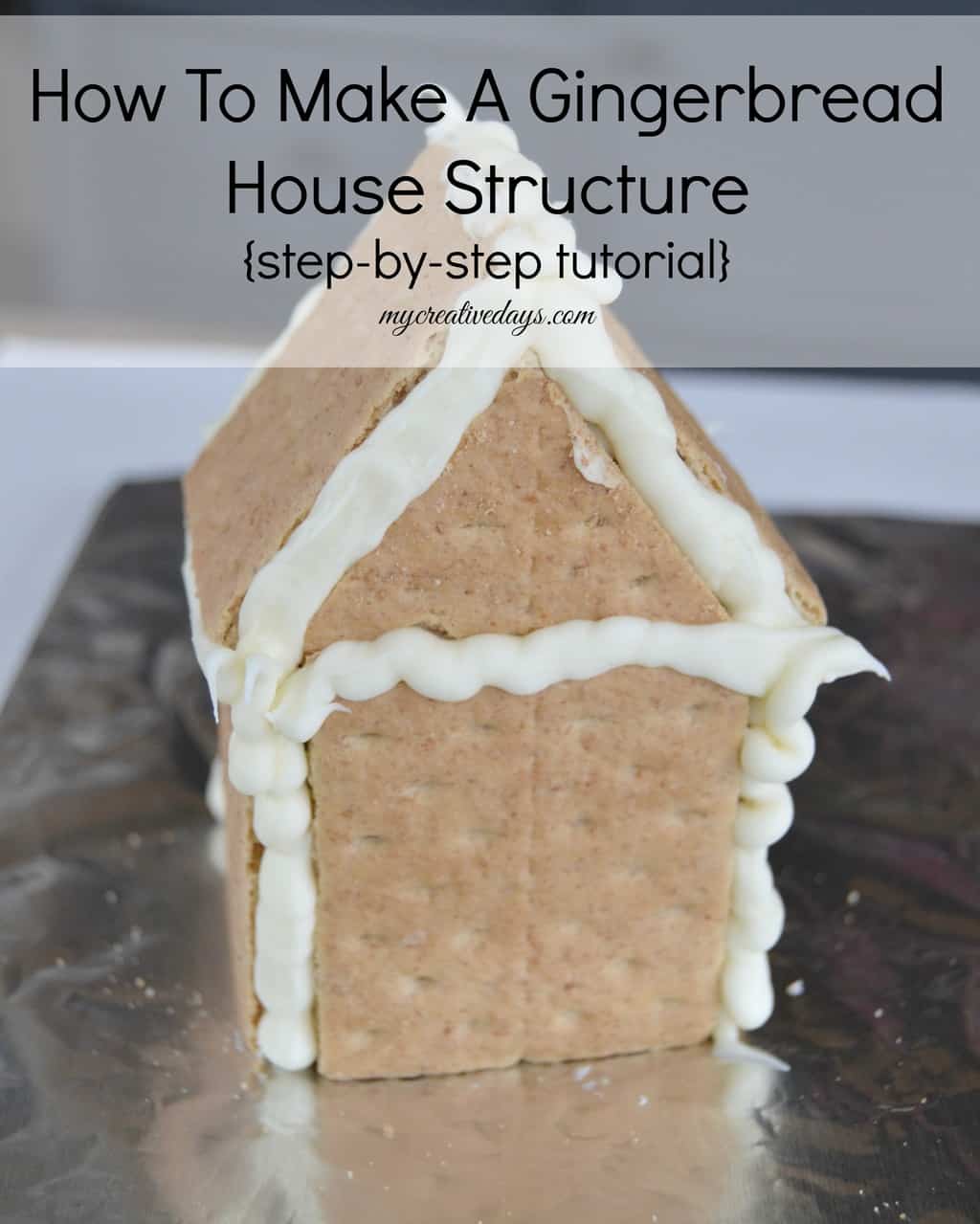 This Gingerbread House is the perfect size; not too big and not too small. It took me a few times to get it right so I really wanted to share with you how easy it is once you get the hang of it. I made these the night before our Gingerbread Party so they were set and ready for the kids to decorate the next day.
Happy Gingerbread House Making!