I want to thank Wayfair for sponsoring this post. All opinions are my own.
When you hear "snow day", what comes to mind?
Having a snow day when I was a child meant a totally different thing than it does to me now. If I am being completely honest, I look forward to snow days just as much as my kids do. I love being stuck at home during a winter storm. We can't go anywhere, all of our regularly scheduled "stuff" is canceled and we get a surprise family day.
There is nothing better.
Snow days are perfect for lounging in pajamas all day and snuggling on the sofa watching movies, but we also love to be in the kitchen. There is something about being stuck at home during a snow storm that makes me want to bake. My kids love it too. When the weather channel is forecasting a big snow storm, most people run to the store to get the essentials like bread and milk. I do to, but I also make sure and get enough baking supplies to tide us over during the storm. 😉
This Easy Almond Sticky Bun Pie is the perfect start to a family day spent at home lounging in your pajamas watching your favorite movies.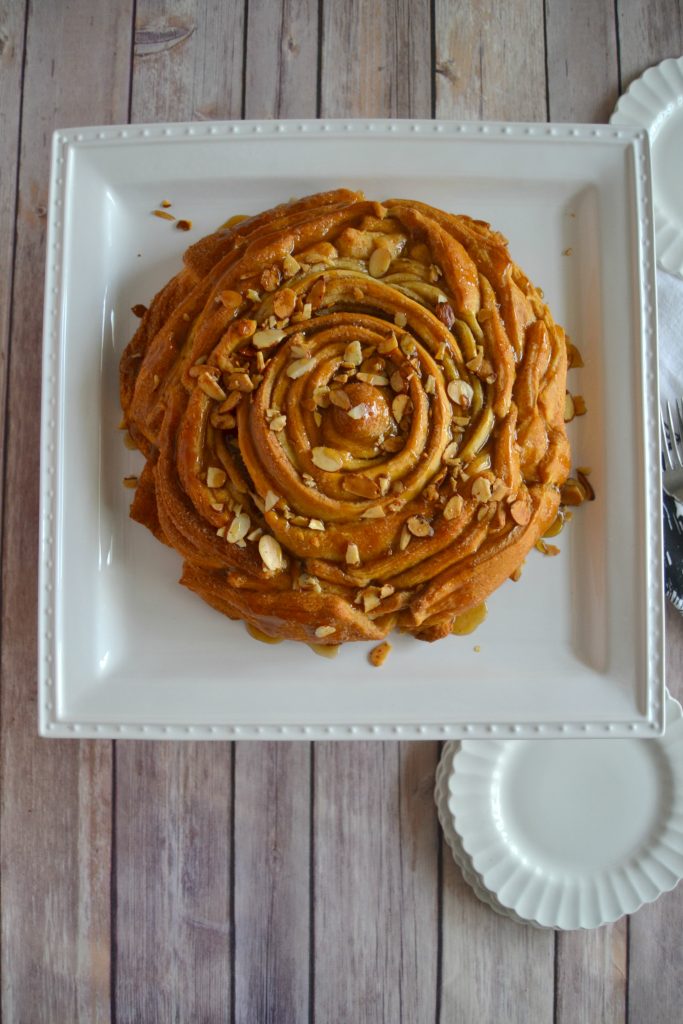 To make this Easy Almond Sticky Bun Pie, you will need:
3 T. unsalted butter, divided
1/2 c. slivered almonds (you can use any nut your family likes)
3 T. brown sugar
2 T. honey
2 T. milk
1 tsp. vanilla
2 – 8 count refrigerated crescent rolls
1/4 c. sugar
2 tsp. cinnamon
Heat oven to 350°. On the stove top, melt 2 T. butter in a cast iron skillet (mine is an 11″ skillet). Add the almonds and stir them to coat with the butter. Remove the skillet from the heat.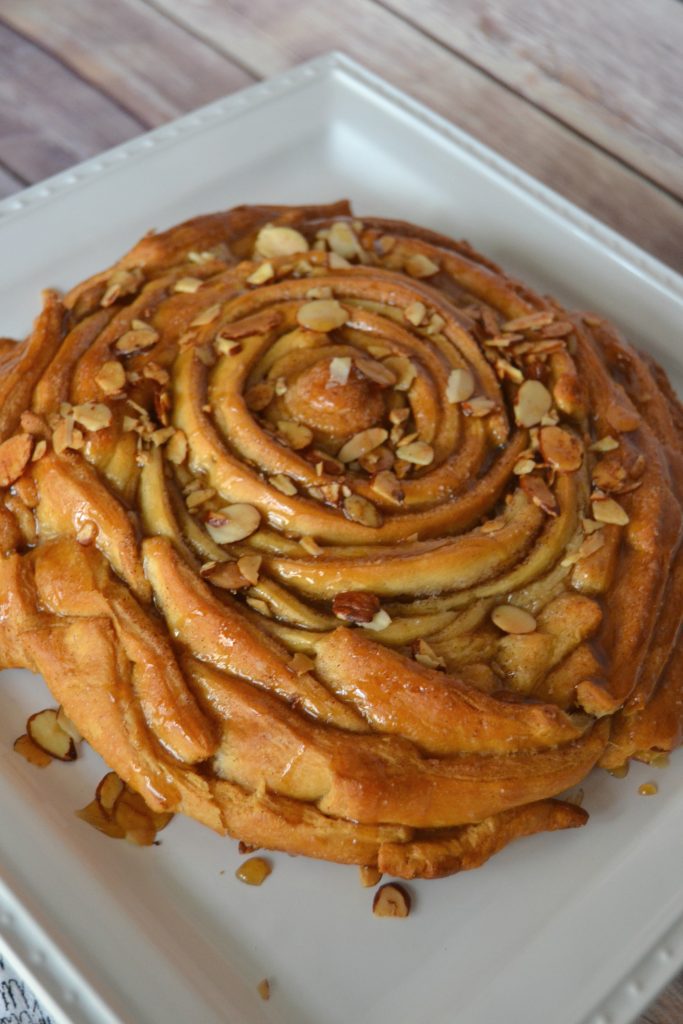 To make the sauce that goes on top of the pie, combine the brown sugar, honey, milk and vanilla in a saucepan and heat over medium heat. Stir until it is bubbly and then cook for two more minutes. Remove the pan from the heat.
In another saucepan (you will dirty a few pans with this recipe 😉 ), melt the remaining butter.
Now, combine the sugar and cinnamon together in a small bowl. Unroll the crescent rolls and pinch the perforated edges together. Brush the crescent roll sheets with the melted butter and sprinkle with the cinnamon and sugar. Cut the rolls into 1 inch strips (I use a pizza cutter for this). To put the pie together, tightly roll one strip of the cinnamon and sugar sprinkled crescent strip. Then, keep adding strips around it until all the strips are used.
Place the pie roll on top of the nuts in the skillet. Bake for 30 minutes (until it is golden).
This is what is looks like coming out of the oven. Isn't is so pretty?!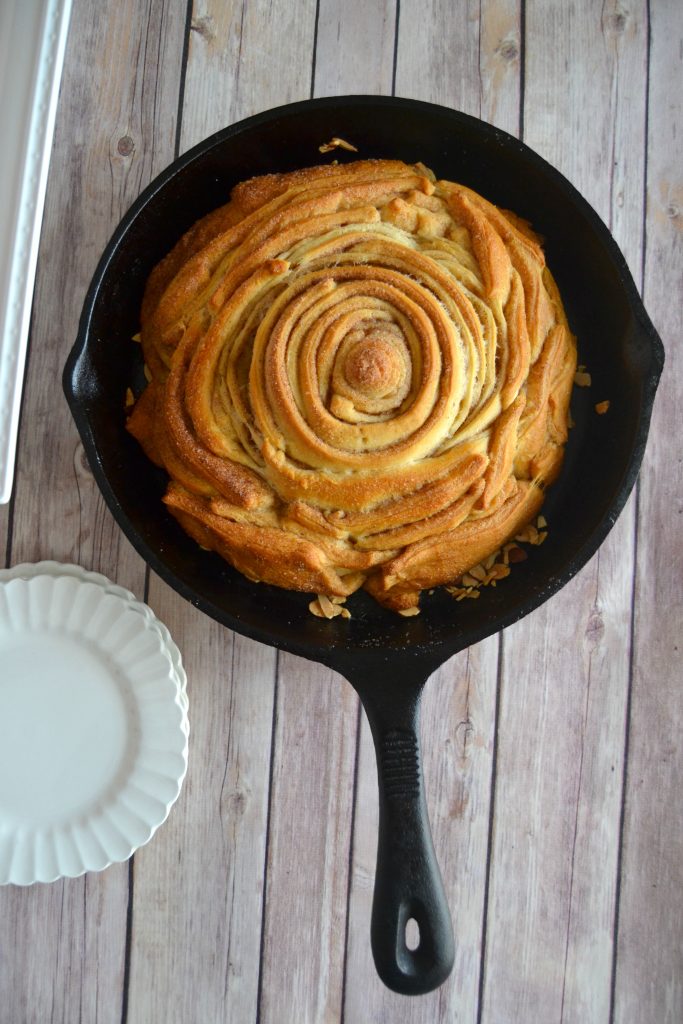 Put the Easy Almond Sticky Bun Pie on a serving platter and drizzle the sauce over it (if your sauce has set up, just heat it a little bit so it is easy to pour over the pie).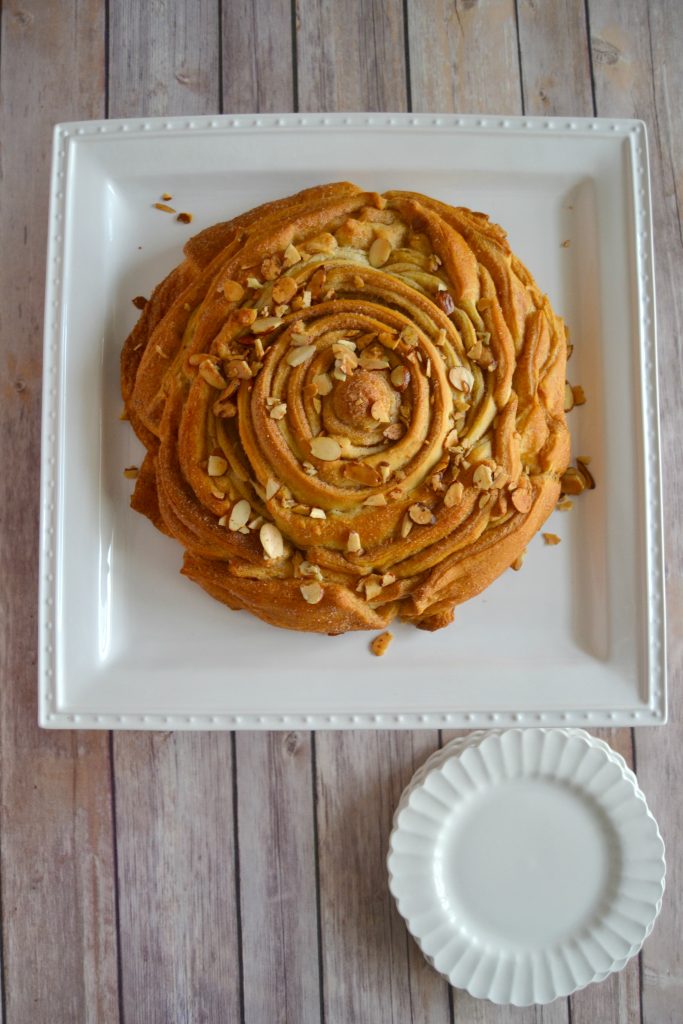 My kids love this! It is sweet and gooey and so good served warm right out of the oven.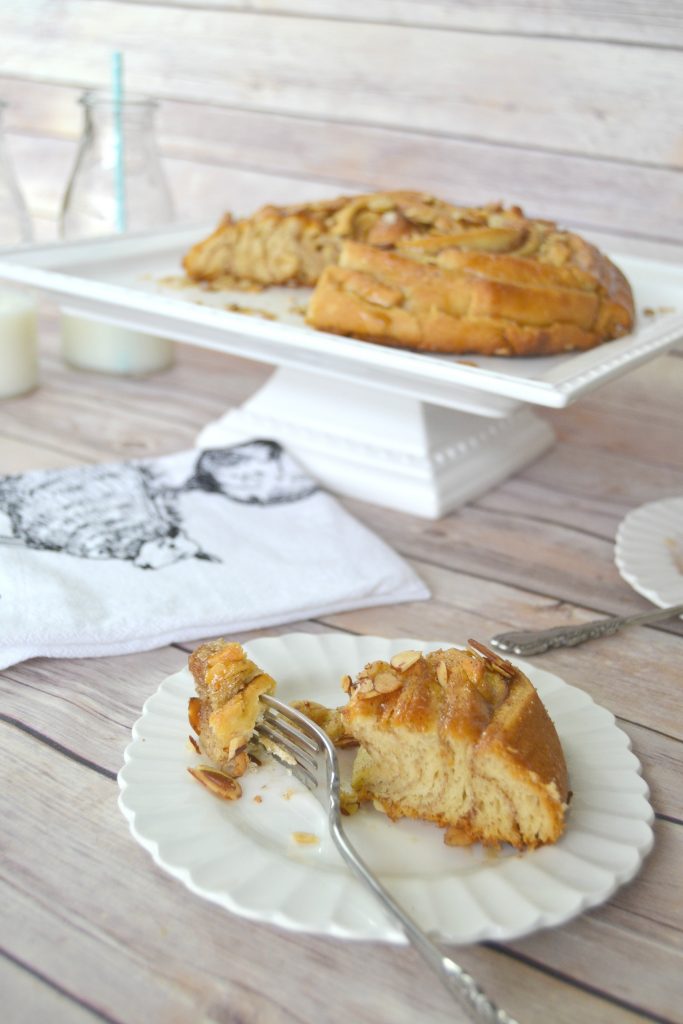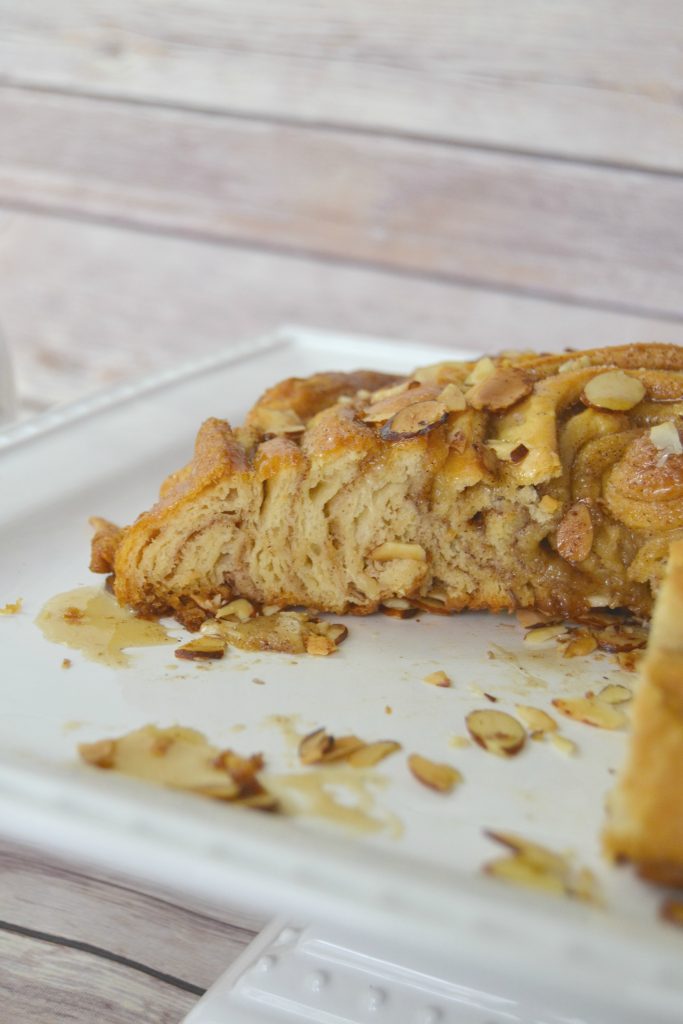 All of the almonds are at the bottom of the pie, but when I get it out of the skillet, there are always almonds at the bottom of the pan. I get them out and sprinkle them on the top.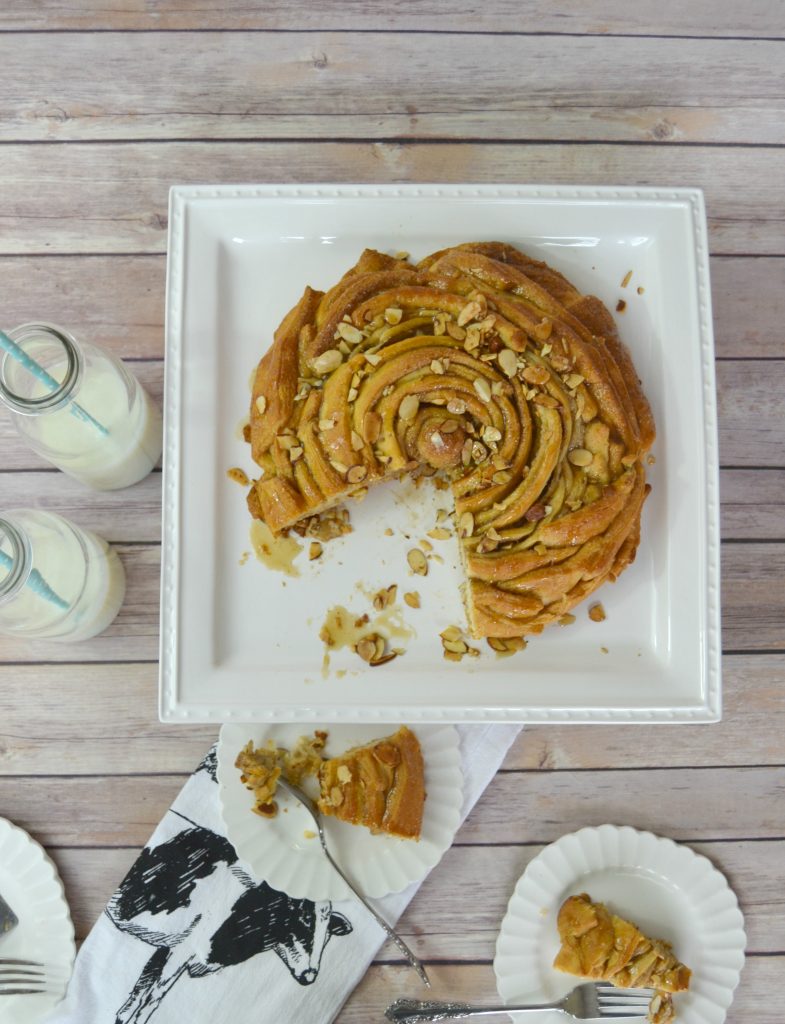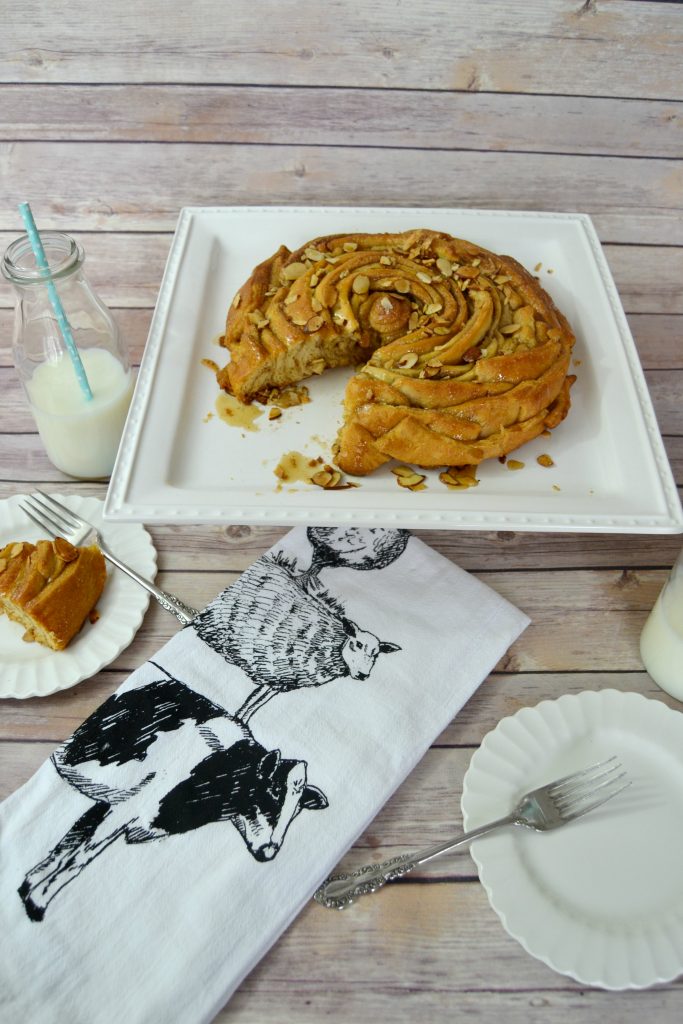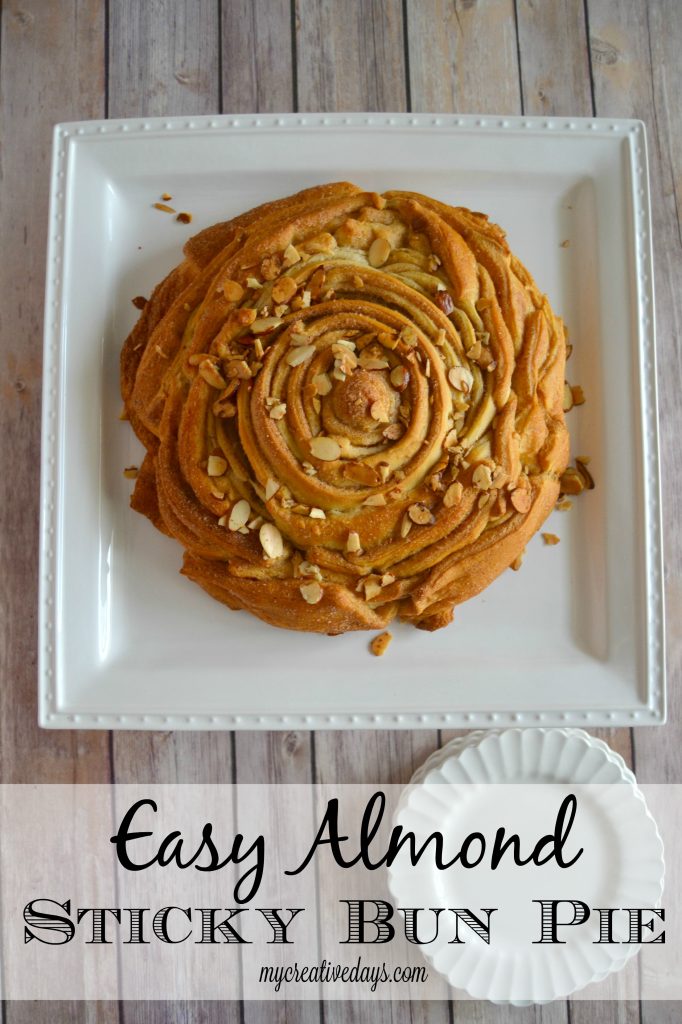 This Easy Almond Sticky Bun Pie is perfect for brunch, breakfast and every snow day.
Have you had any snow days yet? What are your favorite ways to spend snow days?