I want to thank Osborne Wood for supplying the corbels for our kitchen island makeover. All opinions of these beauties are my own.
Before I get into what we did to the island, I have to get something straight.
Since we have lived in our home, I have always called this piece in our kitchen "the bar". The kids eat on it, I roll out cookies on it and we also use it as a dumping ground when we come in the back door. When I started researching kitchen ideas for our makeover, I was drooling over all of the islands I would love to have.
What was I thinking?
Our "bar" is an island! Get with the program, Lindsay! Because of this kitchen makeover, we have moved up in the kitchen world and graduated from bar to island.
Just like that.
Without measuring, DIYing or drills, we now have an "island"! 😉
So, what is the difference anyway? What constitutes a "bar" or an "island"? Maybe "bar" is the 1970's word for island?? Whatever it is – from here on out I am going to be calling it an island.
Okay, now that that is out of the way, let me tell you how we made over our kitchen island.
When I first starting thinking about the scary task of painting our cabinets, I thought it would be best to start on our kitchen island. If painting that went downhill, I knew I would not be painting our cabinets, and since it is separate from the cabinets, I was fine with it looking totally different.
It started out like this: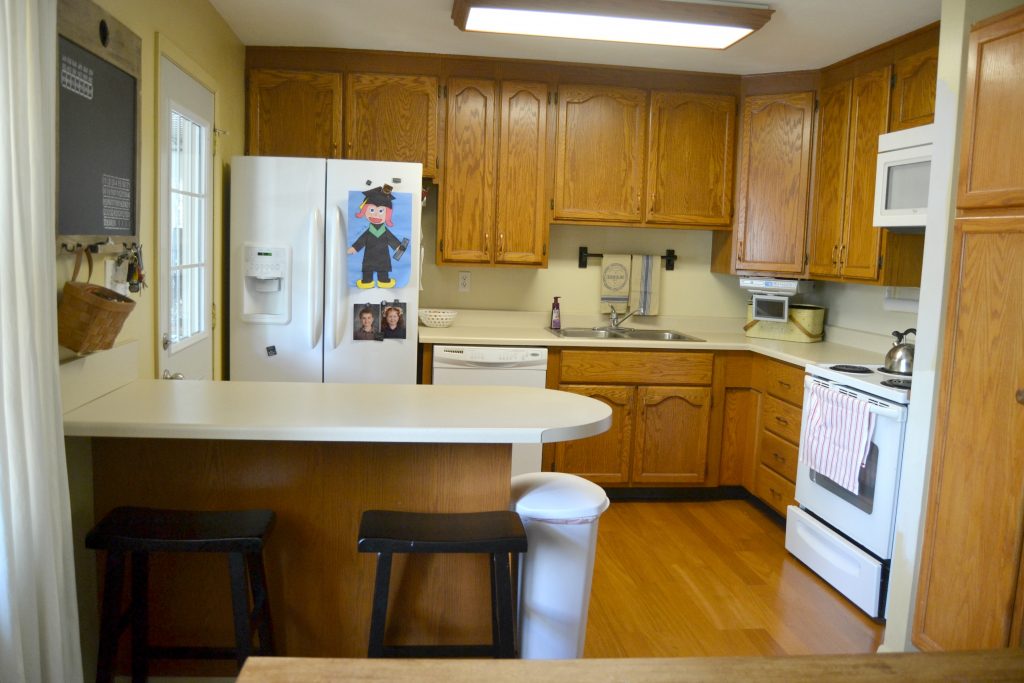 Here is a view of the other side.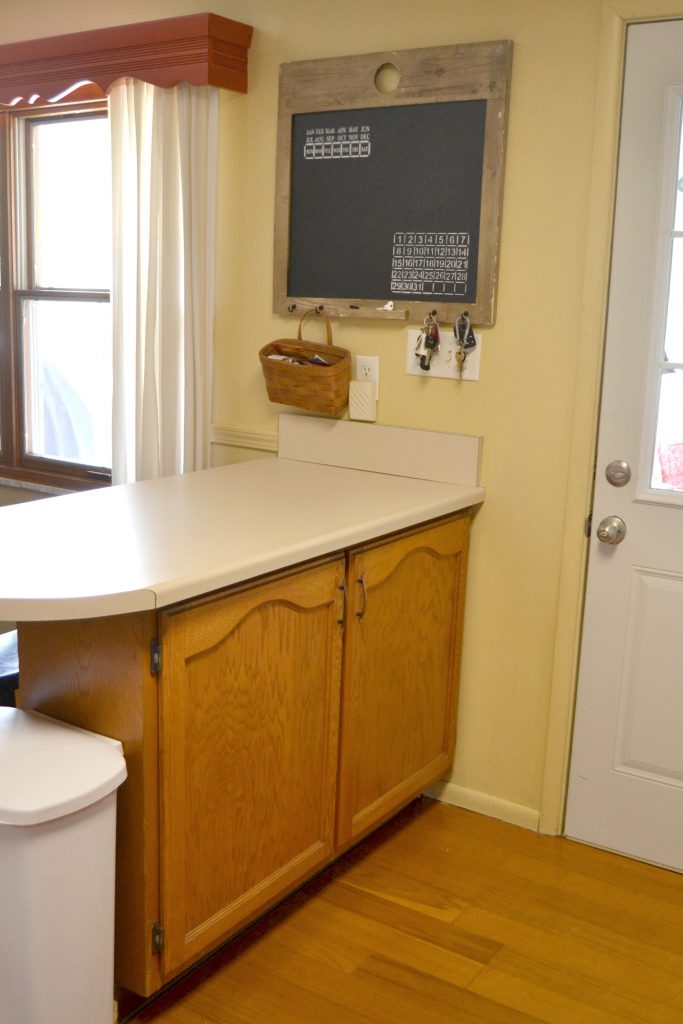 You guys, I can't believe this used to be our kitchen! The countertops look so much better now and the new paint color on the walls has really helped brighten up the space.
When I was thinking about making over the island, I really wanted to (if budget and time weren't an issue) find a farm piece that we could use for it. Something that was the same size and scale and gave us the same amount of storage. Since we didn't have the time or budget to search for something, I decided to add wainscoting to the back and sides of the island.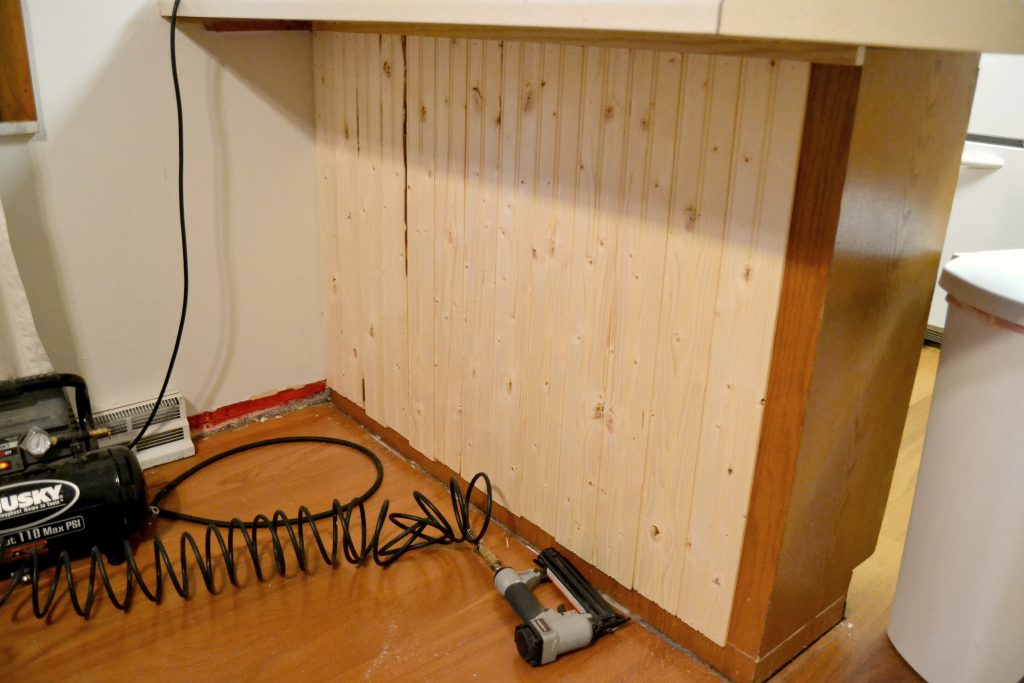 After the wainscoting was on, I painted the island with some left-over paint I had from a previous project.
The process wasn't bad!
It gave me the confidence and "go-ahead" to paint the rest of our cabinets.
After we put down our new laminate floors, I started working on the island again. I knew I was not going to leave it the blue color I painted it (that was just the trial color I had to see how it would go). I did not want it the same color as our cabinets. It needed to be darker because the kids sit at the bar (this will take some getting used to) island and kick their feet or the bar stools get pushed up against it so I knew it had to be darker.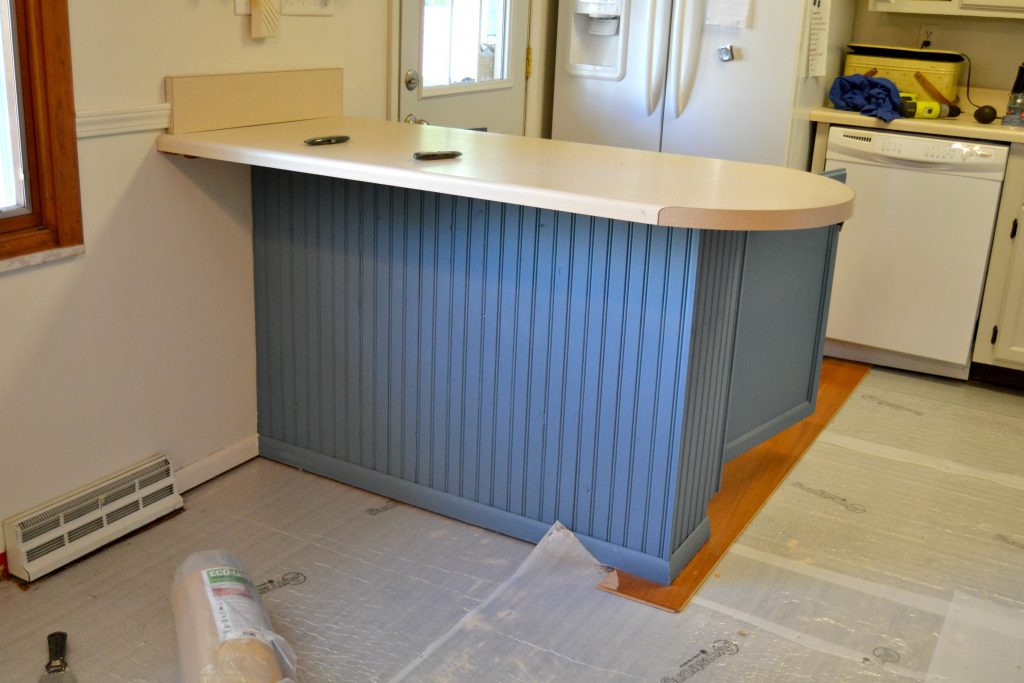 Charcoal gray and wood tones together make me so happy so that was the inspiration for the island color.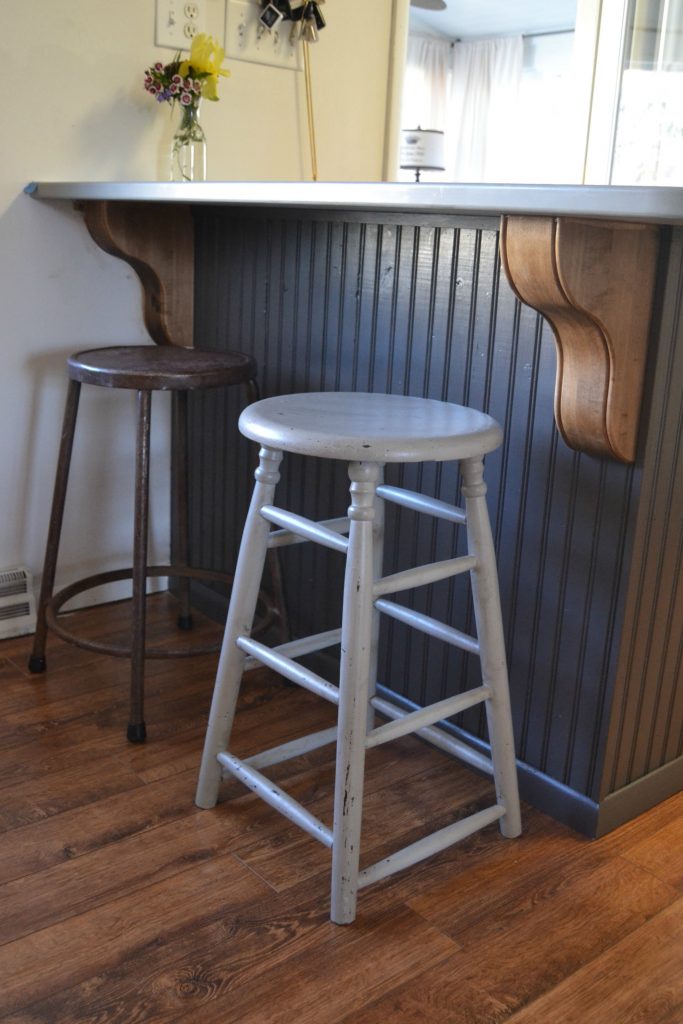 The darker gray looks great with our cabinet color and it's dark enough to hide any marks until I can get to them. 😉 With all of my initial island research, I really feel in love with corbels. I desperately wanted to add a pair to our island.
Osborne Wood has so many great corbel options! You can find any style and shape you need.
I decided to go with the Boston Bar Bracket. I liked the simple shape of them. I wasn't sure if I was going to stain or paint them and the people at Osborne Wood were so helpful. They suggested I go with the Hard Maple Boston Bar Brackets because that wood was great for stain or paint.
When I received them, I was floored. They are super heavy and perfect for our island. They had such a smooth finish and were just waiting for me to transform them.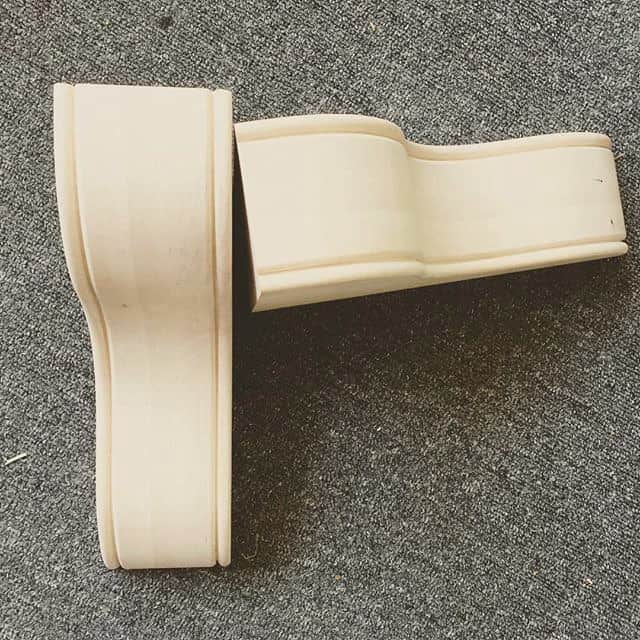 My initial corbel obsession was strictly for looks. I didn't think they would give any function to our island. Then, when we were getting our countertops measured, the guys said the corbels would be very helpful and functional for holding the new countertops.
Form and function?!
I'll take it.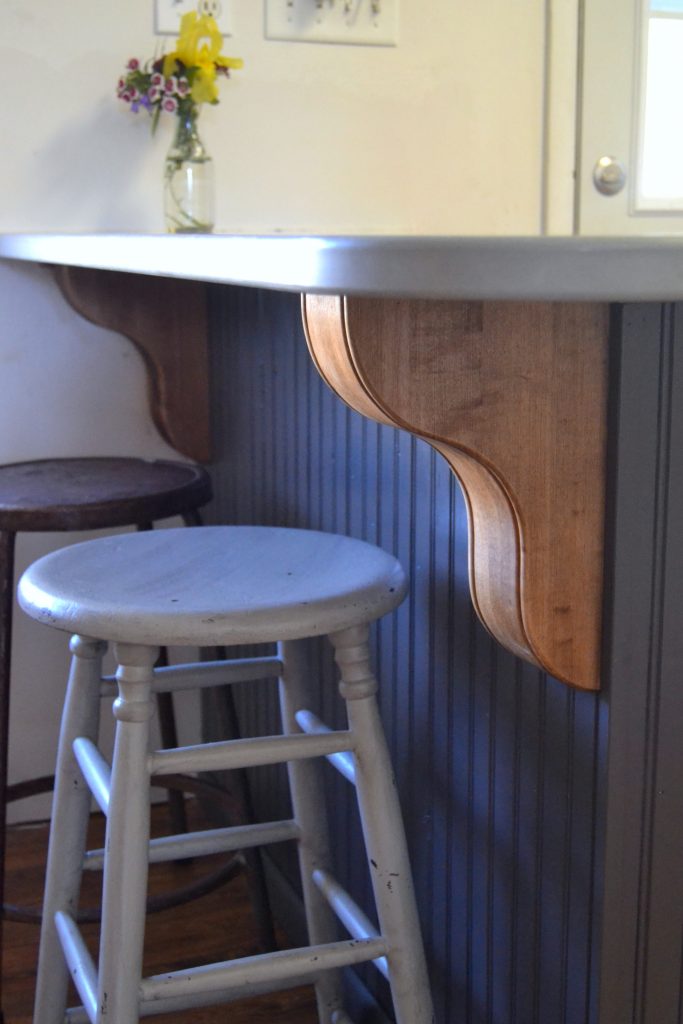 I knew I was going to stain the corbels a dark color first and see how I liked them. I thought if I didn't like the stain, I could paint over them and then distress them a little bit.
Once the stain dried, I loved them.
And, I especially loved the wood against the charcoal color of the island.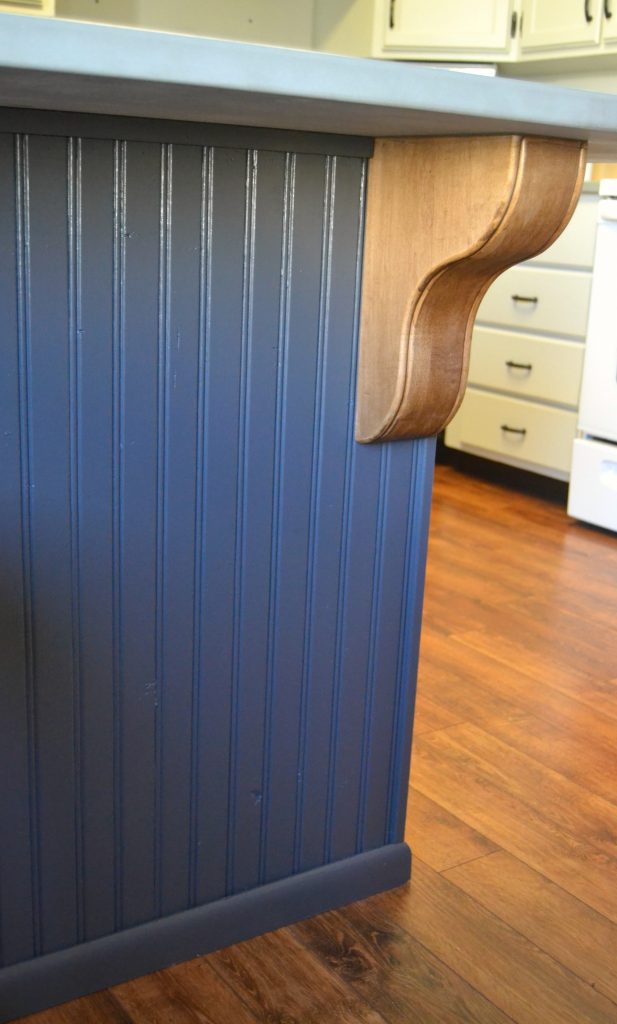 It is amazing what a pair of corbels can do.
The island looks more sophisticated, more official.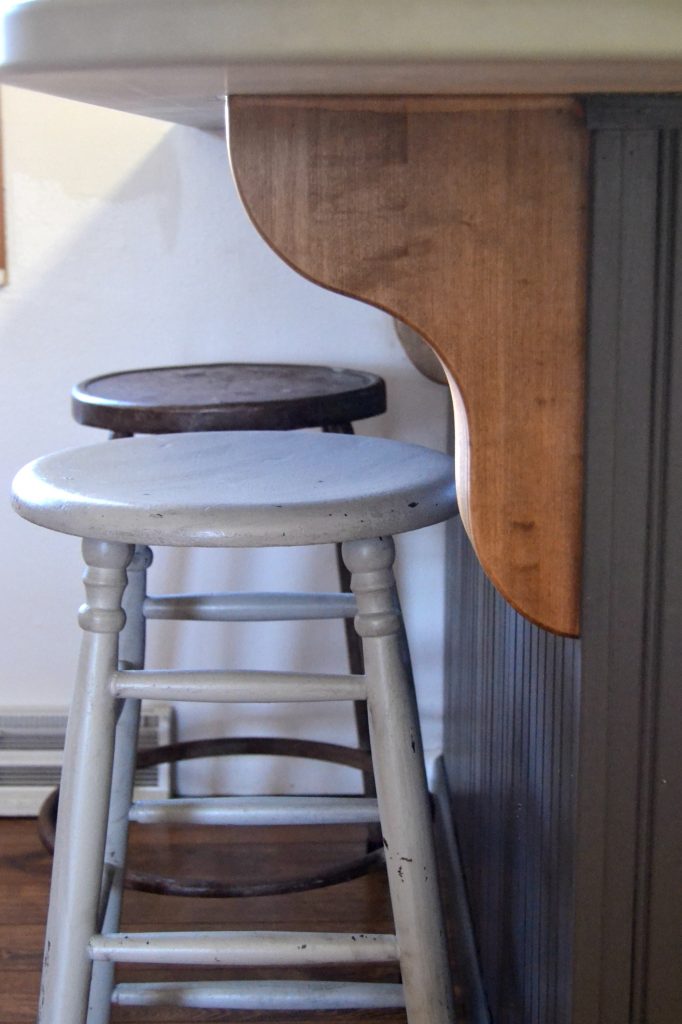 The Boston Bar Brackets fit our kitchen makeover perfectly! When I started shopping for corbels, I thought I would go with something a little more detailed. I am so glad I didn't. I couldn't be more happy with my choice.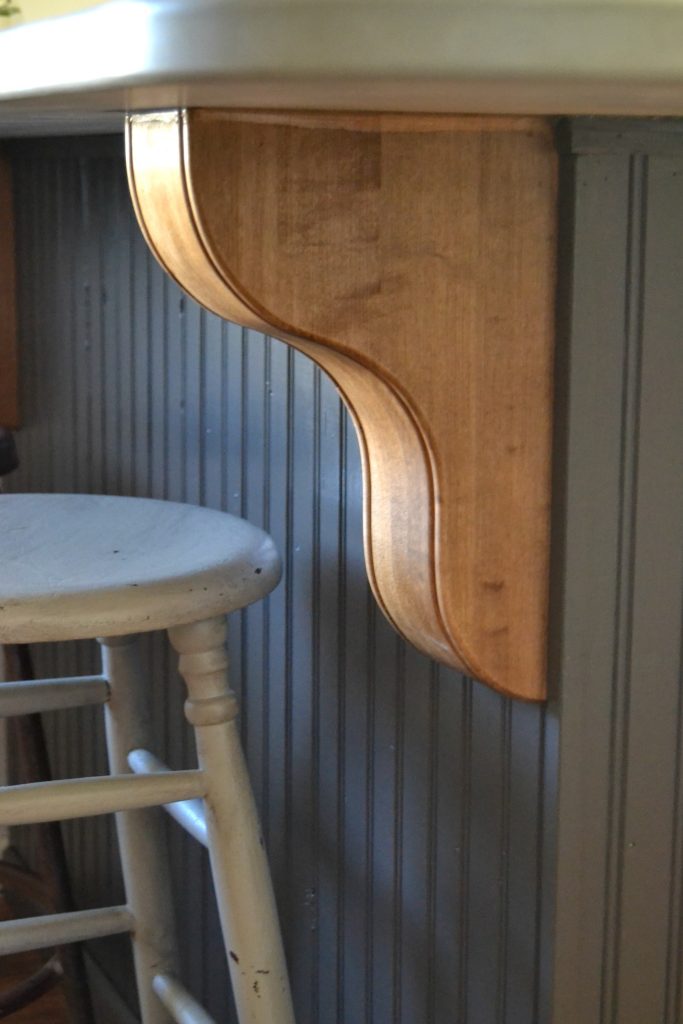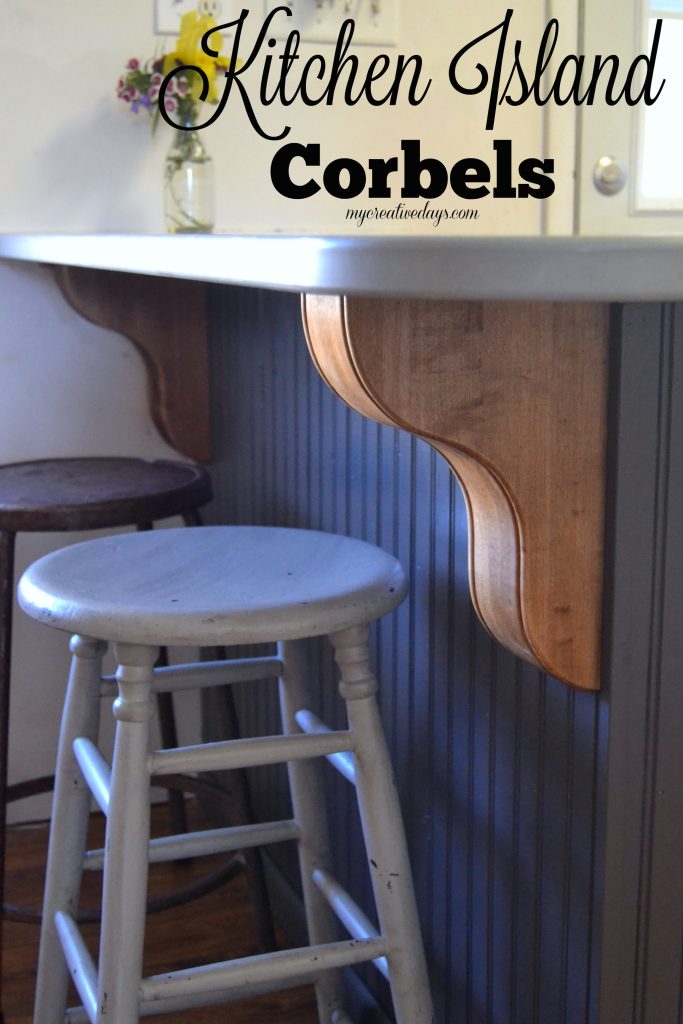 Our kitchen island looks great! It fits the character of our home, it blends nicely with our new kitchen and the corbels give it that finishing touch it needed. I am still struggling with calling it an island, but over time, the name shall stick. What do you think? Is it a bar or island?
This kitchen is coming together, slowly but surely. One project at a time we will see it through. I am hoping to be posting about our new backsplash soon.
Stay tuned.